More and more bike rides in Shanghai are starting from a smartphone app. Several bike-sharing programs have users scanning QR codes with their phone for cheap rides on publicly available bikes, but not everyone is cycling according to the rules.
Ji Xiaochao's daily commute to his job in advertising starts with a bike ride to the subway station. Ji uses Mobike, a bike-sharing platform that foregoes the need for permanent return locations, unlike most public bike schemes around the world. The bikes are equipped with GPS, which means they can be left anywhere but are still easy to find — a breakthrough in convenience. Ji still has his own bicycle, but he hardly uses it anymore, the 26-year-old told Sixth Tone.
Mobike's ease of use and relatively low fees — after paying a 299-yuan ($45) deposit, every ride under 30 minutes costs just 1 yuan — has proven an attractive proposition. In Yangpu District, an area of Shanghai with many university campuses and, as such, an area where there's plenty of demand for Mobike, the company has a fleet of more than 10,000 orange-wheeled bicycles.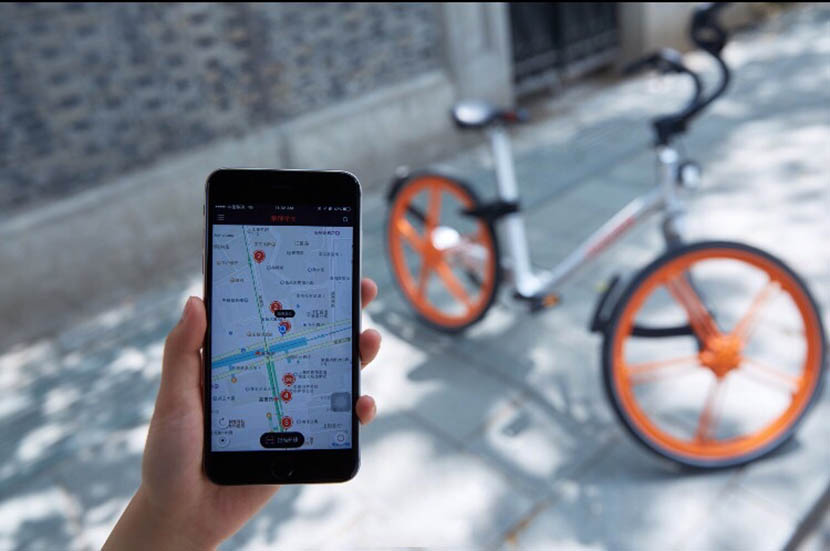 A map on a smartphone shows the location of nearby Mobikes. From the app's official Weibo
But the company has found that some of its users aren't always willing to share their Mobikes. Ma Xiaoran, the company's public relations manager, told Sixth Tone that Mobike has had some of its bicycles stolen, and that some users park the bikes in semi-hidden places inside residential compounds so other users cannot easily find them, even with GPS enabled. In addition, some of the bikes' QR codes have been purposefully defaced, making it impossible for anyone to use them.
"We've foreseen that such problems would emerge," said Ma. Mobike has introduced a credit point system that punishes rule breakers with higher fares. "It's a process of education and guidance," she added.
Some users have also complained about the weight of the bicycles and their non-adjustable seats. Zhong Lei, a law student at Fudan University in Yangpu District, said she sometimes uses Mobike, though she prefers a competitor, Ofo. "They're lighter and cheaper," the 23-year-old said, referring to Ofo bikes.
Ofo exclusively targets university campuses. Five cycling enthusiasts started the company at Peking University in Beijing, and since their first rollout at their alma mater in September 2015, Ofo has entered 80 universities in 20 cities, with a total fleet of 30,000 bicycles nationwide.
In its nearly one year of operation, Ofo has also had trouble keeping its bikes from disappearing. "Although we have lost a small number of bikes, the challenges we deal with are much less severe than those facing Mobike," Li Zekun, the company's branding manager, told Sixth Tone.
One problem facing Ofo is that its bicycles aren't as sturdy as those of its competitor. After scanning a bike's QR code, Ofo's app will give the user a code with which to unlock the bike. However, the locks are flimsy, and a bit of rattling will show the user which buttons to press, foregoing the need to pay. Also, since the bicycles don't come equipped with GPS, the company cannot easily track the ones that have been taken for a ride off campus.
Deng Guangnian is one of the workers responsible for maintaining Ofo bicycles on the campus of Fudan University. As part of his job, Deng goes out early in the morning to bring bikes back to the university grounds. But without GPS, sometimes it's guesswork as to where the bright yellow bikes will be. "We just look around the neighborhood," he said.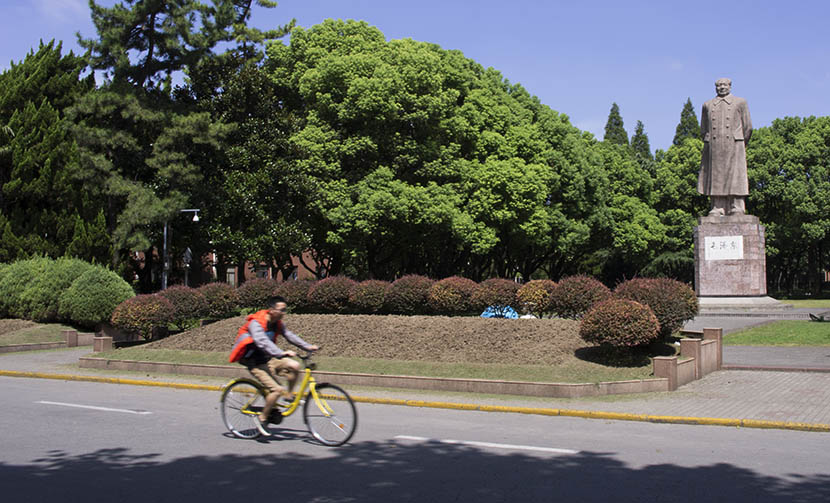 A man rides an Ofo bicycle on the campus of Fudan University in Shanghai, Aug. 22, 2016. Kevin Schoenmakers/Sixth Tone
Neither company is the first in Shanghai to provide shared bicycles. Posinda, a company from neighboring Jiangsu province, started operating in Yangpu District in late 2014, its only serviced area of the city. Unlike its competitors, Posinda's fleet of 300 bikes need to be returned to certain locations.
"Different from the Mobike model, we have designated stations where our bikes are parked. This ensures a much lower risk of our bikes being stolen," Posinda's general manager, Zhu Minjian, told Sixth Tone. The company, active in 11 cities, is subsidized by local governments, and its bikes can be used for free if they are returned within one hour. But users do need to pay a deposit of up to 500 yuan to get a card needed to unlock the bikes.
Though the various bicycle-sharing programs are popular among users, workers in Yangpu aren't too happy with their recent proliferation. Jia Zhihui, 26, is one of the many bicycle repairmen who set up service stations at street corners within and outside university campuses. Ofo's now-ubiquitous yellow bikes have hurt his business, he said, resulting in fewer sales and less repair work. Parking attendants tasked with keeping bike racks near subway stations and malls orderly complain that users of Mobike and Ofo park their bicycles with little regard for others.
But Ofo's Li is confident his users are good people at heart. "We target university students and teachers exclusively because, honestly speaking, the overall quality of this group of users tends to be much higher than that of people from other walks of society," he said. "It is true that some have taken advantage of our bugs and managed to avoid paying for the service, but that's really a tiny percentage of our users"
Zhong, the law student, said she was aware that Ofo's bikes can be used for free by exploiting a flaw in the locking mechanism, but she said that she still pays for every ride. Just taking the bikes without paying, she said, "makes you feel uneasy."
(Header image: A screenshot from a Mobike promotional video shows a man riding along a street in Shanghai.)