A little over 40 years ago, at the tail end of the chaotic, decade-long Cultural Revolution, 34-year-old school principal Chen Jiaqian was escorted to his public sentencing rally.
Chen was accused of having had improper relations with one of his students, and the district party secretary announced to a crowd of onlookers that he had been sentenced to 10 years' imprisonment. There were also several other charges, including that Chen had poisoned the honeybees of another commune member, and that he had been having an affair with a married woman.
"My life is over," Chen thought as his sentence was read out.
A one-page criminal verdict, anonymously penned by a county judge, was all it took to turn Chen's life upside down. Both Chen and his former student Wang Jiafang have been living with the burden of what they say are false allegations for more than 40 years.
Chen Jiaqian (right) and Wang Jiafang during an interview in Leibo County, Sichuan province, July 2016. Zhou Jianping/Sixth Tone
Chen remembers clearly the night of July 24, 1975, when Wang, then 16 years old, turned up at Shawan Village's primary school. She had just finished her farmwork for the day and had come to find Chen in his office, where he also lived. "It was between 9 and 10 p.m.," Chen said. "I asked her why she had come to school so late, and she said she had questions about moving up to the next grade. I opened the door and let her in, leaving the door wide open."
Wang asked if she had been recommended for graduation to junior middle school. Wang was old for a primary school student, and so it was unlikely that she would be given a coveted spot in a middle school. Chen still remembers how he answered her, telling her subtly that not going to middle school would not be the end of the world. "One needs a red heart and a ready pair of hands," he told Wang. "To study is to do revolutionary work, but manual labor is also revolutionary work."
Both Chen and Wang said that they had only talked for a few minutes before Commander Du Ziqian marched in, accompanied by members of the People's Militia. Teacher and student were bound and taken to the offices of the district authorities.
By the time Wang admitted to having sexual relations with Chen, she had already been held in custody for several days. Each day she was taken to an interrogation room — once in the morning and once in the afternoon — and questioned for hours by a woman named Li Zhirong, at the time chair of the local women's federation.
"Did you or did you not have relations with teacher Chen?" Wang recalled Li asking her at the time. "I did not," she replied. "Still you refuse to admit it!" Li continued, unpersuaded. "You committed adultery with teacher Chen, didn't you?" Wang suggested they take her to be examined by a doctor so she could prove nothing had happened, but her appeal fell on deaf ears.
Wang said Li, flanked by a member of the People's Militia, would sit opposite her at a table. If Wang even slightly raised her voice, the guard would slam a clenched fist on the table, spit on the ground, and yell at her angrily. Li told Wang that all she had to do was admit to her relationship with Chen, and she would be set free. "Teacher Chen has already confessed," Li said, "so what's the point in trying to protect him?"
As the days went by, Wang's resolve wore thin until, eventually, she confessed. "I was scared and angry to the point that I'd had enough," Wang told Sixth Tone's sister publication The Paper. "When my dad visited one afternoon to bring me some food and a change of clothes, he urged me to have them take me for a medical examination. I said I'd told them already, but they wouldn't listen — there was absolutely nothing I could do."
Wang was released on the day she confessed. On the way home, she lowered her head each time she passed someone familiar. Wang said she wanted to drown herself in a lake, but her father wouldn't hear of it, saying, "While you're alive there's hope, but if you throw yourself in the lake and die, you will look all the guiltier."
Chen said that while he was in custody, he was bound and beaten on a daily basis for refusing to confess. "I thought to myself, staying alive is my top priority," he recalled. "I can figure everything else out later."
But the combination of mental and physical torture proved too much for Chen: He confessed to having had intimate relations with Wang. "I thought it wouldn't come to a criminal conviction, and that eventually my slate would be wiped clean," he said.
Today, more than 40 years later, that still hasn't happened.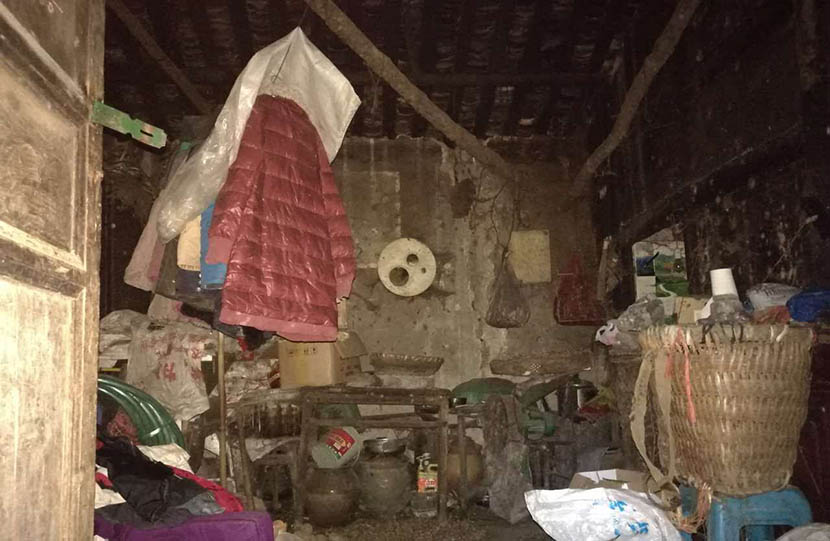 The inside of Chen Xiaojuan's house in Leibo County, Sichuan province, July 2016. Zhou Jianping/Sixth Tone
Chen has two daughters. At the time of his imprisonment, they were 8 and 10 years old. Chen Xiaojuan, the elder daughter, now lives in a dilapidated house with a tiled roof. She told The Paper that she was in her third year of primary school when her father was sent to prison. Her classmates called her and her sister "rapist's daughters." She never responded, feeling utterly humiliated.
To put both of her daughters through school, the girls' mother, Fu Xiaoying, worked tirelessly to earn work points, the collectivization-era system that decided salaries. Shawan Village is located in Leibo County, on the eastern edge of the Tibetan Plateau in China's southwestern Sichuan province. On the weekends, both daughters would join their mother to climb into the mountains to gather firewood they could sell.
After one year, Chen was transferred to a labor reform camp in a nearby county. There, he was made to study culture and policy. Chen learned in 1979 that a policy was being introduced nationwide to rehabilitate people who had been wrongly persecuted during the tumultuous Cultural Revolution. He sent his first letter of appeal to the Leibo County People's Court.
Though his first appeal was rejected, Chen did not give up, remaining steadfast in his belief that justice would prevail. Meanwhile, his wife Fu found someone with legal knowledge to draft an official complaint letter on her husband's behalf. Finally, in 1981, a panel of judges from the county-level People's Court carried out a retrial hearing of Chen's case.
The court's verdict stated that there was insufficient evidence to prove Chen had poisoned a commune member's bees, and so this charge was dropped. The defiling of a student and other charges, however, were "found true upon review," though the court ruled that a discrepancy concerning some of the facts of the case means that the sentence was disproportionately heavy. Chen's sentence was shortened to six years, which meant he would be released later that year.
Shortly after regaining his freedom, Chen sought out an old contact, the former production team secretary, to help him track down the person who had accused him of sexual misconduct. He learned for the first time that the statement, which was crucial to his conviction, had been made by his former student Wang, who had since married and moved 150 kilometers away to Mabian County.
"The reason she moved so far away is because she couldn't stand the constant gossiping," said Wang's mother Gao Yuzhen. People in the village like to say "She got the urge and decided to take something that wasn't hers."
In late 1981 Chen went to Mabian County to visit Wang. "What are you doing here?" Wang asked, startled. Chen explained he had come to prove his innocence, telling her he had been through years of reform through labor because of her confession. Wang broke down in tears, saying she was only a teenager and there wasn't anything she could have done. In the end, Wang signed a written statement that supported Chen and marked it with her fingerprint. Thinking his dealings with Wang were over, Chen opened a restaurant in the county seat, hoping to move on with his life.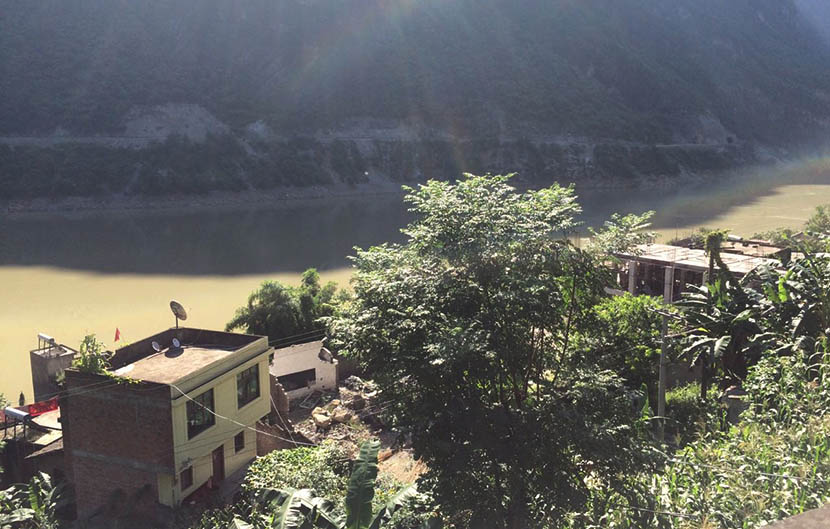 The former site of the Shawan Village primary school, Leibo County, Sichuan province, July 2016. Zhou Jianping/Sixth Tone
But two years later, a man from Leibo County visited Wang and inquired whether she had voluntarily supplied the official statement submitted by Chen. "He told me if it turned out that teacher Chen had been unjustly imprisoned for six years, then my 1975 confession constituted perjury, and I would have to go to jail for six years too," Wang said. "He wrote a new testimony and made me renounce my previous one. I was scared of going to jail, so I put my fingerprint on it." But after doing this, Wang said, she felt "uncomfortable."
On the evening of Aug. 27, 1983, Chen was arrested at his restaurant. A month later, he was convicted for the crime of "refusing to execute the orders of the People's Court by falsifying evidence and attempting to overturn a verdict," and imprisoned for another three years.
On this subject, Chen — now 74 years old — said resolutely, "I do not hate Wang Jiafang." But after hesitating for a few seconds, he added, "Having said that, maybe I do hate her just a little bit." Chen experienced a similar sentiment from his own family. "I hated him a bit because he kept going back to jail," said Chen's daughter Xiaojuan, as she started to cough. She developed bronchitis when she was young, but without the money to pay for treatment, the illness became a chronic problem and is now incurable.
There is more resentment still from Fu Xiaoying. It was a huge blow to have her husband imprisoned twice, and when Chen was released in 1986 after serving his time, she could not help but be less excited than her two daughters. "When my dad came out of prison the second time, I was a grown-up, and I was very happy," Chen Xiaojuan said. "I didn't understand the situation when I was younger, but later I knew my father had been wrongly imprisoned. My mother wasn't as understanding — she said that Father was incompetent and had brought it upon himself."
After his second release, Chen worked as a security guard and a cook. He also started studying law and assisting people in Leibo County with their lawsuits. "I ended up being judged a criminal because I didn't understand the law," Chen said. "So I decided to study the law to learn how to protect myself and to help me communicate better with judges. Besides, it was interesting, and it meant I could do something for the common folk, by helping to protect them from injustice."
Chen never gave up on clearing his name. In 2000, he appealed to the People's Court of Leibo County. The result was that the verdict on his sexual misconduct charge was upheld, but the 1983 sentencing for refusing to execute court orders was repealed. Next, Chen appealed to a higher court, the Intermediate People's Court of Liangshan Yi Autonomous Prefecture. On March 26, 2004, this court, too, rejected the appeal, stating that "the facts of your crime were corroborated by evidence, including witness testimonies, a statement by the victim, and your own acknowledgement."
Chen's persistence in appealing his charges is a source of concern for Fu. "My mother always tries to stop him because she is scared that he will end up going to jail a third time," said Chen Xiaojuan. But Chen himself is fearless: "I have experienced life in prison. Go ahead and lock me away for another eight or 10 years, I'm not afraid!"
After his second stint in prison, Chen had lost contact with Wang. Then, while dealing with a traffic accident lawsuit in 2013, he discovered that Wang was an acquaintance of his client. Still hoping to clear his name, Chen phoned Wang, who by this time had moved more than 1,000 kilometers to Shaanxi province in the country's northeast. But Wang was in bad health, having been diagnosed with bowel cancer, and Chen decided not to bother her.
In January 2016, Wang saw a television report on the retrial of Chen Man, who had been imprisoned for 23 years after being wrongly charged with murder. Wang's health had improved by then, and she decided to once more try to help Chen overturn his conviction.
Wang returned to her home village of Shawan on March 10. She had a formal statement written on her behalf and submitted it to the county's public prosecutors. Her statement read: "After seven days of coercion, I yielded to Li Zhirong's demands and signed a written document that had been prepared in advance. No inappropriate relationship existed whatsoever between myself and Teacher Chen at the time."
In May, Wang made some inquiries and found out that Li, her erstwhile interrogator, was still alive. Wang and Chen headed to Leibo County to look for her. When they found her, Li agreed to sign a written statement of her own: "For reasons associated with the historical background of the time, I was obliged to compel Wang Jiafang, in the absence of any evidence whatsoever, to sign a confession acknowledging that an inappropriate relationship had existed between her and Chen Jiaqian. In doing so, I acted out of a lack of any alternative."
He Yanqing (left), who arrested Chen Jiaqian in 1975 while serving as a militiaman, sits with Chen during an interview at his home in Shawan Village, Leibo County, Sichuan province, July 2016. Zhou Jianping/Sixth Tone
On the morning of July 20, Chen and Wang went to Shawan and tracked down He Yanqing, one of the People's Militia members who had assisted with their arrest at the school on July 24, 1975. But no matter what questions they asked him about the case, He's responses were consistent: "I'm not sure" or "I don't know." Commander Du of the Shawan militia, who led the arrest in 1975, never answered his phone. Even Du's son and daughter said they had lost contact with their father.
The case of Chen and Wang was reported in Chinese media on July 15. Both said that the procuratorate suddenly showed a very positive attitude towards them. On July 27, 2016, Zhou Zhiwei, an employee of the Leibo County procuratorate, told The Paper over the phone that the procuratorate had received Chen's appeal and was currently in the process of reopening the case and conducting a full investigation. Their conclusions are expected within two months, potentially putting an end to Chen's 40-year quest for justice.
A Chinese version of this article first appeared in Sixth Tone's sister publication, The Paper.
(Header image: Dan Hallman/Stockbyte/VCG)