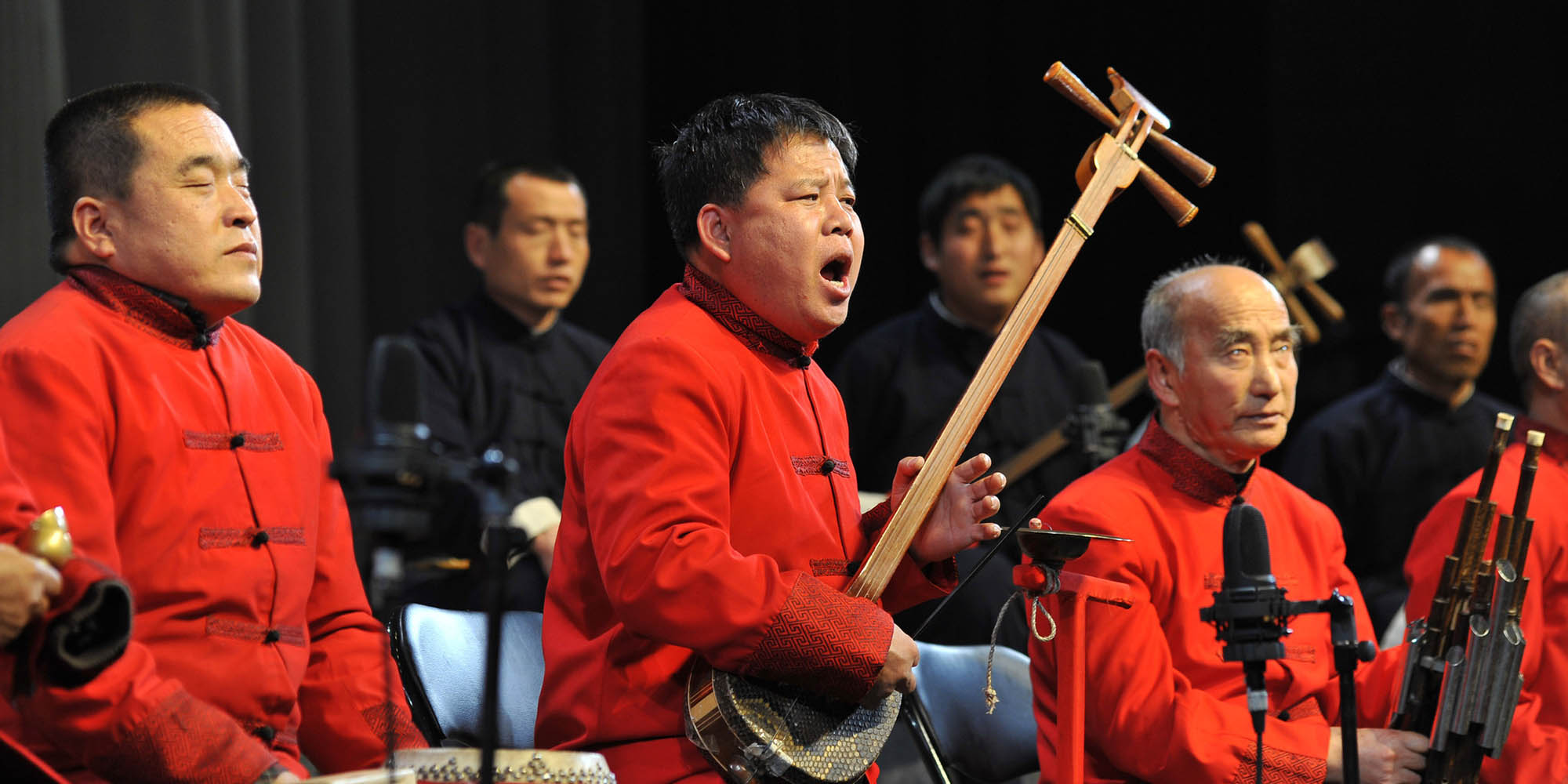 VOICES & OPINION
The Singers With No Eyes
The blind performers of the Taihang Mountains pass on ancient music traditions, but modernization has brought decline.
When people hear the blind Italian tenor Andrea Bocelli sing "Time to Say Goodbye," they are stirred not only by his chilling operatic voice, but are also touched by the fact that his disability doesn't affect his capacity to move millions of people.
In 2002, my camera crew and I were shooting a project deep in the Taihang mountain range, in northern China's Shanxi province, when we encountered a group of blind musicians known by the locals as meiyanren, or "the people with no eyes." I held my breath the first time they sang for us. It was nothing short of stunning.
Many disabled performers call Shanxi's mountain ranges home. These blind entertainers make their livings from singing, playing music, storytelling, and fortunetelling, often appearing at weddings, funerals, and other festivals.
The group I met during my travels specialized in playing music and singing. These meiyanren of the Taihang Mountains pass on their repertoire of ancient songs orally. They play an important role in maintaining the Zuoquan County folk song tradition — one of China's official intangible cultural heritages.
The blind singers of Shanxi have a history dating back thousands of years, and have passed along countless music traditions from generation to generation. But in addition to what they bring to China's culture, the meiyanren also hold a special place in the hearts of the Chinese for their contributions during the Second Sino-Japanese War.
In 1940, one of China's frontline command headquarters was stationed in Zuoquan County. To penetrate the Japanese blockade, the army organized the blind entertainers of the Taihang Mountains into four army squads. Led by one commander who would feign blindness, the squad would enter enemy territory disguised as entertainers to deliver intelligence and firearms to resistance efforts.
I spoke with a meiyanren who told me the story of his former commander, Chen Yuwen. Their squad had been tasked with distributing anti-Japanese leaflets to Chinese in enemy territory and bringing back an intelligence report from an agent on the inside. Unfortunately, they were discovered by sentries when crossing the line and captured.
Desperate, Chen asked the Japanese soldiers if they could sing for them, hoping that it might stay their imminent execution. Amused, the guards agreed. Chen managed to somehow choke his way through "The Three Kingdoms," an epic song about Chinese imperial history, and the Japanese commander was so thoroughly impressed that he decided to let them go.
Since then, many of the meiyanren involved in the war have passed away and their traditions handed down to their apprentices. I have met 11 in total, all of whom were extremely talented vocalists or instrumentalists.
This is a group of people who live at the bottom of society. In the past 70 years of wandering they estimate that they have visited around 1,700 villages around the Taihang Mountains, offering their entertainment services for money. Chen told me there used to be a mutual agreement that if one of the singers accidentally fell from a precipice, the others would shout a few times, and if they heard no response they would continue on their way, eating and singing together as they always had. They are believers in destiny, but this blind acceptance of fate is not something I see as negative; instead, I believe it to be a refreshing inner clarity.
Coming to know these people and the impact they've had on society has been an amazing journey for me. Thus, it was very distressing to learn that modernization is causing the traditions of the meiyanren to wither away, and I made it an obligation of mine to record the life story of this legendary group of people before that happened. I started shooting my independent film in 2006.
However, I quickly discovered how expensive it is to shoot a film. Severely underfunded, I had no choice but to mortgage my house, take on extra jobs, and secure a loan. My parents also supported me with their 200,000 yuan (about $30,000) in savings. In total, I have spent several million yuan and shot more than 500 hours of footage. The film is now in its final editing stages.
During the long shooting process one of the percussionists of the group, Meaty, passed away. In his final days he told me how sorry he was that he wouldn't make it to the film's release. Then, in July 2014 my father also passed away. On the day of his cremation, one of the meiyanren called to tell me that they had sung for an entire day and night in honor of my father.
During the 10 years it took to shoot the film, a number of media reports helped spread awareness of the blind entertainers. The government stepped in and one by one they were offered state-sponsored housing. They began receiving subsistence allowances, and each was offered a pension fund.
Four years ago they hired a driver to take them around the mountain villages for their performances. But the traditional folk songs have been waning in popularity in modern times. Most of Taihang's villagers are migrants, working far from home, and those left behind have found new ways of keeping themselves entertained.
When performances can be secured, payouts are less than what they used to be. Several years ago the people in the mountain villages gave generously. The economy of the area has traditionally been kept afloat by coal mining, but the depression of the coal industry in recent years has affected flow of capital into the region.
At a promotional event in June 2016 for my recently published book, "The Eyeless," a reader asked me if I thought that my part in exposing meiyanren culture to the world and spending time with them as an outsider had spoiled their traditions in any way.
I think my involvement has certainly had an influence on them, perhaps detrimental. But I believe that as a group, the meiyanren have fulfilled their mission of sustaining an important Chinese heritage. It's time for them to rest. They now lead comfortable lives, which I think they've earned.
I spent 10 years filming these blind itinerant entertainers not so that others may pity them, but out of a necessity to keep a record of the songs which are an intrinsic cultural heritage. I wanted to show people the light and warmth they have brought to the mountains where they live, and to capture the unadulterated happiness and freedom of the people with no eyes.
(Header image: 'Meiyanren' perform at a charity concert in Changzhi, Shanxi province, Jan. 17, 2016. Yao Lin/IC)