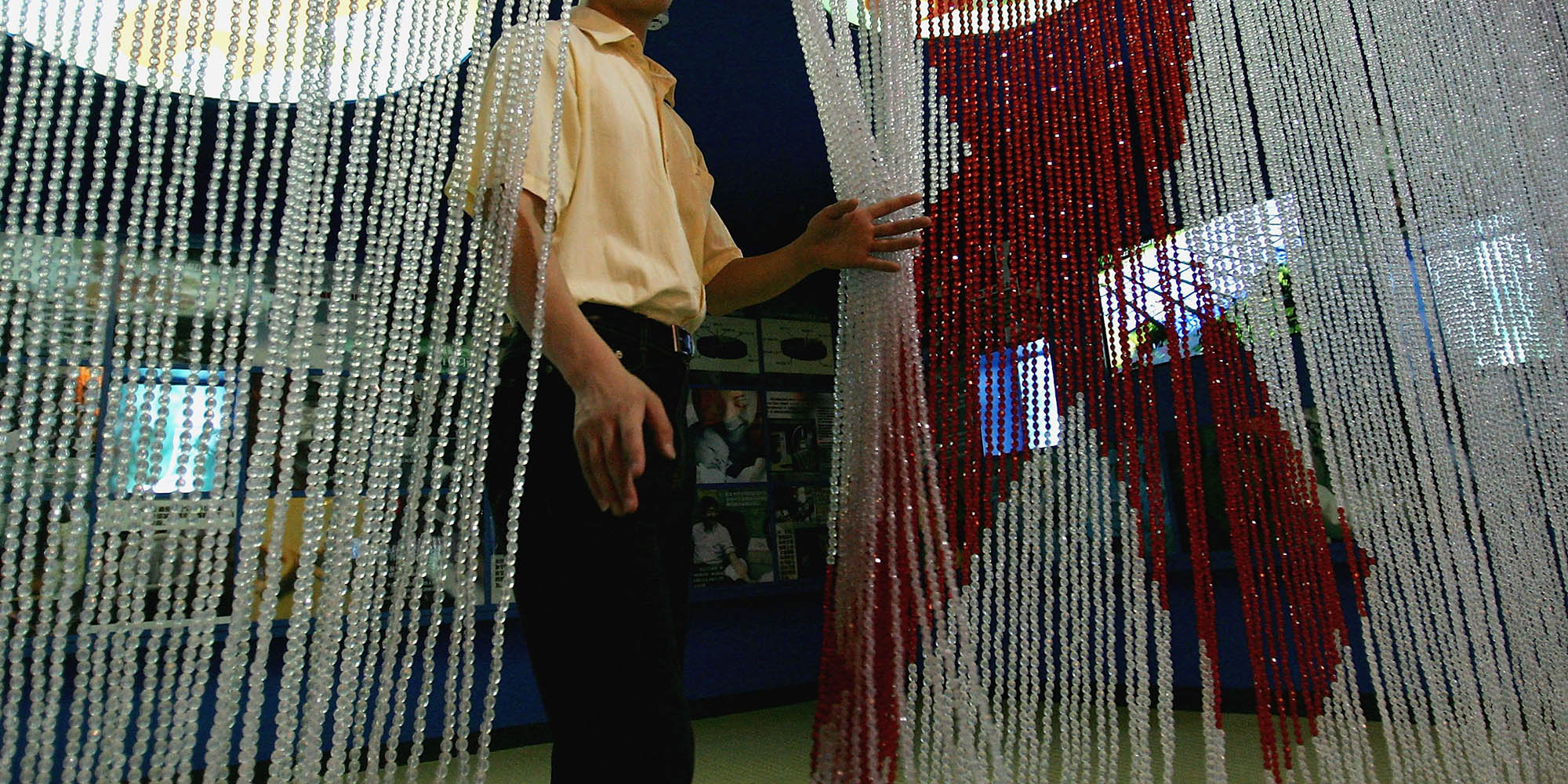 FEATURES
HIV-Positive Gay Men Find Little Support in China
As number of rural men with HIV grows, treatment remains woefully inadequate.
More than seven months after he was confirmed HIV-positive, Xiao Wang still doesn't know whether he should start taking antiretroviral drugs. The 26-year-old, who lives in a small city in China's heartland, believes he was exposed to the virus last when he had sex with another man.
For Wang, just getting confirmation that he was positive was a nightmare. In fact, he received conflicting test results along the way: first positive, then negative, then positive again. But that wasn't the worst of it. In a recent interview with Sixth Tone, Wang spoke emotionally of a total lack of support in terms of psychological counseling and practical information on how to live with HIV.
"I was utterly devastated when I first learned the news, and still they looked at me with cold faces," said Wang. "None of the CDC or hospital staff were patient enough to explain the details of how to access the free drugs, let alone comfort me," he said, referring to the Center for Disease Control and Prevention in Nanyang, a city in the central Chinese province of Henan where he first took the HIV test.
Wang's case highlights the lack of support available to HIV patients in China, especially for members of the LGBT community away from developed coastal cities such as Beijing and Shanghai. It also underscores the sheer size of the challenges China must overcome if it wants to deliver on its pledge to have the spread of HIV under control by 2020.
Young men in gay relationships in places like Henan are on the frontline of this battle. With a population of 110 million, the province is among the most populous in China. In the first 10 months of last year, 4,414 new cases of HIV were reported there. On a national level, the country had 575,000 HIV/AIDS carriers and patients as of the end of October 2015, according to China's Center for Disease Control and Prevention. Of the 97,000 people who contracted HIV in the first 10 months of last year in China, around 27 percent were gay.
In Nanyang, the number of HIV carriers and AIDS patients has grown more than 11 percent each year for the past three years, according to data from the Nanyang CDC. Among gay men in the city, the rate of increase in cases has been more than double that in recent years.
For more than a decade, China has been working to improve treatment and prevention. Free tests and antiretroviral drugs have been made available, while the government has also invested in HIV/AIDS treatment, prevention, and awareness programs. But on-the-ground realities remain bleak. After receiving the confirmation report in early January this year, Wang found his world turned upside-down.
"I wondered if I would die soon," Wang said. "I didn't know how to tell my parents the news, because they didn't know I was gay. I wondered whether I would ever find someone to spend my life with."
At the Nanyang CDC, where his positive status was confirmed, Wang said it was impossible to get any form of psychological counseling. A member of staff at the AIDS prevention office told Sixth Tone that if such psychological support services are needed, patients are referred to Nanyang's psychological consultation center. But a psychotherapist there surnamed Ding told Sixth Tone the center seldom receives inquiries from HIV carriers, and that she herself had never received one. "All the psychologists here are women in their 50s," she said. "We mostly deal with depression and domestic violence cases."
Ding could offer therapy at a rate of 500 yuan ($75) per hour, with a minimum requirement of five hours. She added that she had no experience in counseling HIV patients.
Less than 300 kilometers northeast of Nanyang, in the provincial capital Zhengzhou, a non-governmental organization called "Support With Love" has been providing support to HIV carriers and AIDS patients, and to high-risk individuals, since July 2013.
"I talk to more than 1,000 people every year," said 38-year-old Li Kepeng, one of 128 volunteers in the organization. Support With Love receives inquiries via telephone, in person, and through social networking apps like WeChat or QQ. They also accompany people to the CDC for confirmation if a preliminary test at their office shows a positive result. Li said many of the people he sees travel hundreds of kilometers from all over Henan for these services.
But even though Support With Love is the most influential care provider for gay HIV carriers in Henan, Wang did not even know it existed. Instead, he traveled to Shanghai in a last-ditch effort to get a definitive test result after reading about Yang Shoufa, a man also from Nanyang who was misdiagnosed with HIV a decade ago.
Wang said that hearing Yang's story caused him to lose any faith in the ability of Henan authorities to provide him with help. In Shanghai, the result confirmed he was HIV-positive.
"I had a very different experience in Shanghai. Instead of showing poker faces, staff at the CDC there used warm words to comfort me and gave me a mobile phone number that I can call whenever I have a concern," Wang said. "Back in Nanyang, the phones at AIDS prevention offices in city- or district-level CDC offices mostly go unanswered."
Still, the quality of HIV care around China is relative. Even the metropolis of Shanghai, with its population of 24 million and its 1,975 new HIV cases confirmed in the first 10 months of 2015, has only one organization dedicated to providing care and psychological support to gay HIV carriers and AIDS patients. The NGO Beautiful Life was founded by Shanghai native Zhou Yi in 2006, two years after he was confirmed HIV-positive, and the same year he was chosen by UNICEF to be their AIDS ambassador for China.
In the past 10 years, Beautiful Life has assisted 4,700 HIV/AIDS patients from the gay community. "We are a relatively closed organization. Our reputation only spreads within the gay community," said 48-year-old Zhou. But HIV/AIDS patients coming to Zhou are unlikely to find a shoulder to cry on. Instead, his NGO prefers a more practical approach, jumping directly to the core questions of what is HIV/AIDS, and what are the challenges patients can expect to face.
"Many people said we were being too harsh at the beginning," said Zhou. "But I think at this crucial moment, it's important that we wake people up, because their behaviors and the order of their lives have been seriously interrupted."
Zhou said this no-nonsense approach is essential. "It's a fact that Chinese people in general are very fragile — there were people jumping to their deaths after preliminary tests showed positive results. We have to make them understand the virus correctly — it's a chronic disease that requires constant attention and self-care."
Public clinics and NGOs are grossly understaffed. Zhou's team, for example, is composed of four full-time staff and up to 50 long-term volunteers.
An employee from the CDC in Shanghai's Pudong New Area, who requested anonymity due to the sensitivity of the situation, told Sixth Tone that such centers are seriously lacking employees, which means staff are unable to effectively do their jobs.
The man said that two of his colleagues are tasked with providing care services for more than 2,000 HIV-positive people registered with the center. Finding it impossible to cope with the psychological support demand, they started a close cooperative relationship with Beautiful Life years ago.
Faced with a lack of support services in the real world, Wang and others like him started to find each other in online forums or on instant messaging applications, exchanging information and trying to support each other. Yet turning to the virtual world for comfort and advice comes with its own set of inadequacies and risks.
Kevin Zheng, another HIV-positive gay man from Nanyang, told Sixth Tone he turned to messaging app QQ for advice from peers when he realized there was no organization in Nanyang specializing in HIV counseling.
"It's a hidden group," said Zheng. "People who are active in online forums are those seeking answers, but it's the ones who have overcome challenges who are not easy to find."
At Shanghai Youth AIDS Health Promotion Center, another NGO focusing mainly on prevention, the rise of gay HIV carriers has made staff aware of the necessity of psychological support and care services. In June last year, the center created a WeChat group and started to offer regular consultations for HIV-positive people.
Thirty-three-year-old David Chen, an administrator at the center, now sets aside half of his working time to provide care and support for his peers. Chen was diagnosed in 2013 and is acutely aware of the type of care the CDC can offer. "It's a towel, a bar of soap, or a box of ginseng that local CDC gives to us every few months. But this is not the type of support that we need," he told Sixth Tone. "Professional medical knowledge and the companionship of other people with HIV are what people need in their most desperate moments."
Although government care services are still largely absent in China, Beautiful Life founder Zhou said people should still feel grateful that HIV medication is completely free, and that there are at least some support services available. "Back in 2000 I knew people who spent over 10,000 yuan a month to get the drugs," he said. "When I was confirmed positive in 2004, there was no one in the city I could turn to for help. I had to write e-mails to my friends abroad to get information."
But Wang wants more than the status quo. He hopes that by speaking out, his experience of being diagnosed and learning to live with HIV can make it easier for other people like him. He'd like to see government agencies like the state and local CDCs change their attitudes. "They should be friendlier and warmer toward people with HIV," Wang said. "Treatment facilities should feel a greater sense of responsibility toward us."
(Header image: A man tours an HIV awareness exhibition at China's first public safety museum in Beijing, June 16, 2005. Guang Niu/Getty Images/VCG)