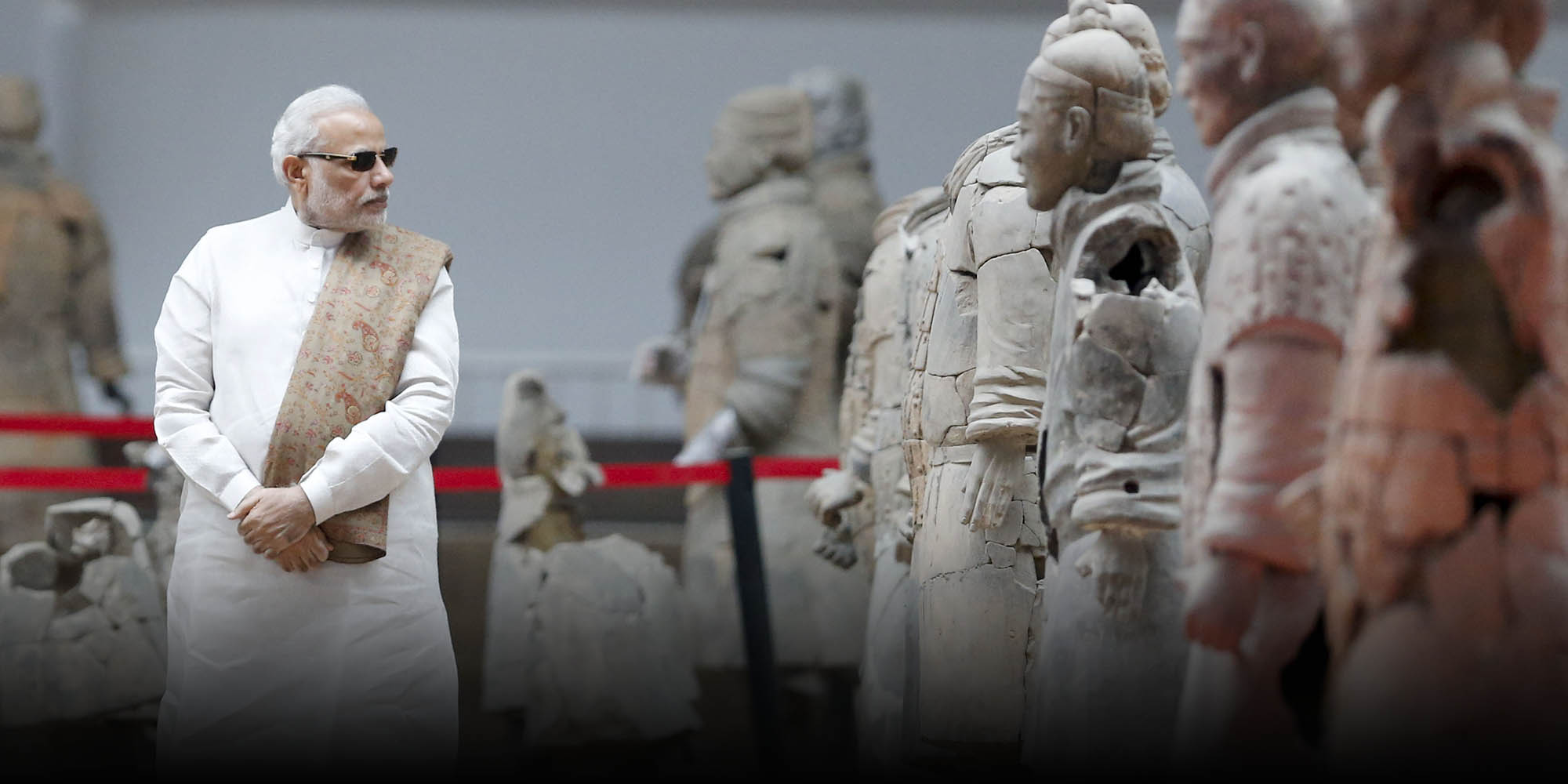 FEATURES
Q&A With Anurag Viswanath on Her Book 'Finding India in China'
An Indian writer's trip through neighboring China reveals familiarity, curiosity, and sometimes ignorance.
When the University of Delhi offered a course in Chinese politics and foreign policy in the early 1990s, only three students signed up. Two of the three later dropped out. Anurag Viswanath was the lone student who saw it through to the end.
Viswanath's dedication to China paid off, leading her in 2001 to Shanghai's Fudan University on a Ph.D. scholarship to research poverty alleviation in China. Since then, she has traveled to the farthest corners of China: the Xinjiang Uyghur Autonomous Region, the rustbelt city of Daqing in the northeastern province of Heilongjiang, and the ancient city of Xian, among others.
Viswanath's trips have brought her into contact with a broad range of Chinese people, many of whom had never met an Indian before. In her book, "Finding India in China: Travels to the Lesser Known," she recalls and reflects on the similarities and differences between people from Asia's emerging super-nations, China and India.
"Chinese people, like others, want to share their stories," Viswanath says. By telling those stories through Indian eyes, she hopes to do her bit to deepen the understanding of rising China. "There's a paucity of books written by Indians about China," she says. "People's experiences and values influence how and what they see and how they write about it."
Viswanath spoke to Sixth Tone about misconceptions among the people of India and China, the characteristics that connect and distinguish them, and her perceptions of how China has changed since she first visited 15 years ago. The interview has been edited for brevity and clarity.
Sixth Tone: How did you end up in China?
Anurag Viswanath: I arrived in China in 2001, just a week or two before the Mid-Autumn Festival. For me, China was the first foreign country that I ever stepped into — India was still dismally poor, government salaries were a pittance, and for most of us, foreign travel, even to neighboring countries, was just a dream.
Part of the reason was that just getting a passport was a big problem then. And then the visa hung like the guillotine. At that time, India was just one decade into deep economic reforms and in the throes of change. A lot of Indians wanted to head out to Western countries such as the U.K or the U.S. — the snaking queue for the American visa started at 3 a.m., as I recall.
By comparison, there was virtually nobody lining up outside the Chinese embassy. When I went there for my visa, accompanied by my father, I was the only one that morning. Delighted that someone was actually applying for a visa to China, the consul came out of his office to greet us. My father asked him if I would be OK in China. "She will be all right. Shanghai is like Bombay," he said.
The comparison was instantly comforting.
When I arrived in Shanghai, I was a blank slate, not knowing what to expect. I arrived at Fudan University in the dead of night. The security guard gave me directions to go three floors up, without offering to help carry my luggage. Fortunately, a few Russian students who happened to be on their way home after a night out volunteered instead. I walked the three flights up past dirty walls to see what the room was like, and then took a peek at the common toilets in the dorm. When I saw a pile of poop in the sit-down toilet, I burst into tears.
As the first month went by — it's always the hardest — I did not seem to know the China that I was in the middle of, and so finding China became my preoccupation.
Sixth Tone: What were some of the most striking similarities you discovered between China and India?
Anurag Viswanath: A glaring similarity is that both countries have a traditional preference for sons because daughters are said to "marry out." Every other person in India or China will tell you how important a son is for continuing the family line. This shows up in the skewed gender imbalance: China's sex ratio is 116 boys to 100 girls; in India it's 110 boys to 100 girls. In the Indian state of Haryana, the sex ratio is 114 boys to 100 girls. The distortion — which is possible because of sex-selective abortions and lower fertility — is alarming.
Though China has yet to have a high-profile woman in politics who could match the likes of former Indian prime minister Indira Gandhi, it has taken crucial and critical steps to improve the visibility of women in the labor force. "Eve-teasing" — or sexual harassment in public — is less prevalent in China. Rape is handled firmly. As a woman traveling alone, China set me free, and this is the paradox that I alluded to in my book.
Sixth Tone: What are the characteristics that you feel unify Indians and Chinese? What traits set them apart?
Anurag Viswanath: The Chinese are as human as the Indians, the Americans, and the Syrians, and vice versa.
Allow me to be a bit of a romantic. Indians are like the Italians of Asia: family-centric and boisterous; foodies with can-do attitudes; exuberant, with all the time in the world for a cup of chai; and of course, a strong foundation in karma and culture. India is more diverse than all of Europe and boasts several languages, dialects, living traditions, and, of course, one of the oldest religions in the world in Hinduism.
Compared to Indians, the Chinese are less colorful and flamboyant, with a propensity for order and discipline. The Chinese are doers who find their karma in the daily grind — in the perfection and pragmatism of the task at hand. On my first study trip to Kunming, in the southwestern province of Yunnan, I encountered Chinese scholars trying hard to understand the Indian work ethic and apply this knowledge to explain why China is more economically developed than India.
Unfortunately, Chinese pragmatism has often translated to accomplishing jobs — such as demolishing centuries-old buildings to make way for a new highway — while showing little emotion. India has its contradictions, but its heart is usually in the right place.
In retrospect, nothing at all comes free. China pays a price for being in a hurry, and the India of Gandhi and Nehru is mired in disagreements that make it slow to move. At the end of the day, what is remarkable is that India is moving — and fairly well, I might add.
Sixth Tone: What were the most common misconceptions about India and its people that you encountered during your research?
Anurag Viswanath: Some misconceptions are hilarious. "Are the Hindus of India, the Han of China?" "Are the Hindus much like the Muslims?" I think I was asked this latter question because I often refuse to eat pork, simply because I grew up in India and pork was just not on the menu.
In 2001, when I was heading out to China, a well-meaning family friend asked me what I would do in a "nation of peasants."
Over the years, my husband Arun and I have been mistaken for merry Uyghur travelers — something that must emanate more from a lack of understanding of Uyghurs than of Indians. In April 2016, I visited a Tibetan part of Qinghai province where tourists rarely go. I was stopped by the police, who took away my passport — it was returned after a couple of hours and a "security clearance." One of the officers said that because I could speak Chinese, and because Indians don't know how to speak Chinese, I must therefore be a spy.
This incident — my very own private James Bond moment — illustrates the miniscule number of Indians in China, at least in the western parts.
Sixth Tone: What intergenerational differences did you encounter when it came to people's attitudes toward and impressions of India?
Anurag Viswanath: Often being Indian in China is seen as being able to sing, dance, and strike a yoga pose, while being Chinese in the Indians' eyes conjures up images of Bruce Lee and kung fu.
India's "soft power," by way of Bollywood, has reached many corners of China. Many old-timers in China can sing a jingle or two from Bollywood movies of yore, such as those of Raj Kapoor — a kind of Indian Charlie Chaplin, only less comic and more socialist. More recently, many Chinese loved the Bollywood comedy "Three Idiots." Superstar Shah Rukh Khan is especially popular among Uyghurs.
Many younger-generation Chinese seem interested in India's software. Others focus on India's status as the world's largest democracy, pointing out that all is far from rosy in the country. Still others are adventurous and want to travel to India for the experience.
But beyond these areas, interest in India is skin-deep in the minds of the Chinese.
Sixth Tone: India and China are both developing countries with huge populations and a common border. Yet diplomatic relations between the two countries have vacillated between hot and cold. Why is that?
Anurag Viswanath: The initial years after the establishment of modern China and India – both countries were established within years of each other, in the late 1940s — were years of euphoria and of shared solidarity among the developing countries. India was the first country to officially recognize the People's Republic of China. But disagreement on the positioning of the shared 4,000-kilometer border led to a "border war."
Tensions between the two nations did not thaw until 1988, when Nehru's grandson, Rajiv Gandhi, shook hands with Deng Xiaoping.
The relationship is evolving. In recent years, top-level leaders from both sides have visited each other with frequency, indicating a desire to foster better relations. But it will take time for those desires to percolate down to the ordinary people. The two countries have moved from the shadow of war to a tentative cooperation, but trust has yet to be fully regained.
China and India must come together as equals. Nothing is impossible for China. If it puts its mind to it, Beijing can win the hearts of the Indian people, too.
Sixth Tone: From your observation, how does the China of today differ from the China of 15 years ago? What path is China on now?
Anurag Viswanath: Fifteen years ago, life was changing but still quite simple. "Flying Pigeon" bicycles ruled the road, foreigners were still a novelty, and the tuhao, or nouveau riche, were largely scorned. I recollect that when I first went to conduct fieldwork, the gentleman who drove the car ate with us during meals. In today's China, he would eat alone. People do have better lives and access to more material things. But the biggest change is growing disparities and hierarchies. The Ferraris and Ferragamos rub shoulders with almost 280 million migrants, many of whom live life on the margins of society. In decades past, China was still talking about a "peaceful rise." Today, China is confident enough to flex its muscles.
(Header image: Indian Prime Minister Narendra Modhi examines the Terracotta Warriors during a visit to Xian, Shaanxi province, May 14, 2015. Du Yang/VCG)