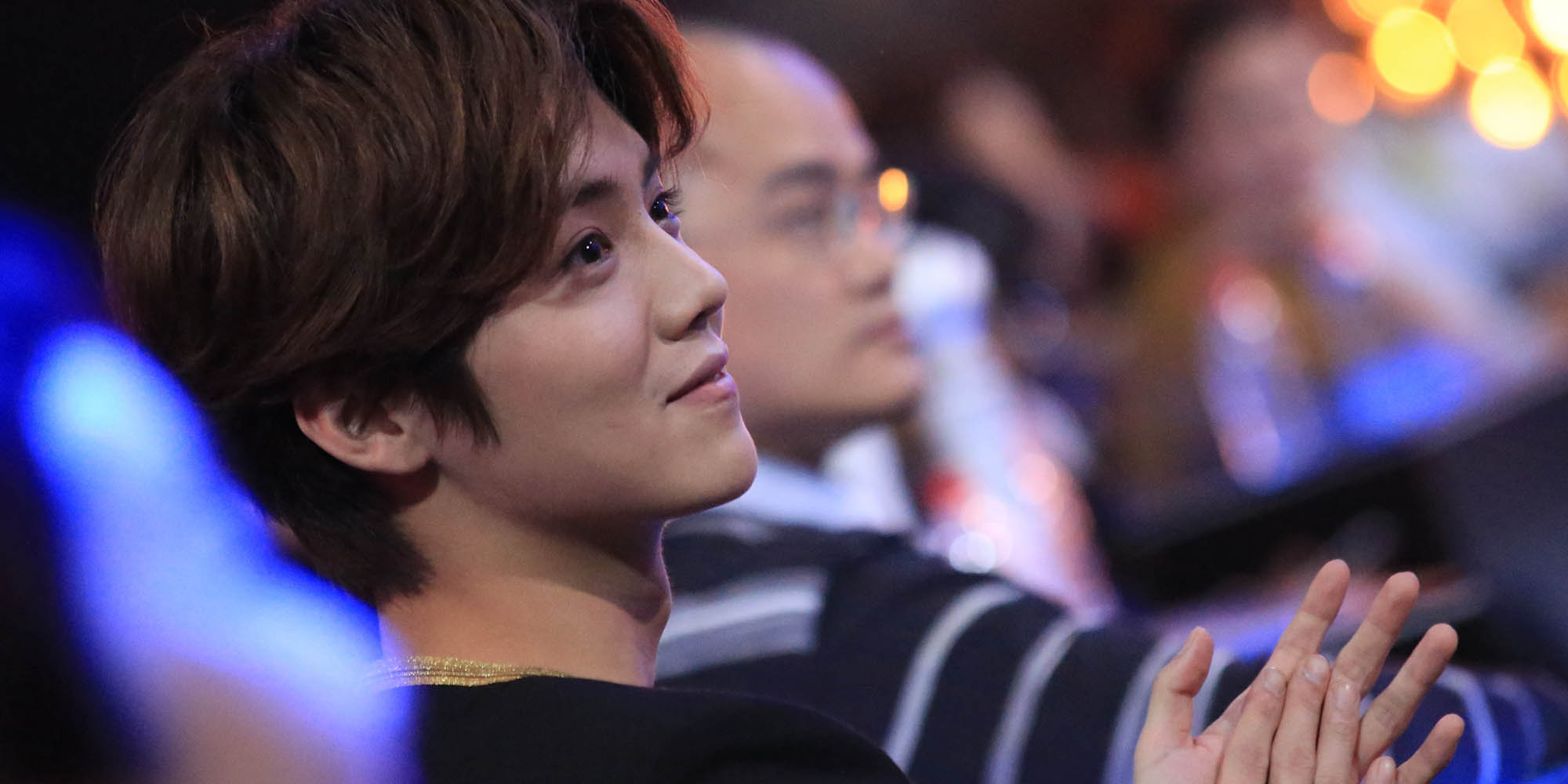 VOICES & OPINION
How 'Little Fresh Meats' Are Winning China Over
Chinese women are using their power as consumers to change traditional stereotypes of male beauty.
Despite not making it to the 100-meter freestyle swimming final, Ning Zetao remained one of China's most beloved athletes for the 2016 Olympics. The wall on Ning's Weibo account — China's most popular microblogging platform — filled up with more than 100,000 loving user comments after his competition.
In addition to Ning, there are several other male athletes — mainly competing in fencing and gymnastics — who have won the adoration of Chinese fans without having won any medals. All of them have handsome faces and sculpted bodies, and are described as xiao xian rou, or "little fresh meats," by Chinese media and net users.
The phrase "little fresh meat" has been around now for several years and refers to someone who is athletic, young, and handsome. In 2014, the online media company Sina published an article rating the top 10 "little fresh meats" in China's entertainment circle.
The popularity of the label has helped to change how the media portrays men. Only a decade ago, male leads in Chinese film and television were cast as tough, authoritative, and patriarchal characters. If a male character appeared meticulously groomed, he was normally portrayed as being a sissy, a eunuch, or gay — intended to be objects of contempt.
Not anymore. Little fresh meats have inspired the media to create new representations of male beauty, often characterized by well-built, topless torsos, and delicate, almost feminine, features. They signify female desire.
Last year Gong Yan — a 34-year-old columnist who runs a public account on mobile messaging app WeChat — published an article that was picked up by many online media sources. The article focused on Chinese actor Yang Yang, specifically taking time to praise his beauty. "If there was a television series in which Yang Yang only sat and ate melon seeds, I would happily watch 80 episodes of it."
In a sense, the popularity of these men is the opposite of the "male gaze" — an academic term that refers to the cinema viewing women as objects and subjecting them to a controlling gaze. Under this new trend, young men become the objects of desire.
In many cases, these little fresh meats are viewed as sexual objects whose fans don't attempt to hide their erotic lust. Whenever a photo or trailer of one of these young men appears online, user comments invariably tend toward the bawdy.
However, not every little fresh meat is the subject of erotic spectacle. One famous counterexample is the TFBoys, one of China's most popular teenage-boy bands. At the time of their debut in 2013, the three members of the group were schoolboys between 13 and 14 years old, but the majority of their fans were females over 20. Their fans labeled themselves "aunts," and their love for the TFboys was more protective than desirous.
Thus we can say that there are in general two types of little fresh meats. One is an alluring, passive sexual object, while the other is an innocent, naive boy. Both are beautiful, and more importantly, both of are markedly different from common male stereotypes in the Chinese popular culture in times past.
Unsurprisingly, while pleasing a large number of women, the popularity of the trend also upset many people. In a forum during the Shanghai Television Festival held in June, screenwriter Wang Hailin labeled the phrase "obscene." Last year, film director Feng Xiaogang told the press that the phrase conjured up pornographic sentiments.
And yet it seems that these criticisms are having no effect on the public. An increasing number of films and television shows are casting little fresh meats as male leads, and new celebrities are appearing every day. According to the entertainment industry market research firm EntGroup, the commercial value of certain little fresh meats is enormous, and often comparable to some of China's biggest stars, like Jackie Chan.
In a way, Chinese women are using their power as consumers to forge the ideal male figure — one who is beautiful, understanding, and inoffensive. But does the label "little fresh meat" really, as critics attest, carry indelicate implications and objectify men? The answer of course is yes, but for me these flaws are outweighed by their merits.
We must not forget that modern-day China remains a society on the long road to gender equality. The United Nations Development Program ranked China as 40th among all countries for gender inequality in 2014. In a sense, by forging their own conceptions of beauty and showing how much influence these preferences can have in the free market, women can be seen to be challenging the stubborn patriarchal order.
Or perhaps it is not a deliberate attack on a male-dominated society, but simply an outpouring of feeling — a lust for beauty. Nonetheless, I believe that it is breathing fresh air into gender stereotypes, making them less rigid and more complex.
(Header image: The singer and actor Lu Han is pictured at the 5th Beijing International Film Festival in Beijing, April 18, 2015. Zhang Tianran/VCG)