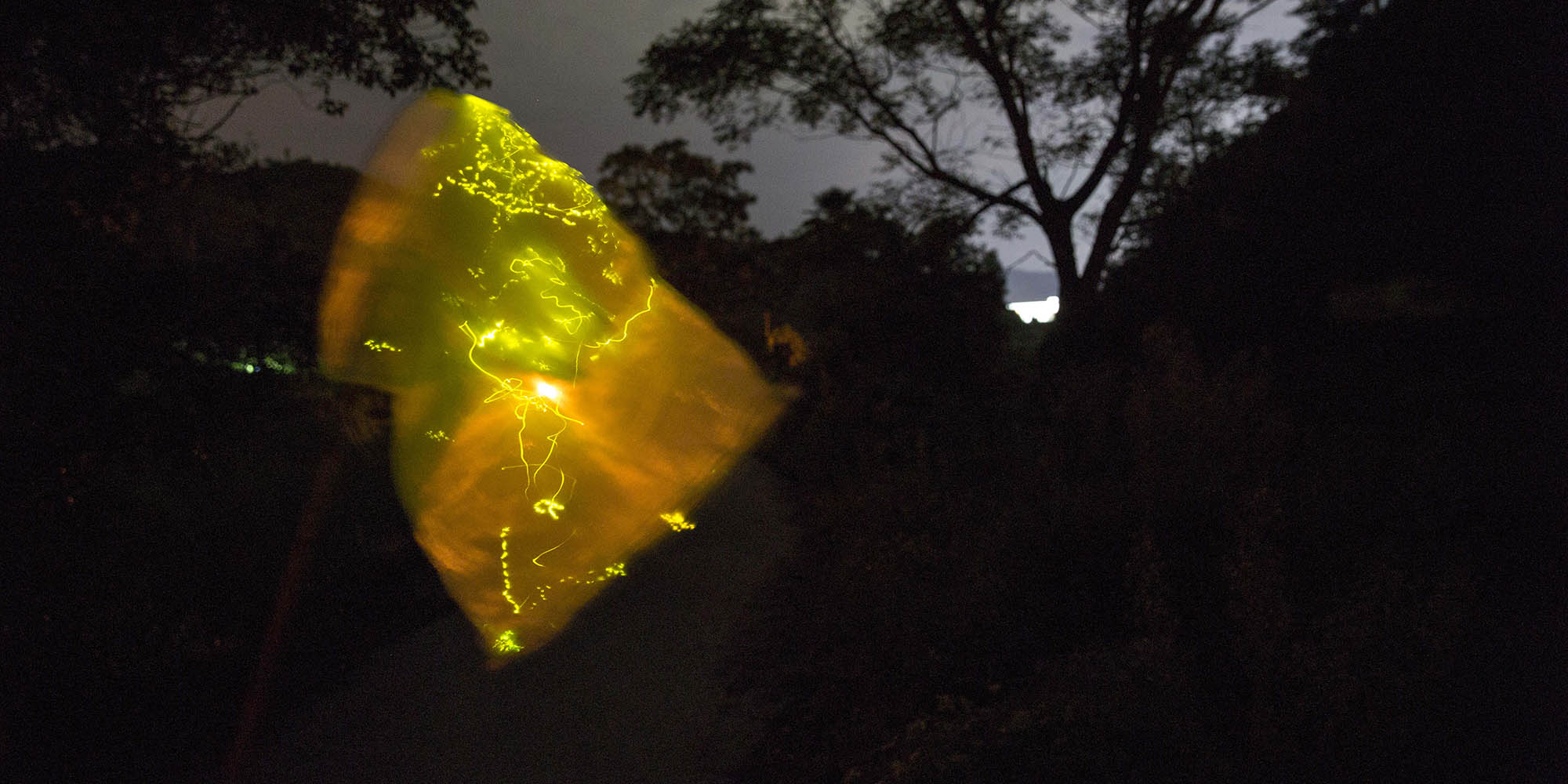 FEATURES
China's Lust for Romance a Death Trap for Fireflies
Millions of fireflies are caught in the wild every year in China, endangering the insects' once-bright future.
When darkness falls over the mountainous terrain of eastern Jiangxi province, Li Junhong and his wife get on their motorcycle and ride to one of their favorite spots near a gurgling creek. Here, the flashing and blinking lights of hundreds of fireflies light up the night, creating a magical scene. But the couple haven't come here to canoodle. In Dagu Township, where they're from, fireflies are good business.
From the side of the road, Li points his motorcycle's headlight toward the fireflies. The tiny beetles use their lights to attract a partner, so Li is essentially turning his motorcycle into the brightest, most desirable mate. The unwitting fireflies, fooled by the flashing headlight, fly up to the motorcycle, where Li is waiting to catch them in a sweep net.
From that moment, the insects begin a journey that usually ends in an environment in which they can't reproduce or — in some cases — even survive. In recent years, botanical gardens, parks, and shopping malls thousands of kilometers from the valley in Jiangxi have started to advertise "firefly release" events. But as demand for the magical critters increases across China, experts warn that the trade could wipe out entire species.
"Nothing can be more romantic than expressing your love under the glow of fireflies," read an advertisement for a botanical garden in Nanjing earlier this summer. Like dozens of commercial parks and gardens across the country, the garden organizes firefly release events during spring and summer, with the annual highlight being Qixi Festival, a Chinese version of Valentine's Day, which was celebrated on Aug. 9 this year.
"Even though fireflies are tiny insects, they are emissaries for earth's natural magic and wonder — that's why people are so fascinated with them," Sara Lewis, an expert on fireflies and a professor of evolutionary and behavioral ecology at Tufts University in the U.S., told Sixth Tone.
As the popularity of release events has increased over the years, experts and researchers estimate that several million fireflies are now caught and released for Qixi Festival alone. The Firefly Ecological Alliance (FEA), a group of volunteers who work to protect fireflies in China, counted 87 commercial release events between May and October last year.
"Overharvesting is a major concern," said Lewis, who wrote a book on fireflies called "Silent Sparks: The Wondrous World of Fireflies." "If the fireflies are coming from another place, the adults and juveniles usually won't survive," she said, explaining that they can only live in specific habitats.
While firefly larvae live for several years, the blinking adult beetles only live for a week or two — just the amount of time it takes them to reproduce. If they are caught and released into an environment that doesn't allow them to survive for more than a couple of days, they can't reproduce.
"Don't go to the grave of the fireflies," FEA said in an online message in response to the release event that was being organized in Nanjing. Under pressure from FEA and its volunteers, the event was eventually called off. This kind of successful intervention, however, is rare, and the number of fireflies caught in China continues to increase dramatically every year. If these harvests continue, Lewis says, many species won't survive.
In Dagu Township, fireflies have become a source of income that hundreds of families depend on. Middlemen receive orders through their online shops or phone calls, and they pass word on to the beetle-catchers. "We usually call the vendors before we head out. If they don't have orders, we don't go," Li said. An adult firefly earns Li and his wife around 0.5 yuan ($0.08), while a larva, which also produces light, is worth 0.4 yuan. But before Qixi prices soar, and a single firefly can fetch as much as 1 yuan.
Although Li says he catches several hundred a night, it's a meager harvest compared to his fellow villagers. "Some people drive much farther, to better places. If they get lucky, they can catch nearly a thousand in just one night," he said. Li's hometown belongs to Ningdu County, an impoverished area of Jiangxi with an average annual income of less than 10,000 yuan.
The firefly trade has only caught on in the past few years, said Hu Jihong, a 62-year-old farmer from Yangji Village, not far from Dagu. He started catching the beetles in 2013, but said that he had to give it up this year due to poor eyesight. The previous year, he earned 10,000 yuan from fireflies — much more than the roughly 6,000 yuan he made from farming.
When he was young, Hu said, fireflies would fly right into his house. Now, however, he sees fewer and fewer each year. "Too many people are hunting them," he said.
Vendors contacted by Sixth Tone claimed they only sell fireflies that have been commercially farmed in labs. Because the chemicals that fireflies use to produce their light can be applied to forensics, medicine, and food safety, scientists figured out how to raise them in vitro decades ago.
But experts have said it is highly unlikely that the massive numbers of fireflies being sold each year are farmed commercially. Li Xueyan, an assistant researcher at the Kunming Institute of Zoology in southwestern China's Yunnan province, said setting up a lab that simulates the right conditions for growing fireflies would cost more than 1 million yuan. Each farmed firefly would then cost several times more than its counterpart in the wild.
Japan was among the first countries that learned how to rear fireflies in a lab, Lewis said, and also among the first to protect its wild population. A century ago, Japanese fireflies were commercially harvested from the wild, much like they are in China today. The overharvesting in Japan depleted the population. "By the 1920s people started to notice that the fireflies were disappearing," Lewis said.
What saved the bugs from extinction was the government, which set up natural firefly parks. According to Lewis, China is currently the only country in the world with a commercial firefly trade. "There's a lesson to be learned [from Japan]," she said.
Fu Xinhua, an associate professor who studies fireflies at the College of Plant Sciences and Technology at Huazhong Agricultural University in Wuhan, is trying to establish similar refuges for fireflies in China. With support from the local government, Fu set up a protected area for fireflies at Dalei Mountain in Hubei province in 2014. He has also been educating locals about firefly protection, which he described as a difficult undertaking as long as they promise a quick and easy source of income and remain unprotected by law. "All we can say is that it's a really bad practice to catch and hunt them," Fu said. "It's like killing a hen to get her eggs."
Still, Fu has had some success, and the lab-raised offspring of bugs he released into the wild now silently twinkle over Dalei Mountain. He hopes that Dalei will one day draw tourists to walk its narrow hillside paths, where the fireflies' magical glow transforms the forest into an otherworldly landscape. "You can only feel the fireflies' beauty when they fly freely in nature," he said.
Additional reporting by Denise Hruby.
(Header image: Glowing fireflies are caught in a sweep net in Ningdu, Jiangxi province, Aug. 4, 2016. Xu Haifeng/Sixth Tone)