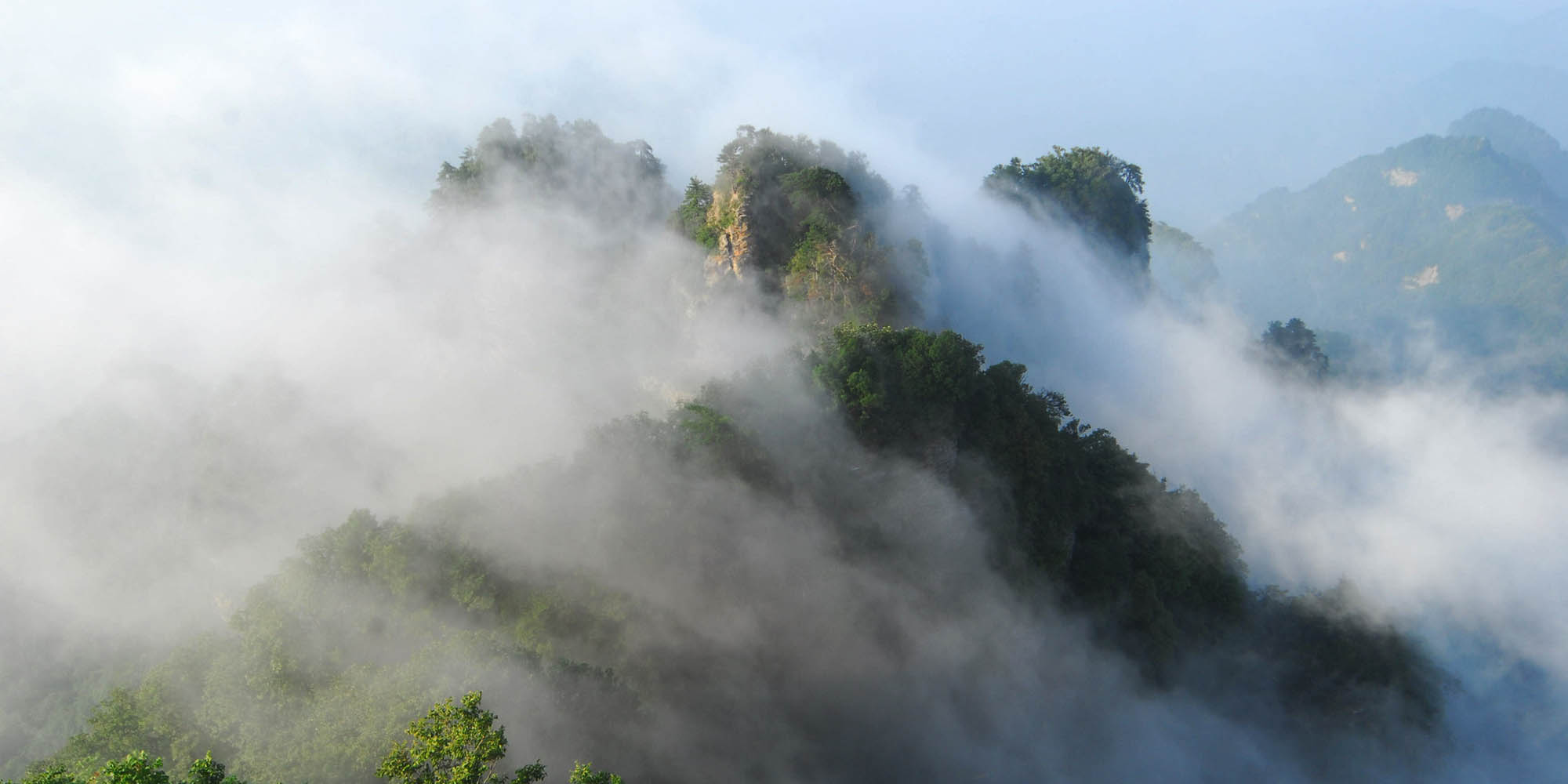 FEATURES
In Search of China's Bigfoot
Retired cadres continue 40-year mission to seek Shennongjia's savage despite widespread antipathy.
The Jeep snaked its way across the verdant mountains of Shennongjia in the early hours of the morning, carrying with it a crew of five of the area's top leaders. It was May 1976, and the group was returning to Songbai — a small town in China's central Hubei province — after a day of meetings about agricultural production seven hours away in Yunyang.
At around 5 a.m. Chen Liansheng, at the time the deputy director of the Shennongjia party office, was startled awake by a shout from the driver: "There's something up ahead!"
Food was scarce in Shennongjia at the time. If the group had stumbled upon a wild sheep or goat, it would present a rare chance to fill the stomachs of several households. But as then-29-year-old Chen stared through his bleary eyes at the animal standing in the car's headlights, he realized something wasn't right. This was no sheep; it was the same height as a tall human and walked on its hind legs.
Buoyed by their advantage in numbers, Chen and the other three passengers in the back jumped out of the vehicle to surround the animal in the hope of capturing it. As the group came close, Chen saw that the animal's body was covered in red fur. Frightened, the animal grasped at the branches hanging over the track to pull itself up and on to the slope beside the track, but failed and fell down into shrubbery before running off.
The four got back in the car and for the rest of the journey back tried, and failed, to make sense of what they'd just seen. The daily broadcast on the car's radio of the folk song "Sing the East is Red" marked their arrival at Songbai.
In the 40 years since that night, there have been a reported 200 sightings of a so-called yeren — literally savage or "wild person" — Shennongjia's very own Bigfoot. Despite a lack of any conclusive scientific evidence, Shennongjia's Bigfoot believers maintain to this day that such a creature does exist. Chen, now 70, is among them.
Shennongjia, a region covering more than 3,000 square kilometers, can seem like a magical place. Clouds often shroud the karst mountains that support a primeval forest covering 96 percent of the area. Hidden beneath the mist and the forest's canopy is an ecosystem of incredible biodiversity home to the golden snub-nosed monkey, the clouded leopard, the Asian black bear, and the bizarre-looking Chinese giant salamander.
For its human inhabitants, though, the region can be a tough environment — especially in the 1970s. After graduating from Wuhan University, Chen was sent to Shennongjia where he and his colleagues were charged with leading the various departments of the local government. They quickly found that there were hardly any schools and food was scarce. Chen survived mostly on corn. Rice, he says, was a rare treat.
On a humid August evening, soft-spoken Chen is drinking tea in a cafe in Hubei's provincial capital Wuhan and recalls how, after the encounter, he phoned the vice minister of the publicity department for Yunyang, inviting him to visit the scene of the sighting. When the pair inspected the scene, they found unusual-looking red hair which they presumed belonged to the unidentified creature.
Chen decided to contact the central government, and sent an 800-word report to the Chinese Academy of Sciences (CAS). The experts at CAS deemed the discovery significant. "It was important that the eyewitnesses were all high-ranking officials," Chen says. "As party members we wouldn't have lied." The experts at CAS contacted Hubei provincial government and told them to give the issue their immediate attention. A year later, in 1977, they set up an investigation unit.
The group of more than 100 people spent four months on the case. The team, which included experts from CAS, Wuhan University and soldiers, found a nest, fur and large footprints, all of which they suspected belonged to the mystery animal.
Ultimately, the investigation did not result in any conclusive evidence.
The failure of the investigation to bear fruit came as no surprise to Wang Shancai, an 80-year-old diehard Bigfoot believer, who was among China's first batch of archeologists in the 1950s. Speaking about the head of the investigation, military official Wang Gaosheng, Wang says: "He knew nothing about scientific research."
It isn't a surprise that Wang sounds bitter. Just a year before the CAS-commissioned project of 1977, he had been sought by the local government in Shennongjia to lead an investigation, prompted by a farmer's encounter with an unidentified creature in May 1974.
But it was a small-scale investigation with only 30 members, and in October, after only two months, Wang was ordered to step down and return to his position as a low-level civil servant to conduct government meetings, as the central leadership sought to maintain stability following Mao's death that September.
But Wang's passion for the cause was never completely extinguished, and in 2009 he established the Hubei Wild-men Investigation Institute, of which he is chairman. The private organization's membership includes experts, officials, and ordinary citizens.
Although the association has no governmental backing, Wang continues to view his quest as an unshakable duty. His wife, son, and daughter moved to Shanghai a long time ago, but he has stayed behind. "I was supposed to enjoy my family life after I retired 20 years ago, but I stayed here due to my sense of responsibility as officials gave me this task," Wang says. "I feel that I should devote myself to this issue."

At that time, public money was funding the search for the Shennongjia savage. The Hubei government and CAS both supported the 1977 investigation. But over the years, these funds have dried up.
In 2009, Wang decided to establish the association in the hope of discovering definitively whether or not the Shennongjia savage exists. But he discovered that the then-director of the Wuhan Forestry Bureau didn't believe in the savage, and as such no public money has been forthcoming.
Today, the association is struggling to raise funds to carry out an investigation. Wang has approached entrepreneurs, but found them unwilling to provide money for his search because of the uncertainty of any return on investment.
Wang insists that solving the mystery is scientifically significant enough to be worthy of support. "Many people have seen it," he insists. "We won't jump to reckless conclusions as scientists, but whatever name you give it, I believe this strange being exists."
But Bigfoot believers aren't just up against reluctant investors. They also face accusations that their quest is simply a ploy to increase interest in the area and boost local tourism.
Luo Yongbin, director of administration at the Shennongjia National Nature Reserve, is adamant that their cause not be construed as an attempt to generate interest in the region. "Shennongjia isn't hyping things up for tourism," he says. "The people in Shennongjia haven't created the myth for their own benefit, or to increase the renown of the place."
In his more than 20 years in Shennongjia, 45-year-old Luo has heard many of the eyewitness accounts of Bigfoot. He rattles them off with a twinkle in his eye, gesticulating wildly as if he were present for each.
Luo's time eventually came in 2008, when he claims he spotted a female creature with a child. Luo was travelling with a journalist for a local television station who had been interviewing him. The journalist was asleep at the time, and promptly accused Luo of making up the story to create publicity to help the area's tourist industry. When Luo posted his story online, he faced a similar response. "People cursed me out," he laughs. "But we aren't lying."
The reaction is a reminder that, however convinced the individual is, eyewitness accounts are impossible to verify. Scientists also point out that not one single Bigfoot fossil has ever been found, yet other fossils are relatively abundant.
Zhao Lingxia, a CAS expert in paleoanthropology — the study of human evolution through fossils — believes the only reliable evidence can come from bones. "For us paleoanthropologists, we need bones to verify the existence of a species because soft tissue can get rotten, but bones will not," she says.
With such a lack of scientific evidence, Zhao believes it is time for people to move on. "Given that many Chinese people can hardly afford food, it doesn't make sense for the government to devote money and human resources into this issue," she says. "They have more important things to do."
Wang Shancai is aware of the case against Bigfoot believers like himself, but remains unmoved. "Some animal experts from Beijing China Academy of Sciences reach to conclusions without even having been there," he says. "It's ridiculous that they claim to know all animals while sitting at home." It is improbable that such a claim would be used today, however, given that new species are discovered on a daily basis.
Wang is confident that his association would be able to solve the mystery quickly with modern technology, including cameras, infrared detectors, and monitors. But it's the cost of the technology that is proving the greatest barrier to realizing his life's mission.
While Wang's dedication to uncovering Shennongjia's Bigfoot sees him living alone in his old age thousands of miles from family, for Chen, the saga is mostly in the past. Although he believes further investigation into the unsolved mystery is necessary, he hasn't let it take over his life. Forty years after his mountaintop sighting, Chen lives happily in retirement with his wife in the provincial capital of Wuhan.
The quest to prove the existence of the Shennongjia savage may have yet to bear fruit, but the legend has given Chen a gift: a one-of-a-kind story. "I have told the story to my grandkids, and I also told my son when he was little," Chen smiles. "He was amazed."
Additional reporting by Feng Jiayun.
(Header image: Mist among the mountains in Shennongjia, Hubei province, June 30, 2007. Yiwannuofu/IC)