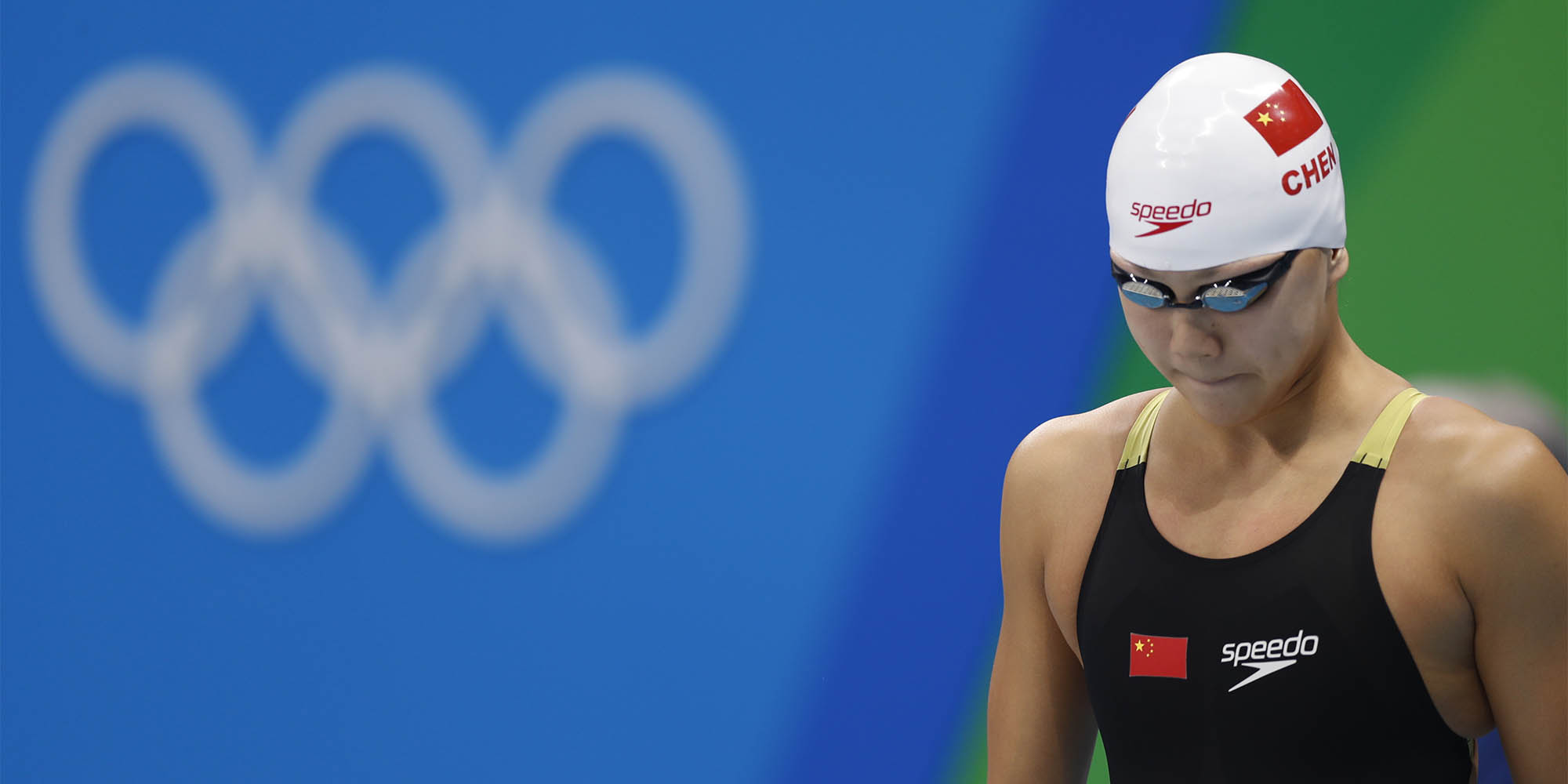 NEWS
Positive Test for Chinese Swimmer Breaks Internet, Hearts
Social media users rally around and against 18-year-old Olympian Chen Xinyi following positive drug test.
Chinese swimmer and Rio Olympics participant Chen Xinyi has tested positive for a banned substance, state-run news agency Xinhua reported on Friday.
The Chinese Swimming Association confirmed in the early hours of Friday morning that 18-year-old Chen tested positive on Aug. 7 for hydrochlorothiazide, a substance that promotes the production of urine, thereby making detection of other banned substances more difficult. Chen has applied to the International Olympic Committee for a second test.
Xinhua quoted a spokesperson of the Chinese Swimming Association as saying that the association is firmly opposed to the use of stimulants, and will actively cooperate with the international sports arbitration court in its investigation.
Chen finished fourth in Sunday's 100-meter butterfly final. It is not yet clear whether the revelation will have any bearing on her eligibility to participate in Friday's preliminary heats for the 50-meter freestyle.
As a rising star on the Chinese swimming team, Chen represented China and won a gold medal in the 4x100-meter medley relay at the world championships in Kazan, Russia, last year. She won gold medals in the 50-meter freestyle and 100-meter butterfly at the Incheon Asian Games in South Korea in 2014.
Friday's revelation has created a commotion with Chinese net users on microblogging platform Weibo, garnering tens of thousands of user comments polarized between support for and criticism of Chen.
Many are holding out for the second round of testing that Chen has called for. "I believe [those representing] our country would not intentionally take banned substances," wrote one user. "Everyone should remain rational and wait for the results."
Others disregarded the need for rationality. "Hang yourself in Brazil and don't come back, thanks," wrote one user beneath Chen's most recent microblog post on Aug. 8, in which she reflected on her performance in the 100-meter final.
Some invoked the nationalist cause in their support of Chen. "I have unconditional faith in you," wrote one user, "because we are all Chinese."
But others worried that a confirmed positive result would be disastrous for the country. "If it is positive, it won't just be you who takes the blame," wrote one user. "Do not affect the honor of our country for yourself."
Friday's episode carries particular poignancy following the uproar caused by swimmer Mack Horton's labeling of his Chinese competitor Sun Yang as a "drug cheat." News and social media alike erupted after the Australian publicly stated his disapproval of fellow competitor Sun's participation in the Olympics, given that Sun had been previously banned for taking performance enhancing drugs.
Most stood — and continue to stand — by Sun, but Friday's revelation that an athlete representing China appears to have taken banned substances has caused some to pause for reflection. "Don't demand an apology from Horton anymore, as he might be right," said one user.
(Header image: Chen Xinyi prepares to compete in the women's 100-meter butterfly final at the Olympic Aquatics Stadium, Rio de Janeiro, Brazil, Aug. 7, 2016. Fei Maohua/Xinhua)