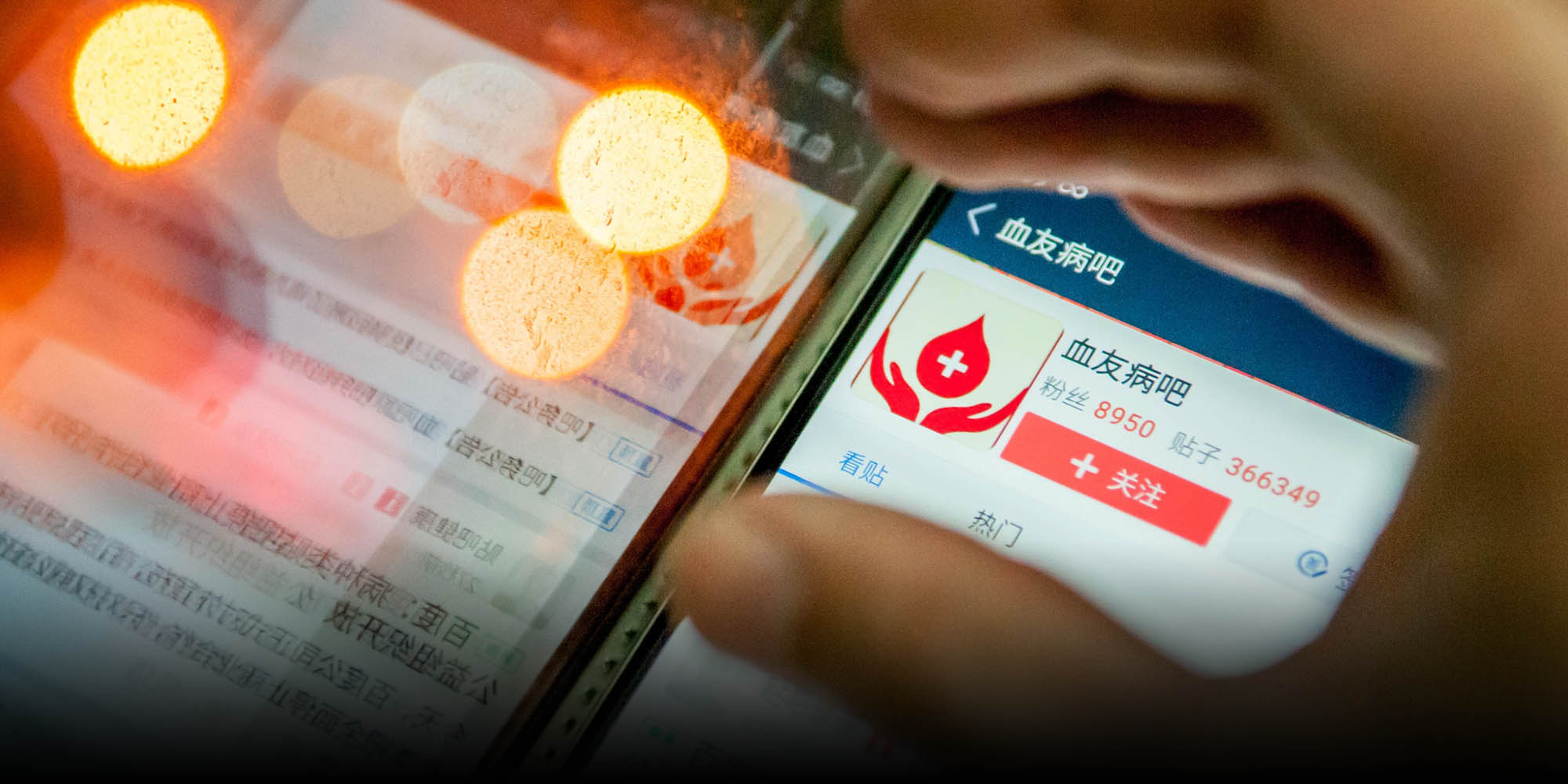 NEWS
Baidu Tieba Hemophilia Scandal Drags on in Libel Case
Hospital says patients are staying away after allegations of professional misconduct.
A legal battle pitting the head of a private hospital against China's national television channel and hemophilia patient advocates kicked off last week in northwestern Shaanxi province, Sixth Tone's sister publication The Paper reported on Tuesday.
The case highlights how the blood disease is treated in China and the ways patients seek out information. Hemophilia is a genetic disorder characterized by a lack of clotting factors, or proteins that control bleeding, in the bloodstream.
Liu Shanxi, founder and president of a hospital that specializes in hemophilia treatments, is suing Zhang Jianyong, formerly the volunteer moderator of a hemophilia-focused discussion board on Tieba, part of the online offerings of internet giant Baidu.
Liu is also suing China's state-run television network CCTV, the Hemophilia Home of China, and its director, according to The Paper. Liu is demanding apologies, the restoration of his reputation, and financial compensation between 10,000 and 200,000 yuan ($1,500–$30,000) for "mental distress." The first hearings were held on Aug. 3 and 4, and more are yet to come. The court has yet to reach a verdict.
The case has its roots in January of this year, when Baidu sold the moderation rights to a large number of disease-related Tieba forums, and Liu ended up in charge of the hemophilia board. Many users complained that under Liu's management, the forum was flooded with advertisements for treatments in his own hospital, and that posts with dissenting voices were deleted. The board had been previously moderated by Zhang.
During the last week's hearings, the defendants accused Liu of illegally practicing medicine and of placing medical advertisements that had not been examined by authorities as required by government regulations, according to The Paper. Liu's hospital, Shaanxi University's Institute of Hemophilia (SUIH), reportedly has no link to any university.
Back in January, Zhang accused Liu's hospital of selling unproven medicines and posting misleading advertisements in an online message. He also implied in one post that Liu was a swindler.
In China, patients with diseases such as HIV or hemophilia have few options when seeking information about treatment, and so many turn to online forums for advice. Many saw Baidu selling the moderation rights to its medical forums as the company placing profits before the well-being of its users.
Following the online furor, Baidu announced on Jan. 13 that it would stop selling moderation rights of medical forums to commercial parties, and that it would transfer control of the hemophilia Tieba board to a nonprofit organization, the Hemophilia Home of China. Since July Baidu has stopped selling moderation rights altogether.
In May, Baidu was involved in another medical scandal, when a cancer patient died after receiving ineffective and unproven treatments in a privately-run clinic he had found through a sponsored search result on the website. The case brought into focus how loosely regulated private hospitals profit from selling treatments and medicines that don't benefit patients.
The official website of SUIH says that the treatment the hospital offers is "amazing," and that the institute is hopeful it can reach an "academic or Nobel prize level" within 10 years. Moreover, according to the site its "unique" treatment methods combine Chinese and Western medicine, including drugs that the hospital developed itself.
"The treatment we use to cure hemophilia is completely different from Western methods, and it's not accepted by our counterparts," Liu Yiguo, director of SUIH — and also the son of Liu Shanxi — told Sixth Tone in a phone interview after the hearing. "The scandal in January greatly affected our business," he said, adding that many patients were no longer showing up.
Hao Siguo, director of hematology at Xinhua Hospital in Shanghai, told Sixth Tone that there is currently no effective cure for hemophilia, as it is a genetic disease. Instead, patients have to rely on injections for the duration of their lives. "The treatment where Chinese and Western medicines are combined to raise blood clotting factors is not scientific," Hao said regarding SUIH's treatment, adding that hemophilia patients should be treated at regulated hospitals.
According to The Paper, a few hemophiliacs and their family members testified for Liu Shanxi at the court hearing on Aug. 4, saying they felt less of the joint pain that accompanies hemophilia after receiving care at Liu's institute. A parent of one patient was quoted as saying the treatment was "a miracle."
Additional reporting by Wang Lianzhang.
(Header image: PulitzerGum/IC)