It's a scorching day in July, but internet celebrity "Pink Baby" is wearing a full-length skirt, facemask, and hat. Behind her wheelchair stands a nurse.
"Speak quietly, my nurse doesn't know everything about me," she says, sipping her tea. Few people know the true face behind the Pink Baby persona. Fewer still know her real name. Instead, following more than 200 plastic surgery procedures that have taken a disastrous toll on her body, she is known to most as "China's number-one plastic surgery fiend."
The way Pink Baby tells her story, she is a victim. Plastic surgery and beauty products have not only stolen her money, she says, but also brought her intense physical and emotional pain. Others say her story is a work of fiction — or at least gross exaggeration. Her critics doubt she's undergone as many procedures as she says, and others question how she can claim to be a victim while building a website whose revenue comes from plastic surgery advertisements.
"Everyone has their own dreams," Pink Baby says. "It's the same way with gamblers, the way they always think their luck will change tomorrow, or that they'll win the next round. That's how I feel about my next surgery."
Despite this, she rejects her title of "China's number-one plastic surgery fiend." "It makes me sound like a lunatic," she says.
It's not difficult to see how she has earned the ignominious epithet, though.
Each blink reveals heavy scarring on her eyelids, while her eyes themselves are shrouded by long, straight eyelashes. They were transplanted from her head hair, she says, and need to be trimmed every week to prevent them from growing too long. Pink Baby says she's had her eyes done around eight or nine times, and her eyebrows more still. "I'm not happy with either," she says.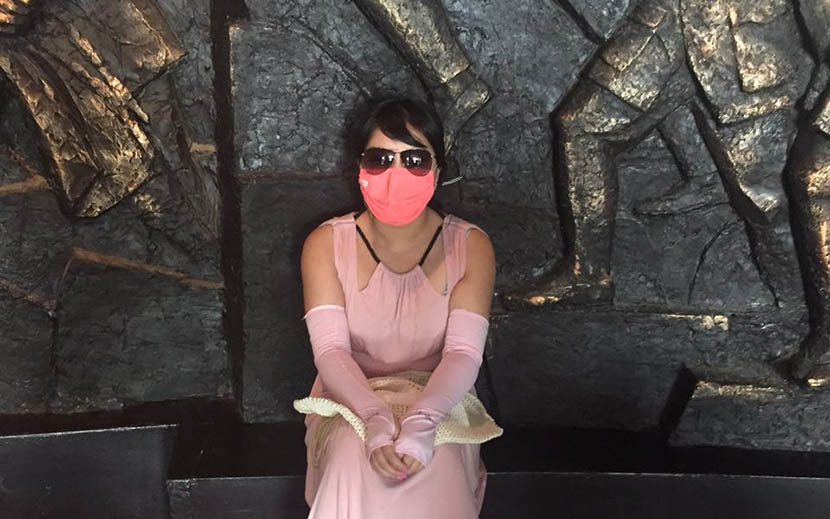 'Pink Baby' poses for a photo in Xuzhou, Jiangsu province, July 8, 2016. Yuan Lu/Sixth Tone
In 2010, leg-growth surgery at a military hospital in Shanghai — in which growth stimulant chemicals were injected into her heels — failed, leaving her bedridden for a year. "Because of what happened to me, the hospital was unable to expand their program," she says.
Pink Baby says the hospital was so angered by extensive coverage of her failed operation that it enlisted the services of a TV news program called "One Seventh" to out her as a fraud who was using media exposure for financial gain.
The editor of the program, Qin Bo, remembers it a bit differently. "I felt as though there were some problems with her story," Qin says. "At the time she claimed that she'd spent a few million yuan on plastic surgery, and that all of it had come from her parents. We thought we'd try to find her parents [and investigate]."
Qin says that from their farm in northeastern China's Heilongjiang province, Pink Baby's parents told the show's reporters that they hadn't covered any costs for their daughter's procedures. They knew very little about her, in fact — only that she was not doing badly for herself, the show reported.
After the release of the TV show's report, Pink Baby changed her story. Her paternal aunt had been the one who paid for her surgeries, she says, and had been the one who had raised her since she was a child. Her parents were unaware of her penchant for plastic surgery, she says.
Regardless, the hospital — the No. 85 People's Liberation Army Hospital in Shanghai — refutes Pink Baby's claims that the leg-growth procedure went catastrophically wrong. Gu Haifeng, the hospital's head of plastic surgery, says, "She underwent two separate medical evaluations [following the procedure], both of which found that she was fine."
"The law ruled in our favor," Gu adds, with a tone of agitation in his voice. "Don't listen to her self-serving nonsense. She's just trying to stir up trouble."
Pink Baby admitted that she lost her lawsuit, and says that afterward she moved from Shanghai to Xuzhou in 2011, where she lives today, assisted by her caregiver, a woman who identifies herself only by her surname, Yang. Pink Baby remains wheelchair-bound today, following a second attempt in 2014 at leg extension surgery that required the breaking of both her shin bones. When she is not pushing Pink Baby around in a wheelchair, Yang spends much of her time helping Pink Baby apply weight-loss cream.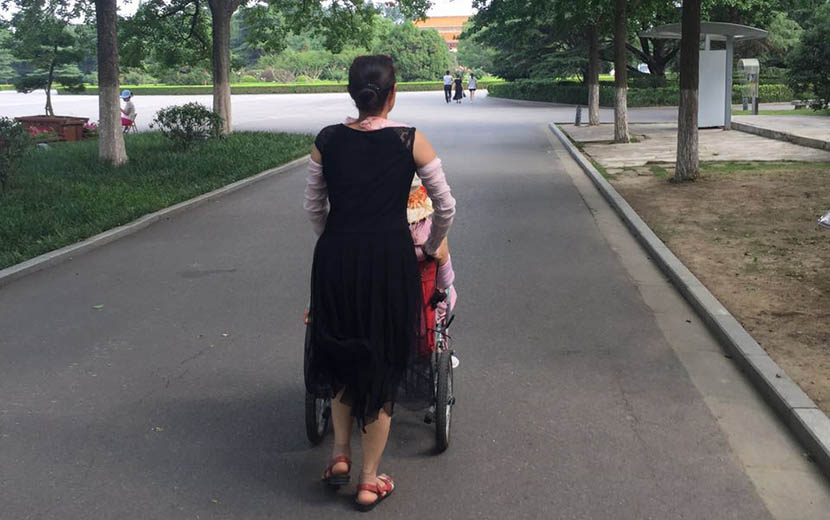 'Pink Baby' is pushed in a wheelchair by her caregiver Yang at a park in Xuzhou, Jiangsu province, July 8, 2016. Yuan Lu/Sixth Tone
"When the time is right I'll cut all of this off," Pink Baby says as she massages the fat of her underarms.
As she does so, her phone alerts her of a new voice message. It is from a Dr. Wang, representing a hospital located in Harbin, the capital of Heilongjiang. "I brought in three experts to consult on your chest," he says. "Right now the structure is a mess, but it's not necessarily indicative of cancer."
With a mind to enlarge her breasts, Pink Baby underwent injections of over 600 milliliters of "Amazingel," shortly before the substance was banned 10 years ago. Following severe chest pain, she went to get it removed, but the gel had already started to leak into the surrounding tissue.
Dr. Yang is just one of many doctors clamoring for the patronage of Pink Baby, who, despite the accusations surrounding the credibility of her personal accounts, guarantees a certain degree of media coverage. After an appearance in March 2012 on the Chinese talk show "A Date with Luyu" — referred to by some as China's Oprah — a Nanjing hospital contacted her and offered to help her remove her Amazingel implants free of charge.
"That was my eighth attempt," Pink Baby remembers. "It didn't go well, but I couldn't say anything. If I did, no one would risk helping me in the future."
Pink Baby's fame has brought her other benefits: It drives traffic to her own forum-based website dedicated to plastic surgery, which she established when she was banned by the moderator of another public forum after mentioning the name of the hospital where her botched heel surgery had taken place, she says.
The site brings her considerable revenue from advertising, of which around 2,000 yuan ($300) per month comes from sponsored content written and signed by doctors. The practice of sponsored online content in the medical field has been a matter of particular contention in recent months following the death of a cancer patient who received an ineffective and unproven therapy promoted by search engine Baidu.
Pink Baby says every hospital that advertises on her site is one that she has personally used. "I've seen their quality and surgical capabilities firsthand," she says. "I'm behaving in a completely ethical manner in posting these ads."
Pink Baby's online presence extends well beyond the realms of her website. As she sits in her wheelchair, her phone buzzes constantly. She has two accounts on the social networking platform QQ — each with over 2,000 contacts — and three accounts on instant messaging app WeChat — each with over 5,000 contacts.
Every day huge numbers of people will reach out to her via QQ, WeChat, and other channels to ask her for advice about choosing plastic surgery clinics. "I don't eat, I don't drink, I just respond to messages," she says. With the sheer volume of inquiries she receives, Pink Baby has begun charging 20 yuan for each "consultation."
Pink Baby says she's recently been receiving declarations of love via WeChat from a few dozen men every day. "If we haven't met, I don't pay any attention to them."
Because of her fame, Pink Baby has often considered changing her name to something less conspicuous, though she has never gone through with it. "I can't say goodbye to the Pink Baby persona right now," she says. "So many people know me, and I still have so many problems left to fix, I can't give it up. This is who I am now. This is the road I have to walk."
"Everyone says I'm so ugly and asks how I could have spent so much money only to look like this," Pink Baby says with a smile as she flips through masked selfies on her phone.
All of Pink Baby's WeChat profile pictures are of her standing with TV personality Chen Luyu. In each of them, her face is completely blurred out.
Pink Baby hopes to one day be able to do away with the blur filter. "I will wait until after my reconstructive surgeries are finished," she says. "Then I'll be able to meet people looking healthy and beautiful."
A Chinese version of this story first appeared in Sixth Tone's sister publication, The Paper.
(Header image: Loonger/E+/VCG)