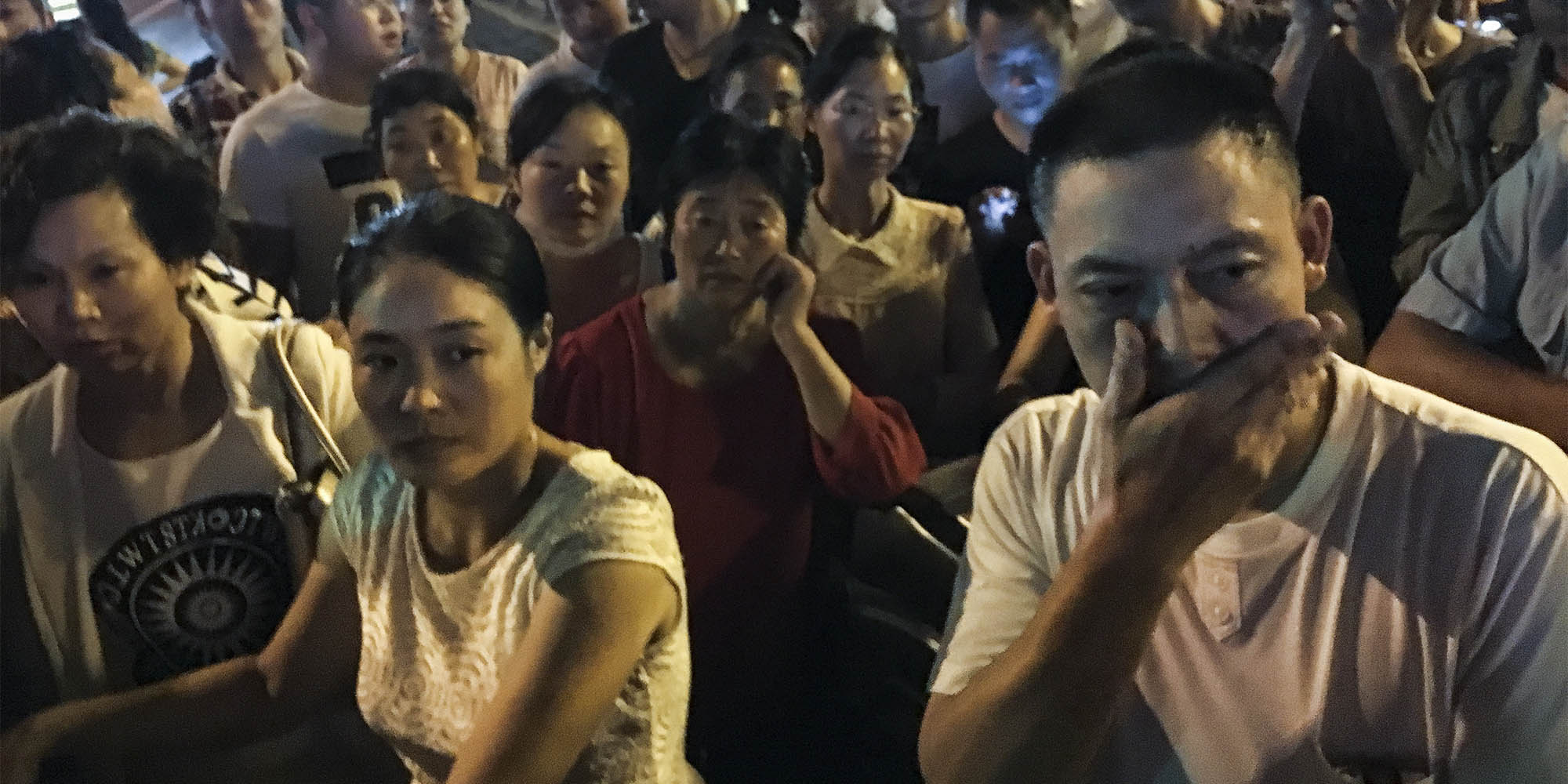 NEWS
Anti-nuclear Waste Protest Turns Violent in Lianyungang
Protesters refuse to back down as officials warn against rumors "to disturb social order".
Thousands of protesters this week continued to take to the streets to voice their anger over the construction of a nuclear waste plant in Lianyungang, a city on the shore of the Yellow Sea in the eastern province of Jiangsu, despite a violent crackdown by special police units that left dozens injured over the weekend.
On Monday night, thousands of residents gathered in front of a primary school near Suning Plaza and yelled "Protest, protest!" at SWAT police wearing heavy riot gear and carrying riot shields. Some residents were throwing water bottles in protest of a Sino-French nuclear fuel recycling project allegedly proposed for the city.
"I told my daughter that she must go to this protest. With every extra person, the momentum will get bigger," said 54-year-old Zhang, a pedicab driver. Like other residents, Zhang said that she wants to live in a peaceful, safe city, without a nuclear waste management plant. "It is not only about the individual, but about everyone," she said, adding that she was offering fellow protesters free rides.
Another protester attracted a small audience as he spoke about the demonstration's future at Jiaruibao Plaza in Lianyun District, where middle-aged women had gathered with national flags. "Our pursuit is reasonable, and with good organization, we can definitely win this," the elderly man said.
Protesters said that since Friday, their numbers had grown significantly until SWAT teams moved in on Sunday night to disperse the crowds.
"You see, yesterday [Sunday] many innocent people were dragged, badly beaten, and taken away," a man who had joined the demonstration on Sunday night told Sixth Tone without giving his name.
Videos that were widely circulated on social media showed SWAT police chasing after citizens and violently beat them as they were lying on the ground. Eyewitnesses confirmed the brutal beatings. Sixth Tone could not independently verify footage showing a policeman put a handgun to a protester's head. "It was such chaos. It's not possible to tell who attacked first. These SWAT units, to be frank, don't have good manners," the man, who works as a taekwondo teacher, said.
The videos, posted Sunday night, were taken off the internet on Monday. State-run media Global Times reported on the demonstration on Monday, saying that no clashes had occurred.
A student surnamed Zhang said that the large crowd on Sunday included people who brought knives, got into fights, and threw water bottles and eggs, and that video footage of the violent clashes was authentic. "There were videos of the same thing, taken from different angles. Some were taken by my friends. How could they be fake?" the 18-year-old said.
The Public Security Bureau of Lianyungang warned citizens on Friday that parading or protesting without permission from local authorities is illegal, and said that residents should not believe information or rumors spread in text messages or online via social media. Last year, state-run news agency Xinhua said that the Sino-French project was designed to process 800 tons of nuclear waste annually, and that construction was scheduled to begin in 2020.
Although the report did not mention a specific site, Lianyungang residents heard that their city had been selected, which prompted the past few days' protests. Lianyungang is already home to Tianwan Nuclear Power Plant, one of the largest nuclear power plants in China.
In a press conference on Sunday evening, the Lianyungang City government informed media that China Nuclear Fuel Reprocessing Co. Ltd. (CNFR) has been conducting a general investigation toward site selection in a dozen cities in coastal provinces, and that the site for the project hasn't been finalized. Established in Beijing in 2011, CNFR is a subsidiary of state-owned China National Nuclear Corporation, and is in charge of site selection for the project.
To guarantee transparency, the local government said that it would disclose any information related to the project, and that it would take the public's opinion into consideration. At the same time, officials pointed out that those who fabricated and spread rumors "to disturb social order" would be punished severely by law.
(Header image: A man among a crowd of people protesting a nuclear recycling project covers his mouth, Lianyungang, Jiangsu province, Aug. 8, 2016. Wu Yue/Sixth Tone)