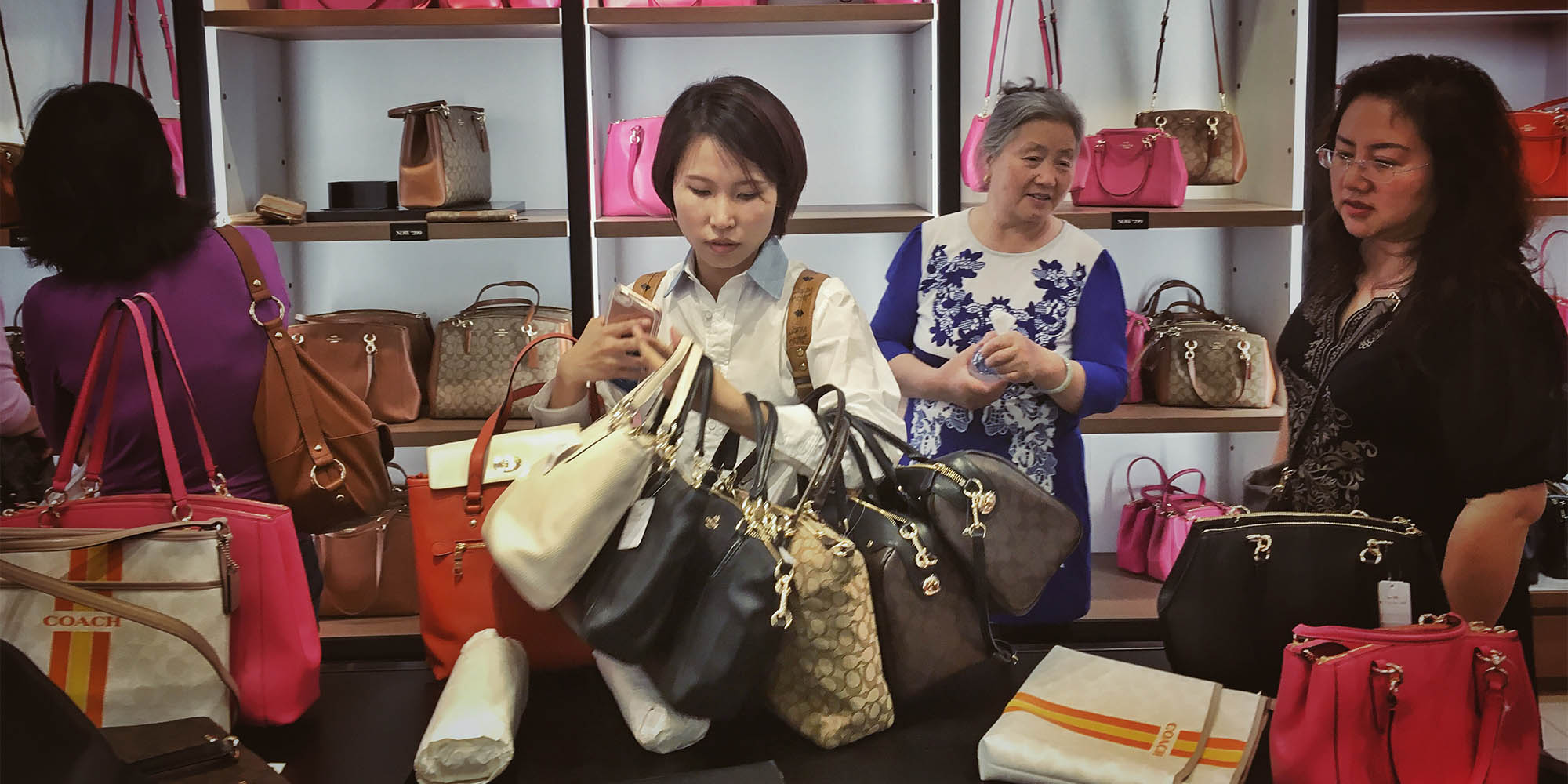 NEWS
Overseas Chinese Make It Big Buying Bags
Consumers who want to avoid China's high luxury tax have created industry worth billions.
Zhang Lulu never imagined moving to Chicago would turn her into a successful businesswoman. But in 2013, she went to accompany her husband, who was going to study at the University of Chicago. She didn't look forward to it at all.
Midway through her in-flight meal she broke into tears. She didn't want to leave her family and friends behind. Her life initially felt as bad as she'd imagined. Her husband was always busy, her English was lacking, and all she did was stay home, depressed.
After a year, she decided to turn her life around. "I didn't want to be a liability to my husband," Zhang said, and so she started up a daigou business, Chinese for "buying on behalf of." The 30-year-old began to learn English, make friends, and dive into the world of U.S. consumer regulations.
Many Chinese seek out buyers like Zhang because the items they wish to buy, mostly from brands like Dior, Hermes, or Louis Vuitton, are subject to a high luxury tax if purchased in China. The industry is worth nearly 100 billion yuan ($15 billion) per year, and has evolved from individual sellers opening shops on e-commerce websites to whole websites devoted to luxury products bought overseas. One reason buyers join these specialized websites is to deal with ever stricter customs and regulations. Investment companies have started to support these websites, making it possible for the websites to pay duties for imported goods. Most of the websites are currently not profitable, and the business model is still unclear.
Since starting out, Zhang has also professionalized her business from sales via messaging app WeChat to an online daigou platform. Zhang now makes more money than her husband, which she said boosts her confidence.
Xie, who runs a daigou business from San Francisco, still vividly remembers Thanksgiving 2014. He and his wife, Yao, had been shopping for three days straight at outlet stores in Los Angeles. On the last day, they went to the parking garage to get their car — full of Gucci bags and other luxury apparel — but couldn't find it.
His mind immediately reeled back to news stories he had heard about cars loaded with valuables being stolen. Their car was stocked with inventory worth some $200,000. It took him a while to figure out they had parked on the other side of the mall. They were so tired they had forgotten where they parked.
"If you think buyers can make easy money by just shopping in the mall, then you are wrong," Xie said, adding that the market has become much more competitive in recent years. "Many people quit in the end." When you daigou, you're always on the clock. Messages come in day and night from customers half a world away, and then there's shopping, packing, managing deliveries, and staying on top of trends. Xie and his wife habitually work into the early hours of the morning.
Xie was born in Shanghai and emigrated to the U.S. with his family in 2002. He studied at the University of California, Los Angeles, and he even taught classes for a while before starting his daigou career. He and his wife later moved to San Francisco, where they live a 10-minute drive away from the closest outlet stores. Xie did not want to disclose his full name because, having earned a master's degree, he feels his job belies his level of education.
Xie has plans to expand his business to a brick-and-mortar store in Shanghai, combining online shopping with in-store services. He hopes he and his wife will one day be not just buyers, but can proudly have a brand of their own.
Like Xie, Chen Le also had to battle the stigma that comes with being a professional buyer. Much to the chagrin of her family, Chen quit her research job at Stanford University in October 2015 to focus on daigou. She'd been stacking a solid list of accomplishments, having received a full scholarship from Iowa State University to pursue a PhD and later landing the research job at Stanford before making the change. She'd also begun raising two kids, and research took too much time away from that, she said.
Despite her parents' disapproval, Chen said she enjoys the rush she gets each time she closes a deal. Eight months into her new career, she already makes more per month than she did as a researcher. She said she has never regretted her decision. 
A Chinese version of this story first appeared in the Living Column of Tencent News.
(Header image: Yao shops for handbags in San Francisco, California, U.S., May 28, 2016. Wu Jiaxiang for Sixth Tone)