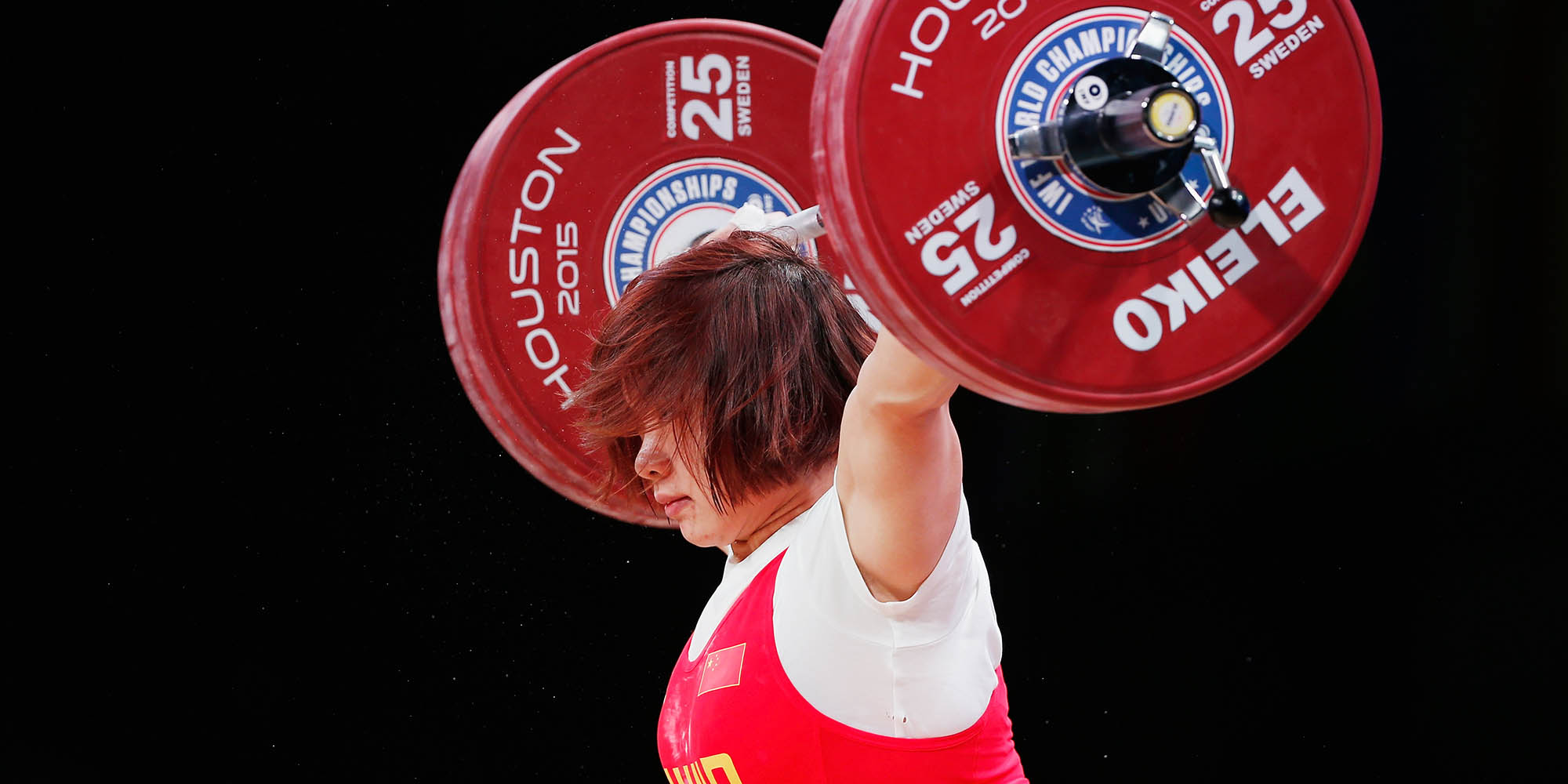 NEWS
Despite Olympic Success, China's Weightlifters Fight Stereotypes
While the national team is poised to snatch medals, district coaches struggle for recruits.
China has for decades been an Olympic weightlifting powerhouse, and looks likely to win big again in Rio de Janeiro over the coming weeks. With a full lineup of 10 contestants — six men and four women — and the entire Russian team suspended for doping violations, Chinese weightlifters are widely expected to win at least four gold medals, and seven medals overall. Yet despite China's consistent success on the international stage, weightlifting has never quite captured the public's adoration.
"Weightlifting is strong in China, but not big," said Qu Yaruo, founder of Venus Weightlifting Club in Shanghai. The country's prowess at the Olympics — medaling at every games since 1984 — is built on a state sport system that draws young recruits and pushes talent up through the ranks. But for adults who want to pursue Olympic weightlifting as a hobby, the system is entirely closed off.
Qu — known as "Gaby Q" within the weightlifting community — first came to the sport when she was working in London in 2014. As a regular gym-goer, she was looking to try something more advanced. "I wanted to learn something I could show off," she told Sixth Tone.
Qu's personal trainer showed her how to do a "snatch" — a single-movement lift, as opposed to the "clean and jerk" where the competitor lifts the bar from ground to shoulder height, and then above their head, in a two-stage movement. The total weight lifted over the two techniques comprise the Olympic weightlifting event. At the time, Qu didn't even know that what she was learning was part of an Olympic sport, but it left an immediate impression. "I fell in love with Olympic weightlifting because it's hard, and because it requires huge concentration — it pulls you out from the pressure of work and everything else," she said.
When Qu returned to China in 2015, she wanted to join a club but couldn't find one, though her coach in London had told her that China was known for weightlifting expertise. "The state system in China is closed — it's like the military," she said. Eventually Qu found a coach, eight-time national champion Zhang Zheng, and opened Venus Weightlifting Club in October 2015.
One of her club's coaches, 40-year-old Xu Xuelong, agrees that weightlifting is an unpopular sport. As well as training the club's wealthy adult members, Xu is also a district coach within China's state system, and he says weightlifting falls victim to negative stereotypes.
"Parents believe lifting weights will make you short and fat, but that's unscientific," Xu told Sixth Tone. Part of his job as a weightlifting coach is to dispel the myths surrounding the sport. Instead, he tells parents about the benefits of weight training for fitness, strength, and confidence. Even so, many parents are reluctant to put their children into a rigorous training program, especially in affluent Shanghai.
Xu worries that the pool of possible recruits is shrinking as China becomes more developed. "Most of the competitors tend to come from places where the standard of living isn't so high," he said. Whereas poorer families may see the state sports system as an opportunity to secure their child's future, those who have more options aren't willing to put their children through such hardship.
Though there is a public perception that Chinese athletes enjoy lavish state support, Xu feels the stipends and subsidies barely compensate for the toil, given the toll on competitors' health and relationships. "The cost to athletes is certainly greater than what they get back," he said. "You give up your youth, and all you might have to show for it is injuries."
Qu hopes her club can bridge the disconnect between the state system and the market. The fitness industry in China is growing, but exposure to weights is more often through gyms and powerlifting techniques rather than Olympic weightlifting. Qu has partnered with the Shanghai Weightlifting Association for official support but believes that her savvy marketing skills can bring a new audience to the sport.
Coach Xu is also optimistic about the sport developing in new directions. He hopes weightlifting can become as popular as football and basketball, with white-collar gym-goers changing the sport's image and reputation. "Weightlifters aren't meatheads," Xu said. "You have to think about everything as you're pulling that bar up."
(Header image: Yanmei Xiang of China competes in the women's 69-kilogram weight class during the 2015 International Weightlifting Federation World Championships in Houston, Texas, U.S., Nov. 26, 2015. Scott Halleran/Getty Images/VCG)