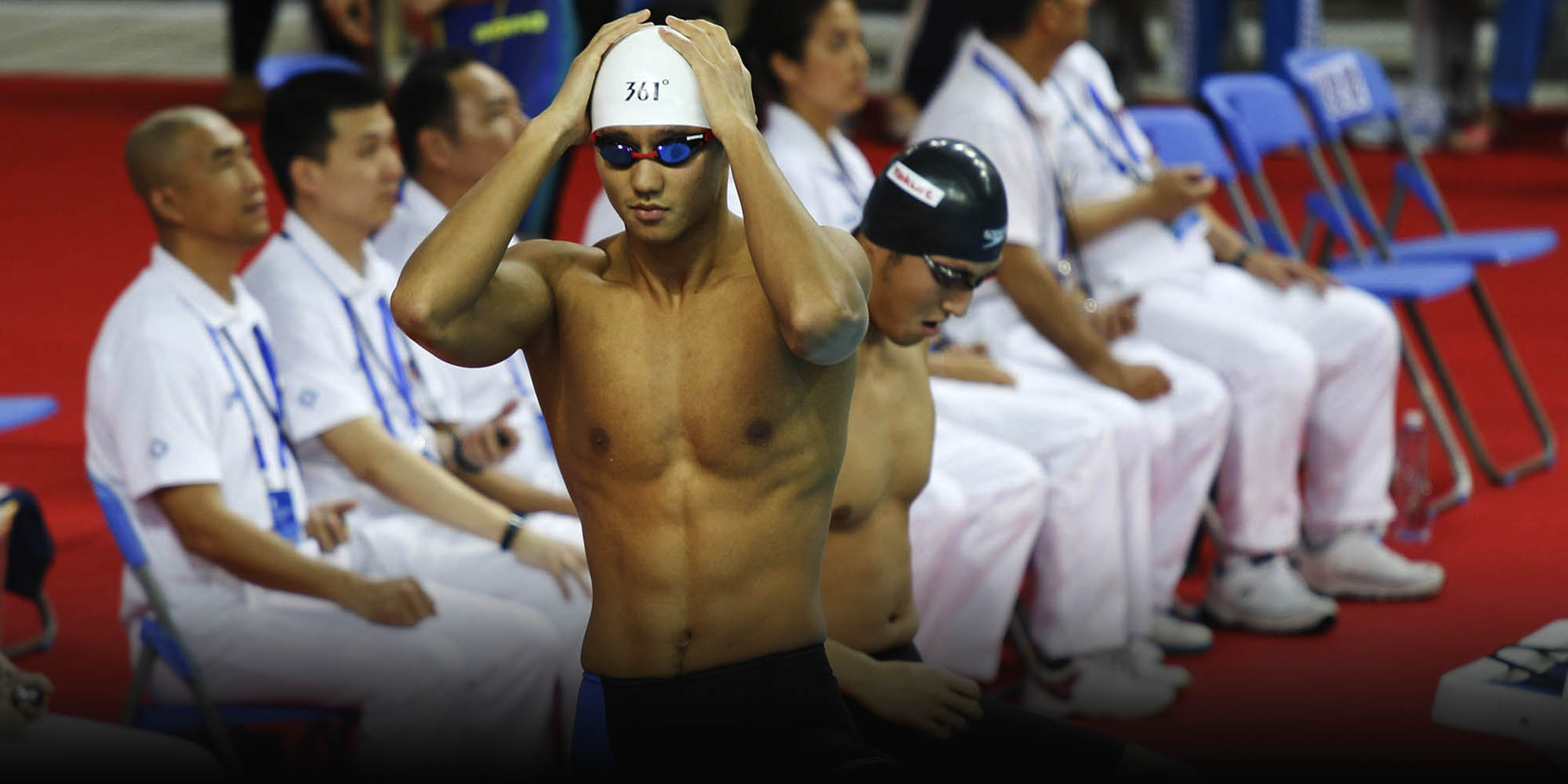 NEWS
Olympian Adonis Sets Netizens' Hearts Throbbing
Net users fawn over his physique, dub him 'little meatball.'
As the opening ceremony for the 2016 Summer Olympics draws near, pundits and analysts are reading the tea leaves for which athletes are likely to return home with a gold medal. But in the prelude to Rio, Chinese web users have picked their own favorite: swimmer Ning Zetao.
Ning, 23, already has an impressive resume. At the age of 20, he won his first national championship in the 100-meter freestyle category. Then he picked up the gold at the Asian Games in Incheon in September 2014 for the 50-meter freestyle. In 2015, he won gold in the 100-meter freestyle at the 2015 FINA World Swimming Championships in Kazan, Russia. Clocking in at 47.84 seconds, Ning was the first Asian athlete to win a medal in the 100-freestyle at the championships.
But to many of his fans, Ning's most appealing qualities lie outside of his athletic prowess. Chinese internet users have instead focused on his notable physical attributes. Media have cited "his perfect almond eyes, warm smile, and sculpted body" as the basis for Ning's online popularity.
Ning's relatively round cheeks have earned him the nickname "little bun." With his evolution from teen idol to adult love interest, some netizens have begun calling Ning "little meatball," an even more sexualized phrase.
Fawning coverage of Ning has exploded on Chinese media in the lead-up to the Rio de Janeiro games. On Wednesday afternoon, Chinese news outlets released new photos of the Chinese national swim team, including an entire photos series dedicated to Ning.
The series depicts a tanned and sleek-looking Ning in various poses wearing nothing but his diving uniform and occasionally a large Chinese flag. Their captions are somewhat less than subtle. "Recently, Ning Zetao led the Chinese Olympic swimming team in photo shoot. The little bun wore his cute swimsuit and displayed his sexy abs," they read. "He really will tease his female fans to death!"
Slideshows of the photos were quickly shared on Chinese social media and news sites, garnering thousands of fanatically enthusiastic comments from netizens.
Another widely shared article listed Ning as the number-one contender on its list of "fresh meat" to look out for at these Olympics. "He trains so hard so he can win the gold, but also so he can maintain that broad chest and those toned abs," the blogger wrote.
Ning, a navy lieutenant, has also earned laurels for his military service. Before being selected to join the national team, he represented the People's Liberation Army at domestic competitions. After winning the World Aquatics Championships in the 100-meter freestyle, the army issued a letter praising Ning as "a model for contemporary army men" and for "displaying no fear of strong rivals."
Ning's teammate, Sun Yang, 24, has attracted similar attention in the past from both domestic and international media for his playboy antics and good looks. He was briefly suspended from the team for skipping swim practices after partying, and for leaking photos of his then-girlfriend online. In 2013, Sun also spent a week in jail after driving a Porsche without a license and crashing the car into a bus.
Ning's record isn't spotless either: In 2011, the then-18-year-old Ning was suspended for taking clenbuterol, a banned substance. However, Ning has a reputation for being quieter than teammate Sun. Last week, paparazzi who followed Ning around the athletes' compound commented on Ning's serious demeanor. "Doesn't the little fresh meat have the look of an old political cadre?" they wrote.
Yet not all fans are thrilled by the way Ning has been presented by Chinese media and obsessively followed by fans.
Nineteen-year-old Stella Wang, a Beijing college student and Olympics fan who plans to follow the swim races, is one of them. She said she was uncomfortable with the way online commenters were focusing on Ning's body because she regarded it as a form of objectification. "Imagine what people would say if the media talked about female swimmers' bodies like that," she told Sixth Tone. "They should focus on his athletic performance, not his physique."
(Header image: Ning Zetao prepares for a swimming event during the Chinese National Swimming Championships in Foshan, Guangdong province, April 6, 2016. Yolanda/VCG)