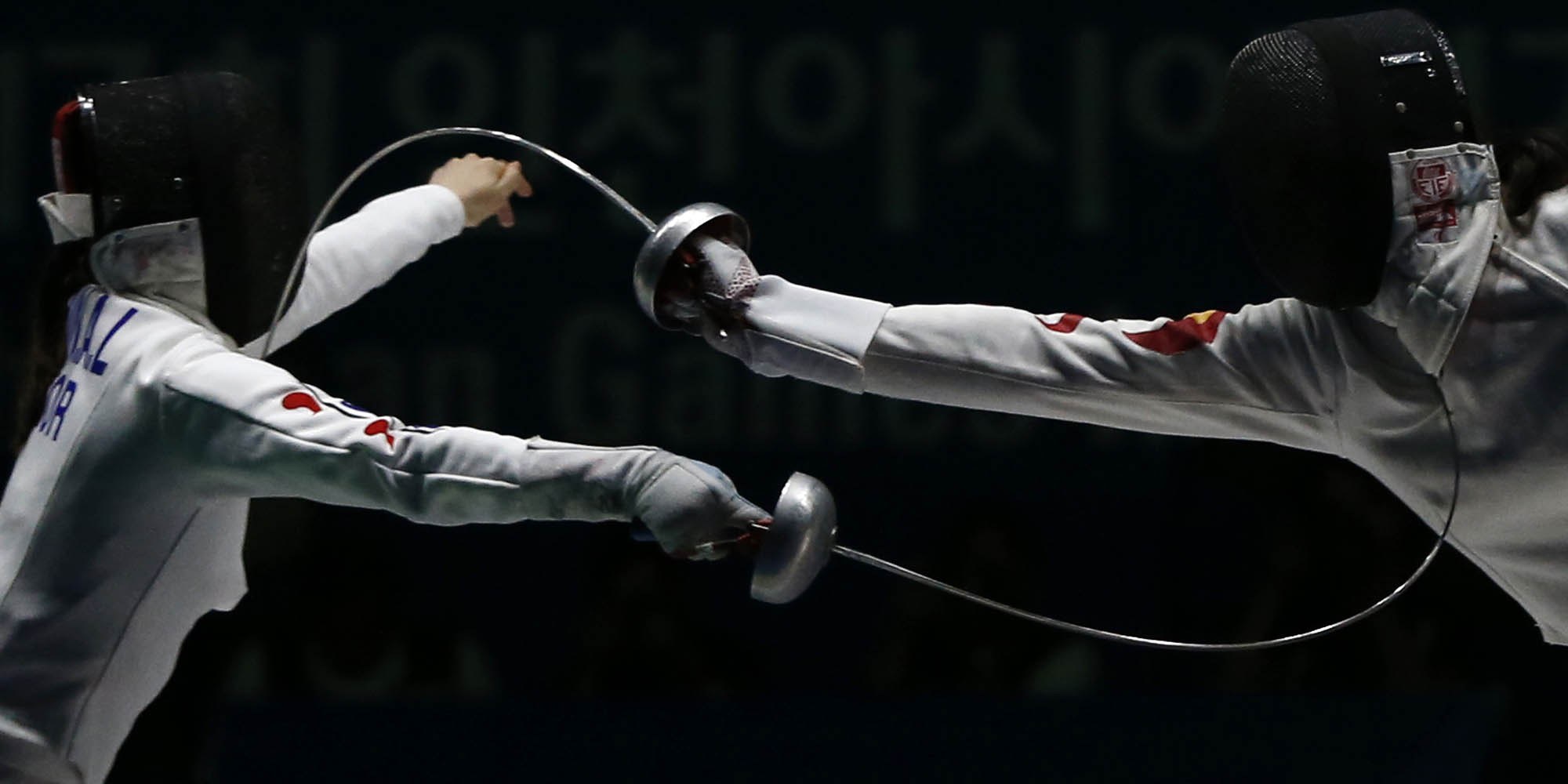 NEWS
Chinese Fencing Fans Hope Olympians Strike Gold
Sport growing in popularity as country sends 13 athletes to compete in Rio de Janeiro.
On a Wednesday afternoon at Shanghai's Wang Lei International Fencing Club, named after the former Olympian, a group of children are in the middle of training. Without swords in hand, they move back and forth on several pistes — long fencing mats — to practice their footwork.
Seven-year-old Ziling has been practicing fencing for the past six months. Though she hasn't held a sword yet, she already knows she wants to make it to the top.
"I want to compete at the Olympics in the future," Ziling told Sixth Tone. She is looking forward to watching the fencing matches at the upcoming Summer Olympics. "China will win the gold again," she predicted.
Thirteen Chinese fencers qualified for the 2016 Summer Olympics in Rio de Janeiro. From Aug. 6 to Aug. 14, they will compete in fencing's three disciplines: foil, epee, and sabre, each named for the type of sword used.
Fencing has a long history at the modern Olympics, being part of the games since their inception in 1896. As the People's Republic, China took part in the Olympics for the first time in 1952. After that the country did not attend for decades — until the 1984 Summer Olympics in Los Angeles. That year, China won 32 medals. Luan Jujie contributed to the tally by winning the gold in fencing.
Not until 2008, when the Summer Olympics were held on home turf in Beijing, would China's fencers strike gold again, with Zhong Man finishing first in sabre. That year, China topped the medal table with 51 golds. In the 2012 London Olympics, China won the women's fencing team epee, and Lei Sheng took home the men's individual gold medal in foil.
Lei has been named China's flag-bearer at the Olympic opening ceremony, to be held on Friday. The 32-year-old fencing champion will be the first non-basketball player to do so for China. To the sport's fans this is a testimony to how much the sport has grown. "This is the pride of all the fencing athletes and aficionados," 36-year-old fencing fan Bu Wendi told Sixth Tone.
Bu recalled that only a few hundred people participated in the nationwide fencing club league in Shanghai just four years ago. "But I've noticed the number has climbed to nearly 3,000 this year," he said.
Since fencing was one of the first sports in which China was immediately a contender when it joined the international scene in 1984, the level of competition now is intense. "Many coaches say you have to start young to have a chance to excel at the national level," Shanghai native Xu Hui, a retired professional fencer, told Sixth Tone. But Xu added she thinks that many children nowadays start at too young an age for them to truly grasp the sport.
Xu, now 30, started practicing when she was 11 years old. Back in the late 1990s, when football and basketball were popular all over the world, and most Chinese people played either table tennis or badminton, Xu wanted to learn something else entirely. "When I had just started fencing, many people around me didn't know what fencing was," Xu recalled. "They had never heard of it."
From the first time Xu saw fencing on TV, it awakened a fascination in her. "The coach always told us fencing is a noble sport," she said. "I dreamed that one day I would be able to wear the white uniform and the black mask, swinging the sword in my hand."
Xu had to endure three months of movement exercises and physical training before she was allowed to hold a sword. When the moment finally came, she was too excited to utter a word. Two years later she was selected to train for the Shanghai's fencing team. She won several championship titles in national competitions before hanging up her sword at the age of 22.
"All the other athletes about my age were complaining about how hard the training was," recalled Xu, who practiced two to three hours a day after school. "But I never felt tired because I'm passionate about fencing."
Wang Xu, a coach at the Wang Lei club, told Sixth Tone there are currently fewer than 10 places in Shanghai where people can practice fencing. "The penetration is still relatively low compared with other popular sports," said the 28-year-old. However, Wang pointed out that fencing has become popular among young adults who view it as a trendy way to stay fit and relieve stress.
"I enjoy fencing, as it's a good way to keep in shape without being outside in the smog," said 25-year-old Jiang Qingqing, who works for a marketing firm in Shanghai. She told Sixth Tone it's also a great way to reduce work pressure: "It feels like I'm attacking my mean boss every time I strike my fencing partner at the club."
In the corner of the fencing club, Zhang Yanting was watching her 10-year-old son practicing epee. Zhang spends 18,000 yuan (about $2,700) on annual club fees and has equipped her son with 3,600 yuan worth of fencing gear. "I hope he can join the professional team in the near future," she said before adding, "But it will also depend on his interest."
Regardless of whether her son will compete at a higher level, Zhang told Sixth Tone that both of them are excited about the upcoming Olympics. "We will be sitting in front of the TV and cheering for the Chinese fencers," she said.
This article has been updated to clarify Xu Hui's opinion on children who start fencing at a young age.
(Header image: South Korea's Shin Alam (right) competes against China's Xu Anqi during the women's epee team fencing competition final at Goyang Gymnasium during the 17th Asian Games in Incheon, South Korea, Sep. 25, 2014. Issei Kato/VCG)