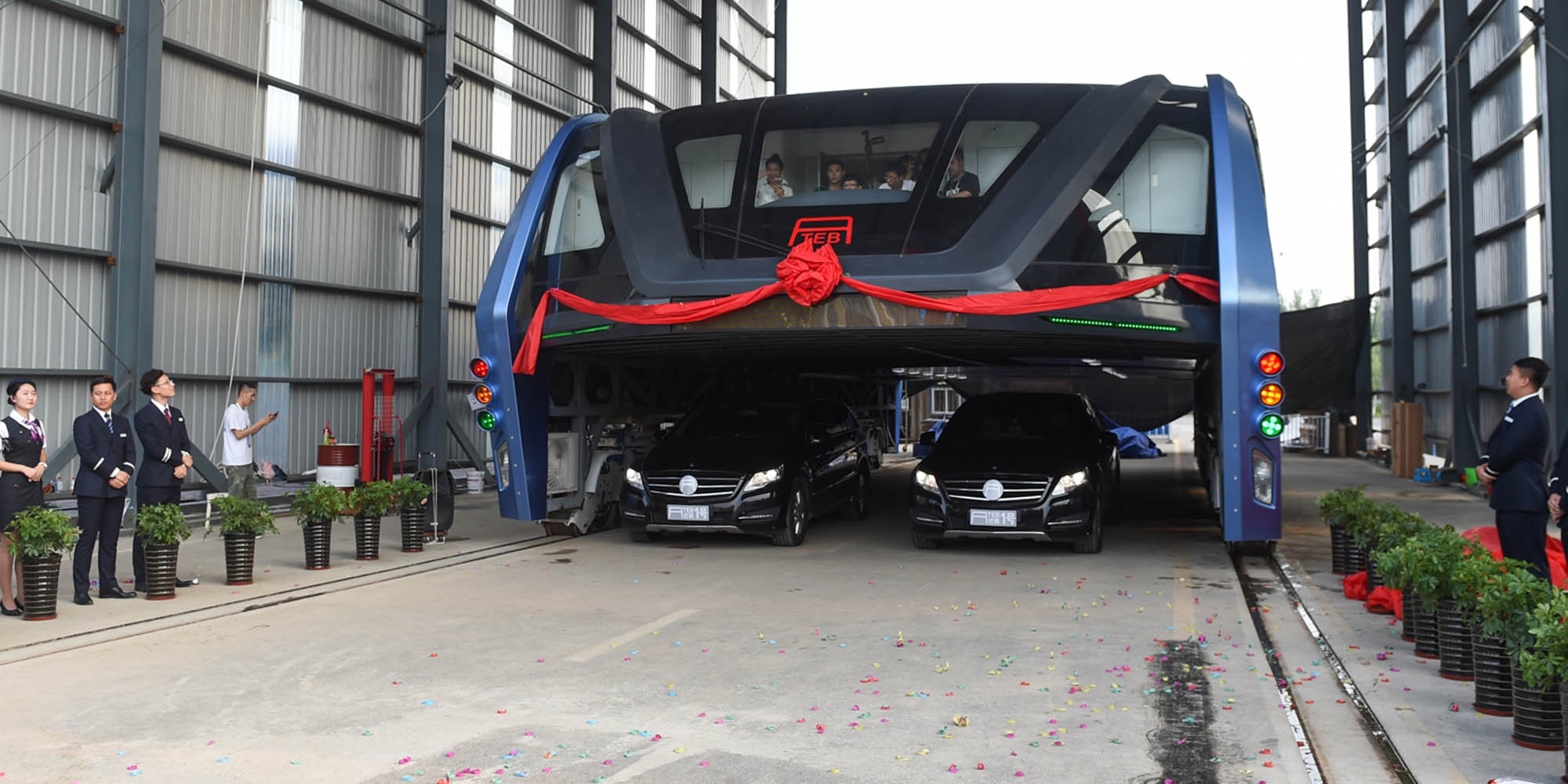 NEWS
Chinese Media Call 'Straddling Bus' a Scam
Inventor refutes allegations, says people don't recognize 'true innovation.'
Photos of the first test run of the "Transit Elevated Bus" (TEB) quickly went viral on Chinese news and social media on Tuesday. The image is as terrifying as it is thrilling: a massive bus that straddles roads, gliding over traffic below.
But the news was soon overshadowed by allegations that the founder of TEB Technology, the company that designed the bus, had misled investors, and that the technology behind the straddling bus was far from complete.
Party-owned tabloid Global Times published an editorial on Thursday denouncing Song Youzhou, the bus's inventor, and casting doubt on the project's feasibility. "Emergency announcement!" the article read. "If you see this news again on another major media site, do not believe it!"
Reached by phone on Thursday, Song refuted the allegations and maintained that he had never misled anyone. "We haven't done anything wrong at all," he told Sixth Tone. "The latest tests show that the bus design is entirely possible."
Most serious among the allegations by Global Times is that TEB Technology raised money by soliciting crowdfunded investments from a peer-to-peer (P2P) financing platform. The editorial warned that the project would lead to mom-and-pop investors losing their money.
P2P platforms operate in an unregulated grey area in China, and fraud is rampant throughout the sector. Global Times reminded readers that earlier this year, Chinese authorities arrested 21 people behind Ezubao, one of the biggest P2P lending sites, on the suspicion that they had defrauded investors to the tune of more than 50 billion yuan ($7.5 billion).
An editorial posted in June to China.org.cn pointed to links between TEB and Huaying Land Group, a property and manufacturing conglomerate whose chairman, Bai Zhiming, now serves as president and CEO of TEB Technology. The P2P platform, called Huaying Kailai, through which TEB raised a portion of its funds, is run by Huaying Land Group. Its website has since been taken offline.
Song maintains that TEB's funds come from "private, individual investors," and that while Bai has indeed invested in the company, the money is his own and not Huaying's.
But net users on microblog platform Weibo appeared convinced by the editorials' allegations. A commenter from Guangzhou wrote, "Fraud! I hope that the relevant Chinese government bodies crack down on the perpetrators as soon as possible to reduce harm to society and throw them in jail!"
Others called into question how the bus would maneuver around traffic. What would happen if cars changed lanes, or if the bus wanted to turn while cars were still underneath it, they asked.
State news agency Xinhua initially announced on Tuesday afternoon that the first road test for the TEB had just concluded in Qinhuangdao, a city in northern China's Hebei province. International interest in the project has been high, attracting the attention of Brazil, India, France, and Indonesia, the Xinhua report added. Party newspaper People's Daily quickly republished the news with the triumphant headline, "This is not a simulation: The 'flying bus' has really hit the road!"
On late Wednesday, People's Daily published an update to their original story, saying that its journalists had been unable to confirm news of the trial run with the "relevant government entities." Rather, the bus's first road test had been "an internal company test rather than an official trial run." Song said that TEB will have its first real trial run next year in Zhoukou, Henan province, where the government has built a 3-kilometer test track.
"Yesterday they were singing the praises of the TEB and Chinese entrepreneurship. Today, we find out that they are exposing its true side. Oh, media!" commented one Weibo user.
Since debuting at the Beijing International High-Tech Expo more than six years ago, the TEB has been in limbo. Time magazine named the bus one of the top 50 inventions of 2010, but planned trial runs in Beijing's Mentougou District never came to fruition. According to Southern Weekly, a Guangzhou-based newspaper, the trial runs were canceled due to allegations that the company had misled local governments, and that Song had not fully demonstrated the feasibility of the design.
Song has emphatically denied the 2010 claims, calling his critics "so-called entrepreneurs" and "people who don't recognize true innovation." He has vowed to continue his work at TEB, despite all the backlash.
"To be an entrepreneur is to have not only self-belief, but also perseverance," he said on Thursday.
(Header image: The Transit Elevated Bus on a test run in Qinghuangdao, Hebei province, Aug. 2, 2016. Luo Xiaoguang/Xinhua)