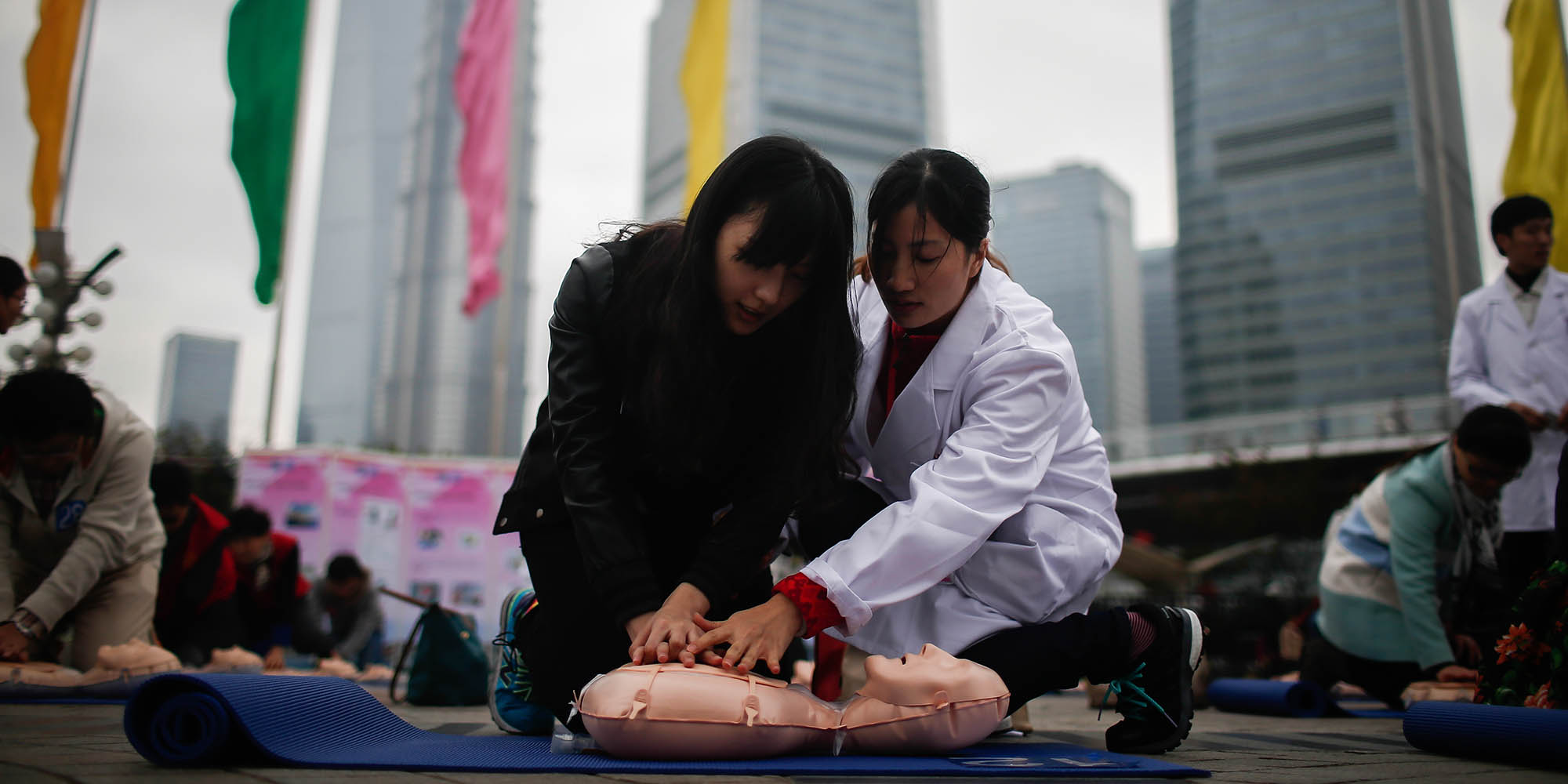 NEWS
Shanghai Adopts Good Samaritan Law, But There's a Catch
Experts say requirements for medical expertise could deter potential first responders.
Shanghai residents know all too well the stories of people who have helped others in emergencies, only to end up being brandished the guilty party afterward. To make sure such good Samaritans don't end up being held liable, the city government has introduced a new law, but it's not without its shortcomings.
The new law, passed on July 29 and slated to take effect on Nov. 1, states that only those with demonstrable skills in emergency treatment will be absolved of responsibility for any harm caused.
The guidelines say that people who lack knowledge of first aid should call emergency services and can only administer treatment under the instructions of the medical staff handling their call.
Following news stories of people coming to the rescue but being forced to pay for medical costs — most famously the case of Peng Yu, who said he had helped an old lady after she fell but later admitted to pushing her — many in China feel helping others carries more risk than it's worth.
Other cities, such as Shenzhen and Hangzhou, have adopted laws similar to Shanghai's. While Shenzhen's rules put the burden of proof on the accuser in cases of harm suffered from good Samaritans, the regulations in Hangzhou encourage only people with first-aid skills to come to the rescue.
Some fear that such restrictive requirements will make the laws less effective than they are designed to be.
"Shanghai's law is likely to prevent many good Samaritans who arrive immediately but lack medical training from administering treatment due to concerns about legal responsibility," Zhu Wei, an associate professor at China University of Political Science and Law, told Sixth Tone. On the other hand, he added, it might prompt people to learn first responder skills.
Few in China know how to administer basic first aid. In fact, official statistics show that less than 1 percent of Chinese are trained to perform CPR. Wu Haofeng, founder of the nonprofit Sinoaid Integrated Healthcare Service Shanghai, told Sixth Tone he has paid close attention to the city's new regulations. Wu believes that while the new rules are a sign of progress, there is still plenty of room for improvement.
Wu said the new laws are likely designed to protect medical staff, but that outside of this context the phrase "people with skills in emergency rescue" is ambiguous. Sinoaid arranges emergency response workshops in and around Shanghai. "We offer people certificates after they receive our training. Will these certificates be officially recognized?" Wu said.
Professor Zhu called on the government to set up a rescue fund to guarantee the rights of good Samaritans. The fund could be used not only to safeguard them from potential claims for damages, but also to offset the potential harm caused to patients during emergency treatment, he said.
Additional reporting by Ni Dandan.
(Header image: A woman performs CPR under a doctor's supervision during a public training class in Shanghai, Nov. 30, 2014. Yang Yi/Sixth Tone)