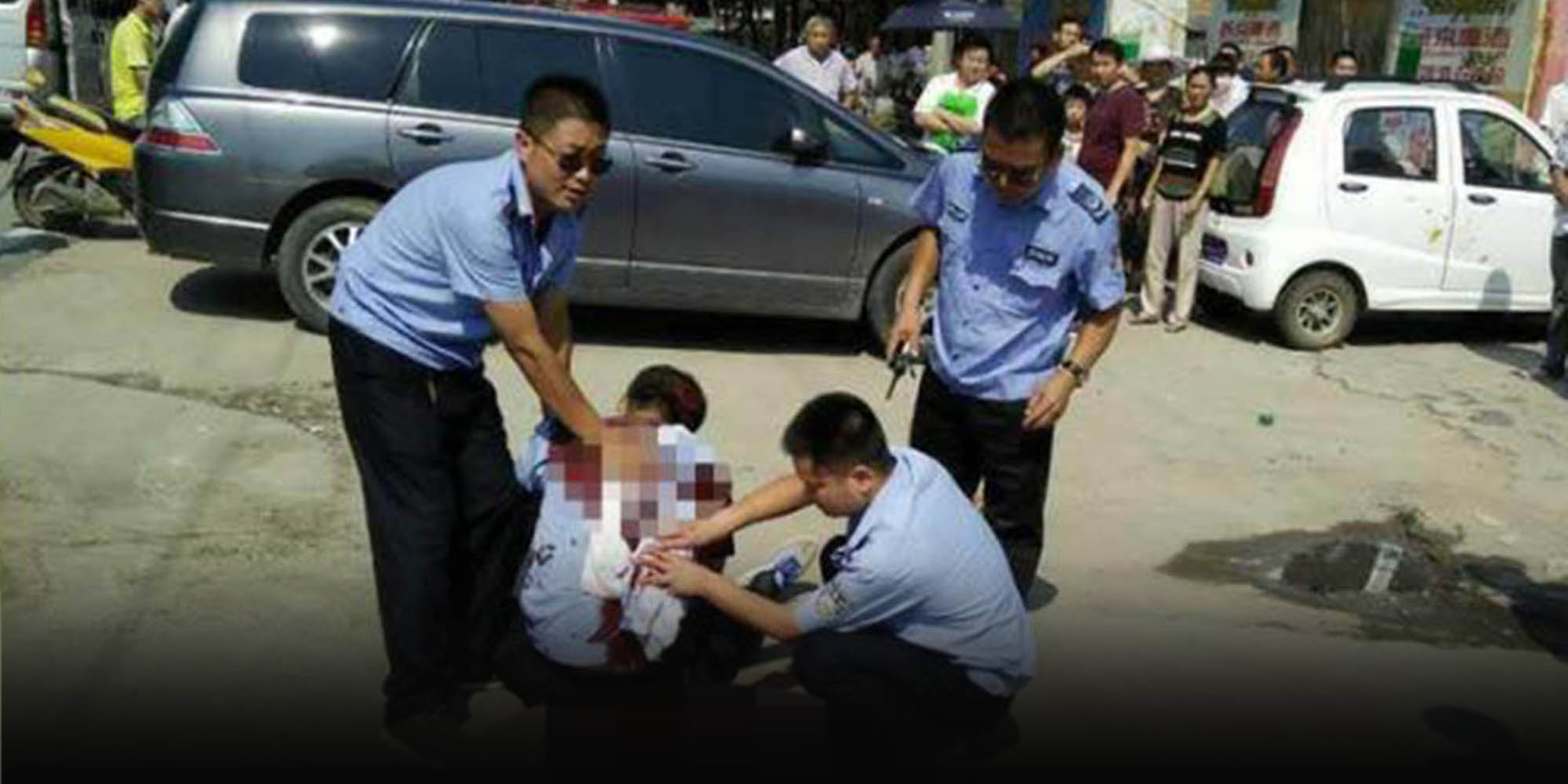 NEWS
City Management Official Killed in Latest Violent Confrontation
Police rush to quash rumors about 'chengguan' brutality in clash with melon vendor.
China's infamous city management officials, or chengguan, have once again found themselves in the center of violent controversy, after one among their ranks was stabbed to death following an altercation with a watermelon vendor Thursday.
According to an official statement shared with various media outlets Friday morning by local police authorities, the incident took place at around 9:30 a.m. in Zhengyang County, which lies in the south of China's central Henan province.
Thirty-six-year-old officer Li Wei, the statement read, died from knife wounds inflicted on him by 45-year-old street vendor Zhang Guoyou, after the latter refused orders to remove himself and his produce to another location. Zhang is in custody and an investigation into the incident is underway, the statement concludes.
Chengguan are tasked with keeping the streets of China's cities orderly, often leading to clashes with illegal but ubiquitous street vendors. The officials have a bad reputation because these run-ins with hawkers frequently turn violent. In June, chengguan in Zhengzhou, Henan's capital, turned to live broadcasting to shore up their image, an initiative that backfired when they were accused of violating the privacy of those caught on camera.
Discussion sparked by the attack has been stoked by witness accounts claiming that Zhang's wife had been physically assaulted by one of the officers prior to the stabbing. A Zhengyang resident, who asked to be identified only by her surname An out of concern for her privacy, told Sixth Tone on Friday that she was passing by the scene when the incident occurred. "The conflict began with an officer and the vendor's wife," she told Sixth Tone on Friday. "They were pulling each other."
"The husband kept saying [to the officer] 'don't touch my wife or I'll stab you,'" An said. "When his wife then fainted, he stabbed the officer three times."
A spokesperson for the publicity department of the Zhengyang County police bureau was reported by the Beijing Times newspaper Friday as saying that, following an investigation, at no point during the officer's actions were violent means of enforcement employed.
Video footage of the incident aftermath that has been widely circulated on microblog platform Weibo shows a chengguan lying motionless in a pool of blood being attended to by fellow officers and surrounded by onlookers.
Speaking to Sixth Tone on Friday, a woman who answered the telephone number of Honghui Shiye, a company offering financial management services that is located near the scene of the attack, said that she had witnessed the latter half of the incident. "Upon exiting the shop I saw a chengguan lying in a pool of blood and the vendor's wife hanging on to another [chengguan]," said the woman, who declined to be named out of fear of repercussions from her employer. "She was telling her husband to come over and stab him."
Despite the fatal outcome of the incident, many people have taken to social media to vent frustrations surrounding chengguan. "No one would stab anyone unprovoked," wrote one user. "Only those driven to desperation."
Others sided with the chengguan. Honghui Shiye's member of staff said that the Zhengyang County's chengguan were known for being particularly relaxed in their approach to law enforcement, and that there had never before been any incidents of chengguan beating residents. "Many people are using this whole thing as an excuse to attack, criticize, and frame chengguan," she said. "Zhengyang County's chengguan are not strict at all. They are so unlucky; they have families, too."
Claims by some social media users that the suspect had hung himself and committed suicide following Thursday's attack were refuted by Zhengyang County police on Friday, who confirmed to Sixth Tone that he was now in custody.
Additional reporting by Wang Lianzhang.
(Header image: A screenshot from video footage shows the stabbed 'chengguan' being tended to by colleagues.)