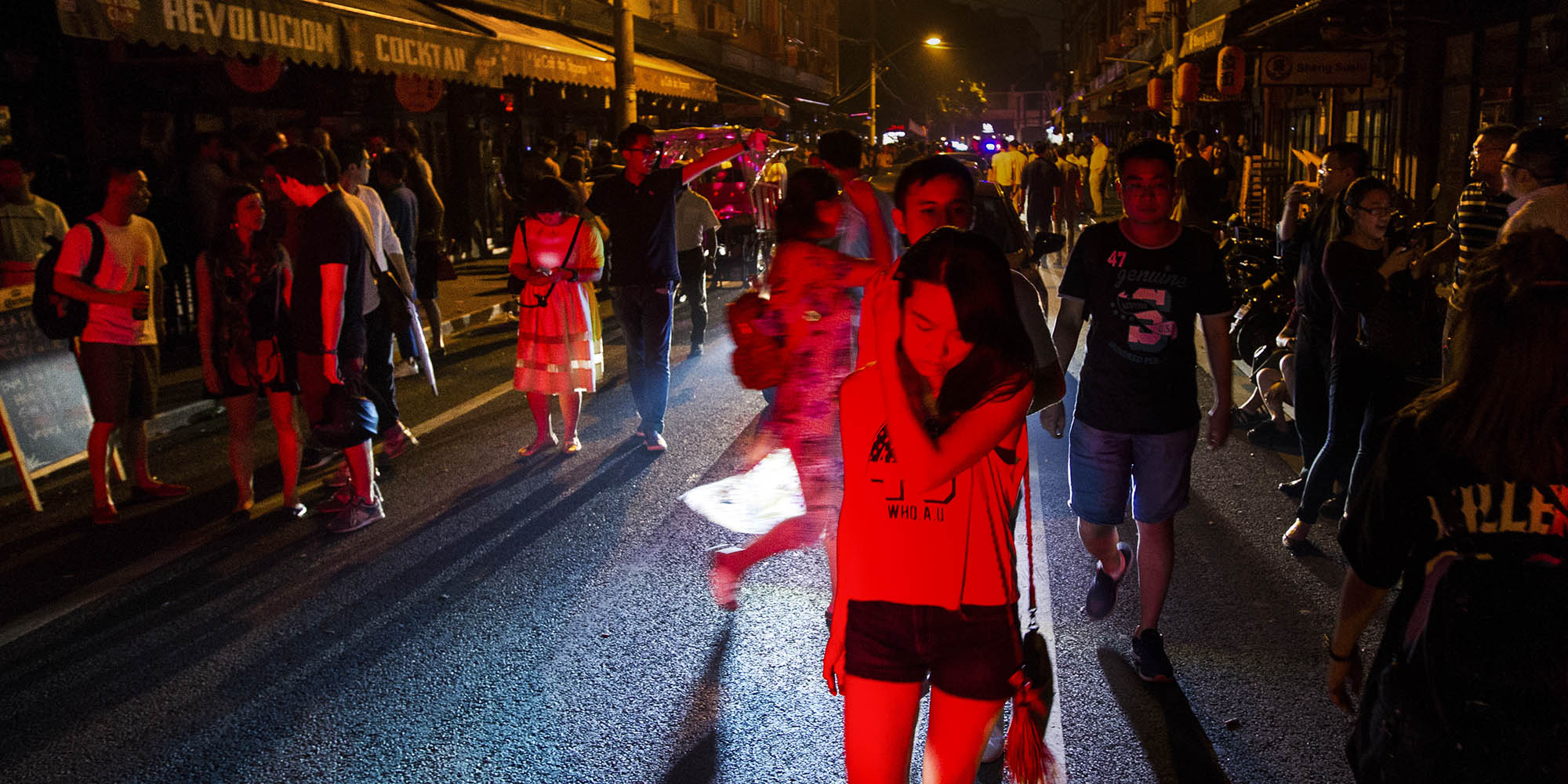 FEATURES
Last Call on Yongkang Lu
Shanghai's bustling bar street targeted as authorities determined to snatch back control of the sprawling city.
Everyone in Shanghai has time for nostalgia, whether they've lived in the city for generations or a matter of months. The breakneck pace of change in one of the world's biggest cities means even the most recent newcomers have witnessed radical transformations as the subway spreads its web through the guts of the earth, skyscrapers climb the sky, and whole neighborhoods are shuttered, bulldozed, and remodeled.
With its heady mix of bars, cafes, and restaurants, Yongkang Lu — lu being the Chinese word for "road" — is mostly frequented by foreigners. The government announced earlier this month that the long nights of drunken revelry will soon come to an end. The news caused a stir among the expat community, but locals who have long complained about the bars aren't satisfied either.
The issue might seem parochial: The epicenter of the tension is only a 150-meter-long stretch of Yongkang Lu, which runs east-to-west through the heart of leafy Xuhui District. But the dispute has put the spotlight on the wider issue of how the government should manage exploding growth across China's cities and respond to citizens' demands as their environment transforms around them.
[node:field_video_collection]
When district chief Bao Bingzhang said earlier this month that Yongkang Lu bars had to go, he vindicated the locals who have been lobbying for this change for years. In 2013, they were so fed up with the drunk foreigners that they even poured hot water onto them.
But some locals were ambivalent about the news that Yongkang Lu was earmarked for an urban renewal project, along with other streets in Xuhui District. Though two bars have already been ordered to close by August 26, the lack of clarity and consultation from the government has frustrated both residents and businesses. Several bar owners say they've done everything by the book, and later reports confirmed that only unlicensed businesses would be shut down.
Residents now say it's too little, too late.
"I haven't had a good night's sleep since 2010," 70-year-old Chen Jingui told Sixth Tone. He and his wife take sleeping pills and go to bed before 8 p.m., before the party downstairs reaches its crescendo. Chen said the foreigners sing and dance in the street when they get drunk. "They may be in heaven, but we feel like we're in hell," he said.
But Chen doubts that there will be any significant changes if the government only shuts down the unlicensed bars. "The rest will still keep us awake," he said. Chen remembers when the street began to fill up with bars after 2010 when, in a previous revitalization campaign, the government shut down the produce market that soiled the street before.
Resident Wu lives directly above a bar on Yongkang Lu and said the floor shakes when it's loud. Still, she said she understands the foreigners and young locals who want to hang out and relax. Closing some of the bars, she said, isn't the right solution. Wu said she hasn't heard any news from the government directly about the plans, but would prefer to be moved to a new neighborhood. "We hope the government would consider relocating us so that everyone can enjoy their lives," she said.
Some residents question the real motivation behind the district's gentrification project, which aims to reduce "low-end" businesses and attract quality retailers, including greengrocers, bookshops, and supermarkets, to service the local community.
Sun Weiyun, 46, has a tiny shop selling snacks, tobacco, soft drinks, and liquor on Yongkang Lu, and he has lived around the corner on Jiashan Lu for 30 years. He believes the proposed changes reflect the government's dissatisfaction that it hasn't profited from the success of the businesses as much as it could. Sun thinks most of the residents would welcome being relocated, as many of the 1930s terrace buildings are cramped and falling apart.
Part of what makes Yongkang Lu so contentious is that the street sits in a prime area of historical Shanghai. Though property prices in the area have soared astronomically, the residents are not necessarily wealthy — many moved in during the Communist era of allocated housing, or even earlier. Homeowners here have enjoyed the boom in property prices, especially if they were lucky enough to have bought their allocated housing at low prices, when the private-property market first opened in the 1990s.
Real estate agent Wang Liang, who works a block away on Yongjia Lu, said that the street is popular with young families because it enables buyers to register their household within the boundaries for some of the best schools in the district.
Pointing to an advertisement for a single room of only 15 square meters, with bathroom and kitchen shared with the neighbors, Wang said it had just sold to a young couple for 1.7 million yuan ($255,000). "But they won't live here because the environment isn't good for the kid," he said.
Yongkang Lu sits right in the middle of Xuhui District, where the old both collides and colludes with the new. Sparkling megamalls housing luxury brands like Gucci and Prada flank the main boulevard of Huaihai Lu, which is lined with plane trees the French colonial authorities planted in 1902 when they called the road Avenue Joffre.
After decades of rapid growth and transformation, the district authorities are now trying to regain control of planning and strictly enforce residential and commercial zoning rules. Some of the businesses that have been targeted by the urban renewal project are trendy, upscale restaurants and boutiques that themselves represent the existing, organic gentrification of the area.
Li Zixin, 37, a writer who has a studio in a laneway off Wuyuan Lu in the western part of Xuhui District, has witnessed the effects of policy changes firsthand over the last few months. Li estimated that about 10 businesses on the street, including popular fusion restaurant Xixi Bistro, were shut down, their facades bricked up, while others retained their glass windows but were forced to renovate and move a meter back from the street.
Li said the crackdown on licensing was a policy reversal from the 1990s, when the government encouraged ground-floor households along the street to open small businesses. "So if you applied for a license at that time, you'd be fine today," he explained. But many businesses operating now are renting their premises from landlords who didn't have the property relicensed for commercial use, Li said, and now applications for new licenses aren't being approved. He's unimpressed with the district's plans to standardize and sterilize the neighborhood.
Back on Yongkang Lu, the bar owners maintain that their businesses have made the street vibrant and diverse. Lin Ya, who runs the craft beer bar Zapfler with her German husband, said, "The old market left refuse all down the street, and it was noisy when the produce came in at 3 a.m."
Though many patrons had heard the news, there was little sign of change on the street, as crowds overflowed into the summer evening. "I've lived in China long enough to know that change happens quickly," said Matt Waters, a 34-year-old American who has lived in Shanghai for six years. He's seen dozens of businesses on South Shaanxi Lu — including his favorite cheese shop — boarded up and shut down, seemingly overnight.
Some locals also enjoy the distinctive atmosphere of the street. Dai Rongqun, 57, grew up in the Xuhui neighborhood. She went to primary school just 2 kilometers west of here, at Gaoan Lu No. 1 Primary School — incidentally, basketball star Yao Ming's alma mater. A photography enthusiast, she visits Yongkang Lu regularly to take pictures.
Dai sympathizes with the residents' complaints but thinks the government should have relocated them instead and designated the street as a nightlife hub. "This place could be like Tianzifang, but not so tacky," she said, referring to a block of fading townhouses southeast of Yongkang Lu which was redeveloped into a tourist haven.
Other areas that have been targeted by district authorities for revitalization campaigns are now empty and dull, Dai said. "Hengshan Lu used to be lovely, so darling with all these bars, but now it's all deserted," she said.
After years of complaining and reporting to the authorities, some residents, like 50-year-old Jin Ping, feel that the closing of some bars is in itself a victory.
"I don't understand what took them so long," Jin said of the local authorities. To get to her home on Yongkang Lu, the 50-year-old said that she has to tiptoe around puddles of urine. "Public toilets and trash cans were built for these laowai," she said, referring to the foreigners on the street, "But after they get drunk, they ignore the toilets and just pee in the lane."
Resident Chen, however, is considering selling his 30-square-meter apartment, which is now worth more than 3 million yuan. For him and his wife, it's a difficult decision. "We got married here and saw our grandchildren grow up on this street," he said. "It will be so sad to say goodbye."
With contributions from David Paulk and Wu Yue.
(Header image: Crowds flow onto the street on Yongkang Lu at night, Shanghai, July 16, 2016. Wei Yi/Sixth Tone)