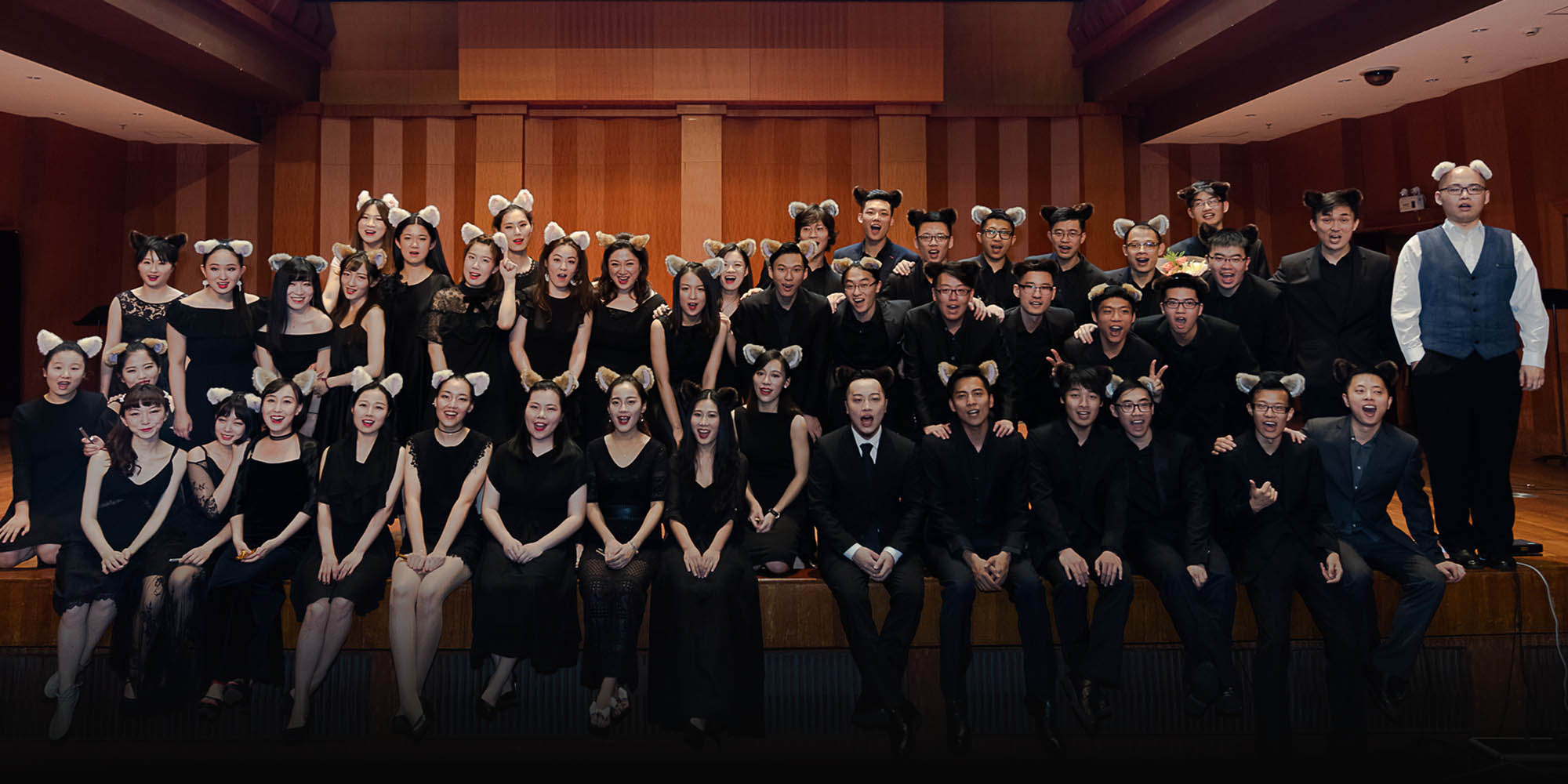 NEWS
China's 'Overtime Dogs' Can't Get Enough of Choir Song
Amusing jingle about office life breathes fresh air into music form known for propaganda.
A Shanghai amateur choir has found a captive audience of white-collar workers with their ode to overtime, "My Body Is Hollowed Out." The song went viral on social media after its release on Wednesday and has been viewed nearly 20 million times on microblog platform Weibo.
The song's lyrics throw humorous barbs at office life, complaining of long hours and annoying bosses. "I haven't removed my makeup in 18 days," the choir sings. "My monthly contact lenses have been in for two and a half years."
In the video, all members of the Rainbow Chamber Singers wear dog-ear headbands, a reference to "overtime dogs," a slang term in China for white-collar workers. Conductor Jin Chengzhi, who wrote the song, completes the joke by wearing a glove shaped like a dog's paw.
Jin told Sixth Tone he was inspired to write the song after a friend wrote the phrase "my body is hollowed out" on social media. The choir debuted the song in a concert on July 16.
Rainbow Chamber Singers was established in 2010 by Jin and seven other students of the Shanghai Conservatory of Music. The choir now has 44 members, mostly students and office workers. In January the choir had another hit song, "Where Did You Put My House Keys, Zhang Shichao?"
Jin said many people who attend their concerts come for their more unusual songs, which the choir purposely performs at the end of their concerts. "We hope that through these humorous songs we can teach our audience about the classical works that we really want to popularize," he said.
Hong Mengyue, 24, told Sixth Tone that "My Body Is Hollowed Out" might as well have been about her. Hong said she noticed the song was flooding her social media feeds at around 7 p.m. — while she was working overtime. Hong often finds herself working at a Shanghai advertising firm until late at night. "We love this song because it resonates with our experience," she said.
On Weibo the song has been praised as an earworm. "I listen carefully to each word and each song they have performed," wrote one Weibo user, who added that Jin had given her a different perspective on choral music by singing about real life — both its joys and sorrows. "I never thought choir could convey such a love of life," she added.
Most Chinese know choral music from propaganda songs, as it is not uncommon for choirs across the country to perform "red songs," or revolutionary songs that praise the Communist Party and Chairman Mao.
Wang Heyang, a choir music fan who works in marketing, told Sixth Tone this genre of music has fewer and fewer fans in China. "It's a great thing that people like Jin innovate," the 24-year-old said. "Their performance not only maintains the basic solemnity of choir music, but also reflects the state of mind of young people."
Additional reporting by Wang Lianzhang.
(Header image: Members of the Rainbow Chamber Choir pose for a photo after a performance at He Luting Concert Hall in Shanghai, July 16, 2016. Courtesy of Rainbow Chamber Choir)