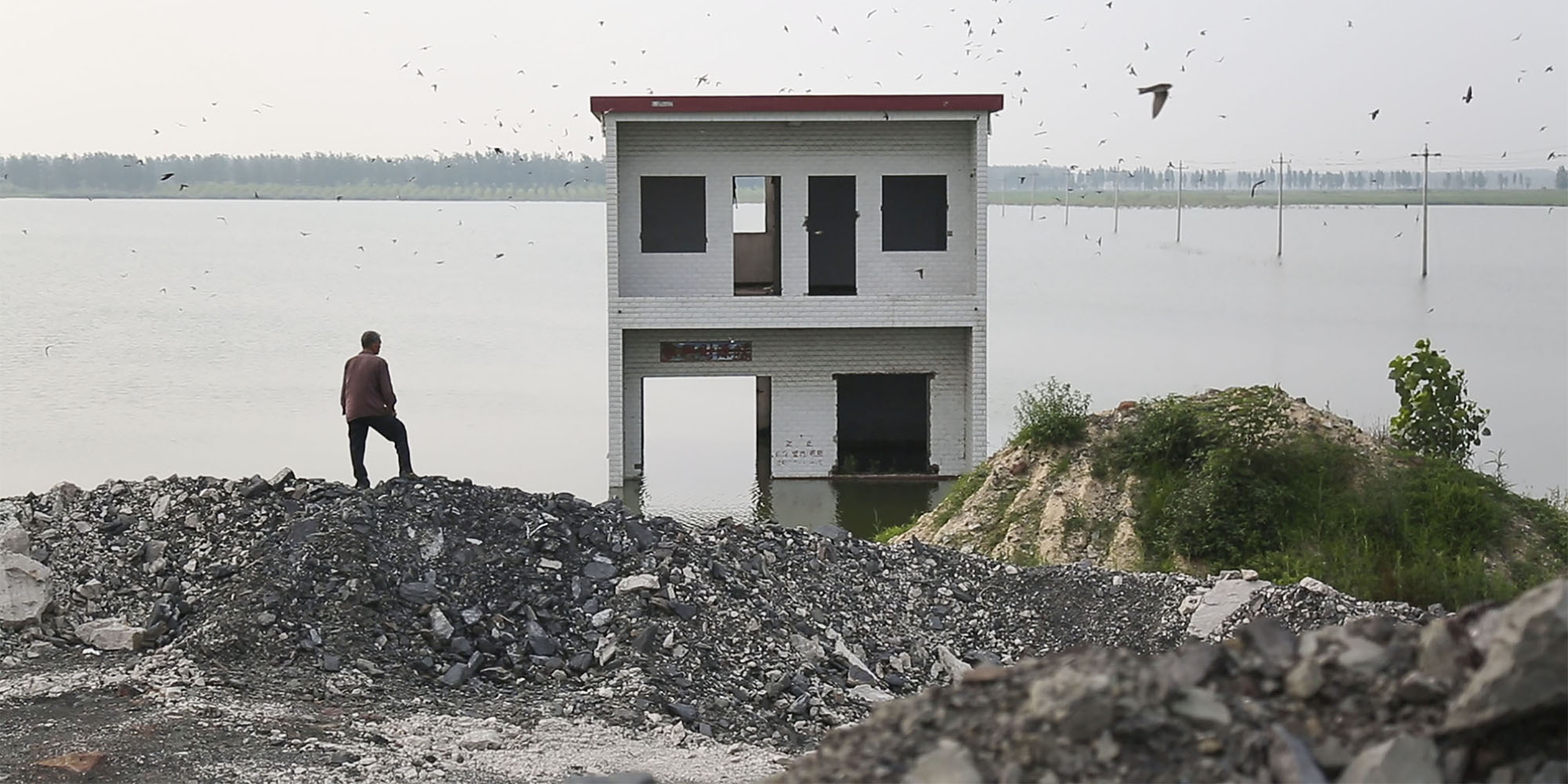 FEATURES
Coal Mines Give Residents Sinking Feeling
Residents of Dali Village have lost their land to subsidence, and both the mining company and local government have done little to make amends.
It only takes the faintest sound of a crack and Wang Juan jolts awake. "Our house won't fall down, will it?" she whispers to her husband, looking for reassurance that their family will be safe, at least for one more night.
Since 2007, Huainan Mining Industry Co. Ltd. has been exploiting the soil underneath Dali Village, part of Huainan City in China's eastern Anhui province. It's one of the biggest underground coal mines in Asia. From beneath Wang's feet, 5 million tons of coal are extracted each year.
And Dali, her home, is sinking.
"We've heard about the problems in other villages, but we never thought this could happen to us," Wang tells Sixth Tone. About five years after the coal mine started operating, the first cracks appeared in their floors, walls and ceilings. What began as fine lines over time turned into deeper fissures — heralds of the end of their bustling town of farmers.
[node:field_video_collection]
In less than a decade, the changes to the town were as deep and far-reaching as the coal mine underneath. Wang's house still stands, but much of Dali is underwater.
With each truckload of coal that was taken out of the mine, the cavities under Dali grew, causing the ground on which the village was built to give in, little by little, explains Guo Guangli, a professor of mining subsidence and restoration studies at China University of Mining and Technology in Xuzhou, Jiangsu province.
Like most coal mines, Guo says, the one operating beneath Dali extracts coal located not only in the ground beneath the village, but also under the groundwater. As most of the village has now sunk several meters, some parts have become surrounded by groundwater the mine has forced to the surface.
The affected area is so big that a vast lake has formed in just a few years. Most villagers tore down their houses when the water started to seep in, hoping to at least sell some building materials for a small sum of money before relocating. The houses of the few holdout families are now inundated and stand in the middle of the mine-made lake.
Almost a tenth of Huainan City has slumped into the earth. Out of more than 2.3 million residents, about 311,000 now live on lower ground, in houses with cracks that often stretch across the ceiling, according to Huainan authorities.
Although Wang's house hasn't hit the groundwater yet, she worries that it may collapse at any time. "We are afraid that someday, the ceiling or the wall will split and fall off," the 35-year-old says, staring at a long, deep crack across the concrete floor.
Dali used to be a farming village of about 1,000 residents.
"Not far from my house, there was a primary school that my daughter went to, and there were small stores and small roads where cars and bikes went back and forth," Wang says. Now, they have been swallowed by the lake.
The subsidence has decimated the village. Only about 20 people still live here, including Wang, her husband, and their two children. The rest have given up and moved into apartments partly paid for by the mining company. An annual compensation payment has also been allocated for the farmland that was swallowed by the ground.
In Guqiao Township, to which Dali Village belongs, about 13,000 people from 5 villages have been relocated. Another 6,000 people will be forced to follow suit in the near future, according to Guqiao authorities.
Painted in beige and white, dozens of five-story buildings housing relocated villagers have sprouted up 25 kilometers south of Dali.
Wang already holds the keys to her new apartment, but she's made some calculations, tallying up the cost of buying produce at the market. The 20,000 yuan (nearly $3,000) Wang and her family will receive annually from the mining company won't be enough to make up for the lost farmland and the crops it once provided.
"My family will be poorer without the land," she says.
It's a hopeless situation for residents like Wang, but the local government, too, claims to be frustrated.
Although the coal company operates on land under the jurisdiction of Guqiao Township's local government, the administration's deputy director of economic development, Wang Yuanyang, tells Sixth Tone that there's little the local authorities can do to intervene.
"These companies are directly under the administration of the provincial State-owned Assets Supervision and Administration Commission, not ours," he says. And negotiating with them, he adds, is not an easy job.
China's coal industry law, issued in 1996 and later revised in 2011, stipulates a number of efforts coal mines must undertake to mitigate social and environmental impact. But critics say the law is not only vaguely worded, but also hardly ever enforced.
Biotechnology could be one solution for the subsidence in Guqiao, Cheng Jian and Li Jingchun, professors from China University of Mining and Technology, outlined in a paper. The land would first have to be reclaimed by draining and then refilling it, before cash crops such as wheat and maize could be grown. Eventually, the ecological environment might become suitable for fruit trees, rice, and livestock like pigs and ducks. However, reclaiming the land would be an enormous financial undertaking that could take years, and with uncertain results: If too much coal has been extracted, the land could simply sink again.
The World Bank committed $100 million to a $170 million rehabilitation project in the area in 2015, but declined to comment on its progress.
Under Article 32 of the coal law, prospectors are to be held responsible for the restoration or reuse of land, but there's little evidence that the Huainan Mining Co. has tried to fulfill these obligations. A local government official claimed that they built at least one small solar power plant, though Sixth Tone was not able to independently verify this claim. The company's site in Guqiao and its resource and environment department declined to comment, referring all questions to the publicity department, which did not reply to repeated requests for comment.
If coal mining continues, China could see an area the size of Beijing affected by subsidence by the year 2020, according to a study by Liang Hailin of China Shenhua Energy Co. Ltd.
To deal with the impact, Anhui's provincial government set up a special department in 2009 that was tasked with tackling the issue. Soon afterward, the department published a plan outlining ways to redress subsidence in the period from 2012 to 2020.
Under the plan, the local government would restore the landscape according to the particular circumstances of the land in question. If land has sunk less than 1.5 meters, it can still be used for farming or construction. Any deeper than 1.5 meters and the land should be developed into fish farms or tourist areas — although the plan did not elaborate on what might draw tourists to such desolate areas.
The underlying issue, however, is that most areas have sunk much lower than just a couple of meters: The average, says Sun Guoquan, head of the special administrative department, is six to seven meters. Some parts have sunk by nearly 20 meters.
"And most of these areas are still sinking deeper," Sun says, which makes any kind of redevelopment acutely difficult.
In some of the villages around Dali, residents have already turned the sinking land into fish farms. "It's the fastest and easiest way to reuse the land," says Wang of the Guqiao Township government.
Even if redeveloping the land for other purposes were possible, the government lacks the funds to do so. "Compared to the wide area that needs to be restored, the money we have is so little," Wang says.
In some countries, like the U.S., coal mine prospectors must submit a detailed land reclamation plan and provide funds for environmental reclamation before they are allowed to start digging for coal.
Coal-rich Shanxi province in northwestern China, where some cities have been officially declared exhausted of their natural resources after decades of intensive mining, has tried to take a similar approach. In 2007 Shanxi set up a "coal sustainable development foundation" to mitigate the environmental and social impact of mining, and to change the way that companies extract coal. But in 2011, coal prices began to tumble, and the policy was abandoned. In 2014, when China's annual coal output hit its lowest level, coal-related tax reforms were introduced to alleviate pressure on the industry.
Local officials say that there simply isn't enough money to restore the land, or to provide any further assistance to the villagers.
In Dali, Wang believes that her family will have to move soon. Her husband, Li Zhongliang, says that he started to place all his hopes for the future in his two children — a dire prospect for a man of only 38 years.
From his reclining chair, Li looks up at two little swallows that have made a nest on the ceiling inside their house. Cracks radiate outward from the spot like crooked spokes on a bicycle wheel.
"I've heard swallows bring good fortune," he says.
There are glimmers of hope for the few holdout families. Villagers are now observing that the ground is sinking at a slower pace than before. They attribute this to the industry's slowdown.
According to estimates from the China National Coal Association, profits are just a tenth of what they were in 2011, when coal was in high demand during the industry's "golden decade." More than 90 percent of big coal companies are now reporting losses.
If no more coal is extracted, there's a chance that the subsidence will stop, and that Wang, Li, and their children can continue living in their sparsely decorated home.
But in the long run, the industry's decline foreshadows another issue for the thousands of villagers who have already been deprived of their farmland, and who now subsist on the annual payments they receive from the mines.
Profits were slim in 2013, and in 2014 the company suffered losses of 5 billion yuan, according to China Lianhe Credit Rating Co. Ltd. In the first three quarters of 2015, they had lost close to 2 billion yuan. The losses make one local official — who asked not to be named, as he was not authorized to speak to the media — deeply worried about the future.
Since Huainan Mining Co. started losing money, some annual payments have been delayed, say former residents. The official corroborates their claims, adding that the government, already struggling to deal with the current problems caused by the mine, won't be able to help families should the company stop making payments.
"We are also worried that one day, if the coal companies go bankrupt, there will be too much of a burden for the government to handle," he says.
(Header image: A Dali villager looks out at a house surrounded by water in Huainan City, Anhui province, July 5, 2016. Wu Yue/Sixth Tone)