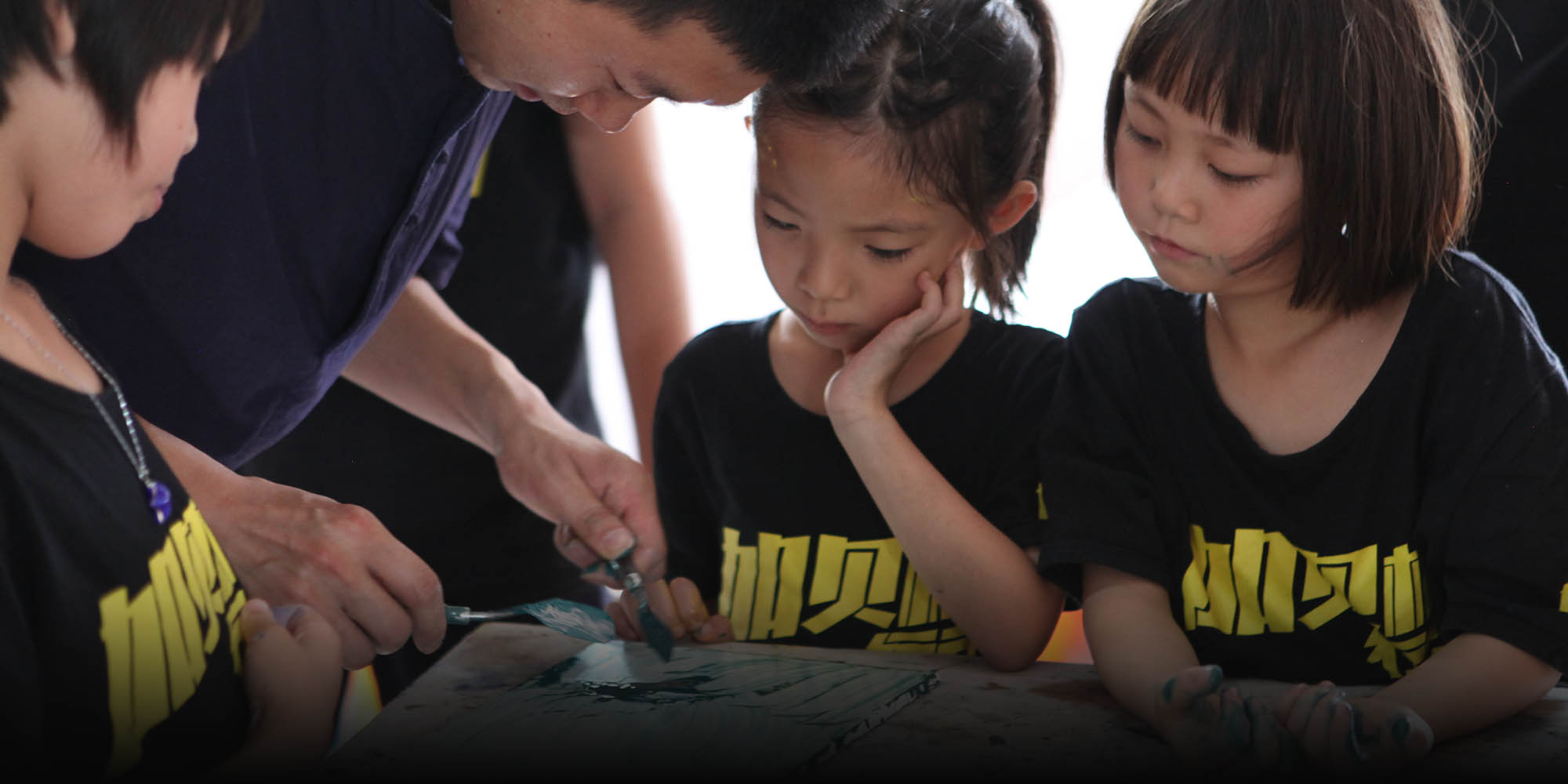 FEATURES
Traveling School Offers Offbeat Alternative
Visionary's attempt to revitalize education in China operates in a legal gray zone.
The bright morning sun doesn't bother He Junheng, 35, as it reflects off the white walls of the art studio where he is watching a pottery class from the sidelines. One can see in his eyes that he is as focused on his vision as his students are on their delicate task.
Dissatisfied with China's education system, He last year started his own traveling school, Jiabeicun. Now the school has 16 students, aged from 7 to 11, who have been taken out of China's public elementary school system to take part in what He admits is an "education experiment."
The idea is simple enough: Instead of sitting in a classroom all day learning from books and lectures, students of Jiabeicun travel around the country for hands-on, immersive cultural and sporting activities, and learn core subjects such as mathematics, Chinese, and English. They've cycled around the picturesque Er Lake and camped under the stars in Dali. They've studied Peking opera in the nation's capital, and they've climbed sheer rockfaces in Guangzhou. Now the students are learning about ceramics in Jingdezhen, Jiangxi province, which has been known as the "porcelain capital" of China for some 1,700 years.
[node:field_video_collection]
One of He's students, 10-year-old Zhang Hanqi, says studying at Jiabeicun is much less serious and challenging than her previous school. "In our free time, if you like to read books, you can read books," she tells Sixth Tone. "If you want to play games, you can play games — it's up to you."
But leaving the classroom to travel around the country is hugely radical, especially considering the importance that Chinese culture places on traditional education. Every year, some 9 million teenagers take the notoriously difficult national university entrance exam, the dreaded gaokao. The results can put the student's entire family on the path to prosperity, or haunt them with a lifetime of regret. The importance placed on such examinations goes back many centuries. Citizens of the Tang dynasty, too, could be propelled to fortune simply by scoring well on the imperial civil service examination. That system was abolished in 1905, but that's little respite for teenagers today because its legacy lives on.
Children begin preparing for the gaokao as soon as they start school, which means most Chinese students study six days a week, from 7 a.m. until 4 p.m. Afternoons and days off are often spent attending extracurricular classes, all with that final examination in mind. Some parents even hire expensive and highly educated gaokao "nannies" who will stay with their children in the lead-up to the exams, offering tutoring, advice, or midnight snacks.
But other parents aren't happy with the pressure and pace of Chinese public schools, and are taking bold action to ensure their children aren't trampled in the rat race. For He, seeing his son alienated by strict and overbearing teachers motivated him to create an alternative. "I think that's a terrible thing, once a child starts to hate learning," he says. It was then that He decided to take matters into his own hands, and he figured at least some other parents would share the same point of view.
Jiabeicun was launched last September after He, who is originally from Guizhou province, gave an extensive speaking tour around China to promote his idea. He says he spoke with hundreds of parents in the 13 cities he visited, and in the beginning just five families signed up. Most loved the idea, he says, but many were worried about taking such a huge gamble with their children's futures.
"Everyone wants certainty, but I think no one can guarantee that," he tells Sixth Tone. "Even if you go to a traditional school, there's nothing to be certain about. You are certain that you will get a certificate — that's all." Jiabeicun doesn't offer any kind of certificate, instead giving students a collection of "useful experiences" that they can draw on throughout their lives.
He isn't just taking a chance with other people's children: His son, 10, and daughter, 7, are also enrolled in the program, having left behind ordinary school nearly a year ago. He says that the main drive behind starting Jiabeicun was to allow his own children to be happy and creative individuals, free from the constraints and pressures of an education system that he argues is like a centrally planned economy: a top-down, one-size-fits-all product that stifles originality and diversity. "We have this freedom here at Jiabeicun, and we can also offer this freedom to those who are willing to work with us," He says. "We don't bend to tradition."
But joining Jiabeicun doesn't come cheap: A parent whose child is enrolled in the program told Sixth Tone that the yearly tuition fee is 200,000 yuan ($30,000), a price which He himself admits is far too expensive for most families. The average annual income in Jiangxi province, where He and his class are now studying, is one of China's lowest, sitting at around 40,000 yuan. "Our average income in China is still very, very low," He says. "We cannot, at the moment, provide a very good education for the whole country. But as a small experiment, we can try."
For other parents, it's the cost in time that is more of a worry. Guo Jia, a tutor of elementary school students and father of two living in Hangzhou, says he's been following Jiabeicun closely for a few months, and he even attended their open house day in Shanghai. He says that on top of the monetary expense, he worries that risking his children's futures on a bad decision would bear irreparable consequences.
"If the academic term were three days, one month, or two months, we could start all over again," Guo tells Sixth Tone. But he fears there would be no coming back from taking his children out of regular school for a couple of years. "That's too high of a price for most parents to pay," he says.
Even still, Guo is seriously considering sending at least his youngest child to join the traveling program, once he reaches the minimum age requirement of 7. Until then, he'll keep following Jiabeicun through the pictures and videos they post on social media — how most of the new students were attracted to the program in the first place — to see how it goes over the next two years. Guo himself understands the power of alternative study: He designed his own do-it-yourself science and mathematics experiments that became a local craze and went on to improve the grades of many of his students in Hangzhou.
Guo understands that taking his children out of compulsory schooling is illegal, but he also questions whether doing so would be morally wrong. "Why are these alternative schools running? Because there is a need," he says. "Mr. He's heart is in the right place."
Xiong Bingqi, deputy director of the 21st Century Education Research Institute, an education think tank, says alternative schools like Jiabeicun would probably be best described as a form of homeschooling, which is currently illegal in China. "Not going to school is contrary to China's law on compulsory education," Xiong tells Sixth Tone. "Many alternative schools are not registered as schools per se, so they risk committing an offence."
Xiong says one possible solution would be to amend the compulsory education law to legalize homeschooling, while also introducing measures to guarantee the quality of education children receive at home or, in the case of Jiabeicun, on the road. "As in the United States, parents wishing to homeschool their children would have to be properly qualified and trained by the Ministry of Education," he explains. "This would ensure that students' education is accredited and that they could return to public schooling at any time, or apply for university."
Jiabeicun's He admits that his school is operating in a "legal gray area," but he says he is focusing on the bigger picture. "Every fundamental innovation or revolution in history was illegal at the time it took place," he says. Jiabeicun is an educational experiment which will benefit the Chinese education sector regardless of its success, he adds. "It doesn't harm anyone."
Li Yanfang, the mother of 10-year-old student Zhang Hanqi, has faith in the program and says it's done wonders for her daughter since she joined last year. "We wanted to send our daughter somewhere new because traditional education doesn't teach students to exercise their own personal will," she tells Sixth Tone. "Also, in normal school the environment is too competitive."
The competitive and fast-paced nature of ordinary school didn't suit their daughter well, Li says, because she is a slow learner. "I'm less interested in pure academic achievement and more interested in what Jiabeicun has to offer," she says. She feels the school's lessons are more real and human.
Li's husband, Zhang Guoguang, agrees that Jiabeicun has been a good thing for their daughter, and indeed for their whole family. "Our child's mental state has changed, and her spirit is completely different," Zhang says. "Before, I was worried about her ability to overcome difficulties, but now she is more confident."
Back in the summer heat of Jingdezhen, in Jiangxi province, He smiles as he watches his students shaping wet clay on fast-spinning wheels, their clothes, hands, and faces splattered with wet white earth.
"Before I started Jiabeicun, I realized there is one winner and many, many losers in Chinese education," he says. "I wish I could have studied somewhere like Jiabeicun, because maybe I could have become someone better than I am today."
He says he doesn't know how his experiment will turn out, but he thinks it will be valuable either way for his students. "I'm pretty confident about their futures," he says. "I don't know what they're going to do, but that's for them to find out. I'm sure they'll be very unique."
(Header image: Jiabeicun students receive instructions from their teacher in Jingdezhen, Jiangxi province, July 19, 2016. Andy Boreham/Sixth Tone)