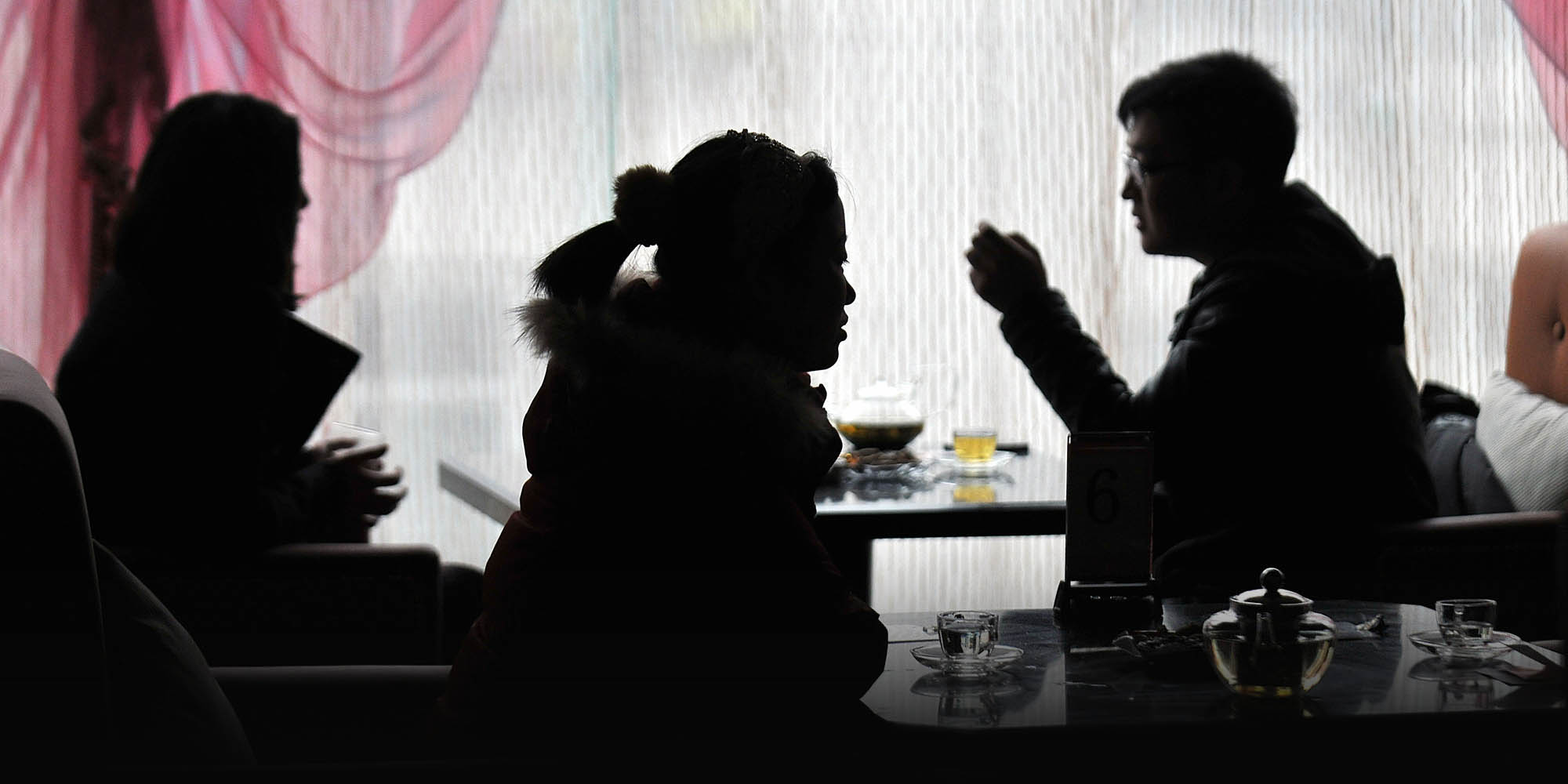 FEATURES
Eat, Pray, Escape: Reality TV for Leftover Women
Upcoming show that seeks to set unmarried women free from social pressure encounters its own resistance.
In the back room of a high-end, cafe-cum-homeware store in a Shanghai mall, a camera starts rolling. A woman in her late 20s is beckoned inside, where she is asked a series of brief but probing questions.
"Name, age, occupation?" "What do you like to do in your free time?" "How do you understand the concept of 'leftover women'?" "Can you tell us a particularly painful or regretful experience from a past relationship?"
This is not an application for a matchmaking website, but a screen test for an upcoming reality TV show in which the protagonists are China's so-called sheng nu, or "leftover women" — women in their late 20s or older who have yet to find a life partner.
According to a casting call posted online in May, Shanghai-based production company New York Shanghai Productions (NYSH) is seeking six Chinese speaking, single women above the age of 27 to travel to Italy for a program they're calling "part travel show, part reality show," set to begin filming this fall.
"Leftover Women Escape" is the latest in a stream of cultural and media ventures that capitalize on the highly marketable phenomenon of leftover women. The commercial trend began almost a decade ago when the term sheng nu was officially recognized by the Ministry of Education in 2007 and entered into the Chinese lexicon.
More often than not, leftover women have been portrayed in mainstream media as tragic anomalies to the pervasive expectation that one find their life partner in their early- to mid-20s and promptly settle down. Chinese skin care brand SK-II broke the mold in April this year when it won the hearts of millions with an advertisement that celebrated the self-assuredness of women who refuse to get married just for the sake of it.
It is not immediately clear in what light NYSH intends to portray the show's participants, but an image in the casting call announcement of a clasped left hand with an upright ring finger emblazoned with the word "escape" in place of a ring suggests some degree of defiance. Li Zhuqing, a producer of "Leftover Women Escape," told Sixth Tone that the contestants will "share with us who they are, their thoughts and their feelings, as they travel to amazing locations around the world." Because NYSH is still in negotiation with sponsors, she said, she was not at liberty to elaborate in detail on the format the reality show will take.
A press release in July, however, revealed that in Italy the women would be "free to feed their senses." Proposed sensual stimulants include picking grapes, attending music concerts, dancing on white beaches, and riding in "gorgeous supercars."
According to NYSH, the program is being produced for a Chinese audience and over 50 candidates have already been interviewed.
Some people believe that new representations of single women that focus on their drive and independence will help lead to female empowerment, a view echoed by the largely positive reaction to SK-II's skin care advertisement. Not everyone buys the trend, however.
Journalist-turned-lawyer Luo Aiping, who in 2014 published an investigative book on Chinese society's perceptions of leftover women, told Sixth Tone that she worried the new reality show was yet another form of exploitation, and will only serve to reinforce the labels currently affixed to this group of people.
"I noticed that the show is trying to select beautiful and charismatic leftover women, and I guess will focus on their private lives and relationships," said Luo, who describes herself on social media as someone seeking to "comfort those out of love and help those being pressured to marry." She believes the show is essentially a high-end version of previous leftover women shows that have aimed to gain popularity by exploiting the private and romantic affairs of single women.
Producer Li denies that the show's primary selling point lies in uncovering the private stories of its participants. "These are all very successful women," she said. "They are single, but they do have another brilliant side to their lives."
Regardless of the angle that is taken in the TV show's treatment of the subject matter, Luo believes that mass media's incessant focus on the "phenomenon" of leftover women is playing a damaging role in boosting the anxiety of this group of people. A telling sign that women are singled out by the media is the fact that there are in fact more unmarried men than there are women in China, yet coverage of sheng nan — or "leftover men" — is negligible in comparison to their female counterparts.
"There are leftover women and leftover men, but the media focuses on women," Luo said. "The media might show an increasing tolerance for unmarried women, but women are still being asked to acknowledge that they are yearning for love."
NYSH told Sixth Tone that "All the women in the show are independent, successful, intelligent and powerful women. It is by no means a derogatory portrayal of them."
For some people, however, that fact that media coverage of leftover women tends to focus on attractive women of relatively high socio-economic standing reflects an agenda to question why such women could possibly be single. Li herself said that the production team is "intrigued" by the stories of leftover women, and wants to explore the reasons why "smart, charming, and successful" women would find themselves categorized as "leftover."
"Leftover women are seen as being classy, but in reality 'three high' women occupy an incredibly small proportion," Luo said, referring to a trinity of attributes that is seen to characterize the ideal woman: highly educated, highly intelligent, and highly paid. "Most [single women] are just ordinary people, but these TV shows just strengthen the stereotype that all leftover women are outstanding."
Luo's concern about a skewed representation of single women is a sentiment that also surfaced at the time of SK-II's skin care advertisement, which told the story of several leftover women seeking, and obtaining, the respect and acceptance of their parents. Though the ad was seen by most to have shifted the dialogue surrounding leftover women in a positive direction, some felt that its focus on attractive, professionally successful women — the advert's target audience — was a disservice to the millions of other single women who might not possess such "screen-friendly" attributes.
Writing for women's advocacy NGO Pepper Tribe — or jianjiao buluo in Chinese — in April, feminist activist Zheng Churan said she was pleased to see that companies were increasingly focused on the question of women's rights, but she also expressed concern about skewed representation: "With commercialism that is based on aesthetics, I worry that 'elite women' will become the spokespeople of all women, and that those further down, who face similar or different pressures, will disappear."
As to why the casting call for NYSH's upcoming reality show said that the show's women would be "beautiful, smart, and sexy," producer Li said that such language need not be read into too deeply. "Of course we will lure women with attractive wording," she said.
Other criticism directed at how the media has covered leftover women has centered upon the very term itself. Beijing-based yoga teacher Zhao Xue describes herself as one of millions of "victims" of the leftover women label.
30-year-old Zhao said the word "leftover," in both Chinese and English, has salient negative connotations, implying that those who carry the label are unwanted, wasted, and without value. Li said that although the English name of the show — "Leftover Women Escape" — has been fixed, the production team has yet to decide whether to use the Chinese equivalent — sheng nu — in the show's Chinese name.
Regardless of the term's baggage, some believe that any media coverage is better than none. Author Wang Xiao, who writes self-improvement books targeted at female readers, believes that any show that contributes to a positive image of single women should be encouraged.
Wang told Sixth Tone that there was a need for shows about single women because public opinion needs guidance. It might take three to five years for a shift in traditional values, she said, but it is work that must be done by somebody. "I will watch single-women reality shows as long as they resonate with my values," the 37-year-old said. "Women should be free. They should also have the ability and the right to pursue their goals."
"In some shows, female protagonists seek liberty at the beginning, but must still seek marriage in the end as some kind of crowning achievement," said Wang. "That's wrong."
Additional reporting by Yin Yijun. With contributions from Qian Jinghua.
(Header image: Single women and men chat at a coffee shop during a matchmaking event in Taiyuan, Shanxi province, Feb. 12, 2012. Zhan Yan/Xinhua)