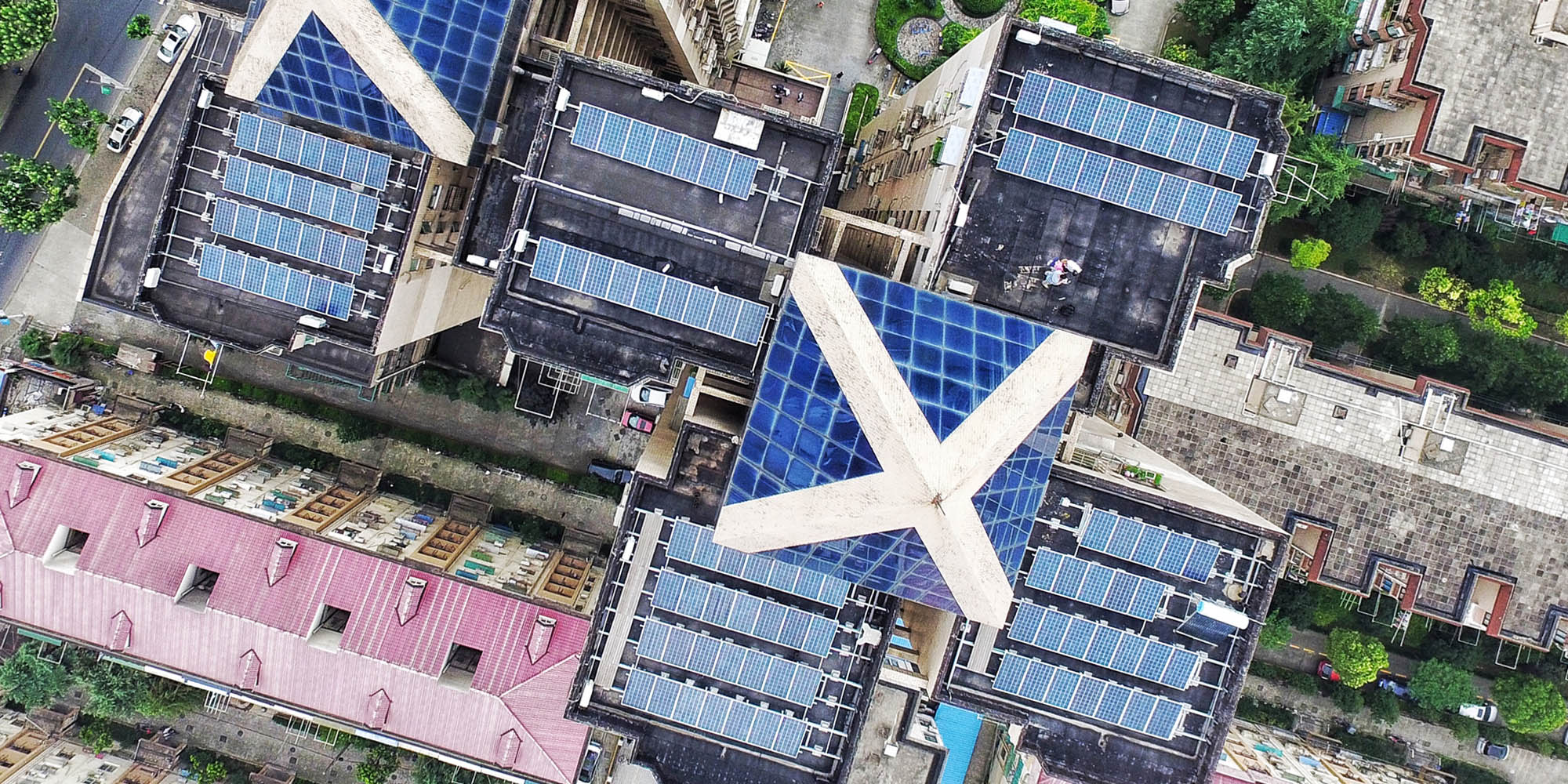 NEWS
Solar Power in Urban China Starts Small
Rooftop power scheme has high goals but few tangible results so far.
China is looking past its clouds of pollution to tap the sun for energy. On Monday, local authorities in Shanghai's Putuo District showed off the city's first solar-powered residential complex as part of the government's "low-carbon city" campaign.
But although China has set ambitious targets for rooftop solar power, and offers subsidies to householders who install solar panels, a host of practical and bureaucratic barriers have impeded the plan's progress.
In the northwest of the city center sits Changgao, an apartment complex with 465 households and 196 solar panels. Li Chunong, a representative of the property owner committee, had initially wanted to install just a few solar panels, in part to cover up a pile of waste materials in the compound. But when he spoke to officials, they were thrilled with the idea.
Changgao's solar panels cost 600,000 yuan (around $90,000) and were paid for by government subsidies. But though the installation was completed in three months, Li says the total process took a full year.
One challenge was that Li and the other residents weren't recognized as a legal entity, meaning they had to be represented by the property management company. Li feels the subsidies should be given directly to the households that actually install the panels.
The country's top energy planner, the National Energy Administration, set an ambitious target in 2014 to install enough solar panels before the end of that year to produce 8 gigawatts of electricity by offering subsidies, but only a little more than one-fourth of that target was achieved. In 2015 and 2016, instead of setting a goal, the administration delegated the task to local authorities. Chinese media 21st Century Business Herald commented that the delegation aimed to avoid the embarrassment of the 2014 target.
Large-scale solar power farms, located mostly in rural areas, have been rapidly growing in China in recent years. By the end of 2015, the country's total electricity generation capacity from large-scale solar farms is nine times more than the small-scale generators normally placed on roofs in cities.
Households that use solar panels to generate electricity can sell off any excess power they create to the power grid. But though the nation is working to increase the number of small-scale generators in cities, implementation has been difficult.
Zhu Yuanhao, president of Shanghai New Energy Industry Association, told Sixth Tone one issue is that many residents or businesses interested in solar power don't own the rooftops of their buildings. Those pioneers who turn their rooftops into solar power generators are normally either villa owners or environmentalists.
"But there are also many people who simply don't see the economic benefits that solar panels could bring," says Zhu. Under the current policy, the subsidy could be as much as 0.82 yuan per kilowatt-hour (kWh) in cities like Shanghai. Usually an investment will pay for itself within five or six years. "The investment return is higher than in many other industries," Zhu said. But since people pay so little per kWh of electricity, many have no motivation to look for alternative energy solutions.
Li Hui, an analyst with Adzar Energy, a company offering distributed energy resources, estimates that there are at least 60,000 villas in Shanghai. If all of them installed rooftop solar panels, they could generate 300 megawatts of electricity — roughly the same as 15 large-scale solar plants. Li also acts consultant to environmental organization Greenpeace.
But by the end of 2015, there were only about 1,000 households and companies harnessing solar power. Many of Li's customers are worried that the subsidy policy may be changed within the next several years and they will end up losing money. The government needs to assure them that this won't happen, he says.
(Header image: An aerial photo shows solar panels on the rooftop of the Changgao apartment complex in Shanghai, July 18, 2016. Liang Yan/Sixth Tone)