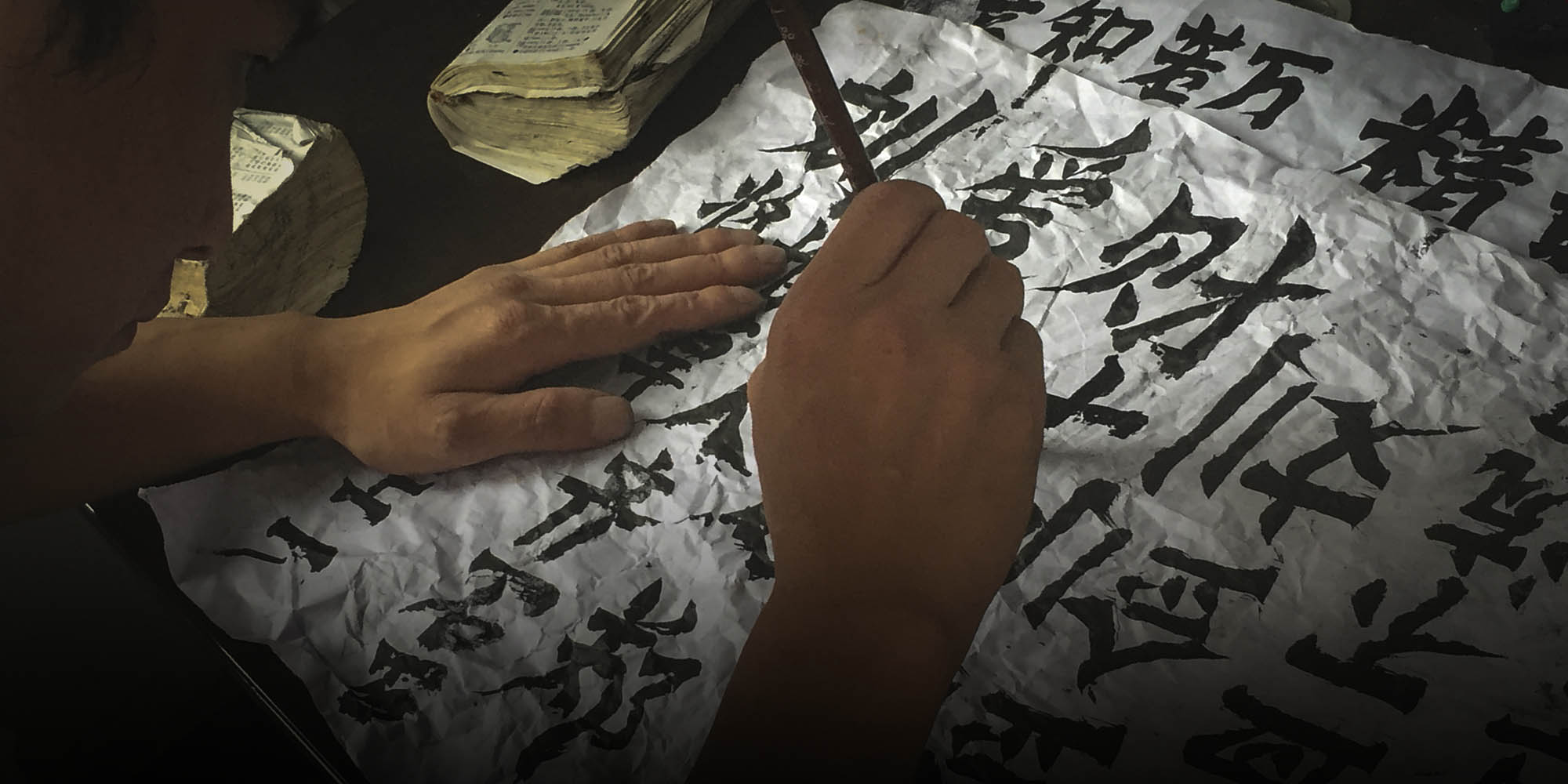 FEATURES
Villagers Turn to Temples, Folk Remedies to Treat Mental Disorders
Lack of guidance, support hinders patients in the countryside from seeking professional care.
In a small village in central China's Hunan province, a concrete structure is nestled among the mountain houses. Though difficult for outsiders to find, all of the locals here can identify this place as the temple that grants wishes.
"Lots of people with illnesses come here to get help," said the temple's only priest, an 80-year-old man surnamed Tao. He has been performing Taoist rituals in this temple for eight years now. He said he communicates with the deities of the temple and prescribes sacred remedies for people with mental and physical illnesses.
For people in China's countryside with mental disorders, Buddhist or Taoist priests, as well as folk remedies and traditional Chinese medicine (TCM), not professional psychiatrists, are often relied upon as the first line of defense.
Hu Yunrong is a farmer in a village in Hunan province, and he has a 30-year-old son who has had schizophrenia for seven years. Hu told Sixth Tone he always believed that "evil energy" was responsible for his son's odd behavior.
When Hu Haiming came home in 2009 from working in the eastern Chinese province of Jiangxi, he began mumbling strangely, shouting at people in the street, and cursing village officials. As a single father, Hu had to stay home and watch his son, to keep him from running off and getting into trouble. Haiming was Hu's only child — his only hope for having a family larger than just the two of them.
"I didn't know what to do," Hu said. "The whole village was afraid of him."
That year, Hu and his son traveled from the west of Liuyang, Hunan province to the villages in the east and south, seeking help from the temples known for treating people with mental problems. They didn't find the miracle they hoped for.
The burden of mental, neurological, and substance abuse disorders in China is estimated to increase by 10 percent from 2013 to 2025, according to a recent Lancet report. This means that whereas 36 million years of healthy life were lost to mental illness in China in 2013, by 2025, that would increase to 39.6 million, according to the report.
However, 40 percent of patients in China with psychotic disorders have never sought treatment from mental health professionals. For those with mood or anxiety disorders, that figure was even lower — only less than 6 percent seek treatment, according to a different Lancet report from earlier this year.
In rural China, superstitions, TCM, acupuncture, and Tai Chi all play important complementary roles in treating patients with mental disorders. A 2007 study conducted in the rural area of Liuyang by researchers from Central South University in Changsha showed that 67 percent of Chinese schizophrenics first sought help from folk remedies before turning to mental institutes, if they did at all. Of the more than 61,000 people in 23 villages surveyed, researchers found that 220 had varying degrees of schizophrenia.
In traditional Chinese medicine, mental disorders are seen as problems of unbalanced energies inside the human body, and thus traditional treatments focus on balancing these energies, rather than on targeting the brain directly. Many Chinese turn to traditional therapies because of a lack of understanding of their mental conditions. Lacking in proper guidance, many are susceptible to being led down the wrong path.
Hu Haiming was in a mental hospital for the ninth time by the time he spoke to Sixth Tone last month. He said the psychiatric medicine had damaged his eyesight and his blood vessels. He spoke energetically, almost without pause. One might never have guessed that he had tried to kill himself three times.
When Haiming and his father sought help from the local priests, they performed rituals asking the deities for a solution, and then gave him parchments to burn and drink after mixing with water to expel the "bad" energy. Other priests had Haiming draw fortune-telling sticks, prescribing folk remedies based on the numbers carved in the wood.
"All I wanted was to cure my son, and I thought the priests could help him get rid of the evil energy," Hu said. The treatment Haiming received was meant to cleanse his body of toxins — but in his case it was anything but a magical panacea.
The priest Tao said he has been practicing Taoism since he was in his 20s. He added that he had never seen a doctor because the deity has always kept him safe and healthy. As to whether his remedies were effective in helping others, Tao said: "I can only do what I can. If it does not work, you have to seek help from larger temple and stronger deities. It is the same with hospitals: If the smaller ones don't work, try a bigger one."
Hu did not send his son to a psychiatric hospital until three months after doing the rounds of the local temples and their traditional treatments, explaining that in the beginning he didn't think his son's condition was too serious. But then things got worse, and Hu's control over his son started to slip. Hu Haiming would run away and assault people in the street. Eventually, he was escorted to a psychiatric hospital by local police.
Delaying treatment can lead to longer recovery periods and worse outcomes in general for patients with severe mental disorders such as schizophrenia, according to a Lancet report. But compared with schizophrenic patients who usually have conspicuous abnormal behaviors, patients with mental illnesses that have less visible symptoms, such as depression, have an even smaller chance of getting proper treatment, and sometimes the results can be fatal.
Zhou Liang, a professor at the Xiangya School of Public Health at Central South University, told Sixth Tone that the school's recent study on suicide rates among the elderly in rural areas showed that 40 percent of those who committed suicide had depression. Only 0.8 percent of the total had visited a psychiatrist in the month leading up to their death, while many had consulted practitioners of traditional Chinese medicine for physical complaints like insomnia.
"Patients choose to seek help from traditional Chinese medicine because they — especially the less educated — do not think 'bad mood' qualifies as a mental illness," Zhou said. "They go to TCM practitioners for physical troubles like insomnia, fatigue, and lethargy, which are in fact symptoms of depression."
In another study, Zhou and his team identified elderly people in rural areas with depression, gave them the address and contact information of a psychiatric hospital, and asked them to seek help from mental health professionals. But one year later, they found that none of the subjects had met with a psychiatrist. "These people are upset because of 'real' problems such as financial troubles or chronic diseases, and they believe these are problems psychiatrists cannot solve," said Zhou.
Speaking to the complexity of the problem, Zhou added that "There are many who think that going to a psychiatric hospital brings dishonor."
Like Hu, many rural patients and their families get information about traditional folk therapies by word of mouth from other villagers — nonprofessional sources — and this can lead them to ineffective solutions and unreliable TCM practitioners. Sometimes desperate patients pay steep prices for heeding the wrong advice.
Zheng Xiuyuan, a 24-year-old living in a village deep in the mountains of Hunan province, started to behave abnormally eight years ago. He would laugh for no reason, talk to himself, dress strangely, and get angry easily. He tried to run away from home many times, and once he even hung a cardboard sign around his neck that read "I am a homeless person."
Zheng's mother saw a TV commercial about a TCM hospital in Hebei province that specialized in mental health. The family traveled all the way there and committed Zheng to the hospital for six months. The doctor gave him medicinal soup to drink and administered acupuncture three times a day. Zheng, who is now in stable condition, said this treatment only exacerbated his illness.
"When my son called me on the way home after six months in that hospital, I could tell nothing had changed," Zheng's father said. Within a week, Zheng relapsed and was sent back to the psychiatrist hospital.
For a family that earns 6,000 yuan (less than $900) per month, the 13,300 yuan they spent for each month at the TCM hospital was overwhelming. Because the hospital was a privately owned and operated facility, a large part of the expenses were not covered by Zheng's health insurance.
The hospital claims to be famous for the "13 ghost points" acupuncture technique, invented about 1,400 years ago and supposedly effective in treating mental disorders. But TCM expert Zhang told Sixth Tone that he was not aware of any case where acupuncture had proven to be effective.
Public health professor Zhou said that the lack of guidance and support at the grassroots level hinders patients from seeking proper treatment. "The detection rate for mental disorders in rural China is very low," he said. "There is a dearth of information about mental disorders, and education on mental health is far from sufficient in rural areas." In addition, he said that given China's general shortage of psychiatrists, it is not surprising that the problem is even more pronounced in the countryside, where attracting competent health care workers is a real challenge.
But China is finally on its way to building up a mental health service system. The "686 Project," which debuted in 2004, aims to provide affordable health care for patients with severe mental illnesses. Last year China released a National Mental Health Working Plan for 2015 to 2020, which sets goals to double the number of psychiatrists from 20,000 to 40,000 by 2020, and calls for coordination between grassroots health workers, police, and government officials to explore measures for preventing and treating mental illness.
Though a "mental health specialist" position has been set up in every village in Liuyang, the grassroots mental health service is not working well enough for Hu Haiming. Haiming's father said his son received little help or guidance when he went through the rehabilitation process at home. A medical professional in their town called them once about Haiming's condition, and Hu Yunrong reported that his son was still cursing at people. He never received another call.
"I have met many patients who stopped taking their medicine once they returned home," said Luo Chenggang, a 13-year veteran psychiatrist at a psychiatric hospital in Liuyang. "Their families also did not know how to take care of them. As a result, they relapsed. But many families have high expectations when they send their loved ones to hospitals. Consequently, when things don't work out, they conclude that it is because doctors are not doing their jobs, or the treatment is not effective. Then they turn to other options, like exorcists or TCM practitioners."
Many mental health service providers at the local level do not have a background in psychiatry, and the little training they have received is not sufficient when they're being relied upon to provide professional guidance. Compared to the U.S., where there are nurses, social workers, rehabilitation trainers, and psychiatrists working together as a team to provide mental health care at the community level, the current best-case scenario in China is to have one mental health professional in a community. It is hard to recruit medical staff and social workers to positions that are low-paying and enjoy little respect.
"We never had community mental health care services in the past, but we are slowly building up the system," Zhou said. "We are still exploring what modes work most effectively in China, as we have little human and financial resources to face such huge demand."
(Header image: Mental patient Zheng Xiuyuan practices Chinese calligraphy at his home in Liuyang, Hunan province, June 29, 2016. Cai Yiwen/Sixth Tone)