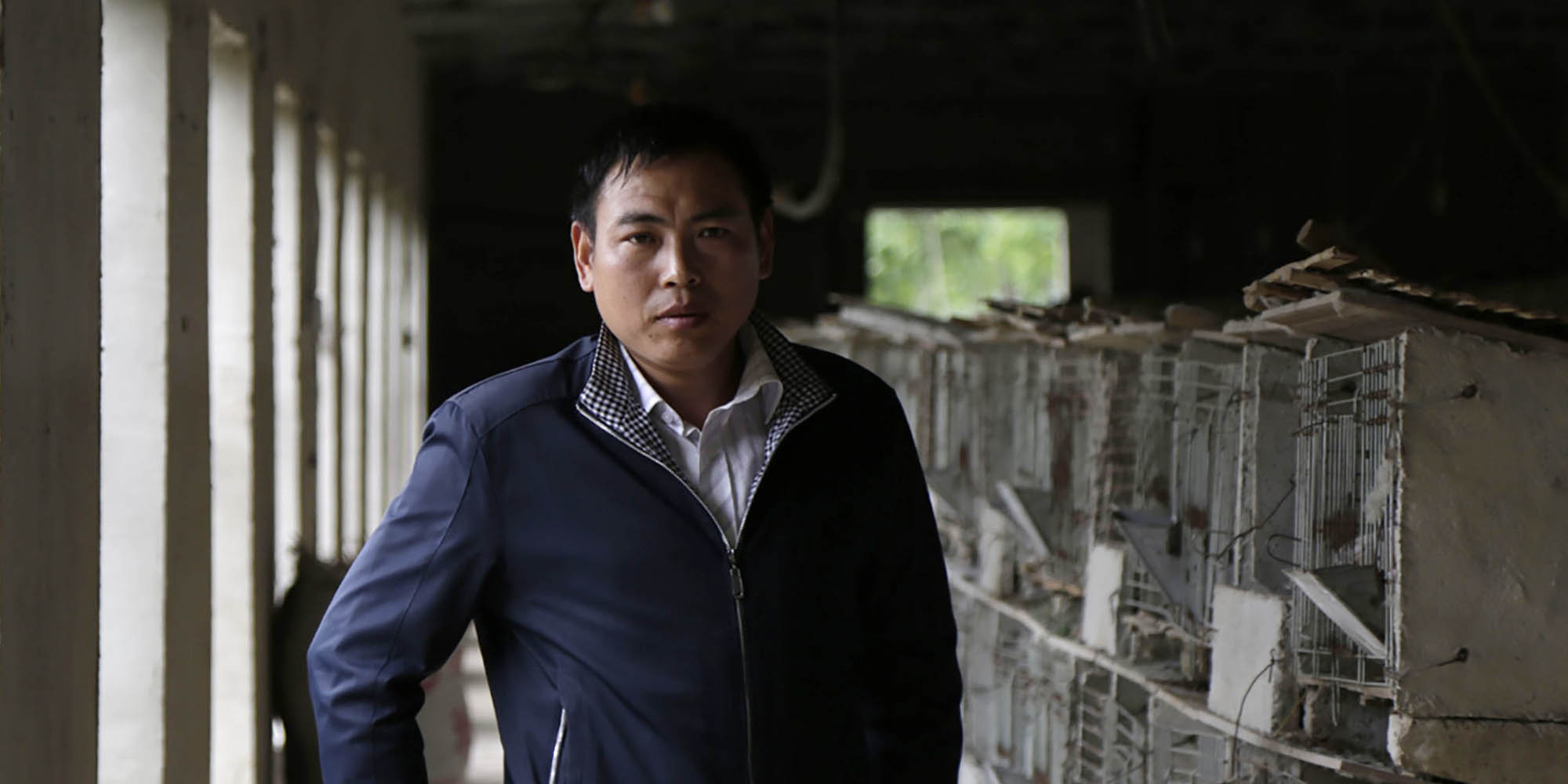 FEATURES
Returnee's Rabbit Business Breeds Frustration, Resentment
Barriers to prodigal son's entrepreneurial efforts underscore challenges to transforming rural economy.
Yu Xueyi opened his third small business in rural Anhui province in early July, peddling the fruits and vegetables he grows in rabbit dung.
In just two days, he and his wife pocketed 1,000 yuan ($150) from selling produce to 30 organic farmers markets that pop up periodically around the eastern Chinese province. "That's a good margin," he says.
It's a big change from Yu's days in Shanghai, where he spent a decade as the head of a graphic design company that collaborated with online gaming companies in Europe. Yu's earnings from that job allowed him to buy three apartments in Hefei, Anhui's provincial capital.
But for people like Yu, who return to their hometowns with business ambitions after spending years in distant cities, entrepreneurial success is often belied by stories of frustration and pain.
A variety of reasons influenced Lu's decision to leave the city and return to Dingyuan County, the ancestral home of Premier Li Keqiang. The 2008 financial crisis delivered a near-fatal blow to his business because of its ties to the West, and skyrocketing rents and employee salaries in Shanghai didn't help matters.
Yu represents a small yet growing faction of migrant workers leaving cities to start businesses in the countryside. In the past, millions of Chinese farmers would go to cities in search of jobs and extra income during the off-season. They'd come home only for harvest and major festivals, leaving behind the elderly and children in villages the majority of the year.
[node:field_video_collection]
In the wake of the 2008 global financial crisis, some migrant workers began to explore alternatives, including returning to their hometowns permanently. With the work experience they picked up in the cities, and their savings serving as seed money, some dreamed of building their own pipelines to wealth back in their ancestral homes.
Data from China's agricultural ministry show that in the five-year period from 2010 to 2015, more than 4.5 million migrant workers — or 2 percent of an estimated 277 million total — returned to their rural homes to start businesses. Similarly, data from the ministry of civil affairs show that in 2015 about 1 percent of China's 7.5 million university graduates that year chose to join the ranks of entrepreneurs in their rural homes.
The government is also encouraging migrants to return to their hometowns in part as a way to deal with massive layoffs that are the inevitable result of China's economic slowdown. It is also looking for ways to bridge the rural-urban divide since returnees — in theory at least — come home to rejuvenate rural economies. These startups in the countryside could also help absorb the returned laid-off workers.
In June 2015 the State Council, or China's cabinet, issued a five-point incentive program for rural start-ups, including lower entry barriers, tax exemptions, government funding, industrial parks, and improved rural infrastructure, so they could have better chances of success. Still, the return to the countryside is not always easy, as migrants wishing to start a business must often overcome significant barriers, such as dealing with local government officials whose views may be at odds with those of the central government.
Yu's idea to sell vegetables arose after his first business venture failed. His original plan was to open a modern, industrial-sized farm to raise rabbits for both pets and meat. He found cheap land and natural beauty in a place he had left almost three decades ago: his native village of Yongning, or "perpetual peace" in English. But the million-yuan rabbit farm brought Yu anything but peace. "I've encountered so many hardships," he says, "but if you can't resolve them, you will lose the shirt off your back and go bankrupt."
Yu launched his rabbit farm in 2013, on some farmland he rented from a cousin. He made sure to keep a safe distance from the nearby villages so the foul odor wouldn't be a source of complaints.
But it turned out that raising animals on farmland violates China's arable land protection law, which bans the use of otherwise farmable land for industrial, commercial, or residential use. Yu says he had never heard of these rules but admits he was cautioned by land officials soon after his project broke ground.
Later, after spending months wining and dining local officials, Yu received what he interpreted as the go-ahead. Plenty of government men had by this time visited his farm by the busload, heaping on the compliments while never making any further allusions to the legality of the rabbit building.
They came the next year, repeating their hopes that Yu deliver on his promise to build a full-blown rabbit farm with proper industrial premises and ventilation as soon as possible. "Let me know if you are ever short of money," the deputy magistrate in charge of the local budget promised Yu.
But Yu's seemingly good fortune would soon run out.
In China, county governments hold the power to earmark a limited amount of farmland for commercial or industrial use every year. In the end, Yu was not a beneficiary of the officials' discretion.
In the winter of 2014, a demolition team turned up to tear the roof from the brand-new barn. The rabbits were exposed to the bitter cold and many died. But instead of resorting to bribes to rectify the situation, Yu offered to give the surviving creatures away to poor households. Farmers from nearby villages were welcome to come and collect valuable rabbit dung from the farm on condition that they help with its sanitation.
Yu says the disastrous chain of events put him and his wife under considerable pressure. He even blames them for the tumors his wife developed in her breasts. "While the farm was being demolished, my wife was under the knife," a tearful Yu told Sixth Tone. "How could our family possibly go on?"
For returnees, there are plenty of barriers in the country that keep their entrepreneurial flair in check. A lack of skilled workers, for example, is another common concern, as decades of migration have left many Chinese villages hollow. In most cases, people walking the dirt roads of these villages are in their 50s or older, with little chance of becoming computer-literate.
Rabbit farmer Yu has one last moneymaking idea up his sleeve. Last year e-commerce giant Alibaba launched its rural Taobao project, seeking out previously offline shops in villages as partners, helping to arrange last-mile delivery and expand the Taobao client base.
Yu has stepped forward to be part of this initiative, but he views rural Taobao as more of a hobby, while selling organic vegetables at pop-up markets is, to him, a better way to make some decent pocket money. From talking to Yu, one thing is clear: His top priority is to revive the rabbit farm.
There are even some positive signs on the horizon. Yu was recently approached three times by local officials, who have promised to make his land use legal by October. Despite their encouraging words, though, Yu is not quite sure whether he can believe them anymore.
(Header image: Yu Xueyi stands next to his rabbit hutches in Dingyuan, Anhui province, May 22, 2016. Han Meng/Sixth Tone)