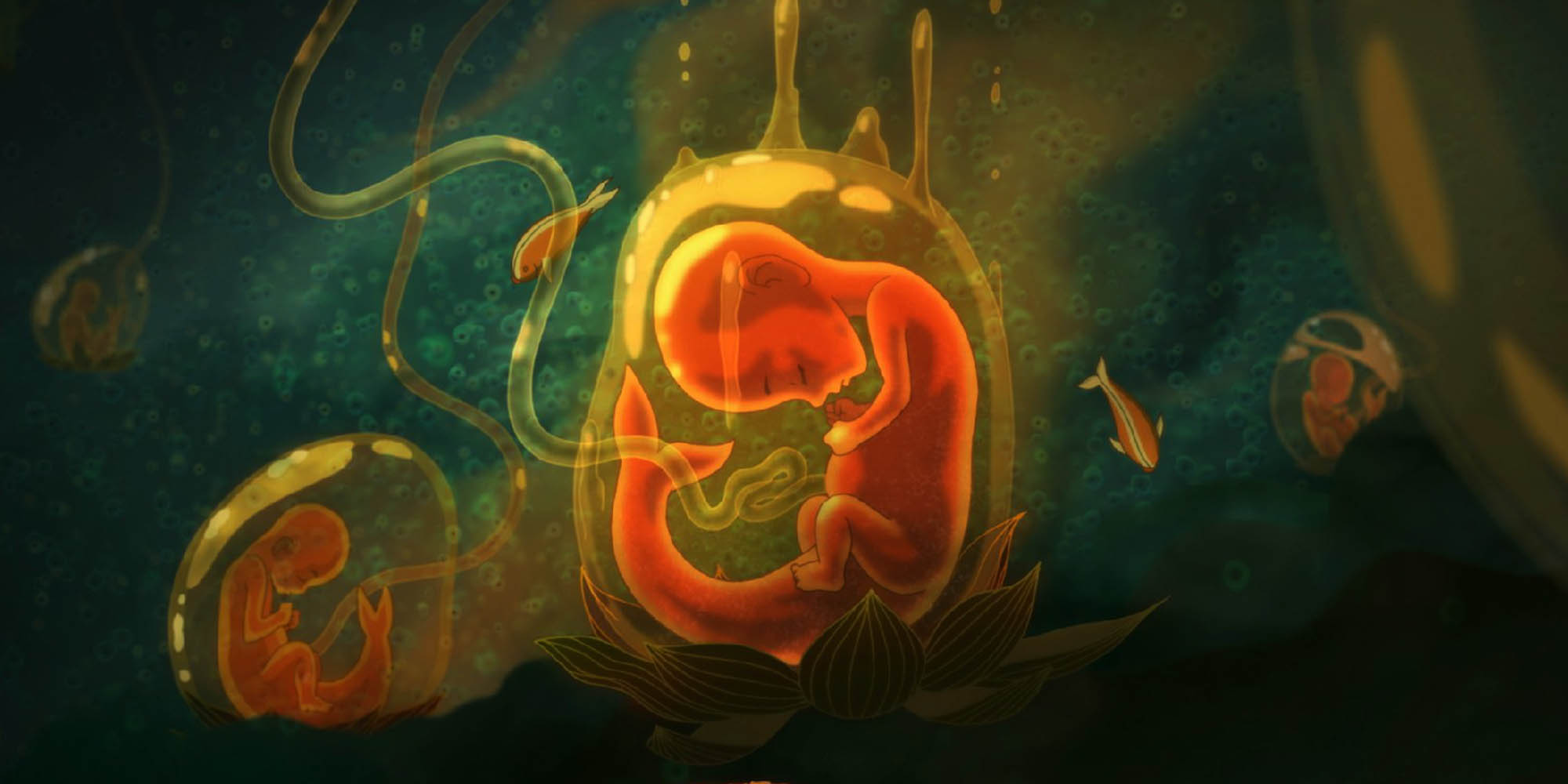 NEWS
Fans Seek Gay Undercurrents in Marine Blockbuster
Moviegoers project own interpretations on new animated film — and directors say that's fine with them.
In China's new animated blockbuster "Big Fish and Begonia," a girl sits beside a river weaving a rainbow-colored piece of silk. Behind her a unicorn, considered by some a mascot of the LGBT community, grazes on the grassy bank.
At a time when positive, faithful representations of gay and lesbian individuals in Chinese mainstream culture are few and far between, viewers of the fantasy epic, released July 8, have been taking to social media to pick apart its imagery and plot in search of oblique LGBT references.
The movie, directed by Liang Xuan and Zhang Chun, tells the story of three young protagonists — Qiu, Chun, and Kun — who live between the fantasy world of immortals beneath the sea and the mortal world of humans above it. The movie is full of complicated romantic tension — a 17-year-old boy, Qiu, is in love with a 16-year-old girl, Chun, who is in love with Kun, a fish who was once a boy — but there are no explicit references to gay or lesbian love.
However, this hasn't stopped eager audience members from kai naodong — "opening up their mind holes" — a Chinese expression frequently used in pop culture to describe letting one's imagination run wild. For movie and TV audiences, kai naodong frequently entails imagined romances, particularly between male characters. According to one lengthy analysis, the opening scene's rainbow fabric and unicorn are just two of a host of LGBT motifs within the film.
The Harry Potter-esque red scar visible on Kun's forehead before he is turned in to a fish, the July 13 post by an anonymous author on Quora-like knowledge-sharing site Zhihu argues, is a nod to the pink triangle badge used in Nazi camps to identify gay men — a mark that has since been appropriated by the gay community as a symbol of pride. If that weren't enough, the film then speaks to the "T" in LGBT with the appearance of a sorceress who is voiced by a male actor. (In China's gay communities "T" refers to a tomboy lesbian.)
Neither of the film's directors responded to Sixth Tone's requests for comment. On his official Weibo microblog, however, Zhang Chun addressed speculation about the film's romantic subtext, stating: "Everyone has their own 'Big Fish and Begonia.' That is the charm of the movie."
The bulk of fans' theorizing has revolved, however, around the perceived romantic tension between Qiu and his fellow male protagonist, whom Qiu names "Kun" following his reincarnation as a large fish. "Traditional Chinese culture places heavy emphasis on naming people," wrote one commentator on Zhihu. The post, liked by over 6,000 users, argued that this represented the forming of an "unbreakable bond" between Qiu and Kun.
On an official publicity poster showing the connections between the movie's main characters, however, there is no line connecting Qiu and Kun. Undeterred, some fans have begun producing fan art depicting Qiu and Kun in various stages of undress and intimacy.
Speculation that the film's directors Zhang and Liang are a gay couple — along with the casting of Xu Weizhou, who starred in the now-banned gay drama "Addicted" — has only given extra legs to the theories about the movie's message.
"The two directors were a couple," suggested one commenter below a Thursday post. "They split up during filming, so that is why there is so much romantic entanglement in the movie."
For some, the interpretations are a little far-fetched. Cai Zhiguo, a gay man living in Shanghai, told Sixth Tone he would never have thought of LGBT associations had he not seen the commentaries online.
But Cai, who is an avid collector of gay movies, doesn't believe that there is anything wrong with such free interpretation. "A good work of art shouldn't aim to give readers or audiences anything," he told Sixth Tone. "It should be a mirror that allows each person to find resonance."
Additional reporting by Li You.
(Header image: A publicity poster for 'Big Fish and Begonia.' From the movie's official Weibo account)