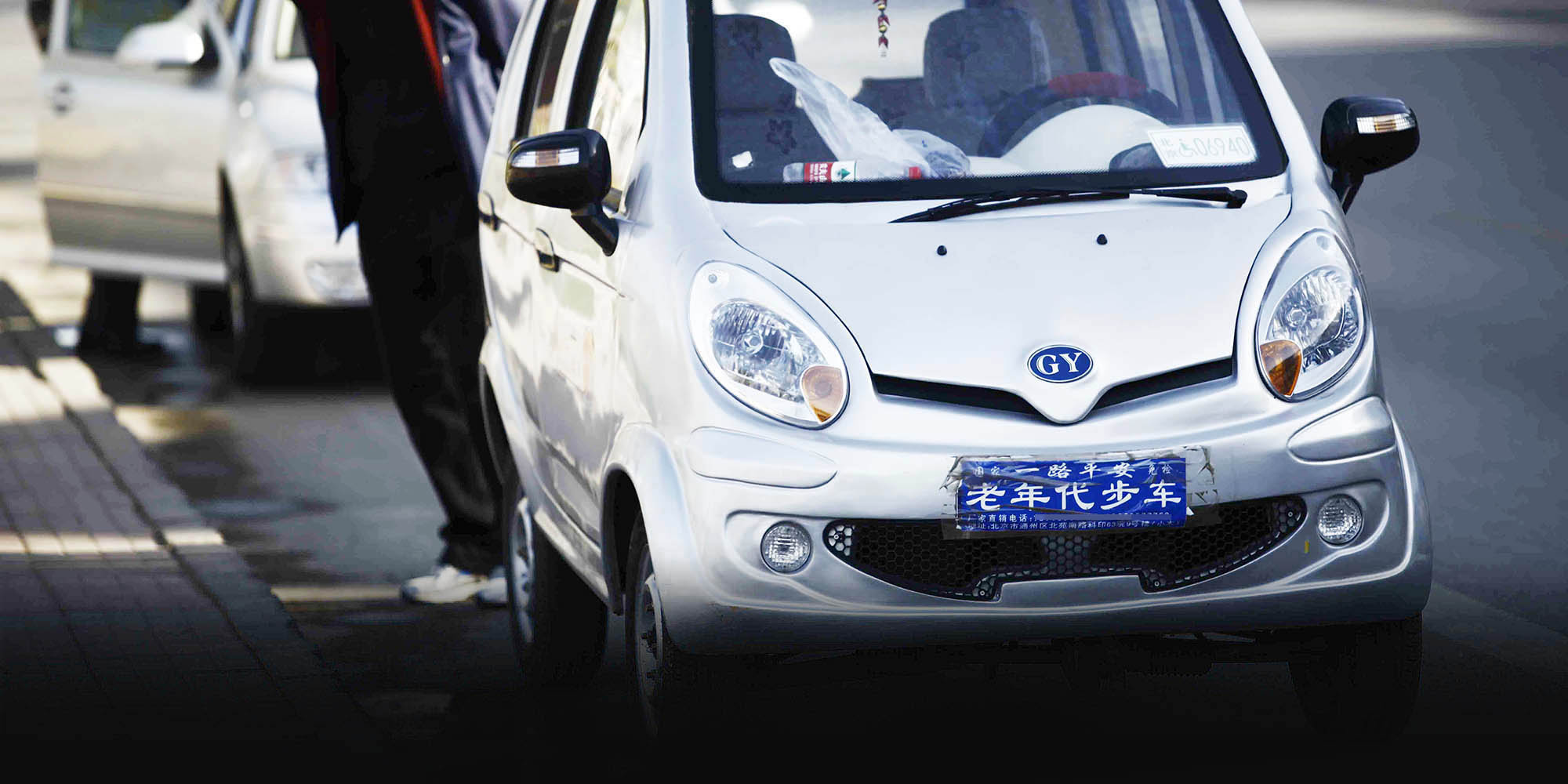 NEWS
Luxury Car Ripoffs Jam Up Beijing Streets
Mobility vehicles that look like Land Rovers and BMWs cause controversy.
The latest generation of compact mobility vehicles are causing friction among car drivers in China's capital city.
Motorized scooters, traditionally used by the elderly, are increasingly common in Beijing. Predominantly electric, these three- or four-wheeled vehicles exist in a gray area of private transport. They aren't cars, strictly speaking, but they aren't particularly dissimilar to cars, either.
Newer models — some of which able to reach speeds of 100 kilometers an hour, built to resemble luxury car brands such as Land Rover, and even running on gasoline — at first glance look remarkably like their licensed automotive counterparts.
There are a few crucial differences though: The manufacturing, sale, and use of these automobiles is unregulated and unregistered, and they cannot be insured.
The lack of oversight seems to have given many mobility vehicle owners a sense of lawlessness. Beijing commuter Tang Jing told Sixth Tone about her recent run-in with an unlicensed vehicle.
"One crashed into my car, the driver fell onto the road and was injured," Tang explained. "He said I had to compensate him and take him to the hospital, as I 'drive' a car while he 'rides' his electric vehicle." She added that the police later discovered the man had removed the speed limiter from his car. "They said his vehicle was illegal and that he had to pay me," Tang said.
Electric vehicles leave the factory with speedometers, and mobility vehicles for the elderly are supposed to be restricted to 10 kph. But according to a Beijing resident and electric mobility driver surnamed Yang, there is a way around the cars' modest top speeds.
"Just take it to a mechanic and have the speed restriction removed. Easy. My three-wheeler could only do 20 kph when I got it; now it does 35," the 55-year-old told Sixth Tone.
The lack of registration means there are no statistics on how many of these rogue automobiles are on China's streets (and sidewalks), but a search online reveals countless options of similar cars which seat up to five, including BMW lookalikes, fake Rolls-Royces and even police vehicle clones for as little as 20,000 yuan (about $3,000).
In China, there are immense practical advantages to buying a mobility vehicle rather than a car. To drive a regular car in Beijing, you first have to enter a lottery to get permission to buy one. It's free, but every two months, just 15 people per 10,000 are given permission. Other cities such as Shanghai and Guangzhou auction their permits, making a license plate potentially as expensive as the car itself.
Another apparent benefit to driving an unregistered vehicle is choosing which highway laws apply to you. People in cities complain that drivers of mobility vehicles, like those who ride e-bikes, pick and choose the most efficient routes, regardless of laws. Yang admits he sometimes jumps red lights, too.
But things are changing for drivers like Yang. New restrictions in Shenzhen, Shanghai, and Beijing are limiting which roads can be used by which vehicles, and at which times — and this is also affecting drivers whose cars are unlicensed.
"Down on Changan Avenue, you're not supposed to drive there [in a mobility vehicle] after 7 a.m., but that's when people need to get to work, so they still drive on it," said Yang, referring to one of Beijing's biggest roads.
But if no further regulations are introduced, then the road ahead for unregulated vehicles looks promising. Beijing alone is introducing a cap of 300,000 new cars in total from 2018 to 2020, with automated electronic licensing expected to tighten the supervision of registered drivers, thereby making the unregistered route more appealing.
To drivers of legitimate vehicles in Beijing, the regulatory freedom these mobility vehicles enjoy seems unfair. Harry Li, who bought a small Smart car to make parking easier, told Sixth Tone: "Anyone can get one [of these mobility vehicles]. There's the occasional crackdown period, but 95 percent of the time they're everywhere."
Li said he needs to pay special attention to them while he's driving. "The four-wheelers need to go," he added. "They're not supposed to be a cheaper alternative to a car. They need to be categorized and licensed, and their owners should have to go into the same license lottery as the rest of us. They don't serve any purpose except to annoy and be dangerous."
Yang, however, is nonchalant about the dangers his vehicle poses and the way he drives it. "It's not a problem until it's a problem," he said.
(Header image: An electric car parked on the side of the road in Beijing, April 12, 2012. VCG)