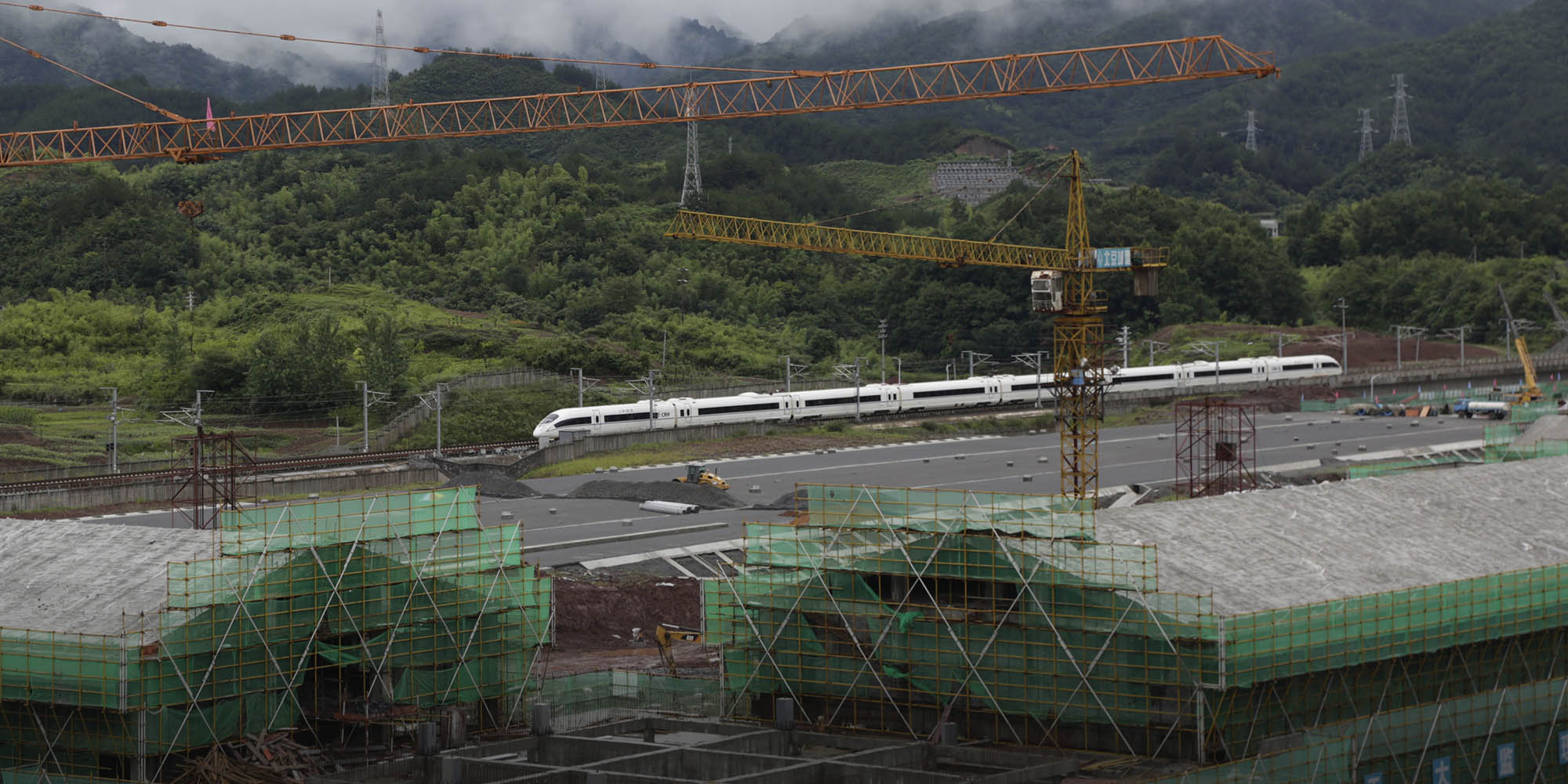 FEATURES
Railway to Riches: The Remote Village Laying China's Tracks
Tunnel construction work injected fast cash, high risk, and huge change into the town of Sandun.
In the mountains between Chengdu and Chongqing lies a small village that shows surprising signs of affluence. Seven-story apartments crowd the riverbanks, and two-story brick houses hide behind the trees on the mountainside. As you walk down the main drag, Yang Si Street, you'll see beauty salons, karaoke clubs, car washes, and shops selling mobile phones and air conditioners, just as if you were in the city.
You're in Sandun, a village of about 13,300 inhabitants, most belonging to the Tujia ethnic minority, tucked away between Sichuan, Shaanxi, and Chongqing. No rail or superhighway comes here. It takes more than three hours' drive to reach the village from Dazhou, the nearest city with a train station.
But the villagers of Sandun are more familiar with railways than most. More than two-thirds of the town's working-age population is employed in tunnel construction, blasting ways through mountains for China's growing rail and road network. By the end of 2015, China had over 121,000 kilometers of railway, including 60 percent of the world's total high-speed rail. At sites from Jilin on the Russian border to Guangdong on the South China Sea, from Zhejiang on the east coast to Tibet in the far west, workers from Sandun are building tunnels that allow railways to spread like capillary networks across the country.
[node:field_video_collection]
Sandun's involvement in the industry dates back to early 1990. At the time the main occupations available in the village were subsistence farming, animal breeding, and specialized trades such as carpentry and making firecrackers. During a trip to Wuhan for Spring Festival, firecracker-maker Hu Shiyu heard about an upcoming opportunity for fit young men to work on a new railway line in Shanxi. He told his apprentice, Lu Xingquan, who signed up immediately and recruited five of his relatives to do the same.
A few months later, the six young men made their journey to Taiyuan, Shanxi's capital. Lu, Li Chuanbing, and four others, all aged between 20 and 25, set out on a stormy summer night, dressed in traditional straw rain capes. As lightning flashed across the sky, they trekked down the mountain in heavy rain for five hours, arriving at the town of Fankuai at 7 a.m. so they could catch a bus to Dazhou, before finally taking the train to Taiyuan. Their first project was to excavate a tunnel through a mountain in Fugu County for a railway connecting Shenmu in Shaanxi with Shuozhou in Shanxi, one of the main lines for moving coal across the country.
Word of the workers' salaries had spread through the town before they got home. Li earned 280 yuan ($42) per month on tunnel construction — the equivalent of a whole year's income making firecrackers. Most Sandun villagers were farmers, eking out just enough wheat and corn from the mountains to feed their families. When Li arrived home with more than 1,000 yuan in savings, villagers implored him to share the opportunity with them. "They brought me gifts of chicken, smoked pork, and tobacco," Li tells Sixth Tone. "They all wanted to come and work with us." The next year, more than 30 people joined. "One person would bring another, until more and more people came, and the farms were left for our parents and wives," Li recalls.
The work relied entirely on muscle and sweat. "There was no mechanization at the time," Li explains. "We excavated up to three meters a day. A tunnel would take two or three years to finish, but a train passes through it in a minute." He would clear 440 tons of broken stones from the tunnel for an extra 2 yuan a month.
"We put our backs into it," Fang Mingfu remembers. "I'm not well-educated; I dropped out of middle school after a few days. So the only way to make the bosses trust us was to work hard." He joined the operation in 1994, and his wife, Li Chuanbing's cousin Li Chuanhui, joined in 1996. She was one of few women. Loud and frank, with the mouth of a sailor, she was ready to hold her own in an environment of mostly young men.
Soon Fang and his wife were able to lead a small team. But moving up the hierarchy of authority put the couple in the middle of growing tensions between workers and bosses. "Sometimes the bosses would give us a project, then pass it onto another team once we'd finished the hardest part," Li Chuanhui explains. The initial stages of a project would pay little, once the cost of food and accommodation for the workers had been covered. But Li developed a reputation for tough negotiation. "We became known for hard work and hard bargaining," she says.
After the couple completed their first project, they boarded the train home with more than 10,000 yuan in cash. "We didn't dare put the money in our bags because we were afraid of thieves," Li Chuanhui says. She and Fang stashed the wads of bills in a bucket, concealing them with bottles of juice. To save money, they'd bought standing-room train tickets, so Fang sat on the bucket to protect their hard-earned savings.
The face of Sandun transformed as railway construction cash flowed into the town. In 2003, Liu Zhijun, the railway minister who was later served a suspended death sentence for corruption, announced plans to dramatically expand China's railway system by building 16,000 kilometers of new high-speed rail by 2020. The village changed as quickly as the railway lines spread: People moved out of their mud houses in the mountains and built tall brick homes on the riverbanks. Apartments, shops, and game rooms began popping up in the village. While young workers were out making money in the tunnels, their relatives in the village were spending it on mahjong and cards. "People wouldn't want to play with you if your bet was too small," Li Chuanhui said.
Food in the market became more expensive than the same produce in nearby villages, and residents grew accustomed to not bargaining on the prices. Where once Tujia people were known for their traditional songs, now you'll be more likely to see women singing along to karaoke apps on their mobile phones.
But the town's rise to affluence wasn't without its costs. Many residents have died or suffered injuries from tunnel blasting in the last 26 years. Two men from the first group of railway workers to make it down the mountain died in workplace accidents: Lu died from breathing toxic fumes while working on a tunnel in Yunnan province, and Cheng Yuankui was crushed by falling rocks at a site on the railway between Beijing and Hong Kong.
Yet danger hasn't stopped more people from joining the work crews. Despite their father's death, Lu's sons have also become tunnel construction workers. "It's a cycle," Lu's daughter Lu Dongling says. "Recently a young man died, leaving his wife in the village to take care of their baby alone. She lost her husband just like my mother did 23 years ago."
Many Sandun residents, old and young, live with permanent disabilities caused by construction injuries. Zuo Renquan, 50, uses a wheelchair after falling rocks damaged his lumbar nerve in 2005. But his son continues to work in tunnel building. "Although it is dangerous, the income is high," Zuo says. "His monthly salary is 5,000 to 6,000 yuan."
"I live in fear every day," Zuo's daughter-in-law Liu Xiaoqing says. Her husband, brother, and father are all tunnel workers, and she flinches whenever she hears on the street that there has been an accident. She says she won't let her son do this work in future.
Compensation for injured workers is often far lower than it should be under law, because few workers have formal contracts protecting their rights. Tan Tianfa, 28, broke two fingers while repairing a concrete sprayer in 2009. "If I had applied for compensation through the legal process, I could have got 23 months' salary — 90,000 yuan — but I negotiated with the boss directly and got only 20,000 yuan in compensation," Tan says. "The big disadvantage is that we don't have any contracts."
"No contract, no attendance signatures, no archival information, even though the work is risky," Tan explains. Last month, he underwent steel plate removal surgery after injuring his spine in a motorbike accident at work. He says that workers are largely unaware of the compensation process, and that bosses exploit this ignorance to avoid payouts. "If an accident happens, you need at least three witnesses to prove you're a worker there, and if the accident is really serious, the big boss will give other workers days off so that they can't give evidence," he says.
These days, it seems there is little work to go around anyway. Automation has reduced the number of manual jobs in railway tunnel construction. Following an industry restructuring in 2013 that dissolved the Ministry of Railways amid corruption allegations and safety concerns, small-scale bosses like Li Chuanhui are finding it harder to compete for project contracts without connections to a broader business network. At the peak of the tunnel-building boom, you'd hardly see young men on the streets of Sandun. Now they fill up the teahouses, playing cards, or stroll down the street holding their infants and chatting with neighbors. Li and her husband have been waiting at home since February.
After half a year of waiting Li Chuanbing finally got the call in June: It was an invitation to work on a project in eastern China's Anhui province that paid 9,000 yuan each month. He left the village immediately. Travelling from Hefei, Anhui's capital, to the work site in Jixi, he rode a high-speed train for the first time. Though the employment opportunities seem to be shrinking, and though he's now 49 years old with chronic respiratory problems caused by inhaling stone dust in the tunnels, Li is reluctant to consider a different line of work. "I've been doing this for so many years," he says. "Even if I have to wait a long time for work now, I'll keep working in the tunnels until I'm too old."
Li's children have a different perspective. They both work in Chengdu — his son at an architecture company, and his daughter as a teacher. Li Chuanhui's eldest daughter is doing postgraduate study in Jilin, while her son will go to the best middle school in the nearby county of Xuanhan in September. He's already been assigned his hukou, or household residency, to the county where his mother owns two properties.
Tan is also keen to get out of rail construction. He tried his hand at chicken breeding, but the business never took off. His brother has opened up a car wash in Sandun, which can rake in 1,000 yuan a day during Spring Festival, when wealthy tunnel bosses drive back to the village. Tan is hoping he will find his own entrepreneurial opportunity when a nearby mountain tourism project launches, but he worries the lack of transportation options might stop tourists from visiting Sandun.
In 1990, Li Chuanbing's generation brought the sleepy, remote village out from an agricultural economy to play a key part in developing the national rail network. They were the bodies who built China's remarkable connectedness over a vast and varied country, though their own village has been left behind. Despite the hardship and injury they endured in the rail construction industry, they enjoyed the income and stability they found there. But the next generation has its sights set beyond the end of the tunnel.
Tan plans to keep working in tunnels for a couple of years to save some capital, but after that he wants to sell local food to big cities, tapping into the growing market for fresh and pollution-free produce amid increasing consumer anxiety over food safety. Tan is excited for the possibilities the future might bring. "The older generation is too conservative and fearful," he says, "but we young people aren't afraid to fail."
(Header image: Jixi's high-speed rail station, currently under construction, Anhui province, June 26, 2016. Han Meng/Sixth Tone)