A hospital in Hangzhou, eastern China, installed X-ray scanners and posted guards to its entrances on Monday as part of a security ramp-up in preparation for the G-20 summit to be held in the city in September. Now medical staff around the country are jealous, saying they'd like some more protection, too.
A poll of staff at the Zhejiang Provincial Hospital of Traditional Chinese Medicine indicated that 90 percent were in favor of setting up the security checkpoints, and when news of the checkpoints was shared online, doctors from other hospitals reacted positively as well.
"We need to be careful about our safety," Cai Ming, a dental surgeon at a Shanghai public hospital, told Sixth Tone, "I believe security screening at hospitals is necessary."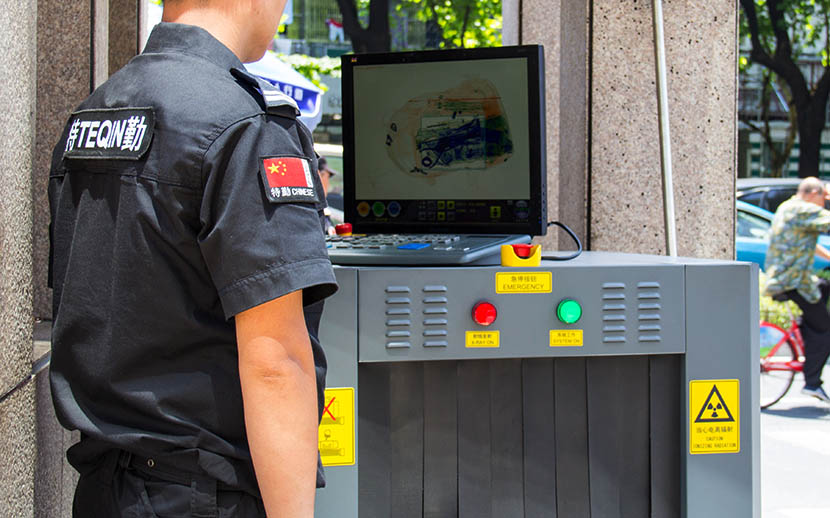 A guard checks X-ray images at a security checkpoint at the entrance of Zhejiang Provincial Hospital of Traditional Chinese Medicine in Hangzhou, July 5, 2016. Courtesy of the hospital
In China, stories of violent attacks on medical personnel by patients or their family members regularly shock the nation. In two recent cases in Guangdong , southern China, doctors were slashed by their patients, one of them fatally. And in June, a medical worker's 10-year-old son was stabbed multiple times by a patient in Hunan province, central China.
Within four days after the hospital set up the security checkpoints, they have confiscated more than 30 knives and scissors, Pan Guoyang, the director of security at the hospital, told Sixth Tone. However, he said that the intensified security screening will very likely be halted after the G-20 summit.
Pan said he thinks the flow of patients will become too large for the checkpoints to handle. "The biggest problem is that we have a huge number of outpatients," he said. "It will be hard to manage them all." Pan added, however, that the number of patients has decreased recently, and he expects turnover to stay low until the summit is over, without elaborating as to why. Earlier this week media reported on the local government's plans to use travel vouchers to empty out the city during the summit.
"I don't think the conflicts between doctors and patients are as severe as most people think," Pan said. "We have our own security guards and security monitoring system at the hospital. I think we are doing okay."
Yet a recent report by DXY.cn, an online health care forum, showed that a majority of medical personnel don't agree with Pan's assessment. According to the report, nearly two-thirds of doctors no longer want to work at hospitals, with most citing a lack of security as one reason. The report did not fully explain its polling methodology.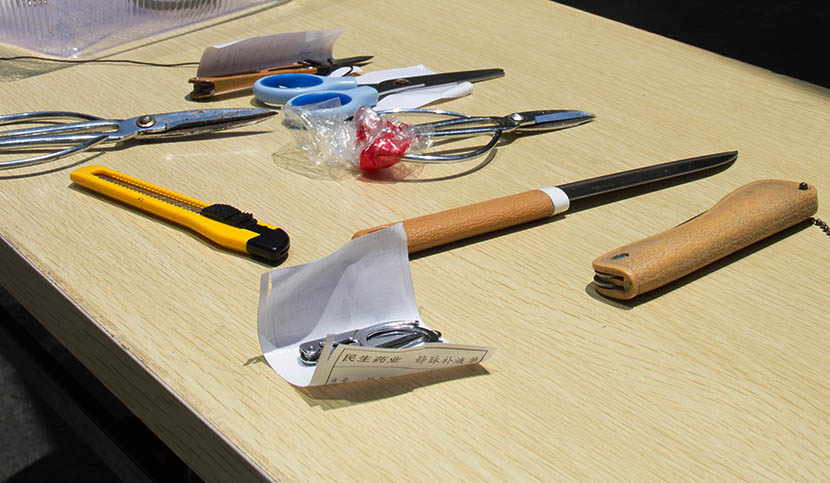 Prohibited items confiscated by security staff on Tuesday at Zhejiang Provincial Hospital of Traditional Chinese Medicine in Hangzhou, July 5, 2016. Courtesy of the hospital
In response to news about the security checkpoints, many doctors voiced their support online. "Security facilities like these can reduce the chance of medical staff being attacked or severely injured," Wang Bojun, a doctor at the Affiliated Hospital of School of Medicine of Ningbo University in Zhejiang province, said on his Weibo microblog.
Though many see the increased security as a step forward, some believe the screenings forego the larger problem. "It reflects good intentions to protect medical staff," Lang Juntian, an ENT doctor at Shanghai Changzheng Hospital, told Sixth Tone. "But this is a temporary solution that does not solve the real problem. To fundamentally resolve the conflict, we need to change a hospital system which puts too much pressure on doctors and reduces the quality of treatment."
(Header image: People pass through a security checkpoint at Zhejiang Provincial Hospital of Traditional Chinese Medicine in Hangzhou, July 5, 2016. Courtesy of the hospital)