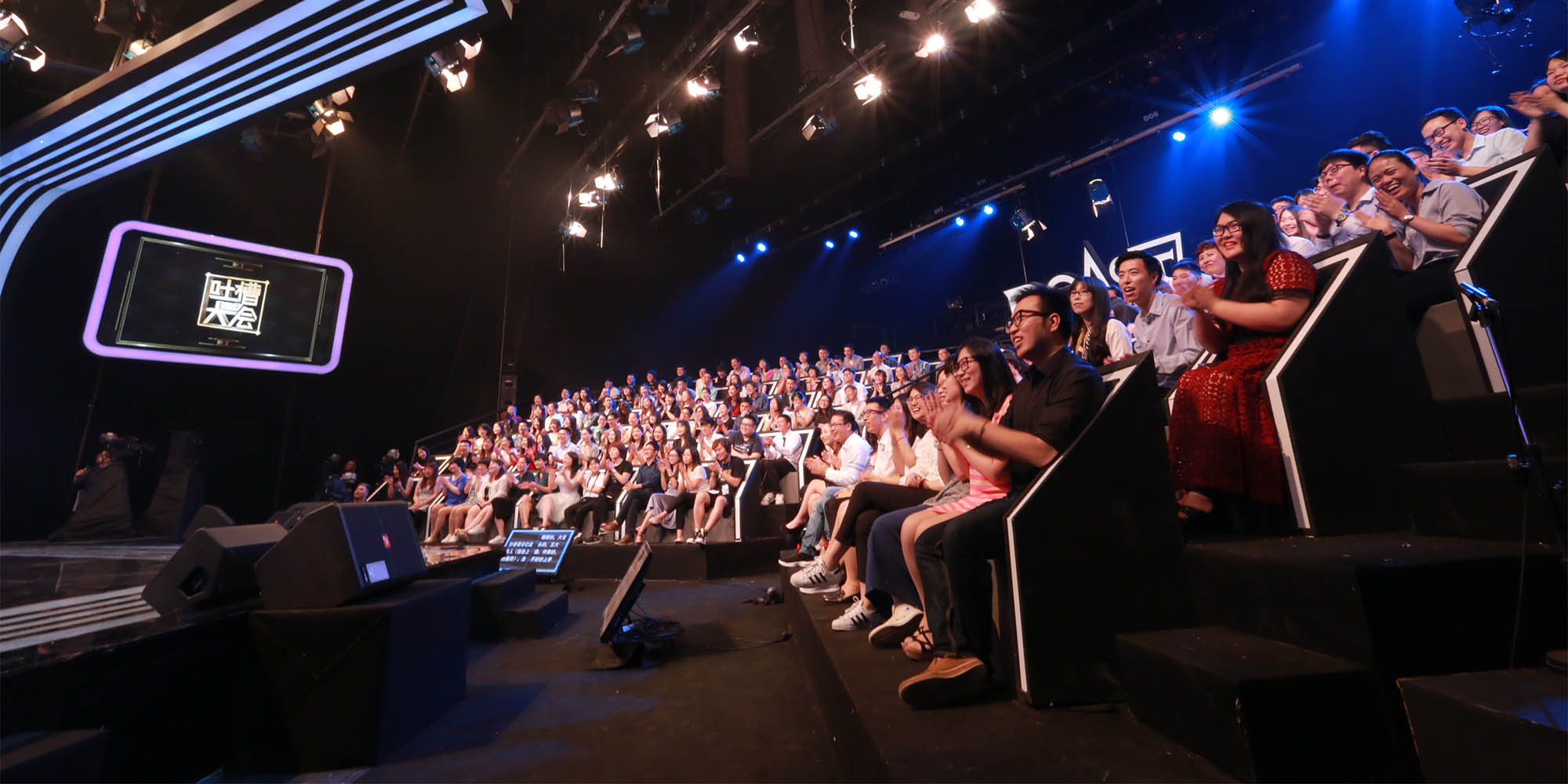 NEWS
Online Roast Show Tests Limits of Chinese Sense of Humor
Western-style stand-up comedy not to everyone's taste.
"Roast Convention," a Chinese version of the American comedy series "Comedy Central Roasts," broadcast its first episode on Thursday, leaving its viewers sniggering in slight discomfort at the audacity of the jokes.
Like its U.S. counterpart, the show put a controversial figure on stage to be subjected to mockery by a panel of comedians and celebrities.
On the first episode, TV and film actor Zhou Jie was picked as the "roastee." A host — "roast master" — and a group of six "roasters" took the stage to mock him and each other.
None of the guests were A-list celebrities, leaving comedian Li Dan, one of the roasters, slightly disappointed that the producers couldn't find bigger names to deride. "We know that guests on American roast shows are all big stars," he said. "Initially I felt excited about 'Roast Convention,' but as soon as I arrived here today, I realized that, well, this is China."
Comedian and roaster Zhang Quandan made fun of the fact that Zhou had failed to land any major acting roles after he punched a security guard in 2008, saying Zhou was now more likely to appear on crime channels than on entertainment channels.
"There is a huge demand for comedy in the Chinese market," He Xiaoxi, the CEO of Shanghai Xiao Guo Culture Co. Ltd., the production company behind "Roast Convention," told Sixth Tone. The show has also garnered attention because it was promoted by Wang Sicong, an investor in Xiao Guo Culture and the son of China's richest man, real estate mogul Wang Jianlin.
Five more episodes — broadcast weekly on Thursdays — will be filmed to complete the show's first season.
Xiao Guo's He said he is a fan of Western stand-up comedy shows. These programs have their own subculture of fans in China, with amateur translators subtitling programs like "Jimmy Kimmel Live!" and putting them online.
The challenge in bringing foreign formats to a wider Chinese public, He said, is to come up with jokes that are funny but still palatable to more conservative tastes.
Stand-up comedy is still a niche pastime in China, whose humor is usually low on irony or mockery — the latter especially running counter to the traditional notion of saving face.
"Roast Convention" also green-lighted other taboo subjects for derision, including sex. The punchline of one of Zhang's jokes, for example, was that his girlfriend was really his right hand. Another masturbation-related joke by actress Wang Lin had netizens feeling she had gone too far. "Wang Lin's erotic joke embarrassed me," read one comment.
It is not the first time Xiao Guo Culture, established in 2014, has brought a foreign comedy format to Chinese screens. "Tonight 80's Talk Show," started in 2012 by now-employees of Xiao Guo Culture, was the first American-style stand-up comedy program to air on Chinese TV.
"Roast Convention" is online-only programming. Xiao Guo CEO He said that the company choose to launch the show online to tap into a younger audience and to have freedom to cover a broader range of topics.
Televised roasting in China comes at a time when Chinese online talk shows are gaining popularity, taking advantage of a less strict censorship regime compared to traditional media — though guidelines leaked earlier this year suggest that might change.
According to He, the show avoids making political jokes and mocking someone's ethnic background. For other topics, he said, there are cultural sensitivities to keep in mind. He mentioned that jokes about sex by a female comedian could only be implicit, while some jokes about appearances risked "hurting the feelings of guests" and had to be edited out.
"We are exploring the limits of challenging taboos," He said. As his team tests the tolerance of Chinese audiences, they hope not to cross any lines that would limit the show's wider appeal.
Most net users enjoyed the show's first episode, though some were left a little disappointed that the end product bared fewer teeth than the Western original. "I felt like they hadn't even started roasting, and then the show was over," said one net user. Another complained that the jokes were too long and the laughs too few.
He compared the more subdued sense of humor that Chinese audiences find acceptable to different styles of martial arts. "Some people do tai chi, while others do Muay Thai kickboxing," He said. "It's just two different cultures — you can't expect them to be the same."
Additional reporting by Wang Lianzhang.
(Header image: Studio audience members clap during the filming of online comedy show 'Roast Convention,' Shanghai, June 9, 2016. Courtesy of 'Roast Convention')