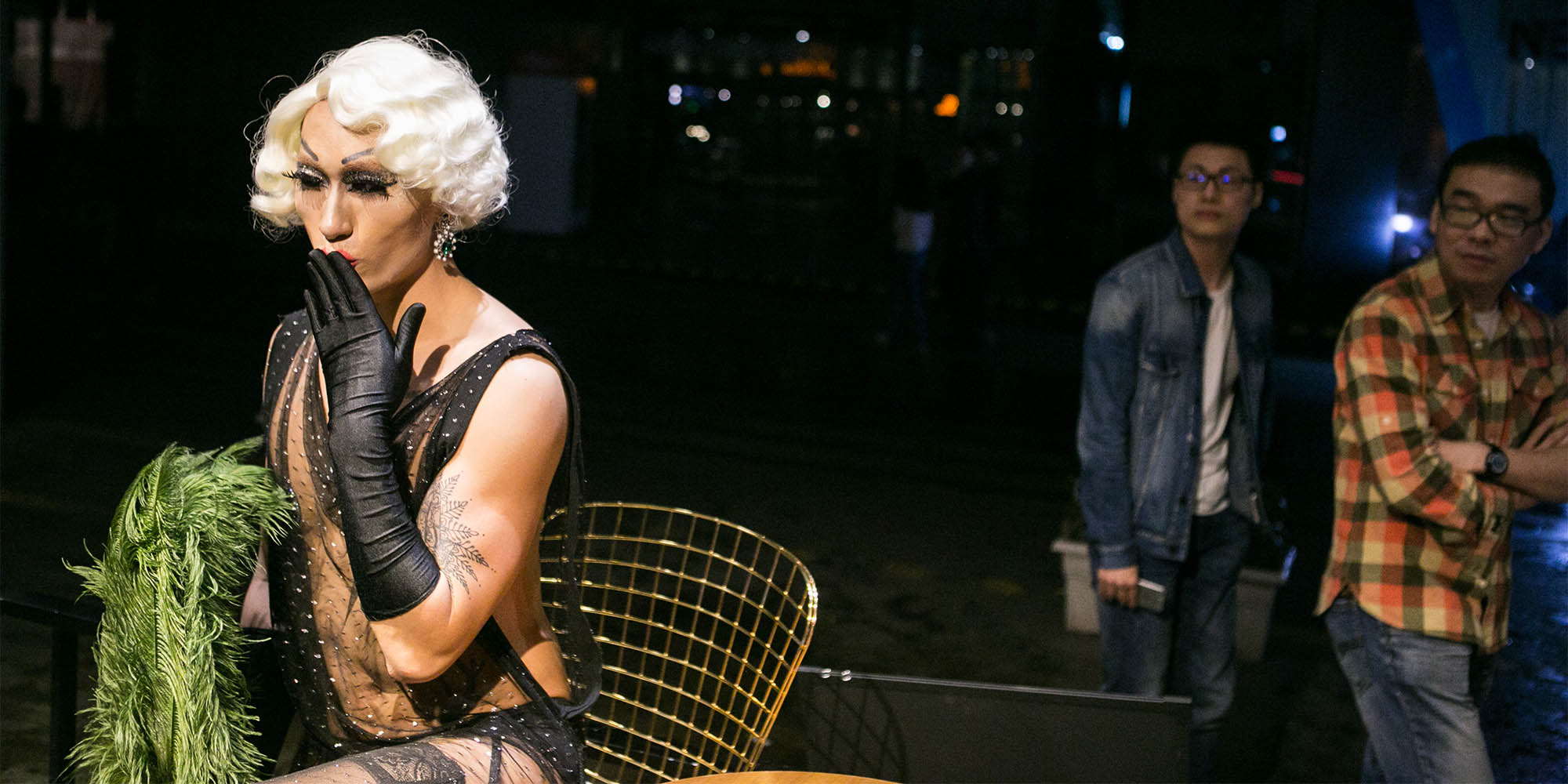 FEATURES
We Three Queens of Orient Are
Shanghai's drag queens tell their stories of high heels on the long road to acceptance.
On a recent Saturday evening in Icon, a gay club in Shanghai, men crowded its 10-square-meter dressing room. In colorful and exaggerated costumes, they retouched their makeup, adjusted their wigs, gave each other compliments, and took selfies.
They were all participants in the evening's LGBT Drag Queen Contest. Following the style of "RuPaul's Drag Race," an American reality TV show, the competition held in Shanghai gives cross-dressers who usually hide their identities an opportunity to show themselves to a crowd. For many contestants, it was the first time they had worn female clothes in public, let alone on a stage.
The host for the evening was Maria, the stage name of 28-year-old Kang Wei, originally from the Inner Mongolia Autonomous Region in northern China. Wearing a gold drag outfit and a silver crown, Maria overwhelmed the audience with her confidence and composure. "I'm a drag queen," he said. "I cross-dress only for the stage and for parties, and when the party is over I change back into men's clothing."
When Kang was young, he was fond of girls' stuff. When he was 8, he put on his mother's black high heels and walked around his room. "I found the high heels so beautiful, and I wished that I could walk in them properly," he said.
Kang's first acquaintance with a cross-dresser in public happened in a gay bar in 2011. With a silver, wavy hairpiece and wearing a glimmering dress, he sat among the crowd, chatting confidently. "I admired his courage," Kang said. "As it turned out there are more people like this in the world — I'm not alone."
After graduating from a vocational school in 2005, Kang opened a barbershop in Shanghai. In his dark and cramped storage room, he has a variety of women's clothing, 50 items in all, and about 30 pairs of high heels.
Kang earns a stable income from his barbershop. He is open about his cross-dressing in nightclubs, and his neighbors don't look down on him — they even give him compliments when he walks around in drag.
Others who cross-dress in public are not so fortunate, failing to find stable employment or acceptance in their communities. They can only make a living by performing in bars and clubs, doing lip-synching performances, singing, and dancing. They can earn 500 to 800 yuan ($75 to $120) per evening in metropolises like Shanghai, and 200 yuan in smaller cities.
When Wen Langni — a participant in the drag queen contest — goes shopping on East Nanjing Road, a major pedestrian thoroughfare in Shanghai, he always turns heads. Wearing 7-centimeter high heels, a silver hairpiece, a black satchel, but sporting a stubbly chin, the 27-year-old cross-dresser has been the object of countless photos, stares, and grins.
"My mother told me not to be a sissy or point fingers when talking," Wen said while twirling his hair around a finger, "but I've always felt that there was a little girl inside me."
When Wen was 4, he put on his mother's lipstick and wrapped himself in a mosquito net, pretending to be Bai Niangzi, a famous female fairy-tale character. His classmates often called him a "fake woman."
When Wen was 20, he took a walk on campus in a blouse and leggings. It was the first time he appeared in public in women's clothes, and he felt happy when his teachers and classmates stared at him. "Although they sometimes still make fun of me, I'm not bothered by it, and I don't feel nervous anymore," he said.
Then Wen met some cross-dressers while he was studying in Nanning, in southwestern China's Guangxi Zhuang Autonomous Region. "I started to gain confidence, knowing how to express myself," he said. "If people call me a pervert, then they are jealous of me, because I can do things they can't achieve."
After a long day of shopping, Wen lay down in bed after taking off his wig and shoes. He felt exhausted after wearing high heels for such a long time. "It's hard to be a woman, so I really don't want to undergo gender realignment surgery," he said. "I enjoy who I am right now."
Drag queens don't necessarily fall under the transgender umbrella, which usually describes people whose gender identities in everyday life are different from what they were assigned at birth — not only on stage, or in the bedroom — though some trans women and men also work as drag performers.
Another of Icon's drag queens, He Xianguo is saving money for gender realignment surgery. "I'm a man, but I wish to become an ordinary woman," He said. When the tall and fashionable drag queen walks in a crowd, few people would spot any differences between He and other women.
He was born in Haikou City, Hainan province, in southern China, but hasn't been home for three years. She wears her hair long and doesn't want her parents to find out she wears women's clothes. During childhood, she was introverted — the only way she could talk was holding two leaves, pretending they were people — and often bullied by classmates. Nevertheless, her family just assumed she was a quiet boy and thought nothing more of it. "I used to live a two-faced life in front of my parents, and it was really tiring," she said. "But now I can at least dress as a woman."
In addition to family trouble, as a transgender woman He also faces various difficulties in his career, life, and relationships. "I'm not choosy about my job," she says. "Nor do I have the opportunity to be choosy, as most places do not accept me." After graduating from a vocational school in 2008, He has worked as an electrician, a performer, and a waiter. Last year, when she worked in a karaoke bar, the manager demanded she cut her hair short because, he said, men are not allowed to look like women.
When He tried to apply for a bankcard last year, she was refused because the photo on her male ID card looked different from her appearance now, even though she went to the bank with her hair tied up and no makeup on. The bank clerk asked her to prove that she was a man, and she had to call the complaint line to have a card issued.
He has been in about 15 relationships, but most of them failed because of gender. "One time a man was kissing me, but as soon as he found out I was a man, he spat on the ground."
He visited a hospital in May for an examination and was told that breast augmentation surgery would cost nearly 20,000 yuan, and genital surgery would cost between 200,000 and 400,000 yuan. As a host in a restaurant with a monthly salary of 3,000 yuan, these fees are far beyond her budget. She has now turned to online video broadcasting, with the hope of earning enough money that way.
"I really admire the courage of Jin Xing," He said, referring to a transgender celebrity. "She broke seven ribs for her surgery." She sees Jin Xing as her idol. "My biggest wish is to be an ordinary woman," she said, "with a child and with someone who loves me."
A Chinese version of this article first appeared on The Paper.
(Header image: A cross-dresser poses outside a gay club as two passersby stare, Shanghai, April 23, 2016. Jia Yanan/Sixth Tone)