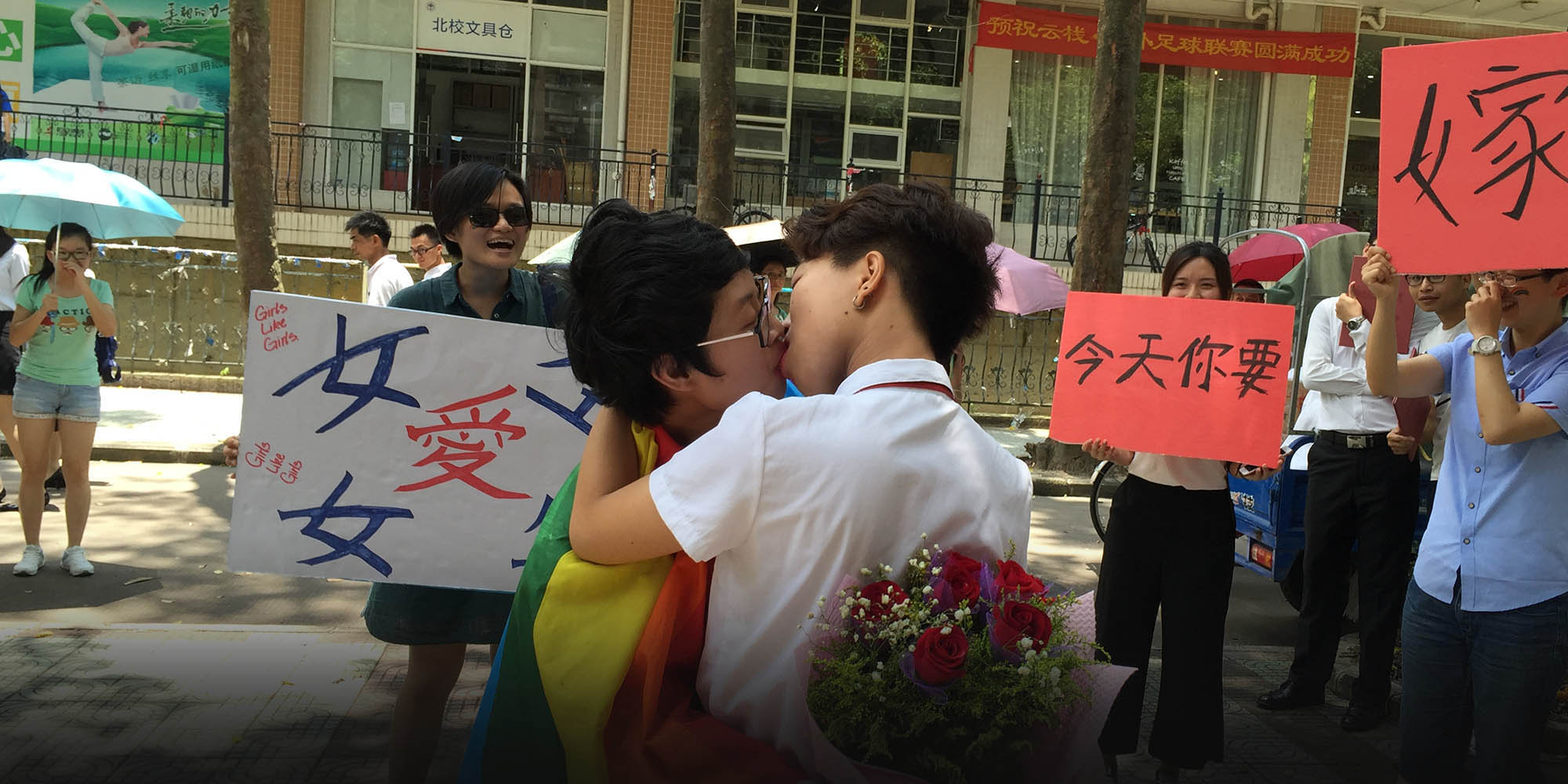 NEWS
University Labels Lesbian Students' Proposal Obscene
University delays issuance of diploma following couple's public display of commitment.
On June 22, Jean Ouyang, surrounded by friends and classmates, got down on one knee and proposed to her girlfriend Nie Xiaoyu. The display of love and commitment has pitted the lesbian couple against their university, in an incident that has caused uproar in China's LGBT community.
For the two women, both recent graduates of Guangdong University of Foreign Studies (GDUFS) in China's southern Guangdong province, it was their way of not only coming out in the company of classmates, but also increasing campus awareness of LGBT issues.
A consequence of the public proposal that the pair did not anticipate, however, was an investigation by the university into the couple's actions, culminating in threats to withhold Nie's diploma.
Following the event, 22-year-old translation major Nie told Sixth Tone she was summoned to the office of her school's party committee vice secretary, who told her that the incident had had a negative impact on the school, and that she should not discuss the matter with anybody else. "I told her I've seen straight couples proposing outside dormitories without incident," Nie said. "But when it's a gay couple, you talk about negative influence."
According to Nie, the secretary, Du Huanjun, responded that she did not have any issue with gay people, but that those she knew did not "pester or disturb the lives of others." Du then continued to say that Nie would be temporarily unable to collect her diploma, since her behavior had violated two clauses in the university's student handbook that related to "disseminating obscenity" and "disorderly conduct in a public place."
"She said that only once the school's discipline committee had contacted me to resolve the matter would I be allowed to collect my diploma," Nie said.
When asked by Sixth Tone what specific negative impact the public proposal had on the university, Secretary Du declined to comment, instead asking, "Don't you feel bad about disturbing our work like this?"
Another member of staff at Du's office said that they were unable to comment on the incident but would pass on Sixth Tone's questions to a senior member of the university's publicity department, who would respond to them. At the time of publishing, Sixth Tone had not received any further communication from the department of publicity.
Nie's girlfriend Ouyang, a student in the university's law department, was allowed to pick up her diploma without incident, she told Sixth Tone. She was, however, advised by her supervisor not to attend her graduation ceremony, which took place the following day on June 23. That same supervisor had also asked her a number of personal questions regarding her sexuality, she said. Ouyang did not want to reveal her full Chinese name for fear of being harassed.
Nie said that the episode had had a damaging effect on the emotional state of her father, who was not previously aware of Nie's sexuality. When she did not return home on the night of June 22, he called the police and filed a missing person report, which led to the authorities — accompanied by Secretary Du — to visit her place of residence.
"To prove that this was all a scheme," Nie said, "Secretary Du took photos of my class schedule, upon which I had written some notes about what kind of a wedding I'd like to have."
The school has since permitted Nie to collect her diploma, though she was required to do so in the company of her parents. "They made my parents come because they wanted to teach me a lesson," she said. "They said that the whole thing had been caused by poor communication between myself and my parents."
In an open letter published Tuesday to her Weibo microblog, Nie wrote that the supervisor had, among other things, asked Ouyang: "In your relationship, what role do you play? Dominant or submissive?" Nie has since deleted the open letter out of concern for her parents, but it has been shared widely by other platforms, including feminist non-governmental organization Gender in China.
Nie suspects that the university's reaction was in part due to fear that malicious forces were behind the public proposal, saying that another member of staff from her school had contacted her father to say that "there was certainly an organization behind the scenes controlling her."
While Ouyang hopes that the university will not contact them again, Nie's open letter asks the university to accede to six requests. Among them, Nie asks for a public apology from Secretary Du for the damage done to her and her family, and calls for GDUFS to establish a supervisory committee to eliminate all homophobic teaching materials from campus.
"When it comes to education on sexuality, China is behind the times," said LGBT activist Zhou Ying, who is head of branding at PFLAG China, an LGBT advocacy group. "What is most hilarious is that the school's management thought [the couple] was being used by foreign forces."
"These students are doing this for themselves," Zhou said. "They are increasing the visibility of LGBT in schools."
The episode has led to an outpouring of support for the couple's cause from China's LGBT community. ForVaginasSake — the WeChat public account for Guangdong arts group Feminist Spring Sexuality — on Thursday published a selection of photographs depicting LGBT couples from various Guangdong universities simulating wedding proposals. Many of the photographs featured the slogan "Proposing has nothing to do with sexuality. Gay and straight are both the same."
Despite the controversy, Ouyang is pleased to see that the episode has drawn the attention of so many people. "I have no regrets," she said. "Through such a manner we have incited discussion about LGBT issues on campus."
Additional reporting by Li You.
(Header image: Newly engaged Jean Ouyang (left) and girlfriend Nie Xiaoyu (right) kiss on their graduation day at Guangdong University of Foreign Studies in Guangzhou, June 22, 2016. Courtesy of Jean Ouyang)