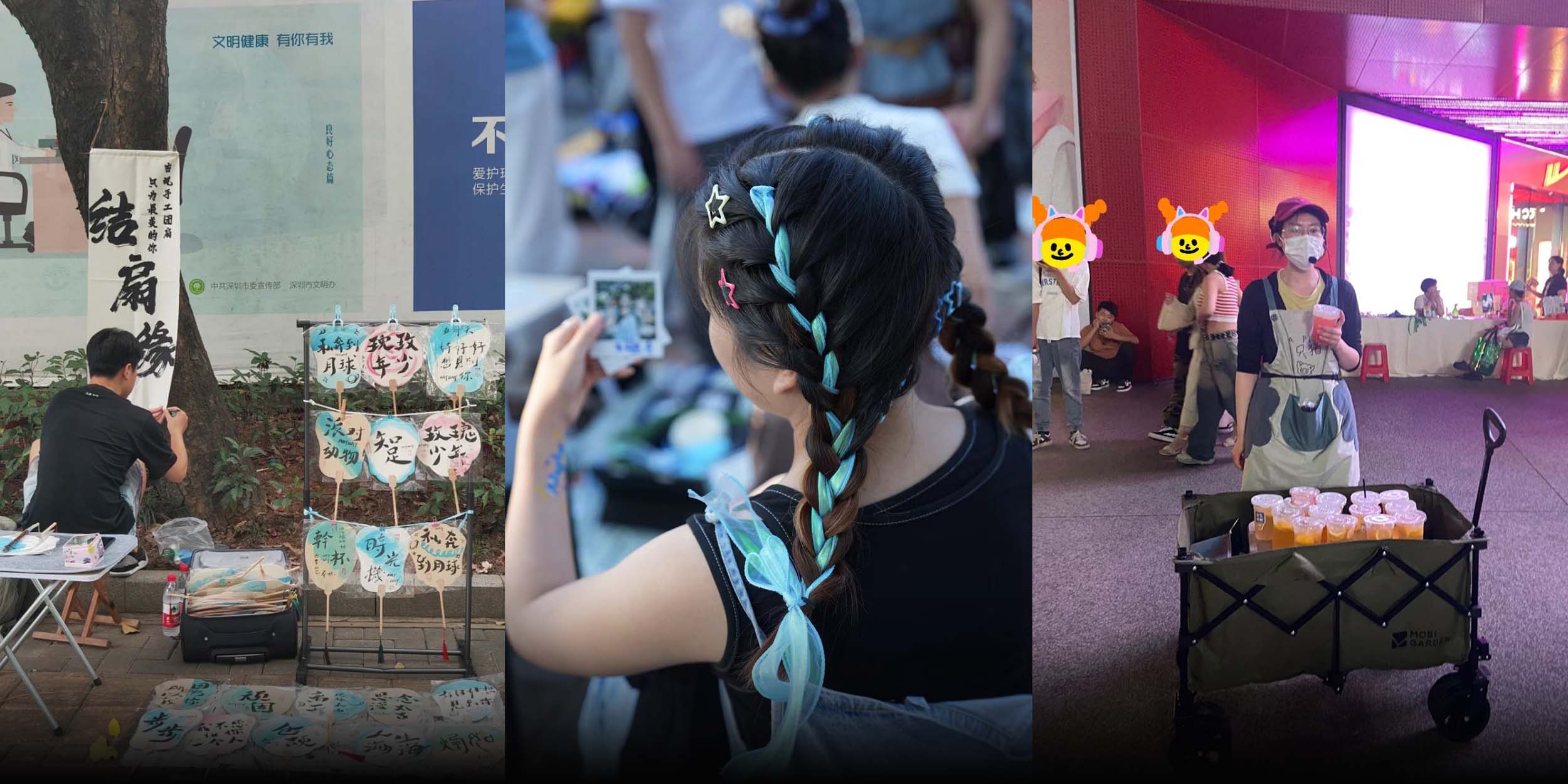 NEWS
In China, Live Music Gigs Are Sparking a Street Stall Renaissance
With live events in China on the rise again, makeshift stalls outside venues are growing more popular. Recognizing the trend, local governments are now easing regulations to support them.
Inside, the applause of 35,000 fans for Taiwanese rock band Mayday, performing their first concert in the southern city of Guangzhou in six years, was thunderous. Outside, 27-year-old Su Diya lingered in the shadows, clasping a bag brimming with water bottles. 
All outside beverages, including water, were banned at the concert. So for several hours, Su positioned herself at the exit, anticipating the end of the concert when she could sell her water bottles to a parched audience. 
Outside the venue, however, she wasn't the only one with the same idea. Those vending non-essential items like band merchandise or souvenirs had already packed up and departed, leaving Su and her peers to cater to the immediate needs of the audience.
With the revival of live events in China this year, such makeshift stalls outside concert venues are becoming increasingly popular across the country. Vendors often quickly erect their small tables, offering goods ranging from essentials like water and raincoats to fan merchandise such as bracelets and tattoo stickers, all aiming to attract the swarm of fans exiting the venues.
Some have even taken to social media, sharing posts about the thousands of yuan they are earning by setting up shop at these events. "Making money while listening to concerts is really awesome!" stated one popular post on the lifestyle app Xiaohongshu. 
The China Association of Performing Arts reported that in the first half of 2023, the country hosted over 190,000 commercial performances, a 400.86% increase compared to the previous year, with audience numbers surpassing 60 million. Another report estimated that China's performance market is poised to reach 90.3 billion yuan (about $12.4 billion) by the year's end.
"Wherever there are business opportunities, there is potential for stalls," Hu Xiaowu, director of the Institute of Urban Science at Nanjing University, told Sixth Tone. "As concerts are being organized in different cities this year, many young people have found the chance to sell goods associated with the themes of the events."
While selling snacks or merchandise at stalls isn't a new concept, the practice has recently regained attention. Stallholders are not only making food at traditional night markets — some are selling coffee from the trunk of their cars or balloons at campsites.
Zeng Dexiong, dean of the Urban Culture Institute at the Guangzhou Academy of Social Sciences, believes the vibrancy of new stall economies will attract many. This, he says, will lead to fierce competition, which in turn will prompt more innovation.
Sun Ximin, 25, from Guangzhou began such a stall as a side hustle when a large venue near her home hosted its first concert in April. There weren't many stalls back then, and she sold simple hair accessories, such as star hair pins that symbolized the fans of a well-known male singer. And when more vendors gathered outside, Sun had to offer more elaborate services, like braiding, to stand out. 
Each time she sets up her stall, Sun brings a small suitcase filled with braiding essentials — rolls of ribbons and pins, predominantly in blue, the hue favored by many singers. This selection allows her to reuse any surplus materials for subsequent concerts. Additionally, she styles her own hair in intricate braids to entice customers.
Unlike most stall owners, Sun deliberately positions her hair braiding stall alongside others offering the same service. Confident in her braiding skills, she capitalizes on the opportunity to attract customers impatient with longer lines elsewhere. She even offers free Polaroid photos to her customers. 
"Some fans, especially the post-'80s generation, seem too shy to braid their hair. I encourage them by saying that it's quite special to do something they wouldn't do every day," said Sun.
For Li Zhenzhen, a resident of Xi'an, in the northwestern Shaanxi province, success hinges on securing a prime location. 
She found it was more beneficial to locate her stall near a subway station rather than the concert venue's main entrance. The station, where most of the audience first arrives, presents a sense of novelty and a higher likelihood of impulse buys. According to Li, as concertgoers walk past numerous stalls en route to the entrance, their initial urge to purchase wanes.
Li, 23, keeps her overheads low by not overdecorating her stand. She simply opens an umbrella and displays her handmade bracelets underneath, or just wears them to show potential customers. Together with her partner, they call out prices to passing fans. 
She opened her stall venture in the summer, fresh out of college and without a job suitable for her qualifications. Keen to be self-sufficient and financially independent, she chose to earn through her stall rather than depend solely on her parents for support.
Li was thrifty in sourcing her materials, comparing prices across various e-commerce platforms to find the most affordable options. Even so, the four rolls of ribbon she needed, customized with the names of the members of the pop group and supportive slogans, cost 100 yuan. Nonetheless, her investment paid off — she sold all 60 of her handmade bracelets, netting a profit of 145 yuan, which she and her partner celebrated by spending on a hot pot dinner.
Hu Xiaowu, from Nanjing University, pointed out that the burgeoning street stall economy offers young people flexible earning opportunities, particularly during economic downturns. 
Recognizing this, local governments are now easing regulations to foster this entrepreneurial spirit. Cities like Beijing and Shenzhen have already implemented policies this year to support stall operations, designating specific areas for vendors.
Editor: Apurva. 
(Header image: Makeshift stalls outside venues. From Xiaohongshu)