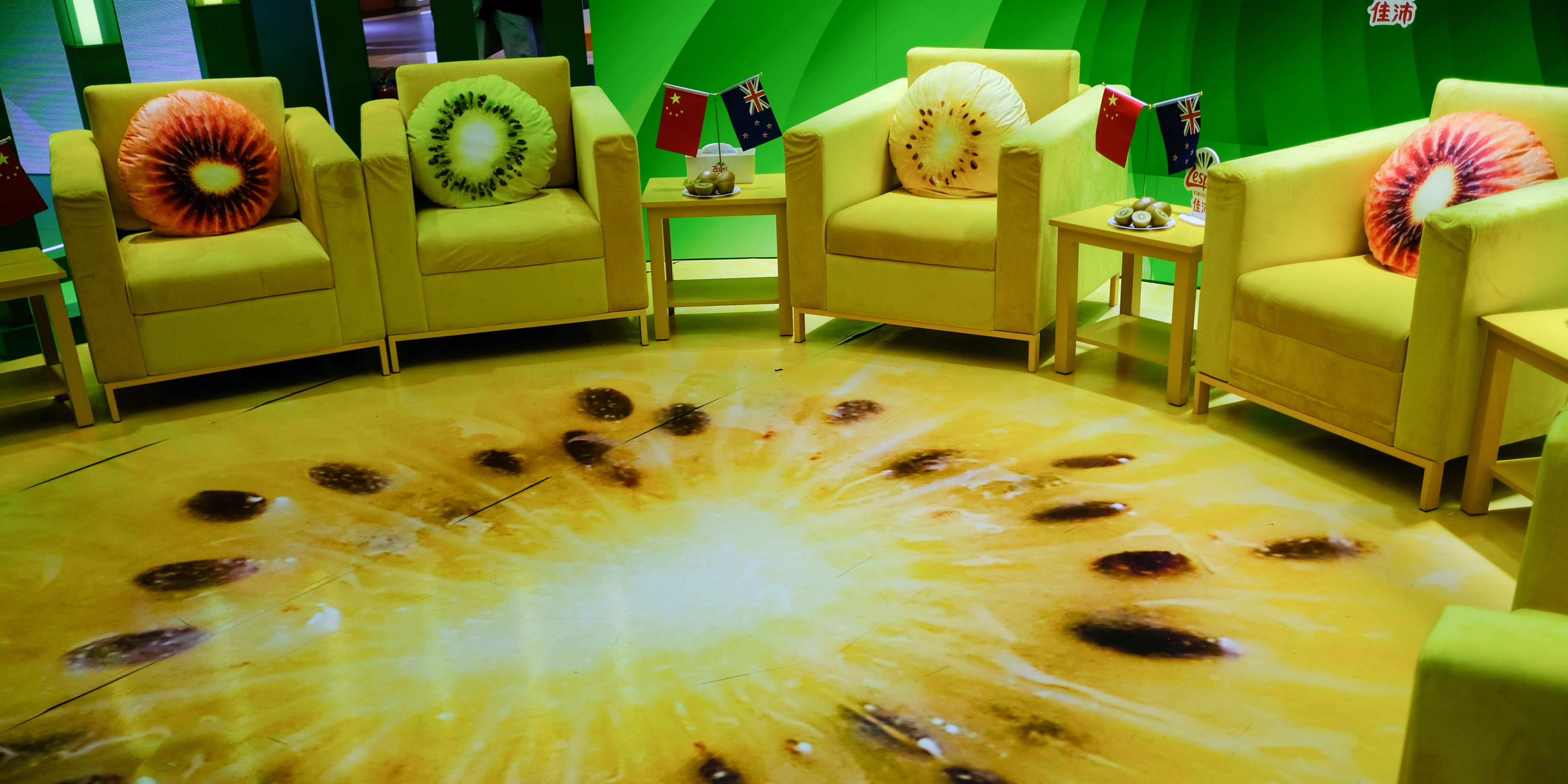 VOICES & OPINION
The Fruits of Trade
Imported fruits have reshaped the Chinese market over the past 20 years.
Over the last 20 years, China has gone from afterthought to one of the largest fruit importers in the world. In 2022, consumers on the Chinese mainland devoured a staggering $15 billion worth of imported fruits, up from just $350 million in 2002.
China's market for imported fresh fruits only really began to develop after the turn of the millennium. China's entry into the World Trade Organization and subsequent rapid growth accelerated market access and demand, respectively, reshaping global trade networks and turning China into an essential part of the global fruit trade.
Chinese fruit importers generally sort their produce into three major categories: Southeast Asian fruits, Western fruits, and bananas. In China, Southeast Asian fruits refer to tropical fruits from the country's near abroad, most often Thailand and Vietnam. These products enjoy three advantages in the Chinese market. First, their place of origin is close. They can be transported into China either by land or by sea, and generally take less than a week to arrive at Chinese ports. Second, ASEAN countries pay no tariffs on fruit exports to China, thanks to a free trade agreement. Third, although they must compete with domestic growers, Southeast Asian farmers generally enjoy longer growing seasons, better varietals, and greater production.
Thai and Vietnamese imports are so common in China that they can be found deep in the countryside. The flip side of this is that Southeast Asian growers tend to be very dependent on the Chinese market. Tropical fruits have a short lifespan, and the high cost of air transportation makes it hard to ship their goods elsewhere.
The second category of fruits — Western fruits — refers to citrus fruits, apples, grapes, kiwi fruits, cherries, and other temperate fruits. Many Chinese imports in this category originate from the southern hemisphere. Given their distant places of origin, air transport is prohibitively expensive, so the main mode of transportation for Western fruits is container shipping by sea, which can take 3 to 5 weeks.
Given the size of demand, some logistics companies have optimized their processes in a bid to reduce the transit time while maintaining freshness and shelf life. Take Chilean cherries, for example. Highly popular with Chinese consumers, they usually take over a month to reach Chinese shelves. During the Chilean cherry season each year, however, shipping companies arrange for over 30 fast ships dedicated to cherry transport, cutting shipping times to 23 days by increasing vessel speed and cutting intermediary ports of call.
The third category is bananas, which have their own distribution systems due to both their high import volume and year-round supply. (Bananas consistently top the list of most imported fruits in China.)
The rapid increase of imported fruits over the past two decades has been accompanied by structural changes in the domestic market, as demand for different varieties of imported fruits has risen and fallen. Currently, golden kiwi fruits from New Zealand, cherries from Chile, and durians from Thailand enjoy tremendous popularity with Chinese consumers.
Meanwhile, seeded "red globe" grapes — in high demand just 15 years ago — are currently at risk of being pushed out by local competitors.
Indeed, the high quality and value of imported fruits have forced domestic growers of everything from grapes to blueberries to upgrade their operations. Today, low tariffs and better logistics mean domestic fruits can no longer win on price alone, while imported fruits no longer enjoy an absolute quality advantage.
The result has been a period of relative market stability after more than a decade of rapid growth. Further growth opportunities within this market will require either looser customs regulations or lower tariffs for some items from origin yet without FTA.
Since fresh fruits need to be checked for diseases and pests, many imported fruits must undergo quarantine before entering the Chinese market. For instance, citrus fruits are subject to cold treatments and mangoes to hot-water treatments meant to kill pests and invasive species.
Such extreme temperature treatments may cause damage to the fruit and shorten its shelf life — and may not always be necessary. For example, even after South African lemons were granted access to the Chinese market, their import volume remained low because the lemons could not tolerate low temperatures or withstand 24 days of cold treatment at temperatures below minus 0.6 degrees Celsius. Then came the publication of scientific research that found that lemons are not host fruits for false codling moths. That, coupled with bilateral negotiations, led to China agreeing to raise the cold treatment temperature of South African lemons to 3 degrees Celsius, thereby broadening access to those goods.
The second key factor is adjustments of import tariffs. Currently, China's tariffs on imported fruits apply the most-favored nation rate of between 7% and 30%. Countries that have signed free trade agreements with China, including the ASEAN nations, Chile, and New Zealand, pay no tariffs after tax reductions, which greatly reduces the costs of their fruits entering the domestic market.
One major fruit exporter that has not yet signed an FTA with China is South Africa. If the two sides do reach an agreement, South African growers would be able to compete on an even playing field, injecting new competition into the market. Meanwhile, domestic growers are increasingly proficient in growing everything from pomegranates to pears. Getting your produce onto Chinese tables has never been easier; keeping it there is another story.
Translator: Katherine Tse.
(Header image: A view of the meeting room of a fruit brand during the annual CIIE in Shanghai, Nov. 8, 2023. Wu Huiyuan/Sixth Tone)