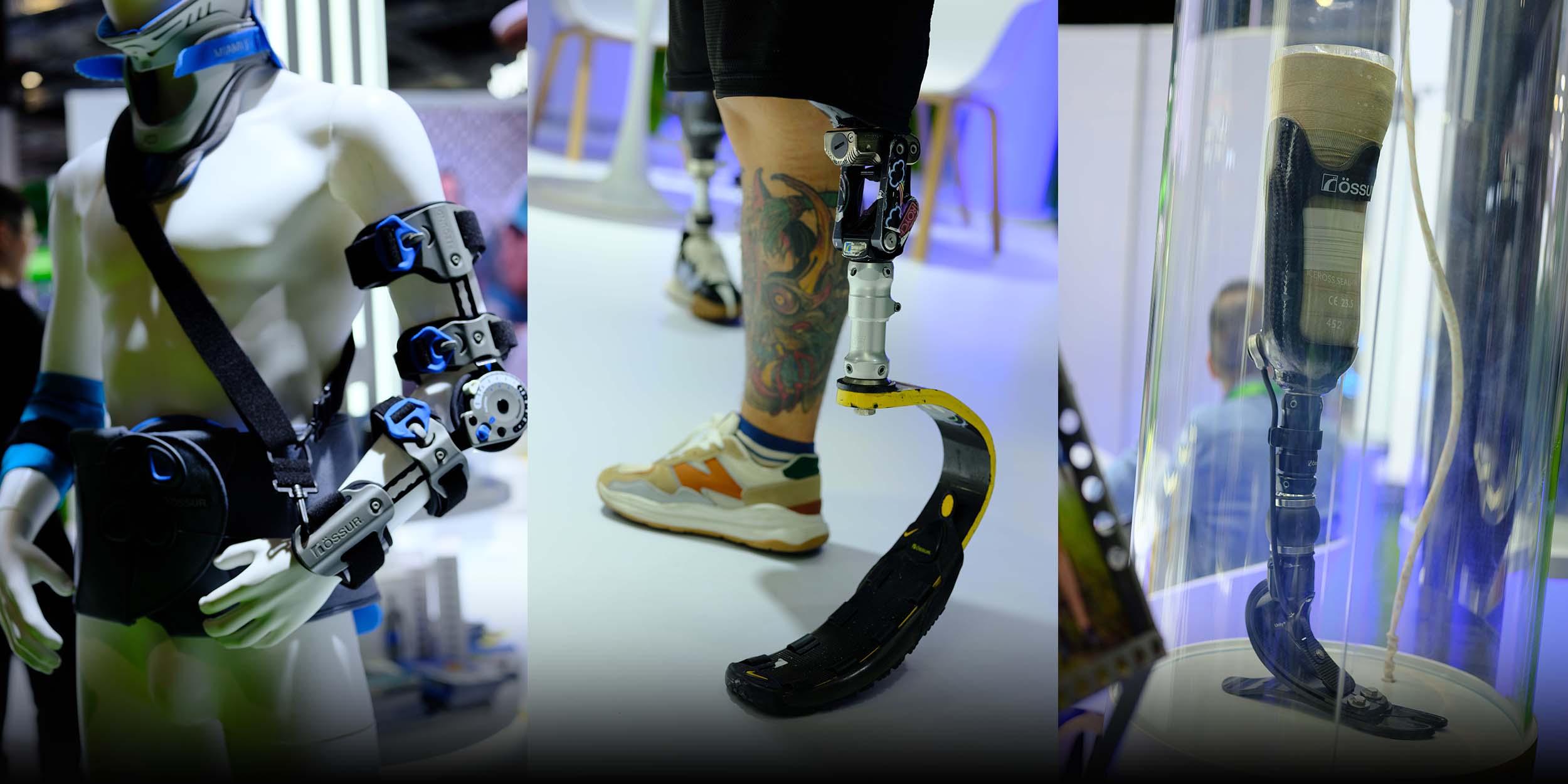 NEWS
At China Expo, a Next-Gen Prosthetic Knee Offers New Hope
Equipped with a microprocessor, a motor, and multiple sensors, Össur's Power Knee adapts to users' movements in real time. But its price will remain a hurdle for many.
SHANGHAI — For years, prosthetic knees have significantly enhanced mobility for individuals with limb disabilities, offering them the freedom to walk, run, and climb stairs. Now, they're taking a significant step forward with a revolutionary feature: active power assistance, which helps propel the limb, mirroring the natural movement of muscles. 
At this year's China International Import Expo, Össur, a prosthetics developer based in Iceland, showcased its latest prosthetic knee designed to serve a broader spectrum of above-knee amputees and enhance their mobility with sophisticated controls. After decades of research and development, the device stands as the world's first and only actively powered prosthetic knee, Xia Yu, a regional sales manager at Össur China, told Sixth Tone.
"Through technology, we aim to provide increased support for this marginalized group to reintegrate into society by enabling them to walk more comfortably and safely," said Xia. 
Traditional prosthetic knees lack the ability to generate power for movement, requiring users to depend on their remaining limbs to maneuver the artificial legs, which limits their walking capabilities. While more advanced prosthetics have allowed for a greater range of movement, they are still essentially passive devices, relying on the user's ability to control their muscles to execute complex movements.
Össur's Power Knee offers active assistance across various activities, including walking on flat surfaces, going up and down stairs, and executing complex movements, according to Xia. Equipped with a microprocessor, a motor, and multiple sensors, the device can detect an individual's movement patterns, discern their intent, and adjust to the user's speed and cadence in real time.
"This product allows even for those with a diminished sense of balance or coordination to walk naturally, akin to a person without a disability," said Xia. 
However, this cutting-edge technology comes at a steep price. Xia said that the Power Knee, the most sophisticated and costly in their range, is priced at 800,000 yuan ($114,000). In stark contrast, conventional prosthetic models are priced between 30,000 and 50,000 yuan. 
Though the Power Knee is now available in China, sales of the premium prosthetic have been sluggish due to its prohibitive cost. According to Xia, the high cost reflects the substantial investment in research and development, including nearly 30 patents.
China is home to approximately 85 million people with disabilities, about a third of whom suffer limb disabilities. However, the supply of prosthetic limbs falls short of requirements, with estimates suggesting that fewer than a million prosthetics are currently in use within this community. And the availability of advanced prosthetics is particularly limited, as basic models dominate the market.
Even in Shanghai, China's largest city, seniors with limb disabilities struggle with mobility due to discomfort from conventional prostheses. "It's like wearing shoes that don't fit," said Xia, a native of Shanghai. 
According to Coherent Market Insight, China's orthosis and prosthetics market was valued at $17.4 million in 2023. The market consultancy forecasts an annual growth rate of 5.3% by 2030.
Since 2016, Chinese authorities have intensified initiatives to advance the health care equipment industry. In 2019, the State Council, China's cabinet, eliminated the administrative license requirement for orthosis and prosthetics manufacturers, aiming to spur industry expansion.
Despite the market's growth, Xia emphasized the substantial financial burden for amputees in acquiring a well-crafted prosthetic limb. Unlike in developed countries, where a significant portion of these expenses might be covered by medical insurance or subsidies, Chinese patients bear the full cost of these products and services, Xia added.
Founded in 1971, the Icelandic prosthetic maker entered the Chinese market in 2006 and established its Asian headquarters in Shanghai. Looking ahead, the company plans to further entrench its presence by building a technology and logistics center in China to support its business across Asia. 
(Header image: Össur's elbow brace, prosthetic foot, and prosthetic knee on display at the CIIE in Shanghai, Nov. 6, 2023. Wu Huiyuan/Sixth Tone)