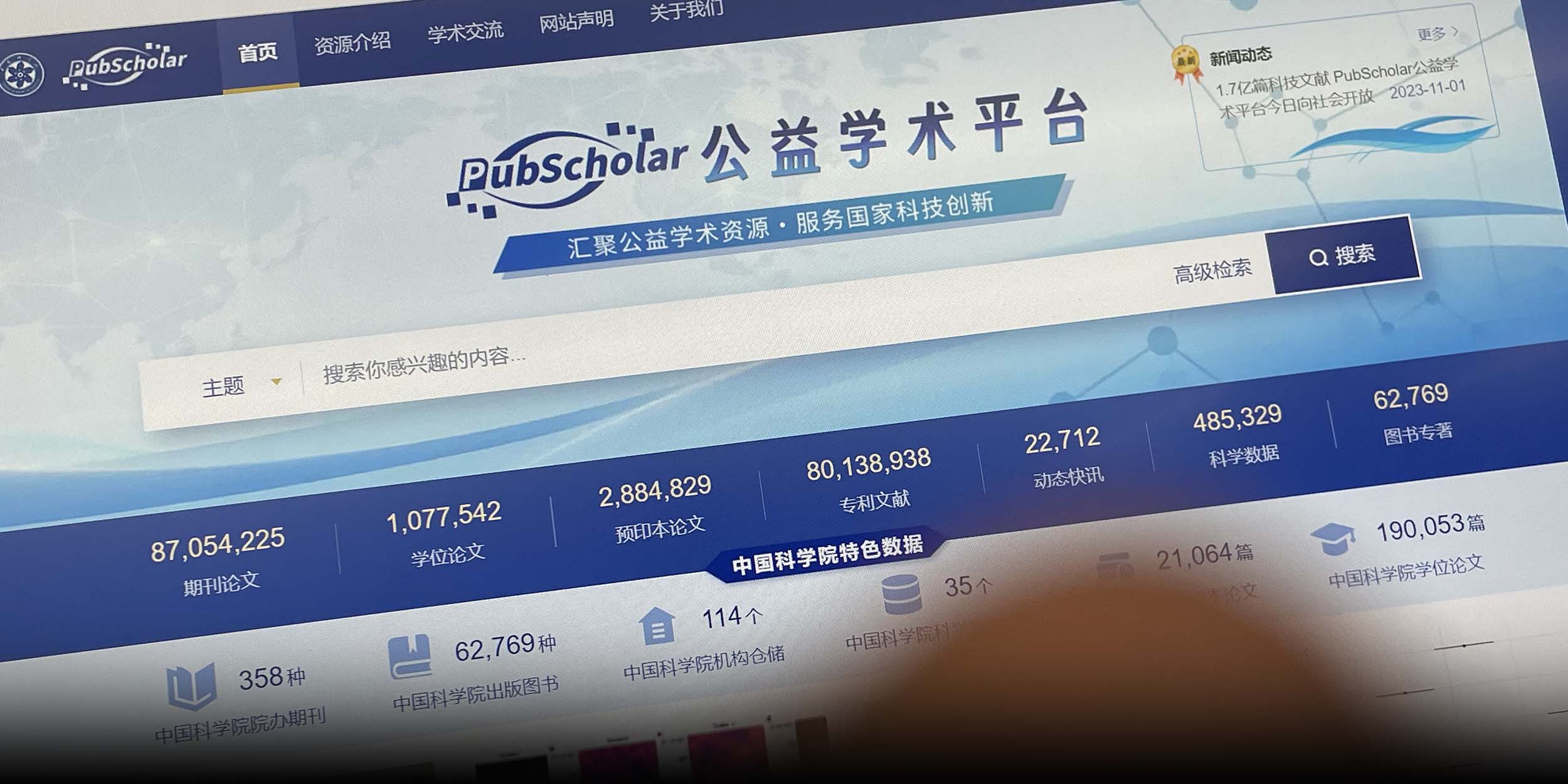 NEWS
China's New Public Academic Platform Takes on Industry Giants
Launched by the Chinese Academy of Sciences, PubScholar offers millions of academic papers, journal articles, dissertations, and patent documents at no cost.
Challenging the long-standing dominance of the privately-owned CNKI, China's top academic database, the Chinese Academy of Sciences has unveiled PubScholar, a public academic platform providing expansive, free access to scholarly materials. 
Run by the National Science Library at the CAS, PubScholar aims to serve as a "public welfare academic platform," ensuring intellectual property rights and international norms. The platform currently boasts approximately 170 million searchable resources, including around 80 million free full-text documents such as journal articles, dissertations, preprints, and patent documents. 
The nonprofit academic platform has seen a surge in public interest since its launch on Nov. 1. The increase in website traffic caused noticeable delays in service response times, with the project team announcing that it was working on upgrading the infrastructure to accommodate the growing user base.
"The platform is dedicated to innovation in the construction and provision of public welfare academic resources," PubScholar stated on its website. "Our goal is to facilitate a collaborative and shared ecosystem that enhances the longevity and sustainability of public welfare academic resource services."
Liu Xiwen, director of the National Science Library, told domestic media that while scientific research centers have little trouble acquiring technical papers, the general public and enterprise researchers face challenges in accessing them, mandating a platform like PubScholar.
Following its launch, many on Chinese social media have drawn comparisons between PubScholar and CNKI, the largest existing academic research center. The debate largely centers on the stark contrast between PubScholar's free services and CNKI's paid subscriptions, with the latter having come under criticism for monopolistic practices for years.
On the microblogging platform Weibo, state-run media initiated a poll to gauge public opinion on whether PubScholar is seen as a viable replacement for CNKI. Out of 800 participants, 533 netizens voted in favor of the new platform. 
CNKI, known as Zhiwang in China and established in 1999 with backing from Tsinghua University, has faced regulatory challenges since last December. 
The platform was fined 87.6 million yuan ($11.97 million) by Chinese regulators for "abusing its market dominance," representing 5% of its 2021 domestic revenue. And last month, following an extensive yearlong investigation, the database was penalized again for illegally collecting users' personal information. 
Adding to CNKI's challenges, a Chinese court ruled in early 2022 in favor of retired professor Zhao Dexin, who sued the platform for unauthorized distribution and profit from over 100 of his academic papers.
Editor: Apurva. 
(Header image: Homepage of PubScholar. Sixth Tone)