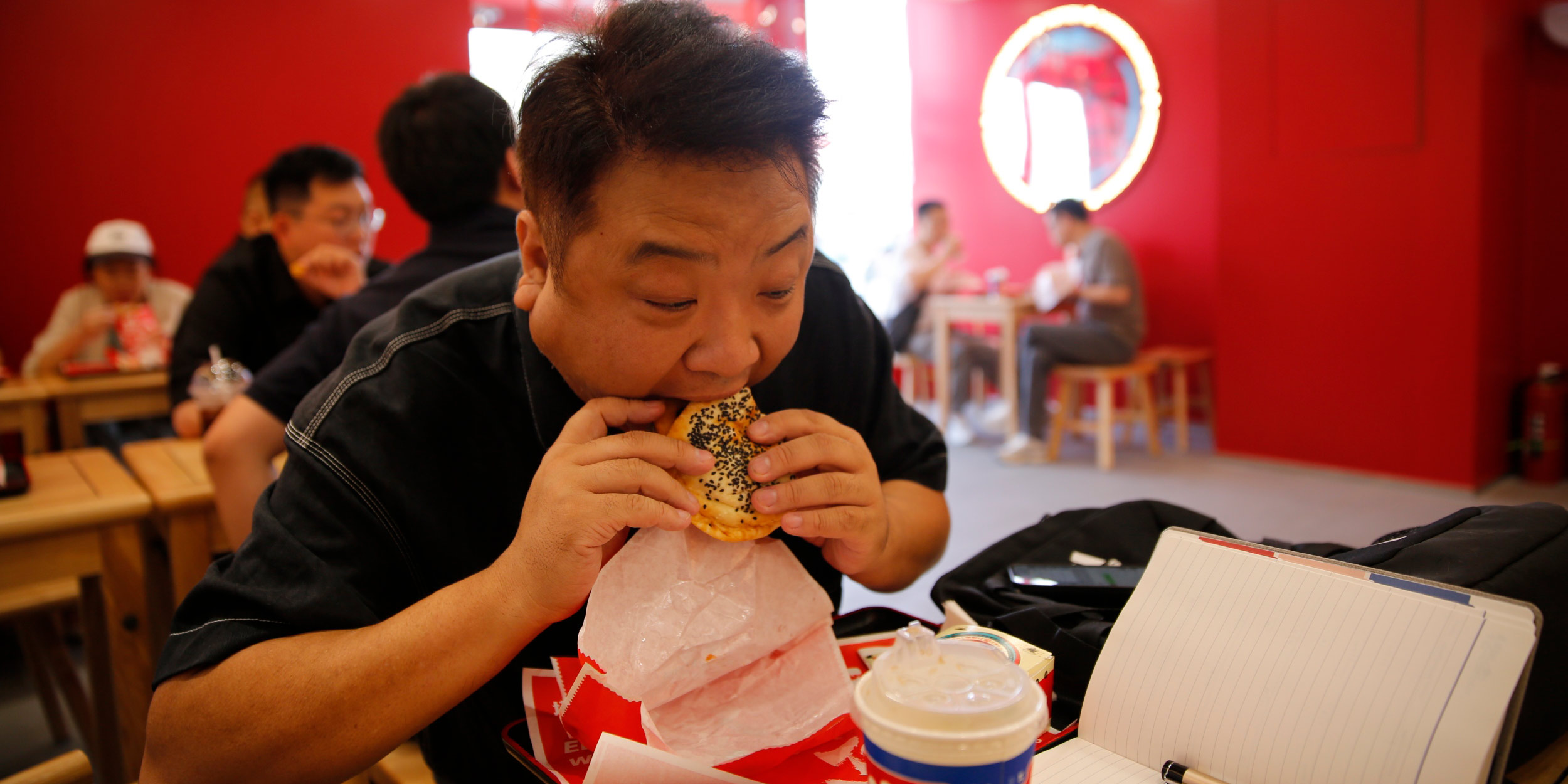 FEATURES
The Chinese Burger Startups Vying to Take a Bite Out of KFC
Armed with beefy venture capital investments, Chinese fast-food brands are winning over consumers with a combination of aggressive price cuts and patriotic marketing tactics.
SHANGHAI — Jia Zhenhao's excitement is palpable as he bites into a chicken and pineapple burger at Chinese fast-food chain Tastien's new outlet just off Shanghai's bustling Nanjing Road.
The 23-year-old said his friend had been raving about Tastien's "East-meets-West" burgers, and so he had decided to check it out for himself. So far, the meal appeared to be living up to the hype.
"I really like their freshly made bread," Jia told Sixth Tone. "It's crispier and chewier than the pre-packaged bread from other brands. It's definitely earning a spot on my daily meal plan."
With its slogan of "Chinese stomachs love Chinese burgers," Tastien is at the vanguard of a group of local fast-food brands that are rapidly emerging as serious rivals to market leaders KFC and McDonald's.
Though the Western brands have a huge head start, domestic upstarts like Tastien have attracted hefty venture capital investments and have expanded at an astonishing rate, opening thousands of outlets in just a few years.
To win over Chinese consumers, the companies have mostly adopted a tried-and-tested strategy: combining aggressive price cuts with patriotic marketing tactics designed to appeal to China's growing love of local consumer brands.
Tastien has leaned heavily on this approach. Its hand-rolled burger buns, the company says, are made using traditional Chinese pastry making techniques. Its menus are stuffed with fusion burgers containing fillings such as Peking duck, mapo tofu, and fish-fragrant pork slices.
These "Chinese burgers" are often on sale for as little as 7 yuan ($1) — a significant discount on McDonald's and KFC burgers — and come wrapped in a red-and-turquoise box covered in traditional Chinese patterns. 
It has been a winning recipe so far. Founded in 2012, Tastien didn't start selling burgers until 2017, but since then the chain has grown at breakneck speed. It now operates over 5,400 stores, making it the fourth-largest burger chain in China after local brand Wallace (20,172), KFC (9,733), and McDonald's (6,205), according to restaurant analytics platform Canyan Data.
Until now, Tastien has mainly located its stores in China's smaller, less fashionable cities, where the big Western brands have less of a foothold and it's easier to win over consumers with generous discounts.
It's a similar growth strategy to the one used by Luckin Coffee, the beverage startup that rapidly overtook Starbucks as China's largest cafe chain by targeting the so-called "sinking market."
But Tastien is now starting to move into China's major cities — and go toe-to-toe with its American rivals. The company has opened several dozen outlets in first-tier cities like Shanghai so far, including the one where Jia dined last week.
When Sixth Tone visits on a Wednesday evening, the restaurant is doing a brisk trade. Delivery drivers race in and out to pick up takeout orders, and the few tables are nearly all taken by dine-in customers.
One diner, surnamed Cheng, said that he had been a regular visitor during the past few weeks, as Tastien offers attractive discounts via online platforms like Dianping and Douyin. "It's a more budget-friendly choice when I have a hankering for Western fast food," he said.
According to Canyan Data, the average Tastien customer spends just 19 yuan per visit, far less than that spent by consumers at McDonald's (27 yuan) and KFC (34 yuan). During online promotions, Tastien often drops its prices to as low as 7 yuan per burger.
Those kinds of discounts will almost certainly prove to be unsustainable over the long term, but domestic chains like Tastien appear to be well capitalized for now. Chinese venture capitalists have poured billions of yuan into the food and beverage sector in recent years, hoping to replicate the success of Luckin Coffee.
Investors are particularly bullish on Western-style fast food. The market was worth a staggering 250 billion yuan in 2022, and has outperformed most other catering market segments in recent years, according to a report by industry analysis firm Hongcan. During the pandemic, fast food's suitability for takeout was an asset. More recently, burger chains have benefited from Chinese consumers' growing desire to boost their savings and avoid lavish purchases.
In 2021, Tastien received a 120 million yuan investment from Source Code Capital and Buhuo Ventures. This year, smaller fast-food chains including Chuzheng, Running Panda, and Odington have all attracted hundreds of millions of yuan of funding. Xibei, a major Chinese restaurant chain, has also launched its own Chinese burger brand, Jiaguolong Chinese Burger.
Like Tastien, many of these startups play up their local roots, claiming to be offering a Chinese take on Western fast food. According to Hongcan, the number of fast-food outlets using "Chinese burger" in their store names soared from 1,770 in August 2022 to 3,530 in January 2023 — doubling in just five months.
Some remain skeptical about whether the "Chinese burger" trend will prove anything more than a passing fad. At the Tastien outlet in Shanghai, one cashier sheepishly admits that their best selling item is a Western-style spicy fried chicken burger, rather than any of their locally inspired offerings.
But the companies' East-meets-West shtick is undoubtedly effective as a marketing strategy. Marc-Olivier Arnold, partner and chief strategy officer at consultants RTG Consulting Group, said the Chinese burger trend has piqued the interest of Chinese consumers, especially younger people who tend to be drawn to novelty.
"Having drawn inspiration from the rich tapestry of Chinese cuisine, these burgers appeal to the growing Chinese focus on local culture appreciation," Arnold told Sixth Tone.
The trend also aligns with a growing sense of nationalism among Chinese consumers, who are increasingly keen to support "made in China" businesses, Arnold added.
"The trend is evidenced in a study RTG Consulting Group did this year, where the top reason Chinese consumers cited for buying local products was 'to support China,'" said Arnold. "About one in four consumers surveyed said that they planned to increase their purchases of Chinese brands."
However, the big question is whether brands like Tastien will be able to sustain their success once the Chinese burger hype inevitably fades. Arnold cautions that they may need to develop a stronger brand narrative and positioning that reflects the companies' deeper, core values.
Chai Yuan, a partner at the Chinese meat pie chain Pangdun, shares a similar view. The company has found success with its local take on Western-style pies, and now has more than 40 outlets. But the company knows that the next stage of its journey will be far harder.
"The key challenge is how to effectively convert novelty-seeking customers into returning customers," said Chai. "In addition to the most crucial factor — the taste of the food itself — offering a better price and a quality dining experience would significantly contribute to attracting returning customers."
Editor: Dominic Morgan.
(Header image: A customer bites into a hamburger at a Tastien store in Beijing, August 14, 2023. VCG)