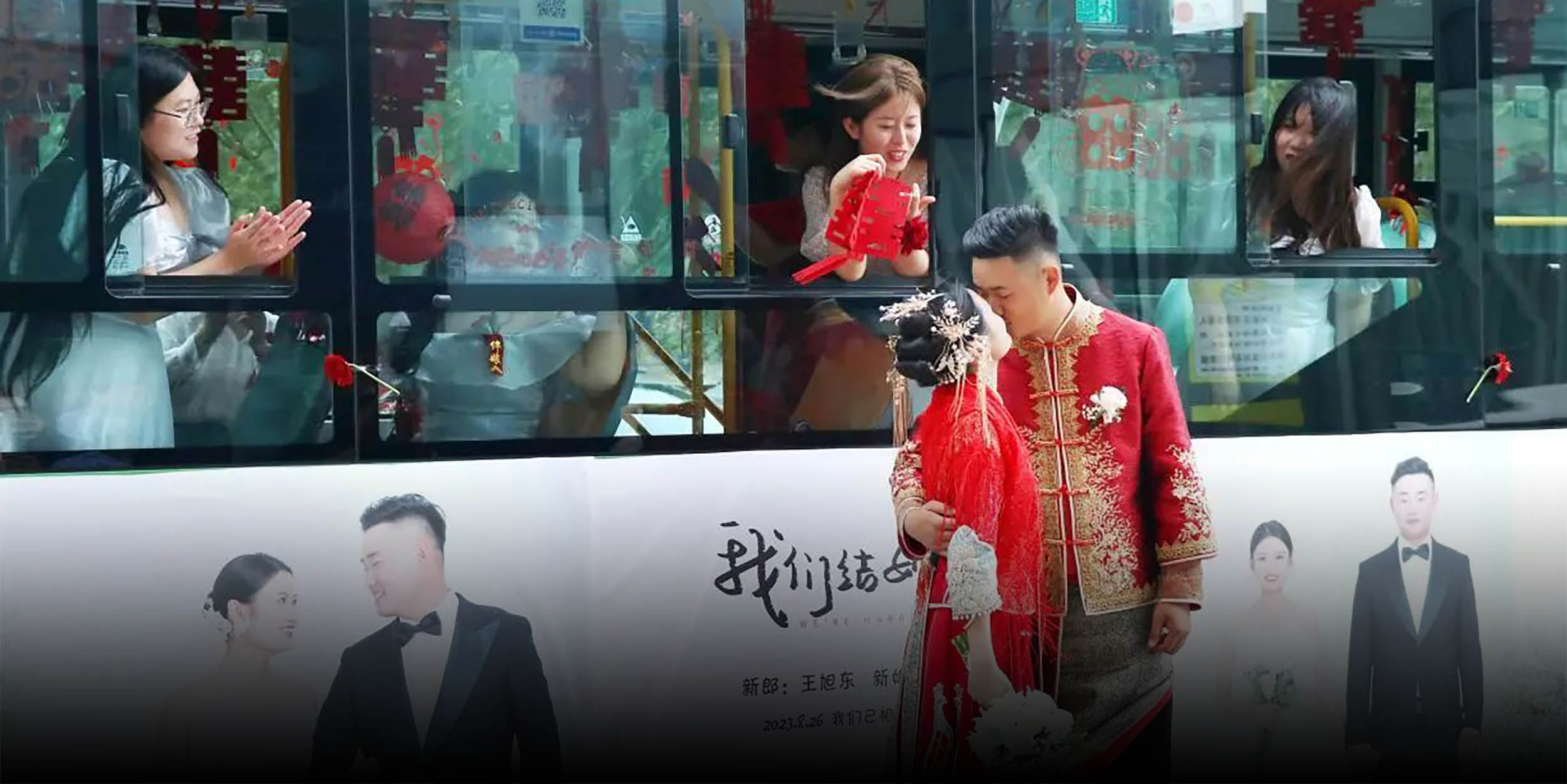 NEWS
E-Invites to Bike Rides, Weddings in China Get a Green Makeover
Amid increased awareness among the youth about climate change, carbon-neutral weddings, which promote eco-friendly products, cost money, and recycling, are gaining traction and popularity.
E-invites instead of paper cards; decor sourced from Xianyu, a second-hand platform; durable metal candy boxes instead of the ubiquitous, cheaper paper versions. And for the grand entrance, Liu Junjie chose a humble bike ride over the conventional luxury car to fetch his bride.
Every National Day holiday, China sees a surge in weddings. While most often choose traditional and lavish ceremonies, 30-year-old Liu from Shanghai chose to emphasize sustainability this season. His eco-friendly choices showcase a rising preference among young couples: the carbon-neutral wedding.
A carbon-neutral wedding aims to minimize emissions by adopting eco-friendly products, implementing cost-saving strategies, and emphasizing recycling. The carbon impact of the wedding is measured and offset by purchasing carbon quotas or credits. 
While this approach might appear at odds with the typical grandeur of traditional weddings, the carbon-neutral method is a reflection on waste, extravagance, and blind pursuit of the sense of ceremony, according to a commentary Tuesday in the state-run Guangming Daily. 
"Such a wedding can contribute to an environmentally friendly life and reduce our financial burden, so why not do it?" Liu told Sixth Tone. 
In recent years, China's "double carbon" objective, which aims for a peak in carbon emissions by 2030 and targets carbon neutrality by 2060, has increased awareness among the youth about climate change. Amid this mindset, carbon-neutral weddings have gained traction and popularity.
According to industry reports, the average cost of a wedding in China stood at 253,000 yuan ($35,135) in 2021, marking a nearly fourfold increase over five years. Waste associated with wedding banquets has long been an issue too. In certain regions, a culture thrives on comparisons, where many boast about extravagance and frown on frugality, leading to irrational consumption.
In 2021, China's Ministry of Civil Affairs implemented reforms nationwide, promoting simpler and more moderate wedding customs. These measures have successfully curtailed extravagance and wastefulness, with some areas reporting wedding costs dropping by over 90%.
While pursuing carbon neutrality extends beyond just cost-saving, weddings often involve wasteful practices, from foam sculptures to elaborate table flowers at hotel venues. Addressing this, many venues now provide fixed wedding setups, cutting down on materials, costs, and emissions.
"Going completely carbon neutral for weddings is challenging, but I hope couples can embrace eco-friendly approaches for the big day," said Liu. "To many of us, a 'low-carbon' wedding also symbolizes enduring commitment — making love both pure and timeless."
Editor: Apurva. 
(Header image: Newlyweds outside their wedding bus in Puyang, Henan province, Aug. 26, 2023. From @濮阳中院 on Weibo)