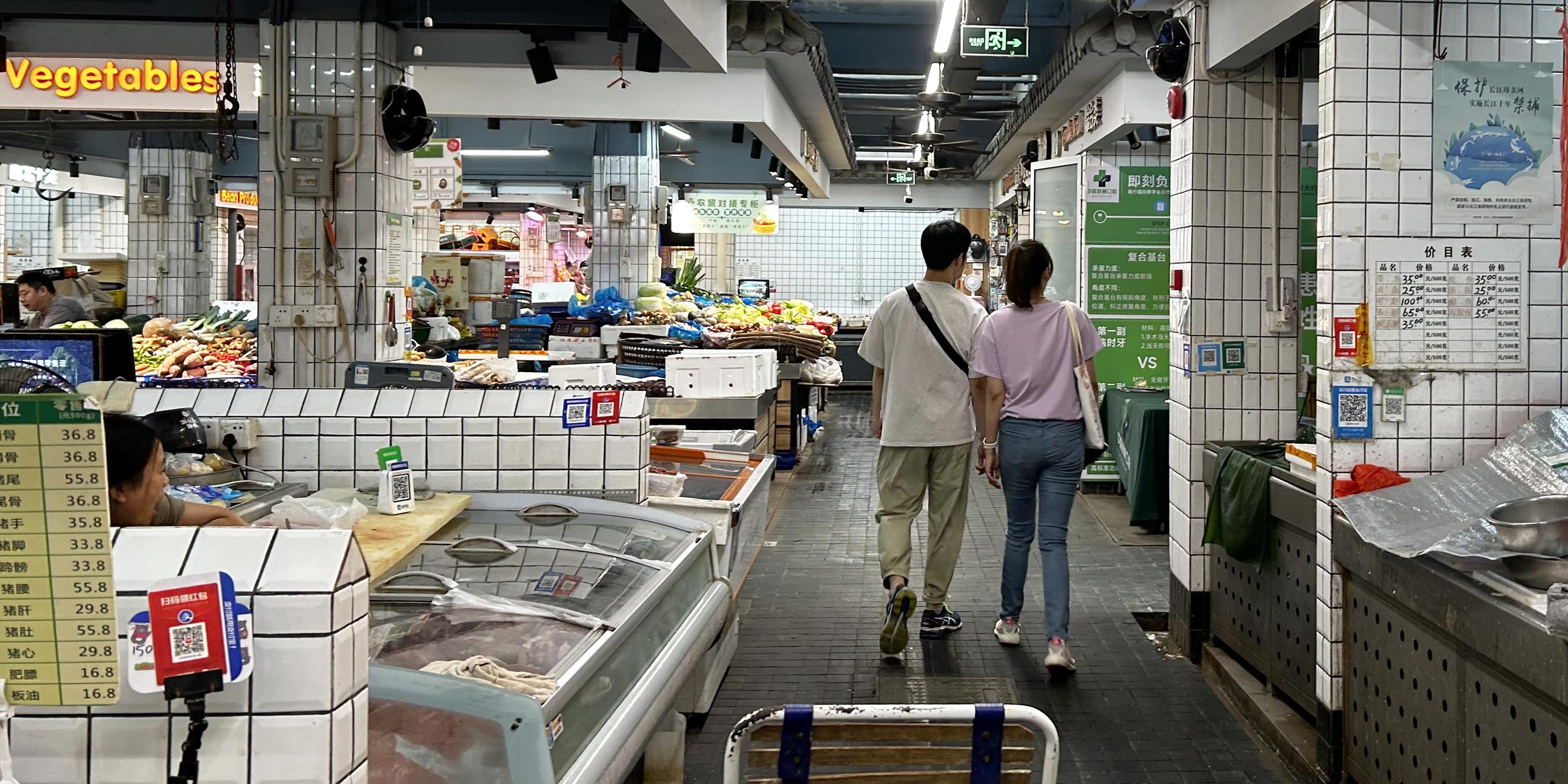 NEWS
Old Markets, New Appeal: Young Chinese Rediscover Wet Markets
Amid renewed interest, wet markets in China are evolving too, merging modern amenities with traditional charm to cater to younger, experience-driven tourists.
SHANGHAI — While most tourists traveling to Shanghai during the Golden Week holiday are often drawn to popular spots like the iconic Bund and the vibrant Tianzifang neighborhood, 27-year-old Zhang Xiao has an unlikely highlight on her itinerary: a traditional wet market.
From the central Henan province, Zhang says she's always been drawn to exploring these bustling markets, which offer a vast array of fresh products at bargain prices. "Eating breakfast in the wet market is the best way to truly understand regional eating habits and observe local life," she told Sixth Tone on Sunday. 
For Zhang, exploring wet markets isn't just a fleeting interest — it's a travel ritual. Over the past two years, she's ventured to more than a dozen wet markets in various cities across the country. From the fresh seafood of eastern Zhejiang to the heady mix of spices in northwestern Xinjiang, each market offers unique allure that often tempts her to stay longer.
Once seen as dirty and disorganized, wet markets are now drawing the attention of young Chinese travelers, signaling a growing appreciation for authentic local experiences. Instead of blindly following "internet celebrity" attractions that go viral online, some young travelers are delving into genuine, experiential exploration of local areas. 
Traditionally the heart of Chinese communities, wet markets were the primary source for fresh produce, meat, fish, and other daily essentials, and served as the bedrock for most home-cooked meals. Yet, in recent decades, they've waned in popularity, especially among the younger generation, who often grapple with rapid urbanization, evolving family dynamics, burgeoning work demands, and a tilt towards take-out food. 
But now, signs of a resurgence in interest are evident, particularly on social media platforms. On the lifestyle app Xiaohonghu, the topic "A Guide to the Wet Market" has garnered nearly 65 million views. And on the social platform Douban, membership in the "wet market enthusiasts" group has surged to almost 160,000, a jump from 100,000 just three years ago.
In July, data from the review platform Dianping revealed a 120% month-on-month spike in searches for "wet markets," while guide notes associated with the topic nearly doubled and reviews surged by 170%.
Adapting to the renewed interest and changing demographics, wet markets are undergoing significant transformations. 
Disorderly stalls of the past have given way to clean, organized sections designated for vegetables, meats, and seafood. Many markets have also modernized with the introduction of QR code payments, and some even offer home delivery options. 
Several markets have now undergone renovations, presenting a more contemporary ambiance, catered to the young generation. "Some have even introduced coffee — it's both affordable and high quality," said Zhang. 
Amid the growing appeal of wet markets among the younger demographic, major brands have seized the opportunity for unique marketing initiatives. In October 2021, Italian luxury label Prada transformed Shanghai's Wuzhong Market, draping vegetable stalls with their signature packaging and logos. The ploy drew massive crowds, especially among the youth, eager to capture the unusual blend of luxury in a traditional setting, leaving vendors both overwhelmed and perplexed.
For Zheng Huili, a 23-year-old from Zhejiang, the allure of wet markets goes beyond mere shopping. She sees them as a gateway to understanding a city's essence. "Internet celebrity attractions are all the same, yet wet markets offer a fresh sense of travel," she said. "I stop and talk to the vendors, it's a great way to learn about Shanghai culture." 
Editor: Apurva. 
(Header image: A young couple visits a wet market in Shanghai, Oct. 1, 2023. Fan Yiying/Sixth Tone)