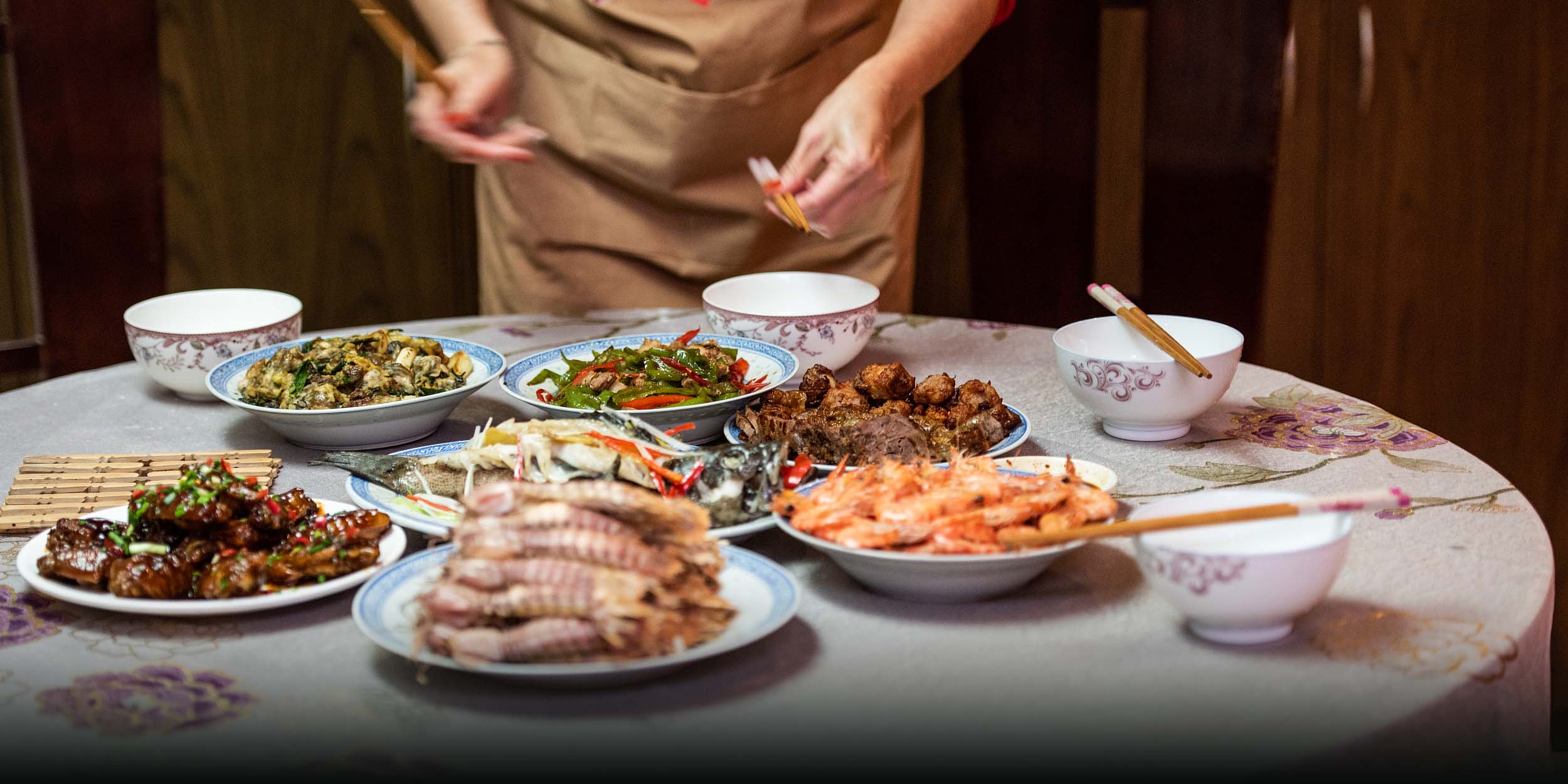 NEWS
The Young Chinese Working as On-Demand Private Chefs
From making ends meet to relieving stress, the young Chinese working as on-demand private chefs are doing so for different reasons.
Fried chicken coated with ground Sichuan peppercorn; chili peppers sautéed with hot oil in the wok; then finally everything tossed together and topped up with chili peppers and cilantro. Wang Xueli carefully transferred the food onto a plate and sprinkled some sesame on top — the famous Sichuan spicy popcorn chicken dish was ready.
Wang, 22, who lives in Suzhou in eastern Jiangsu province, was making her hometown classic — not to cure her homesickness, but for her customers, whose kitchen she was using. She is not a professional chef.
In China's affluent cities, amateur private chefs who cook up a storm in their customers' own kitchen have become increasingly popular. On lifestyle platform Xiaohongshu, posts about such services have received nearly 35 million views.
The trend is an example of the "lazy economy," driven by young Chinese's pursuit of convenience in the form of on-demand home services from private chefs to masseurs. State media have reported that searches for private chef services rose by 533% during October to December last year, the most recent data available, compared to the previous two months, citing data from food delivery platform Meituan.
"It's really popular," Wang told Sixth Tone. "Many people are reaching out to me, but I can't handle that much more." One of the posts on her Xiaohongshu account has over 10,000 views.
Customers usually prepare the ingredients and cooking equipment themselves. Wang, who is only responsible for cooking, charges 48 yuan ($6.58) for a three-course meal. For eight dishes, the cost is below 100 yuan. She leaves as soon as she is done cooking.
A full-time e-commerce vendor, Wang began working as a part-time private chef on weekends in late August. She does it to relieve stress rather than for money, and she especially enjoys cooking up classic dishes from her hometown: Sichuan skewers, Sichuan numbing and spicy beef, and more.
Unlike Wang, Wei Maimai is not a complete amateur in the kitchen. The 23-year-old was a pastry chef before, but switched to being a private chef after trying it out in June. She is now doing it full-time having received a substantial number of orders on social media.
Now taking three orders most days, Wei usually starts work at noon and finishes by 6 p.m. The income is sufficient to support her living expenses in the first-tier city of Shenzhen, one of the most expensive in the country. Her specialty is Cantonese food.
According to Wei, most of her customers are white-collar workers between 25 and 35 years old or pregnant women. They tell her they are not good at cooking or have little time for it, but still want a home-cooked meal with ingredients they purchased themselves instead of ordering takeaway food.
Though takeaway food in China is hugely popular, they also often have high sodium content. There has also been controversy in recent weeks about the use of pre-made food in restaurants and schools, with estimates that 70% of takeaway deliveries are pre-made.
While demand for such services seems high in affluent cities like Shenzhen and Suzhou, the situation is less clear in smaller Chinese cities. After finishing her bachelor's degree in business English earlier this year, Deng Yiping is working as a part-time private chef in addition to her full-time job after struggling to find a well-paying job in her hometown in southeast Jiangxi province.
"My orders are very unstable and sometimes I may not get an order for a month. So I think this job cannot be a long-term option," said Deng, who specializes in spicy and numbing stir-fry dishes from her hometown.
"But the market in Nanchang may be small. The industry is slowly developing in other cities, which can provide a new employment opportunity for university graduates."
To ease unemployment, the government is encouraging graduates to take up less traditional jobs such as gig work. A report published in September by leading recruitment platform Zhilian Zhaopin and Jinan University showed that more university graduates are seeking such "flexible employment" including delivery driving and livestreaming.
For Deng, the flexibility of the work is its most appealing feature. The workload depends on her mood, and if she wants to relax on weekends, she can choose not to take orders.
However, as an emerging industry, private chef services have yet to be properly regulated. Deng does not sign contracts with her customers or even ask them to pay a deposit in advance. When customers cancel their orders last-minute, there is no way of getting compensation. Chinese law also requires all workers who deal with food to be licensed, but amateur private chefs and their customers typically ignore this requirement.
There are also safety concerns, with reports that some customers have acted strangely towards female private chefs. For this reason, Wang usually picks customers who are either couples or families rather than men who live alone. "Before I go to a man's house to cook, I will tell my friend where I'm going and roughly when I will be done. If they haven't heard from me by then, they'll call the police," she said.
These concerns have started to draw officials' attention. In September, two policymakers in Shanghai submitted a proposal to better regulate the industry, including standardized contracts and stricter industry-wide standards. With many of the customer orders made on social media, the proposal would also task social media platforms with vetting vendors.
Wang welcomes efforts to introduce more rules in the industry, in particular regarding food safety and the responsibilities of chefs who make their customers sick. She plans to continue with the part-time gig long-term.
"Being a private chef is meaningful and can expose me to different people. I enjoy going into someone's kitchen to cook, as each kitchen is different in size and utensils. The feeling is like unpacking a blind box," she said.
Editor: Vincent Chow.
(Header image: VCG)