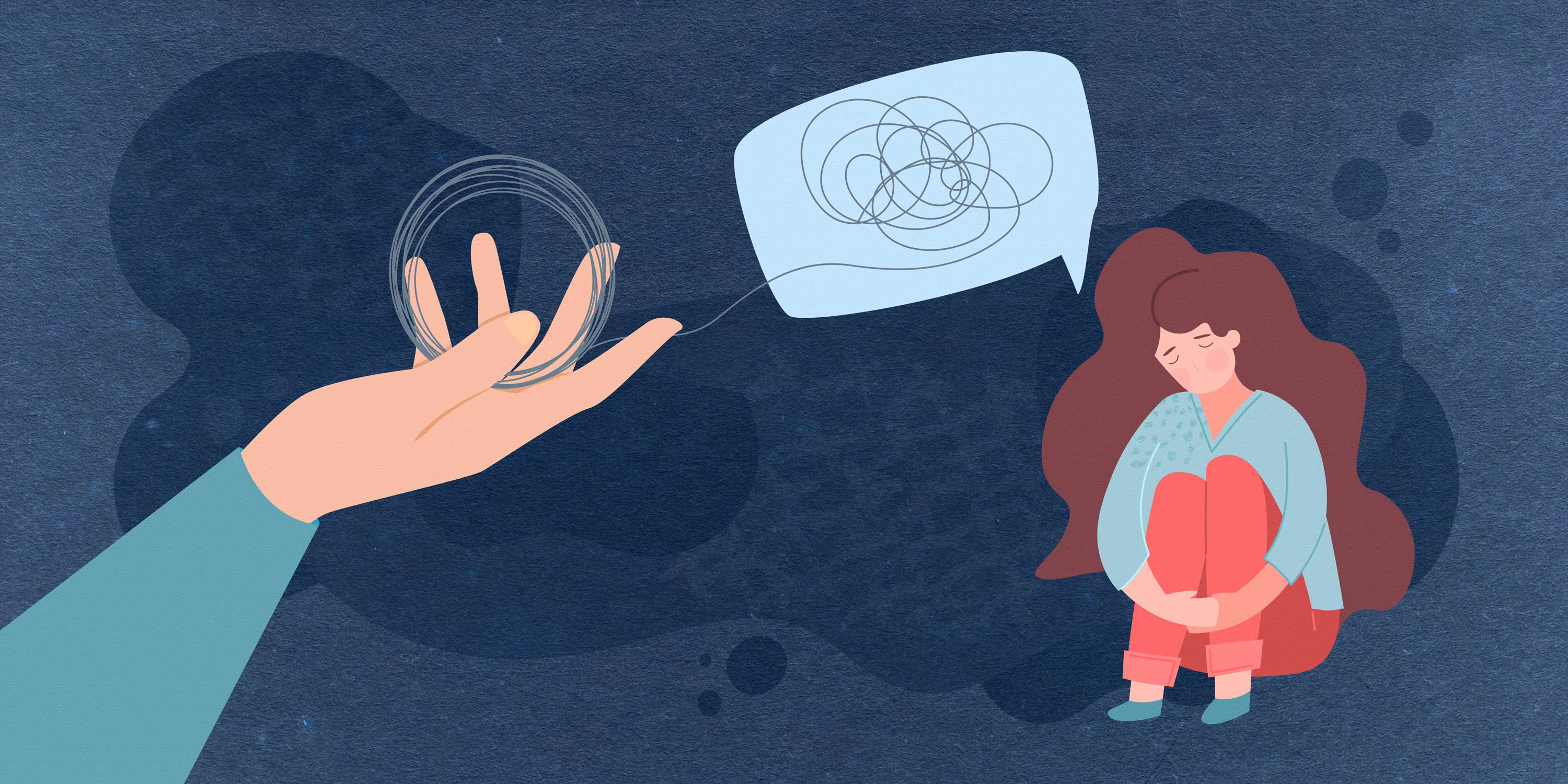 FEATURES
In China, Life Coaches Are Seeing Booming Demand From Gen-Zers
Just a few years ago, life coaching was a tiny industry in China. But the profession is now rapidly going mainstream.
SHANGHAI — As she got ready to graduate this May, Zhao Xinli recalls feeling "very confused" about her career plans. 
The history major had some hard decisions to make: She had a job offer on the table, but it was "completely irrelevant" to her studies. Though she hated the idea of settling for a boring role, she also knew that the job market was fiercely competitive — holding out for a better offer might be a big mistake.
"I didn't know how to decide what to do, and I was afraid of making the wrong choice," Zhao tells Sixth Tone.
The 22-year-old had tried turning to her classmates, teachers, and a range of websites for advice, but none of it seemed useful. Then, as she scrolled through the social app Xiaohongshu one day, she came across an ad for a service she'd never encountered before: a life coach.
Intrigued, Zhao booked a consultation — and it proved to be a revelation. Rather than offering direct advice, the life coach helped her understand the deeper attitudes that drove her decision-making. After a couple of sessions, Zhao decided to take the job she had been offered and focus on making a success of it.
"I realized that I shouldn't fixate on a so-called ideal career," says Zhao. "Instead, I should look at my first job from a positive perspective, gain experience, discover my own strengths, and prepare to get my next job."
Zhao is far from alone. Just a few years ago, the concept of a life coach was almost unheard of in China. But that is rapidly changing as millions of graduates enter one of the toughest job markets in living memory.
China is set to produce nearly 11.6 million fresh college graduates in 2023 — a record for the country — but highly-paid, white-collar roles are at a premium in an economy that is still recovering from the COVID-19 pandemic.
In this highly competitive environment, having a clear career plan can be a huge advantage. But many Chinese students complain about the lack of quality career guidance provided by domestic universities. On the microblogging platform Weibo, many of the highest upvoted comments about school career planning classes describe them as "not helpful" and "super boring."
This has opened the door for the life coaching industry, which is starting to generate huge buzz on social media. The lifestyle platform Xiaohongshu in particular is full of posts from young people sharing their experiences consulting life coaches, as well as their journeys to becoming life coaches themselves.
It's unclear exactly how many life coaches there are in China, but the industry appears to be growing rapidly. The number of life coaches from China registered with the International Coaching Federation, an industry body, quadrupled between 2017 and 2022, rising from 346 to 1,383. (In reality, the number of practicing coaches is likely far larger, as the industry is loosely regulated and most professionals practice without a license.)
Chloe Chan, a life coach based in Hong Kong, says the number of young Chinese clients coming to her for advice has continually grown since she started practicing in 2021. The rise isn't only a result of the tough job market; Chan feels today's graduates are often weighed down by the huge variety of career ideas they see on social media.
"They see more possibilities, they have more ideas," says Chan. "So, they need someone to mentor them or give them inspiration."
The problem, Chan says, is that many of her clients are so unfamiliar with life coaching that they misunderstand what she can — and can't — do to help them. Eight out of 10 are struggling with depression and need to see a psychological counselor rather than a life coach, she says. 
Chan often reminds clients: "If you have anxiety, your mood is negative. When you get back to normal, you are at zero. I can't help you go from negative to zero, but I can get you from zero to one."
Jiang Zhou, 26, is a recent convert to life coaching. He went for his first consultation earlier this year, after his life plans fell apart. He'd originally hoped to settle permanently in the Netherlands — where he studied for a master's degree in finance — after graduating, but he'd failed to find a suitable job and ended up returning to China.
Back home, Jiang was feeling "lost" and uncertain what to do next, and that's when a friend suggested he try speaking with a life coach. Jiang decided it was worth giving it a try.
"It feels like I should be doing a lot of things, but I'm not," Jiang says. "I felt stuck and lacked motivation, yet subconsciously I wouldn't allow myself to rest."
In the end, Jiang spoke with not one, but four different life coaches — often just attending a free introductory chat rather than paying for a formal consultation, which typically costs as much as 500 yuan ($70) per hour. 
Some of the sessions didn't work out. The first coach, Jiang says, started recording their conversation without his consent, which made him feel uncomfortable. But eventually, he found a coach he clicked with, and he credits the sessions with helping him find a new path in life. 
"It was a wonderful spiritual experience," says Jiang. He is now living in the laid-back southwestern city of Dali, where he is working as an art therapist.
Digital marketer He Yuqi also credits her life coach with transforming her outlook. The 30-year-old first sought help in late 2022, as she felt her career had reached an impasse. After six years with her employer in Shanghai, there didn't seem to be a clear pathway to a promotion or even a raise. But she was also afraid of trying to change jobs at a time when many tech companies were laying off staff.
Twelve sessions later, and He says she already feels much better about her situation. Initially, she had hoped to receive specific practical advice, but instead her coach has helped her work on deeper issues — especially her low self-esteem. She has decided to keep her digital marketing job for now, but has started offering career planning classes in her spare time.
"Life coaching is a good investment in myself," He says. "The coach guides me and enables me to see things for myself. And they also give me tools to look within myself."
Yet not everyone is convinced. The life coaches that Sixth Tone spoke with stressed that the industry in China is still immature: Regulation is loose, coaches often lack experience, and clients are frequently unsure what they want to gain from their consultations. In many cases, this limits what coaches are able to achieve.
Zeng Jiaqi, a 25-year-old from Beijing, had a disappointing experience with a life coach earlier this year. She was looking for advice on how to progress in her career, but she felt like the coach was unable to provide the practical guidance she felt she needed.
"The life coach asked me deep questions, but she couldn't really help me answer my questions," Zeng says.
Zeng didn't continue her sessions with the coach, and now prefers to deal with any issues by herself. Whenever she faces a big life decision, she will draw a mind map to analyze the issue, she says. She also likes to consult her oldest friends, as they understand her deeply and can offer useful advice, she adds.
"The life coaching service is expensive, so I don't see the point in continuing with it," Zeng says.
For life coaches, the latest generation of Chinese graduates are often a tricky client base to serve. Scarlett Huo, a certified life coach based in Beijing, says that most of her clients are aged between 25 and 30 and want help dealing with a career transition. 
This cohort tends to feel more confused than previous generations, according to Huo. Not only are they trying to deal with a more complex, post-pandemic economy; they're also bewildered by the bombardment of — often confusing or contradictory — career advice they are subjected to online.
"One of the problems facing young people today is that they have too much information," Huo says. "They have grand plans, but little skill."
Huo cites the example of a 26-year-old client who was obsessed with the idea of becoming financially independent by the age of 35 — influenced by the Financial Independence, Retire Early (FIRE) movement that has gained huge traction on Chinese social media. Retiring early is a positive goal to set, Huo says, but committing to it without properly thinking it through often leads to disappointment.
"When you set goals too aggressively and don't see results quickly, it's easy to get discouraged," Huo says. She tries to help this kind of client find their "life idol" and gain a deeper understanding of themselves and their career options.
University career counselors, meanwhile, say that they are seeing more demand for their services than ever. Yang Mingyu, who has been a counselor at a Shanghai-based university since 2019, says that today's students start planning for the future earlier than previous generations.
When Yang, 26, was at university, most undergraduates didn't bother thinking about their careers until their senior years, he says. Now, however, sophomores often come to him with firm plans already in place.
"I think the overall employment environment forces them to plan ahead," Yang says. "Before, there were relatively easier options, both in terms of further studies and employment, and everyone wasn't as anxious." 
Editor: Dominic Morgan.
(Header image: Visuals from Mentalmind/VectorStock/VCG, reedited by Sixth Tone)