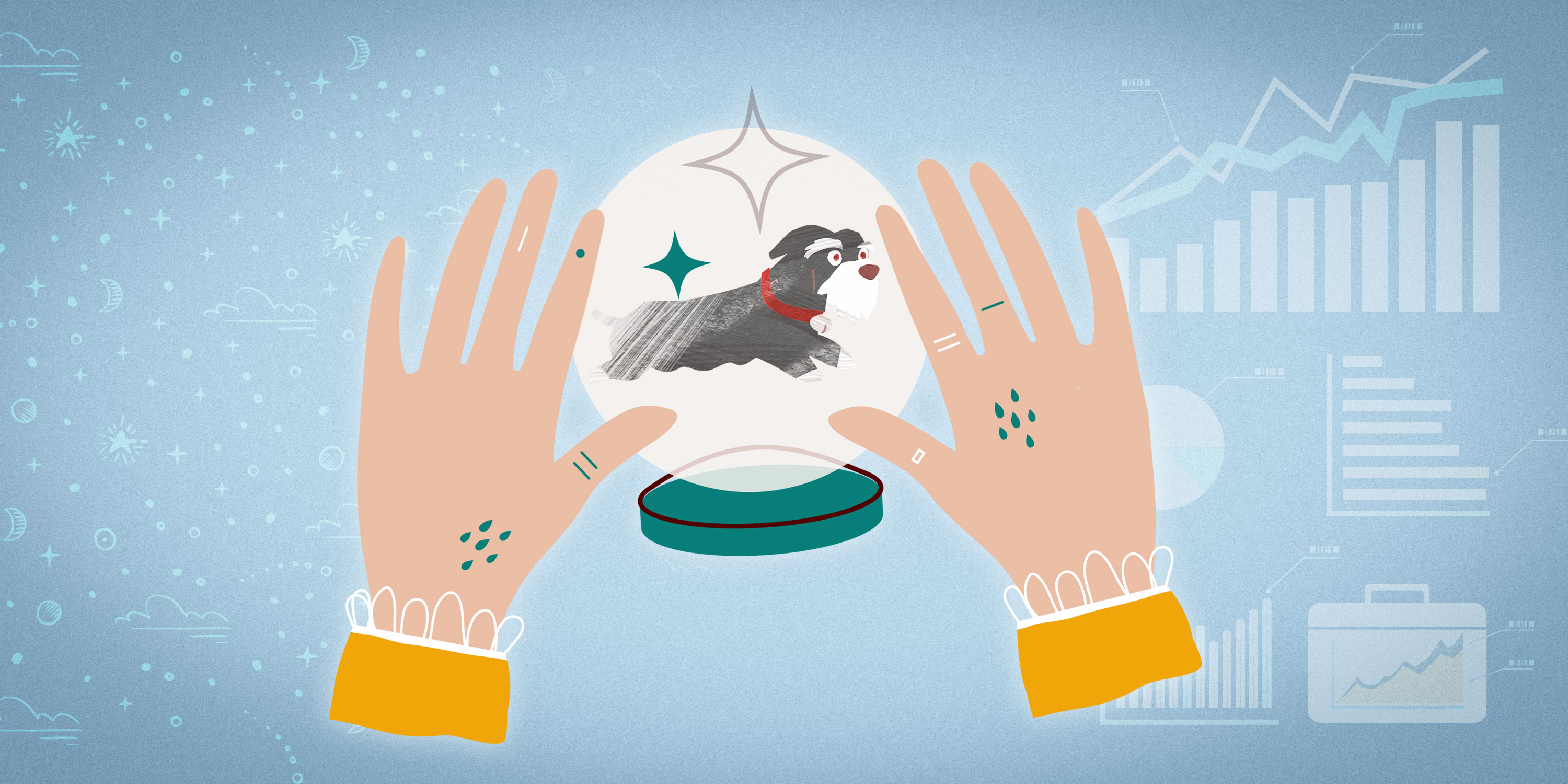 NEWS
In China, Pet Psychics and Their True Believers
From making requests for their owner's funeral attire to sharing their plans in the afterlife, pet psychics in China are making pets' voices heard — and making big bucks while doing it.
A few years ago, 34-year-old heating engineer Fu's dog Bobby was diagnosed with a blood clot. The condition rapidly deteriorated over the course of two months. When Fu realized there was nothing more she could do to save Bobby's life, she wondered if Bobby had any regrets.
Until then, Fu had been seeking the help of veterinarians. But for this final task, she needed someone different: a pet psychic. Though there is no scientific evidence that pet psychics can communicate with animals, several pet owners told Sixth Tone the service has helped them get over the deaths of their beloved pets.
Hugely popular in Taiwan, the service has been growing in popularity on the Chinese mainland in recent months, with state media Xinhua News Agency profiling a Taiwanese entrepreneur on her booming pet psychic business in China in June.
Online, the service has attracted increasing attention, with over 2,200 related posts on lifestyle platform Xiaohongshu and nearly 1 million views, according to data analytics platform Newrank.
In Fu's case, she sought out the services of one of the "best" in the business: Bei Li, CEO of the Asian Animal Communication Alliance (AACA), which was founded in 2020 and now has over 100 registered psychics, or "animal communicators" as they prefer to call themselves, from five countries, including China, Singapore, and Japan. 
These psychics claim to be able to "communicate" with a pet using simply a photo and a name. During Bei's session with Fu, conducted over the phone, Bei told Fu that Bobby did not want to be part of their family in another life, because he wants to live his own life.
"That's exactly what Bobby would say," said Fu, explaining that he was raised in a factory and was often alone. Bei also told Fu that Bobby wanted her to wear a purple sweater at his funeral — which she just so happened to own. 
"I've actually had many pets before and some of them died suddenly … This kind of service provides a better way for us to accept the cruel reality," Fu said. 
Carolyn Zhang, 24, agrees. She first introduced a friend to a pet psychic, before trying out the service herself at a time when she was suffering from mental health issues.  
"I think communication (with my cat) helps me better than medicine," said Zhang, who insisted on using a pseudonym for privacy reasons. 
According to Bei, their services are scientific and based on developing an "extrasensory perception." Her organization, the AACA, issues licenses for those who pass an official exam, in which candidates must answer questions about pets based on photos and their names. Those who correctly answer 70% of the questions will pass.
The business is a lucrative one. The offline course is priced at up to 17,800 yuan ($2,450) for three days, while the online course costs 14,800 yuan. Meanwhile, most licensed psychics charge clients around 300 yuan for 30 minutes. The most expensive, the other CEO at the organization, charges 888 yuan for 30 minutes and has had 731 orders so far. Bei, who charges 400 yuan, has had 3,250 orders. 
According to pet market research firm PetHadoop, the number of pets in China reached 116 million in 2022, up 3.7% from the previous year. What's more, pet owners are spending more on their pets as well, with spending on dog and cat products jumping 8.7% to 270 billion yuan in 2022.
The continued growth of China's pet industry has led to the development of questionable businesses, such as exploitative pet insurance. Pet psychics have also received backlash, with a member of the China Pet Industry Association denouncing the service in state media in early September, and some netizens calling it a form of "IQ tax," a slang term for paying money for stupid things. 
Responding to the skepticism, Bei said it's normal for "all kinds of people to get involved when an industry is starting to grow," while emphasizing the importance of setting up industry rules. Due to its nascent nature, officials have yet to establish clear rules for the industry and its participants. 
Chen, a 36-year-old pilates instructor, has been offering pet psychic services for free since August. Unlike her professional peers, she embraces the term "psychic" as she believes she has a "special gift" making her capable of communicating with animals including humans, based simply on a photo of them. 
"It's actually hard to deceive people because every single (animal) has different characteristics. It's not easy to trick the owner," said Chen.
"But it's inevitable that some people are just really good at talking and pretending."
Additional reporting: Yang Caini; editor: Vincent Chow. 
(Header image: Visuals from tettytetty, susaro, and SvetlanaVdovina/VCG, reedited by Sixth Tone)