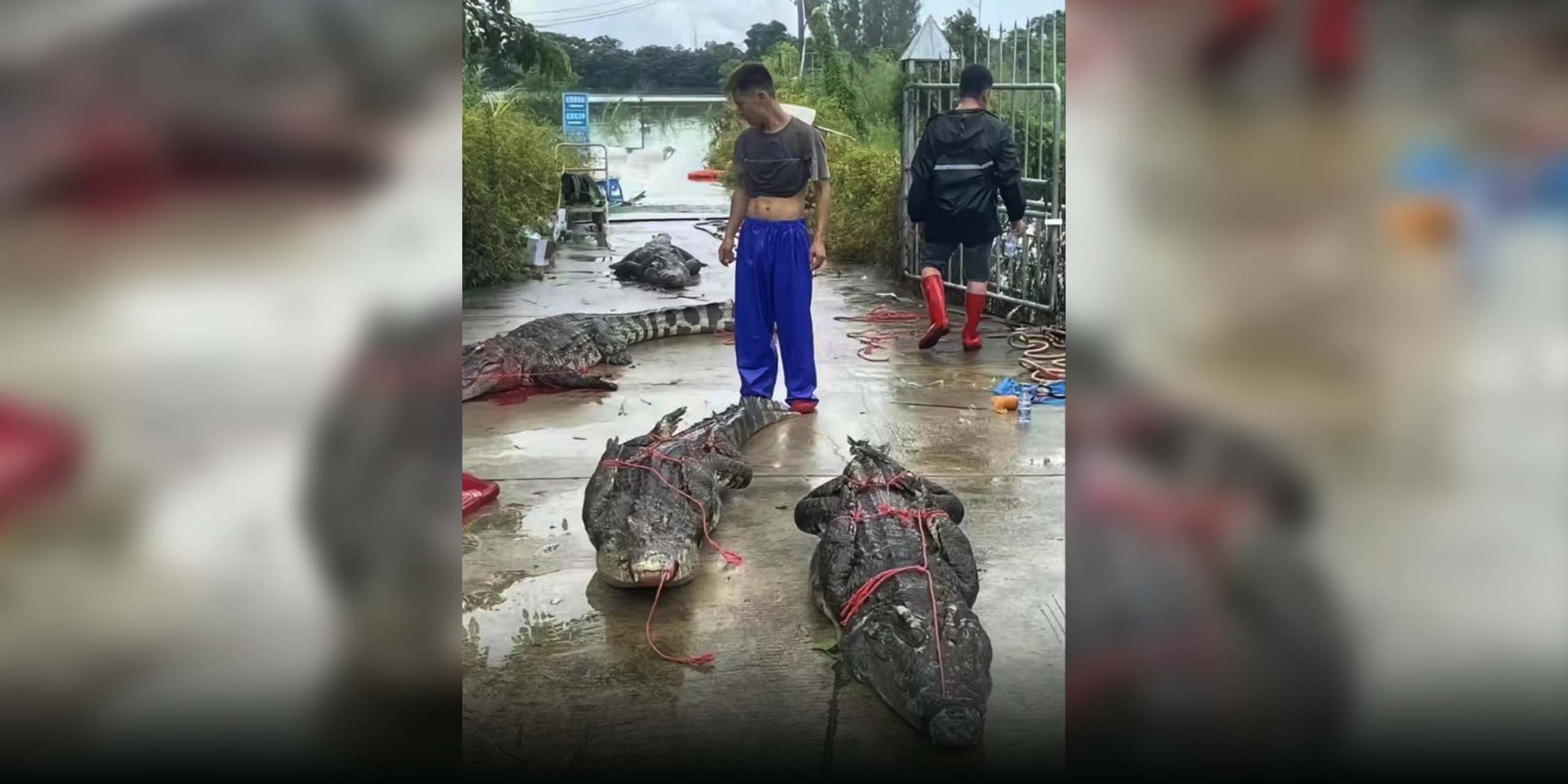 NEWS
Floods Set 75 Crocodiles Loose in Guangdong, Leaving Locals on Edge
Officials say that 69 adult crocodiles and six juveniles broke free from a breeding farm near Maoming City, and efforts to recapture them are underway.
At least 75 crocodiles have broken free from their enclosures at a breeding farm near Pengcun Lake in south China's Guangdong province, as heavy flooding continued across the region in the wake of Typhoon Haikui. 
Maoming City officials told Haibao News that the escaped crocodiles comprised 69 adults and six juveniles, and warned residents to stay away from water and cease fishing activities. They added that emergency personnel have been deployed and that some reptiles had already been recaptured. 
"At the moment, teams with sonar devices and stun guns are working to locate and recapture the crocodiles. But it's been difficult because the water is deep and wide-ranging," a member of staff at the Maoming Bureau of Agriculture and Rural Affairs told Sixth Tone.
On Tuesday, authorities told The Paper, Sixth Tone's sister publication, that emergency personnel have been on guard throughout the night, have sealed off various exits, and are waiting for the water level to recede.
A video that has been widely circulated online shows the floodwater covering the road, with several red circles added to indicate areas where crocodiles have been spotted. 
On Sunday, Maoming City witnessed torrential rainfall, prompting several districts to issue the highest rainstorm alert. In one town alone, a staggering 409.2 millimeters of rainfall was recorded within a 24-hour span. 
Incidentally, this isn't the first time Maoming has had to deal with escaped crocodiles. During heavy rains about 10 years ago, rising water levels gave crocodiles the perfect chance to break through another breeding farm's damaged wire fence. While nobody was injured, and several crocodiles were recaptured, the farm's owner had assured residents back then that he would enhance and reinforce the fences.
Under Chinese law, capturing and killing nationally protected animals, like the wild Yangtze alligator, is prohibited. However, breeding farms in Guangdong mainly breed the Siamese crocodile, which differs from wild species. The Siamese crocodile, along with two other captive-bred species, is therefore not covered by the law. 
Maoming also boasts one of the largest crocodile breeding farms in China, which covers an area of 500 acres and breeds 150,000 crocodiles. Beyond breeding, the farm processes crocodiles for food, medicine, and leather products, and even offers sightseeing tours.
Maoming wasn't the only area affected by the rains. Over 300 kilometers away, Zhao, a crocodile farm owner in the provincial capital of Guangzhou, was forced to take preemptive measures. His employees remained on duty, continuously monitoring the water levels. "If the water rises above a certain limit, we've got no choice but to stun or kill the crocodiles," he said. 
Zhao told Sixth Tone he believed that the 1.5-meter fence he'd set up on his farm was up to safety standards. "It's difficult and unrealistic to heighten the fences during heavy rains. With that much rain, the flooding could easily wipe out a lot of areas," he said.
Editor: Apurva. 
(Header image: Some crocodiles were recaptured at a village in Maoming, Guangdong province, Sept. 11, 2023. From Weibo)