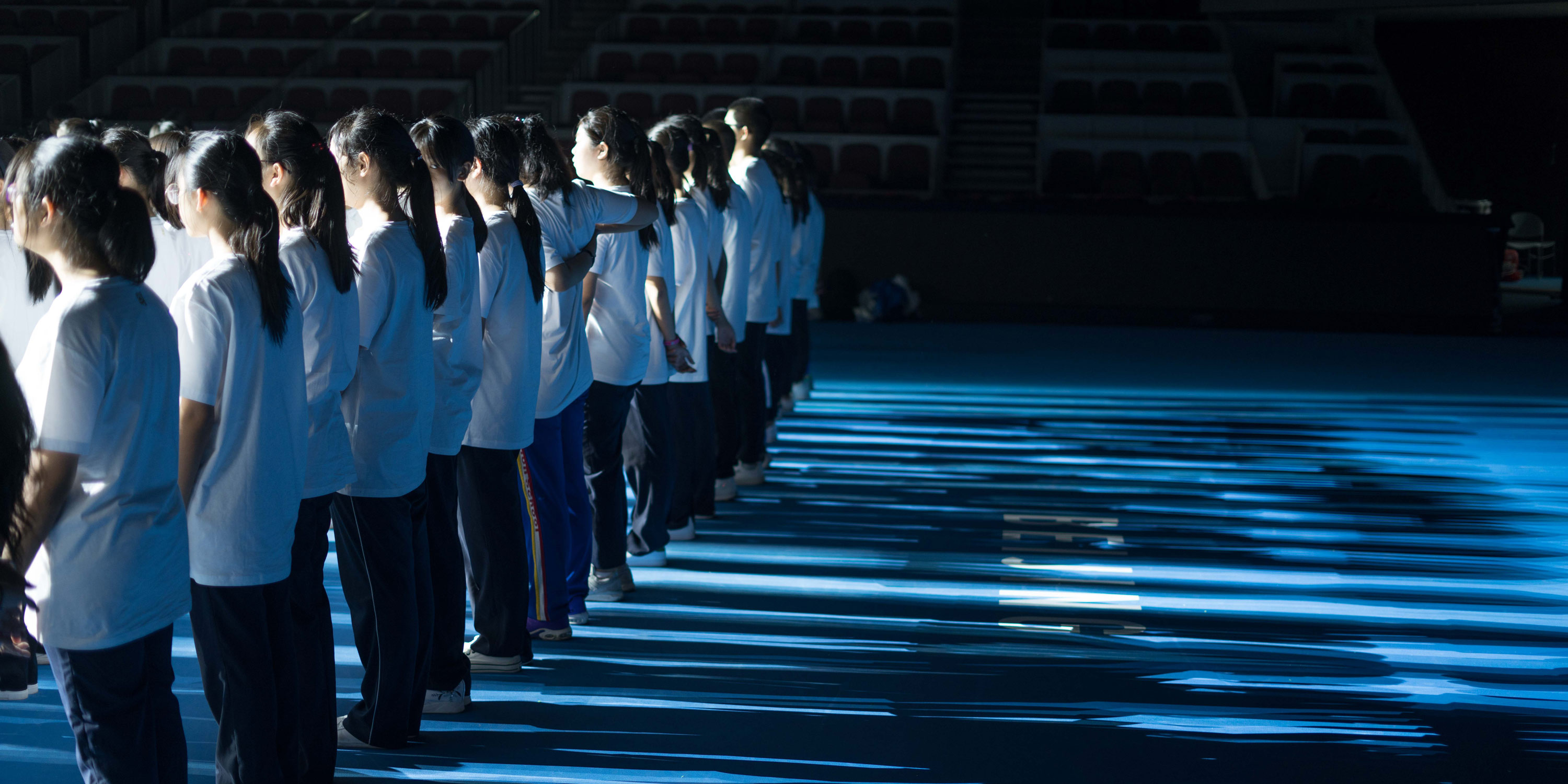 FEATURES
Hit New Film Offers a Striking Portrait of Beijing's Migrant Villages
Liang Junjian's award-winning new documentary "Bitter Sweet Ballad" has shocked viewers with its portrayal of the lives of migrant children in Beijing.
Filmmaker Liang Junjian faced many dilemmas during shooting for "Bitter Sweet Ballad," his award-winning new documentary about a choir for the children of migrant workers in Beijing.
But the hardest issue to resolve was a moral one: What should he do with footage that is often so acutely personal — so real — that it becomes almost painful to watch?
There is one moment in particular that stands out, where one of the film's main characters — a middle school student — has her dreams of a music career crushed in front of our eyes. The girl is so upset that she breaks the fourth wall and tearfully addresses the camera, asking: "How can I smile?"
Liang and his team thought long and hard about whether to use the scene, worried it might be too intrusive. But in the end, they decided to include it. The drama was just so powerful, and it perfectly captured the tough situations many migrant children face in China's major cities.
"You can see this character actually growing up in front of the camera," Tao Tang, the film's co-director and editor, tells Sixth Tone. "It's real life, and it's just so touching."
The film is all the better for it. "Bitter Sweet Ballad" has become a cult hit in China since its July premiere at the FIRST International Film Festival, the country's leading independent cinema event, where it also won the Audience Award.
One of the keys to the film's success has been its frank portrayal of life in Beijing's migrant villages, communities on the capital's outskirts that house thousands of working-class families who moved to the city from rural China.
As the film explores, life in these urban villages is very different compared with Beijing's glitzy downtown districts. Many migrants struggle to cope with the capital's high cost of living and are vulnerable to economic shocks due to their lack of entitlement to urban social security programs.
For viewers — especially the Chinese students who flock to FIRST each year — the reality depicted in "Bitter Sweet Ballad" often comes as a shock. Liang suspects this may be why the film made such a splash at the event.
"It's a side of Beijing that a lot of people don't get to see and don't know much about," the director tells Sixth Tone.
The film has been more than seven years in the making. Before starting work on "Bitter Sweet Ballad," Liang had spent most of his career documenting how China's rapid social and economic changes were affecting local traditions like shadow puppetry ("Play in the Dark") and mountaineering in Tibet ("Ladder to Paradise").
But the director's life was set on a new course one afternoon in 2016, when a friend in Beijing told him he should go and check out a place called the Dandelion School.
Located inside a disused factory, it was one of the few middle schools in the capital with a license to offer free education to children without permanent resident status. Many of the students were the sons and daughters of workers who had come to Beijing during the construction boom that took place in the run-up to the 2008 Olympics.
And, uniquely, the school offered a music program. When Liang and his team visited the school and saw the children taking part in choir practice, they knew they'd found the subject of their next film. It seemed to sum up so much about the lives of China's millions of migrant workers: their struggles and aspirations.
"These boys and girls, they have lived a very different life to most people in Beijing, very diverse," recalls Liang. "So, immediately, I saw that this film could present an alternative view of the possibilities presented by living in Beijing."
In 2017, Liang's team began shooting at the Dandelion School, and they would end up following the students for years, accumulating over 700 hours of footage in the process. From the beginning, the students were "curious" about the film crew, and appeared to accept the cameras becoming part of their daily lives with little hesitation.
"They were very interested in new kinds of things and they were very friendly to us," says Liang. "There were always lots of questions and we were always very open about what was going on."
In the end, the team decided to focus on four children — all aged 12 or 13 — in particular. Most of the film charts their journeys as they try out for the choir, take part in auditions, competitions, and performances, and start to dream of pursuing careers as professional musicians.
"You can really see how music changes their lives," says Tang.
But this is far from a Hollywood story arc. Much of "Bitter Sweet Ballad's" power comes from the way the harsh realities of life keep intruding into the safe space the teachers have managed to create inside the school.
The Dandelion School is offering the children a rare opportunity to gain a Beijing education. Their relatives — who have often spent their entire lives doing manual labor — are desperate to see them make a better life for themselves, and they firmly believe excelling at school offers the best chance of doing that. Trying to make it as a musician is not part of the plan.
In one poignant scene, a student tries to convince her father to let her follow her passion for singing, but he insists that it's a waste of time that will just distract her from her academic studies. 
And, of course, the odds of breaking into the music industry are low. The teachers have to strike a difficult balance: On one hand, they do their best to help the students develop their musical talents; on the other hand, they gently prepare them for the tough life that likely awaits them after they graduate.
"The school is protecting them in some ways, as it really is a sanctuary for them," says Liang. "But the teachers also let them know things will not be the same when they step out of the school. It can sometimes sound harsh, but they are preparing them for life."
Then, there is the looming threat of the school itself being shut down. For a long time, the fate of Dandelion School appeared to hang in the balance, as the surrounding neighborhood was slated to be bulldozed to make way for a new airport. But the school would ultimately survive and move to a new, improved facility, and we see shots of thrilled students and staff moving into the brand-new campus. 
Turning all this footage into a feature-length film was an epic task, Liang says. When the team began sifting through all their tape, they knew they'd captured "magic." But they also faced some difficult choices: Not only about to what extent they should try to protect their young subjects, but also about how to balance their individual stories with the wider themes they wanted to explore.
"We want to show their stories but also show Beijing through these people's eyes," says Tang. "It's a film that's really about looking at life from other people's perspectives, and trying to understand another person's experiences."
The reaction at the FIRST Film Festival suggests that the team hit the mark. It helps that many of the film's themes are universal: Even though many of the viewers were from far more privileged backgrounds, they seemed to "feel a connection" with the students and their struggles to "grow up," Liang says.
After their success at FIRST, Liang's team are looking for opportunities to take "Bitter Sweet Ballad" to other festivals at home and abroad, and — eventually — to secure a wider release at Chinese theaters or via a streaming platform.
"Making this film was a beautiful experience for us," says Liang. "It was touching, and I think that is something we have shared with audiences so far."
Editor: Dominic Morgan.
(Header image: A still from the documentary "Bitter Sweet Ballad." Courtesy of the production)