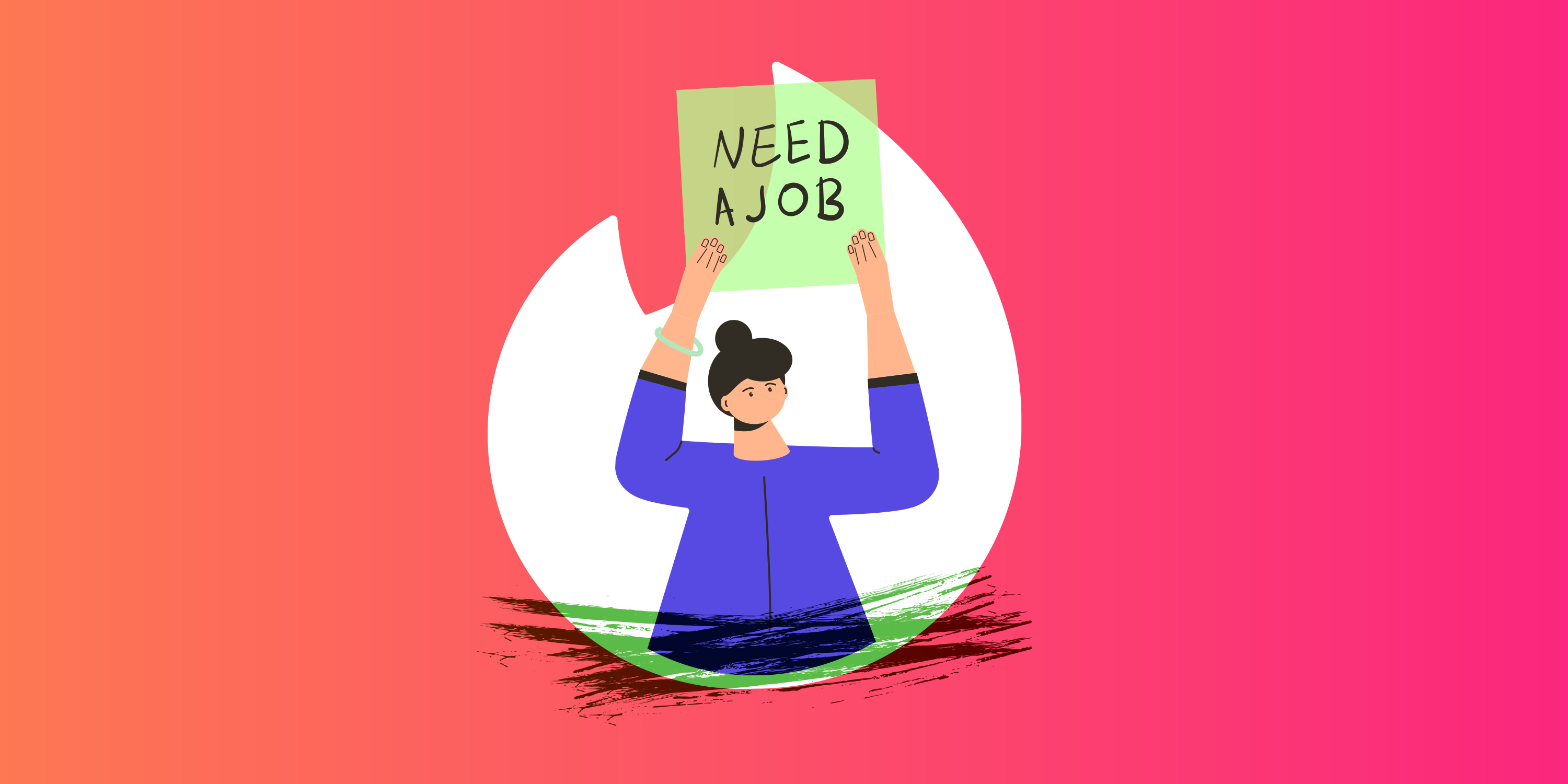 FEATURES
Swipe Right to Hire Me: How Tinder Became China's Hottest Networking App
Young Chinese are increasingly using the dating app to hunt for potential job openings amid soaring graduate unemployment. But the trend is sparking concern among the platform's users — and inside Tinder itself.
A month after finishing her fashion degree, Songsong felt like her job search was going nowhere. The Beijing resident had applied for more than 30 positions via email and job sites, but she hadn't received a single response.
So, Songsong decided to try a different platform: the dating app Tinder. The 22-year-old began updating her profile images, replacing her selfies with pictures of a message scrawled in large red characters: "Is anyone short of workers? I'm currently looking for a job. Hire me."
"I've come across various kinds of advertisements and profiles on Tinder," said Songsong, who spoke with Sixth Tone using a pseudonym for privacy reasons. "I just thought, 'Why don't I advertise myself here for more exposure?'"
Songsong is among a growing number of young Chinese who are turning to Tinder to look for job openings amid a rise in graduate unemployment. With China's youth unemployment rate surpassing 20% earlier this year, according to the National Bureau of Statistics, fresh graduates have been using all sorts of tactics to gain an edge in the job market — from pursuing higher degrees to seeking help from the divine.
Making use of Tinder is the latest job-seeking hack to attract attention. Dating apps are hugely popular in China: There were 275 dating apps with more than 1,000 downloads in the country in 2022, up from 81 in 2017, according to data from the analytics platform Data.ai.
It's unclear exactly how many young Chinese use Tinder, but the app is more popular than other international dating platforms such as Bumble and Hinge, despite not being officially accessible in China.
The difficulty in accessing Tinder is actually one of the reasons why some young Chinese consider it an ideal networking platform. The user base is skewed toward people who have studied overseas or work for international companies.
One Peking University graduate, surnamed Xing, told Sixth Tone that a chance encounter via Tinder had kick-started her career. Shortly before finishing her philosophy degree in 2020, she went on a date with a man she'd matched with via the app, and spent much of the evening sharing her anxiety and uncertainty about finding a job.
The man — who is now Xing's fiancé — just so happened to work for a big tech company in Beijing, and was able to give her some useful tips on securing an internship at the firm. Xing managed to secure the intern position, and that in turn helped her when applying for other opportunities later on.
"The great thing about Tinder is that you can connect with people outside of your usual social circle," said Xing, who gave only her surname for privacy reasons. "Most people on Tinder work a decent job, so there are greater chances to get referrals at a big company. And unlike LinkedIn, Tinder creates a more intimate atmosphere because the first conversation usually starts with your personal life."
In fact, some users have begun using Tinder as a direct replacement for LinkedIn, which pulled out of the Chinese market in May. The app has several features that make it useful for job hunters: Unlike Hinge, it allows users to connect with people outside their immediate social circle. Many users also include the names of their employers and universities on their Tinder profiles, and it's possible to screen users based on their genders, ages, and interests.
In June, a female user on the Chinese social platform Xiaohongshu shared a post titled "tips on how to find a job on Tinder" that attracted huge attention, racking up thousands of likes and being recommended by many as the ultimate Tinder networking guide.
In the post, the user — who writes under the handle Bagel — gave six main pieces of advice: namely, only match with men from your target industry; start the conversation by asking the other person about their job; gradually share your troubles and ask for the other person's advice; make the match feel like a "successful man," as he'll be more likely to help you; show gratitude by asking the man out for dinner and giving him a gift; and try to target men with certain personality types on the Myers-Briggs Type Indicator — a personality test that is hugely popular in China.
At the end of the post, Bagel clarified that she had used this method to convince a Tinder match to help her edit her résumé and recommend her to employers, and that her relationship with the man had been "purely for networking." "It is really effective," she wrote. "Sometimes, you just need to take advantage of men. After all, they already have enough of a gender bonus."
The Tinder networking trend has divided opinion in China. Yang Yutong, a human resources manager at a company in Shanghai, told Sixth Tone that she understood why fresh graduates are resorting to such methods. These days, young people need to exploit every advantage they can find to get hired, she suggested.
"Personally speaking, I think using dating apps to connect with people from the same industry to find job opportunities is creative and suitable for the younger generation," said Yang. "However, it's important to watch out for swindlers who exaggerate their credentials for ulterior motives."
In today's job market, recent graduates have very few options when looking for jobs, Yang added. Employers are increasingly prioritizing candidates who already have several years of experience. In some cases, companies have even stopped holding job fairs at college campuses, since they have little intention of hiring people straight from university.
"The bosses don't care about candidates' willingness to learn, but about their productivity," said Yang. "When hiring, in terms of expertise, candidates with sufficient work experience are a better choice because they adapt to the job faster."
However, a spokesperson for Tinder warned that users trying to use their accounts for business purposes were violating the platform's community guidelines.
"Our guidelines reinforce our policy that users should use Tinder to make personal connections, not business ones," the spokesperson said. "Tinder is not a place to promote businesses to try and make money. Similarly, users also shouldn't advertise, promote, or share social handles or links to gain followers, sell things, fundraise, or campaign."
The trend has also sparked backlash from some Tinder users. One user took to Xiaohongshu to denounce female networkers like Bagel in a post titled "how ridiculous it is to use dating apps for jobs." In his view, women using Tinder to search for professional contacts reinforces harmful gender stereotypes about women depending on men for career opportunities. Also, it is making it harder to actually find a date on the app, he added.
"If someone uses dating apps in a manipulative and calculating way, it hurts users with pure intentions," the user wrote. "Intentionally matching with people for a job is selfish."
But some users pushed back in the comments, arguing that many other kinds of users are dishonest when using Tinder, and that it's not only women using the platform for networking. "No one says it has to be men offering help to women," one comment read. "So many people on dating apps claim to be looking for long-term relationships, but they actually just want casual sex. Rather than criticizing the trend, you'd be better off watching out for those liars," read another.
The female Tinder users who spoke with Sixth Tone rejected the idea that using the app for networking is anti-feminist. Wu Qianqian, a junior at the University of Sydney, said that exploiting the networking potential of dating was a feminist act that challenges hookup culture.
In Wu's view, using Tinder to look for work opportunities isn't that different to creating new social groups via the platform — a practice that is very common among Chinese dating app users. She compared it to when she used Tinder to recruit new members to a networking association for Chinese international students, which she had set up before moving to Australia to begin her degree in 2020.
"Dating apps are about expanding your social circle," Wu said. "People go on the apps to date, hook up, make friends, even to make money. There's nothing wrong with turning it to your advantage."
Contributions: Yang Caini and Cui Yang; editor: Dominic Morgan.
(Header image: Visuals from Syuzanna and Joseph-BK/VectorStock/VCG, reedited by Sixth Tone)