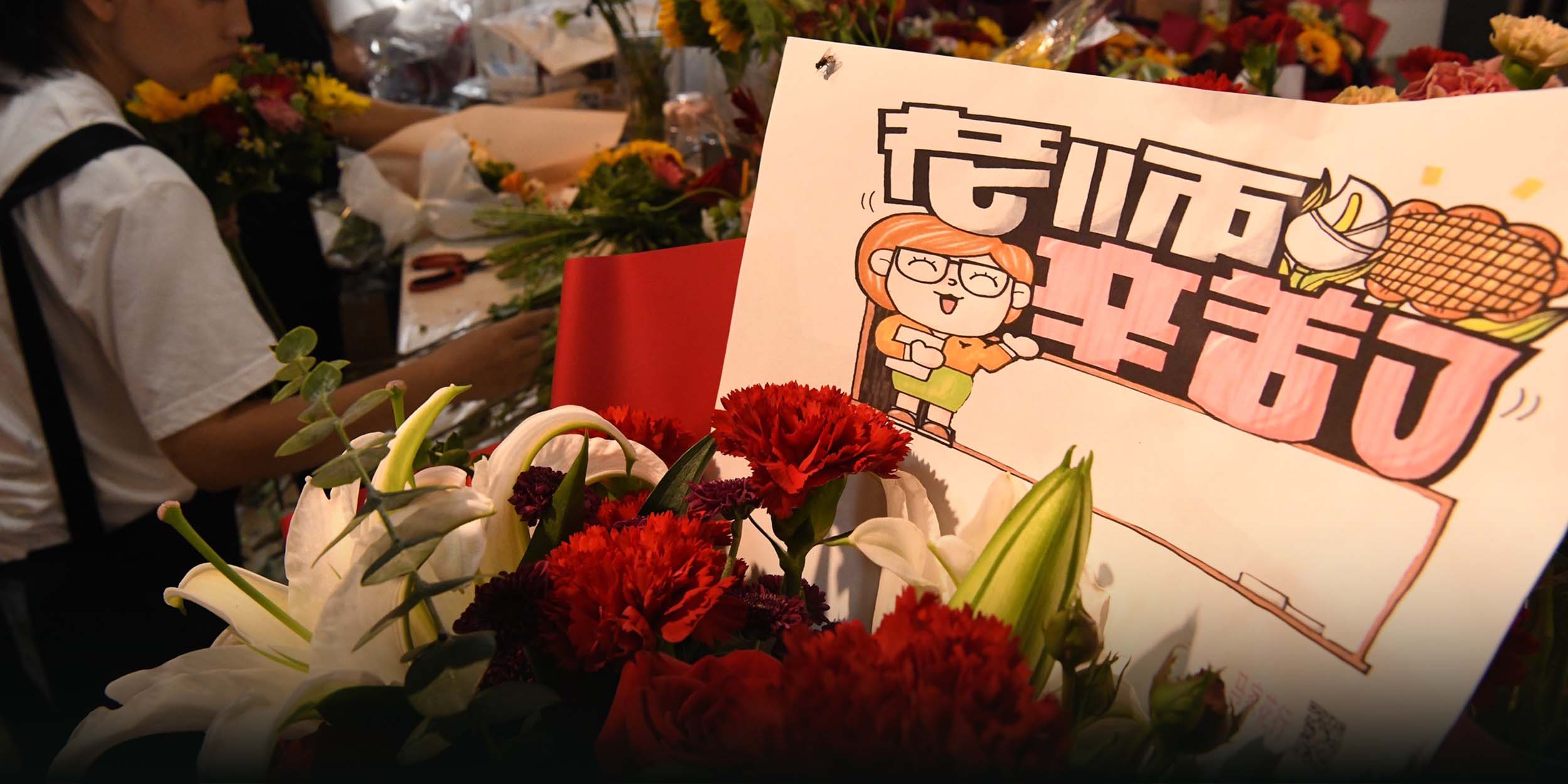 NEWS
In China, Pricey Teachers' Day Presents Spark Debate on Gift-Giving
Despite regulations explicitly banning gifts being given to teachers, the practice continues. On social media, many argued that simple gestures resonate deeper.
A school in northern China's Shanxi province is investigating an incident where a students' parent committee at a middle school class pooled 5,000 yuan ($689) to buy gifts for teachers in celebration of China's Teachers' Day, which took place Sunday. 
The incident has ignited public debate over the increasingly controversial trend of giving teachers lavish gifts, despite longstanding regulations prohibiting such gestures.
According to a report in the Beijing News, 5,000 yuan was used to buy five sets of cosmetics for female teachers, two sets of Parker pens for male teachers, and seven bunches of flowers for  both male and female teachers. A screenshot from a parent revealed a WeChat group chat set up specifically for preparing the gifts. 
The lead parent commented, "Due to the tight schedule, limited choices, and differences in preferences, a few of us have tentatively decided on the gifts in case we miss out on Teachers' Day. Hope you all understand!"
Following an outcry on social media, school authorities told the Beijing News, "The school explicitly prohibits teachers from accepting gifts. If it's true, it must have been organized by parents, and teachers wouldn't have accepted the gifts." Expressing concern, the local education bureau also said that it has requested the school to investigate the incident.
In 2014, the Ministry of Education prohibited teachers from soliciting or accepting any gifts, vouchers, or lottery tickets from students and parents. Violations of this rule carry significant consequences: Teachers found guilty could face public criticism, dismissal, or even disqualification from their profession. 
Each year across China, in the runup to occasions like Teachers' Day or New Year's Day, many local administrations also issue notices reiterating and emphasizing the prohibition on gift-giving. 
For instance, on Sept. 6, the Hefei Education Bureau in eastern China recommended that schools instruct parents to convey their gratitude and blessings to teachers through phone calls and text messages, encouraging a more personal touch and without the exchange of physical gifts.
Despite the combined efforts of national and local regulations, the societal inclination to give teachers gifts remains deeply rooted. On the lifestyle app Xiaohongshu, the topic of "Teacher's Day Gifts" has amassed 420 million views. 
One particular post, liked by over 3,000 users, listed a variety of gifts, ranging from mugs to lozenges, while emphasizing practical or homemade gifts for teachers. 
On social media, many parents, even if reluctant or disinclined to give gifts, stated that they find themselves pressured by parent committees, which primarily consist of parents of enrolled students. 
While their original mandate is to "connect the school and the family," some committees have come under scrutiny recently for their role in facilitating and even organizing the practice of gift-giving, particularly during holidays. 
"I'm in a dilemma. My family is facing some financial difficulties, and we can't afford to give money as a gift. I'm worried that if I give something else, the teacher might not like it. If I don't give anything, will the teacher treat my child differently?" asked one netizen on social media. 
Another suggested that gifts should not be given to teachers under the umbrella of the parent committee. "Those who have money should just give gifts themselves. Why crowdfund? Giving together feels impersonal," said one comment.
In an incident from the eastern Zhejiang province, a parent told local media Monday that he had questioned the parent committee's use of class funds to purchase gifts for teachers. But instead of having his concerns addressed, he was removed from the group chat. 
Editor: Apurva. 
(Header image: A flower store on Teachers' Day in Handan, Hebei province, Sept. 8, 2022. VCG)