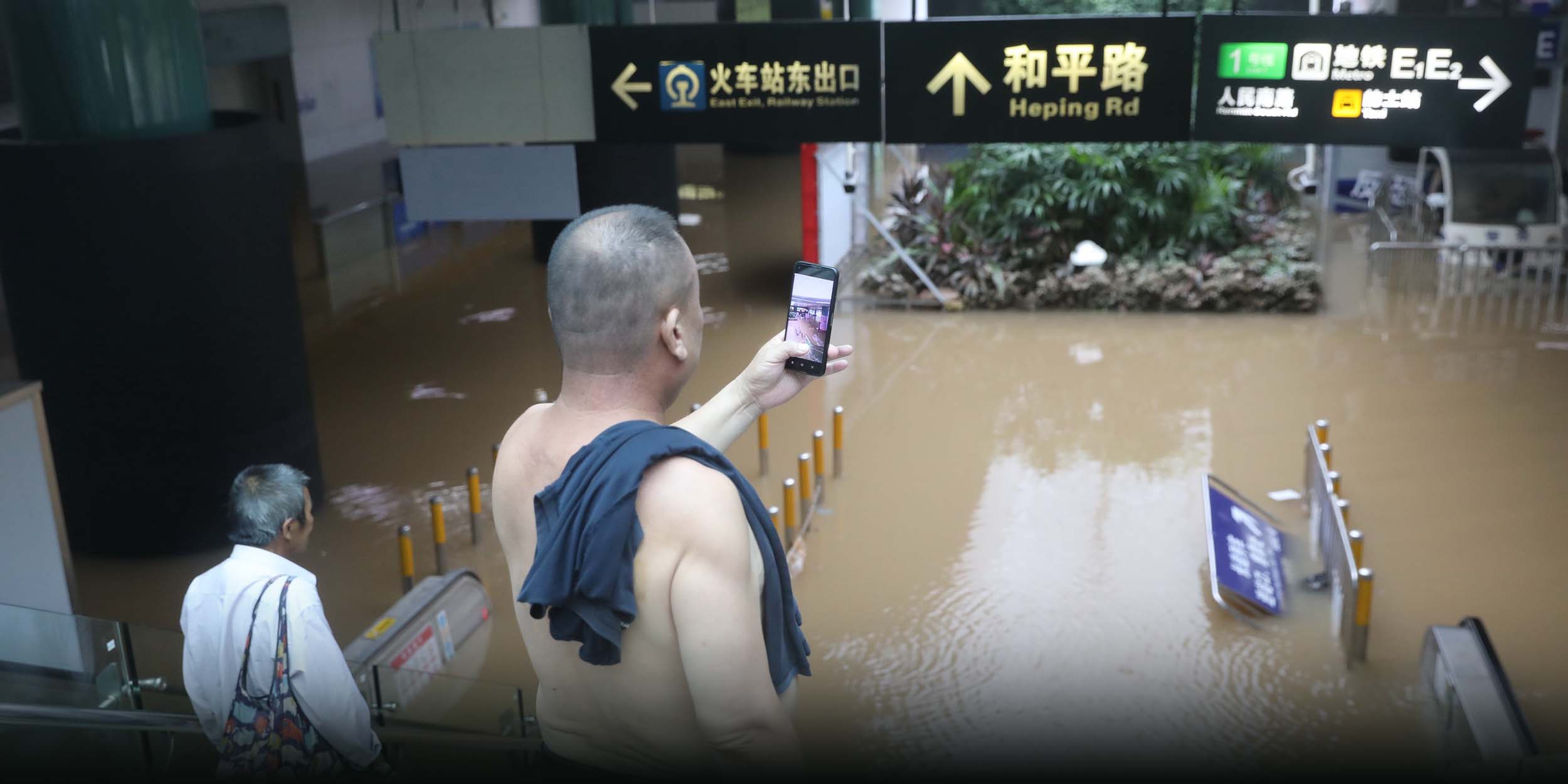 NEWS
Cities on High Alert as Historic Rainfall Batters South China
As the region anticipates continued heavy rains, officials emphasize preparedness to combat potential floods and landslides.
The lingering effects of Typhoon Haikui have resulted in unprecedented rains across southern China, shattering multiple rainfall records and causing heavy flooding across the region. With rains expected to continue, cities in Guangdong province such as Zhuhai, Guangzhou, and Shenzhen have all issued the highest rainstorm alerts.
In Shenzhen, the situation is particularly dire. The city has broken several rainfall records, eclipsing a 70-year-old record with a staggering 465.5 millimeters of rain recorded in just 12 hours. Described by the Meteorological Bureau of Shenzhen as a storm with "exceptionally strong intensity, extraordinarily prolonged duration, and an exceedingly broad range of heavy rainfall," the downpour has had devastating effects on the city.
In eastern Shenzhen, severe flooding has gripped the area, with local government footage showing flooded streets and vehicles trapped by the rising waters. This has led to significant disruptions, including the suspension of many train services due to inundated station entrances. 
Adding to the city's challenges, Shenzhen's Emergency Management Bureau issued an urgent notice Friday morning after continuous rainfall pushed the city's reservoir beyond its maximum limit, necessitating the release of excess water. In low-lying areas, officials emphasized the need for evacuations.
Though Typhoon Haikui has been downgraded, both Guangdong province and the Guangxi Zhuang Autonomous Region are bracing for heavy rains over the next three days. Given the forecast, the National Meteorological Center has stressed the importance of preparedness, urging local governments to guard against potential secondary disasters like flooding and landslides.
Just across the river from Shenzhen, Hong Kong experienced its most significant rainstorm in 140 years, with the Hong Kong Observatory recording 158.1 mm of rainfall within a single hour on Thursday night — the highest since records began in 1884. 
This downpour led to officials issuing a black rainstorm warning — the highest level — which remained in place for over 12 hours, marking another record. The extreme conditions were projected to persist at least until Friday evening. As a precaution, Hong Kong authorities alerted residents, especially in the north, to potential flooding due to releases from Shenzhen's reservoirs. 
Before wreaking havoc in Shenzhen and Hong Kong, Typhoon Haikui first made its impact earlier this week when it landed in the southeastern Fujian province after barreling through Taiwan. The typhoon resulted in record-breaking heavy rainfall in several regions. 
According to the state-run Xinhua News Agency, the rainfall has impacted more than 1.59 million people and inflicted approximately 5 billion yuan ($680 million) in economic damages. In one tragic incident, a vehicle ferrying nine rescue workers was swept away on Tuesday, resulting in the deaths of three personnel. 
Chief forecaster Chen Tao from the National Meteorological Center pointed to a specific meteorological phenomenon contributing to the intense rains. "Due to the weak guiding airflow, the westward speed of Haikui's residual circulation is slow. As a result, Fujian and Guangdong will persistently experience rainfall," he said. 
He further cautioned the public about a phenomenon called "training," which is the consequence of multiple rainfall clouds passing consecutively over the same location, leading to accumulated and intensified rainfall. 
"It's similar to a person standing alongside a rapidly moving train. The continuous rush and noise from each passing carriage are similar to the consistent rainfall," the National Meteorological Center explained.
Editor: Apurva. 
(Header image: A man takes photos of the submerged railway station in Shenzhen, Guangdong province, Sept. 8, 2023. IC)