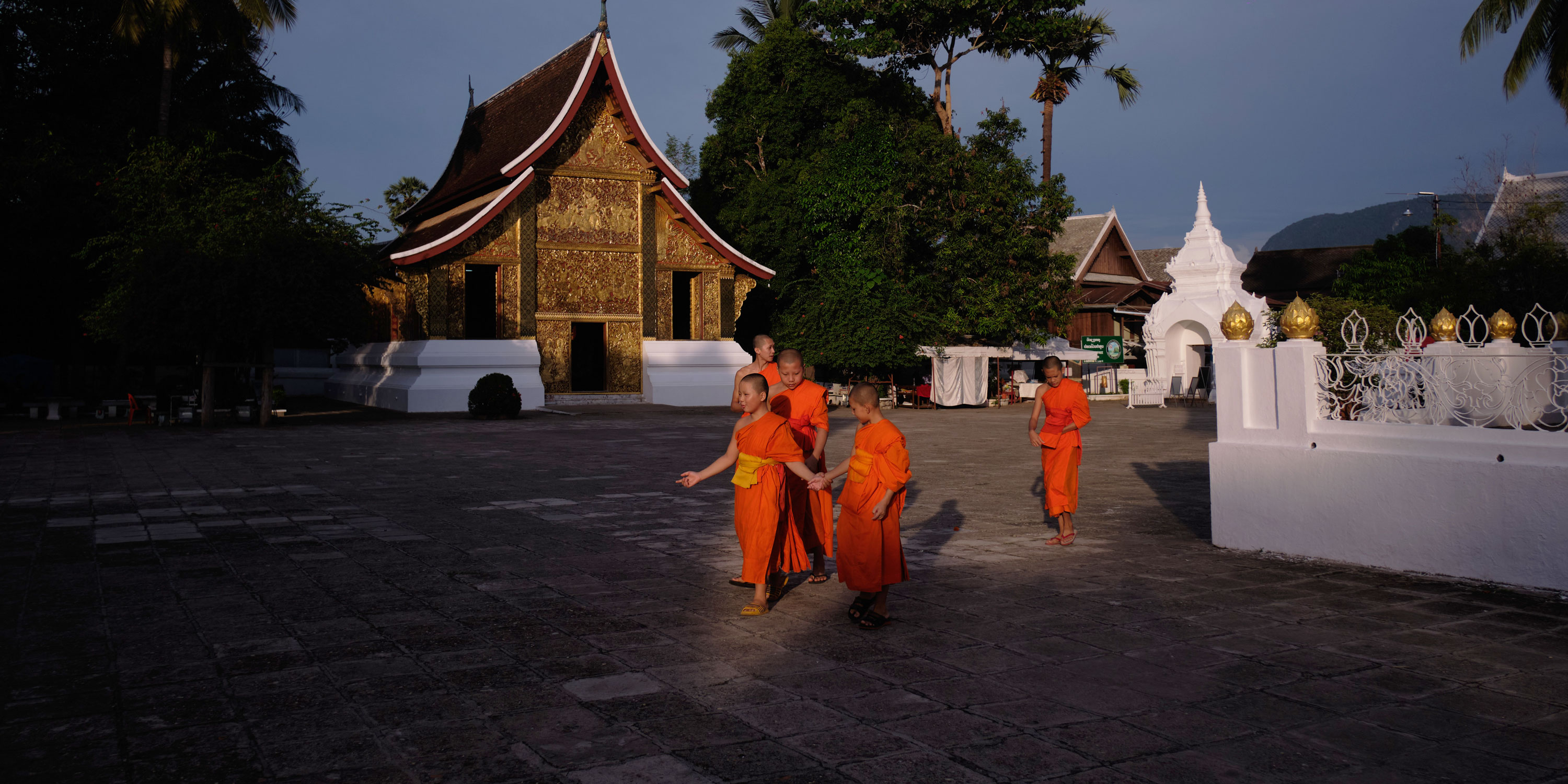 FEATURES
To Rescue Its Devastated Tourism Sector, Laos Looks to China
Emerging from a pandemic-induced slump, Laos is leaning on a multi-billion dollar railway to revitalize tourism. A significant portion of its recovery blueprint hinges on drawing more visitors from China.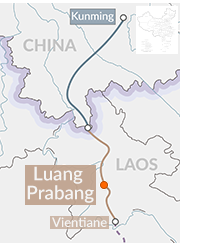 Editor's Note: This is the second article in a three-part series exploring the impact of the Laos-China Railway, a major project under China's Belt and Road Initiative that connects cities across Laos and southwest China. Read Part 1. 
LUANG PRABANG, Laos — Winding mountain roads, sudden landslides, and unexpected halts on desolate stretches of highway. That was the daunting eight-hour bus journey from Laos' capital, Vientiane, to Luang Prabang, the country's UNESCO-listed tourist epicenter. 
In April, however, the travel dynamics in this part of Southeast Asia subtly began to shift. Since then, locals and tourists alike have swapped the treacherous roads for the comfort of the Laos-China Railway. 
Linking Kunming in southwestern China's Yunnan province to Vientiane, more than 1,000 kilometers away, was once a two-day journey, but is now covered in a mere fraction of that time. And Luang Prabang? Two hours away.
Spanning Laos's challenging terrain, the LCR, a flagship project under China's Belt and Road Initiative, comprises 167 bridges and traverses 75 tunnels, effectively bypassing all the obstacles that once hindered rapid transit. 
And a ticket on the LCR, priced at just 72 yuan ($10), stands in stark contrast to flights, which cost seven times as much. 
Johnny, a tourism company employee from Luang Prabang, tells Sixth Tone that before the railway, he seldom traveled to Vientiane. Now, he visits monthly, often to help his family in the capital or sometimes just to reconnect with old friends.
But the LCR does more than just reduce travel time; for the first time, disparate regions of the country are now interconnected, streamlining the flow of labor, resources, and industries. 
While the long-term potential of the LCR is likely to unfold over the years, a more immediate and palpable impact Laos is banking on is the revival of its tourism sector, which accounts for over 10% of the country's GDP. 
During the pandemic, tourism, like elsewhere across the globe, was dealt a crushing blow. In 2020, tourist arrivals plummeted by 81.5%, resulting in fewer than 890,000 visitors. And revenues shriveled to roughly 23% of the previous year's figures. 
On average, almost half the people employed in tourism faced layoffs, with numerous hotel employees shouldering unpaid leave or salary reductions. 
Yet, this year marked a turning point. As pandemic restrictions receded, Laos' borders reopened, and global travel began to surge again.
Fresh data paints a promising picture of this resurgence. In the first four months of 2023, Laos' Ministry of Information, Culture, and Tourism reported that Thailand, Vietnam, and China together brought in over 878,000 visitors. While in 2022, most travelers used personal vehicles, this year, 85% of tourists opted for the LCR when heading to Luang Prabang. 
With this momentum, the Lao government has its sights set high. Using the LCR as a cornerstone of its strategy, they aim to draw in at least 1.4 million foreign tourists this year, particularly focusing on tourists from China. 
Yet, while the LCR's potential is undeniable, experts caution that relying solely on the railway might not guarantee sustainable prosperity for Laos. 
For the country to reap the benefits of tourism, some say it's imperative to address underlying challenges by strengthening ties between the tourism sector and the broader economy, focusing on training skilled workers, and reducing barriers to foreign investment.
Carbon copy
As the LCR pulls away from Vientiane, making one of its five daily departures, the urban vistas quickly transition to sweeping expanses of farmlands and forests. Alongside the tracks, cattle graze contentedly, fish ponds catch the sunlight, and endless paddy fields, rivers, and creeks roll out. 
The train itself bears remarkable similarities to the Chinese high-speed railway, from its aerodynamic design to the layout of the interiors and even the precise movements of the attendants at compact booths, selling snacks like banana chips, sandwiches, and assorted drinks.
Behind this attention to detail is an intensive training regime. Before officially assuming their roles on the train, members of staff undergo several months of training. Some Chinese educational institutions have even developed specialized vocational training programs for Lao students, specifically tailored for the LCR. 
On board the train, Chinese consultants mentor attendants and guide young Lao technicians through maintenance and troubleshooting. Some Chinese staff even made Laos their temporary home, living in collective dormitories in Vientiane's suburbs for over a year.
"Without China's involvement, Laos could never have realized such a railway," says Johnny. 
Hu Sheng, a driver with the railway's engineering team from 2017 to 2019, tells Sixth Tone that he lived in makeshift iron houses in the mountains, alongside a diverse group of coworkers. He now sells fish and makes short videos about his life in Laos. 
"My colleagues came from various backgrounds: Some were Chinese with long stints in Laos, others were fresh recruits from China, local Lao workers, and there were even a few from Vietnam," he says. 
Hu, who hails from central China's Hunan province and has lived in Laos for 13 years, played an essential part in facilitating communication between the team and the local Lao communities. Given the remoteness of the construction sites, many nestled deep amid the hills, connectivity was a constant challenge. After ensuring his team was safely at the worksite, Hu often drove his truck to areas where he could catch a signal, patiently waiting there to receive further orders.
On this journey to Luang Prabang, a glance around revealed that most of the passengers were locals, underscoring just how quickly the LCR has woven itself into the fabric of their everyday lives. 
A few rows away, 27-year-old Phetsadalin and her mother were returning home from a visit to Vientiane's most prominent hospital. Before this train, Phetsadalin says, the daunting bus journey to Vientiane would often discourage them from seeking medical services in the capital, forcing them to rely on facilities closer to Luang Prabang.
Nearby, Hannah, an American working for the World Bank who'd lived in Laos for nine years, was visiting for the first time since the pandemic. Traveling with her baby, she says the new railway intrigued her. 
In under two hours, Luang Prabang beckoned. As the erstwhile royal capital and a UNESCO World Heritage site, the city — devoid of traffic lights, taxis, and skyscrapers — has perennially drawn those seeking to escape the urban rat race. 
Numerous temples dot its landscape, quaint cafés host conversations with globetrotters, and along the Mekong River, boatmen entice tourists in fluent English with river tour offers. 
Luang Prabang's appeal and newfound connectivity have not gone unnoticed on Chinese social media platforms. Throughout 2023, searches related to Laos have surged on Baidu, the country's top search engine, particularly among middle-aged and elderly tour groups.  
And on platforms like Xiaohongshu, a favorite among the urban young, dozens of content creators have enthusiastically documented journeys across Laos. 
Amid the uptick in interest from China and neighboring countries like Vietnam and Thailand, the Lao government is banking on the railway to catalyze a tourism revival. To this end, Laos has positioned it as a top economic priority, while the World Bank projects that by 2030, tourists will dominate the majority of all rail traffic. 
Lost and found
Across Luang Prabang, the nation's premier tourism hub, signs of that revival are gradually increasing. Hotels are reinstating former staff members and onboarding new talent, occasionally offering higher salaries. 
Noy, a receptionist, told Sixth Tone that though July isn't considered a peak tourist season, her hotel saw remarkable progress. Almost all 30 rooms were reserved, a significant increase from the typical 10-room bookings during low seasons.
"There were even more tourists before May," says Vanmee, a 39-year-old van driver, who lives near the airport. Given the surge at the railway station, he predominantly shuttles visitors from there. 
Amid the 2022 economic downturn that arose due to the pandemic, he shifted to driving vans for additional income. Though his family owned a gas station, economic challenges, including Laos' dependence on imported gasoline and a depreciating currency, escalated their operational costs.
"In the high season (September-April), I can sometimes earn over 40 million kip per month ($2,050), and during the low season (when there are monsoons), it's around 7 million," he says, underscoring that his earnings are above average.
While some like Vanmee navigate their way through the new norm, others rue lost opportunities. 
"2020 was poised to be a landmark year for tourism in Laos, had it not been for the pandemic," says Li Runzhi, the general manager of Lao Happy International Development, a tourism company. 
For that year alone, they had anticipated over 1.5 million Chinese tourists. And with the introduction of the LCR and more direct flights to Laos, they estimate it could have surged to almost 6 million visitors.
"When the tourism company first registered in Laos in 2014, there were barely any Chinese tourists in Laos," says Li. "China had just announced the BRI, and there were talks about the pan-Asian railway network. We found that there were many Korean tourists but barely any Chinese travelers. It seemed that Laos was a 'blue ocean' of tourism," Li said.
Over the next few years, Li's intuition in recognizing Laos as an untapped tourism market brimming with potential proved prescient. 
While Thailand continues to retain its position as the primary source of tourists, the tide is slowly turning in favor of Chinese arrivals. Just before the pandemic, Chinese tourist numbers doubled, eclipsing the 1 million mark in 2019 and even surpassing arrivals from Vietnam. 
Capitalizing on the recent surge in tourism, driven in part by the LCR and renewed global interest, the Lao government is charting an ambitious path forward. Under the "Visit Laos Year 2024" campaign, Laos hopes to attract at least 4.6 million visitors, targeting a revenue of $712 million — figures reminiscent of the successes achieved in 2019.
Balancing act
While the national government charts ambitious plans, the recovery process is unfolding more gradually on the ground in Luang Prabang. 
The pandemic significantly altered the workforce dynamics of this historic city, with many locals transitioning to other sectors or seeking opportunities in places like Bokeo, known for the Golden Triangle — a region where the borders of Laos, Thailand, and Myanmar intersect. 
At the moment, Luang Prabang has a pressing need for more skilled workers, not only to accommodate more tourists but to foster long-term growth and sustainability. Phouphet Kyophilavong, an associate professor at the National University of Laos, underlined this predicament in his 2017 research. 
Speaking to Sixth Tone, Kyophilavong argued that expanding tourism in isolation would not ensure lasting economic advancement for Laos. He added that strengthening the link between tourism and other economic avenues, training more skilled workers, and softening barriers to foreign investments were equally essential, along with visa policy reforms. 
To this end, the Lao government and private enterprises have launched training programs for skilled workers. Li's company, in partnership with both Lao and Chinese authorities, has initiated similar training programs for Chinese tour guides and tourism managers. 
However, these efforts are still insufficient. The company still finds it necessary to assign at least one Chinese tour guide alongside local staff for their tour groups, as the latter's proficiency in Chinese and expertise don't yet match the required standards.
Yet, amid these challenges lies the potential to diversify tourism. 
Also aboard the LCR to Luang Prabang was a small tour group designed for family education. Their choice of Laos stemmed from its distinctiveness and relatively untapped status as a Chinese tourist destination. 
A guide from China, who had previously visited Laos, says, "I sought out a country that few others had explored because I thought the novelty was cool." This emerging interest is further underscored by the China International Mountain Tourism Alliance's choice to host its annual conference in Laos this year. 
While emerging tourism experiences point towards a brighter future, not all industry players are experiencing an immediate resurgence. For example, Li's company, once boasting a workforce of around 250, is now managing fewer than 20. 
According to Li, the absence of direct flights from a broader range of Chinese cities could limit the railway's influence to only the southwestern regions of China neighboring Laos. This could potentially exclude a substantial tourist base from the more affluent eastern provinces, hindering full recovery and reach.
Additionally, with flight costs surging by 30%, the elevated travel expenses might deter potential tourists.
For many Chinese enterprises venturing out, navigating the business landscape of Laos is not merely about tapping into economic opportunities but also understanding and appreciating a cultural tapestry vastly different from theirs. 
Having spent years in Laos, Li's sentiments about life and work there are complex. "I find the people here incredibly warm-hearted. There's a distinct absence of overwhelming financial pressures, and a remarkable openness and absence of rigid power and wealth hierarchies," says Li. "These very qualities, I believe, are what draw tourists here. And they're also the very reasons why I've developed a deep affection for Laos."
Years in Laos have given Li a nuanced perspective on life and work in the country. "The warmth of the people here stands out. They're free from the weight of intense financial pressures, and seem untouched by rigid power dynamics or wealth hierarchies," says Li. "I believe these very qualities not only attract tourists but have also endeared me deeply to Laos."
"They value freedom, especially in the workplace," says Li. "Criticize Lao employees too severely, and they could choose to leave immediately. While many in China are used to tight deadlines, such a rhythm doesn't resonate in Laos. The very concept of Key Performance Indicators seems alien here." 
Having spent so much time in Laos, Li says he's now more sensitive to their nuances, and has perhaps even adopted some. "Yet, more often than not, I find myself striving to bridge the gap. Truly embracing their way of life and work is quite the challenge."
Editor: Apurva.
(Header image: Monks walk past a temple in Luang Prabang, Laos, July 2023. Wu Huiyuan/Sixth Tone)